Sous vide pork chops will totally change your perception of the classic dinner! They're moist and packed with flavor. Use boneless or bone-in pork chops.
This recipe for Sous Vide Pork Chops is from my brand new book, Everyday Sous Vide: It's All French to Me. Snag the book for lots of amazing sous vide recipes like this one!
Don't know about sous vide yet, but curious to learn more? Start here! I tell ya about everything you need to get viding.
---
Cat's outta the bag: I love sous vide. I've introduced you to sous vide steak, sous vide shrimp, and now it's time to go for the sous vide pork chops.
Why do I love sous vide? You can't mess up what you're cooking. You just can't. No matter how hard you try. Sous vide cooking means you're cooking  your food in a vacuum packed, sealed bag and placing the bag in a water bath. The machine (this is the one I use) circulates the water to bring it to a precise temperature and keeps it there for as long as you dang well please.
Let's talk about this in the case of these sous vide pork chops. We like our pork chops medium. So I cooked them at 145 degrees for 2 hours. 2 hours – seems counter intuitive right? But here's the thing: you're never bringing the temperature of the water bath above what the internal temp should be for medium, so you literally can't over cook it. You could leave it in there for a day – still wouldn't be overcooked.
So here's what ya do. Start by seasoning the pork chops. I did an awesome, peppery seasoning from my local butcher and some smoked sea salt. You do you.
Then get 'em sealed in tight in vacuum sealed bags. I used resealable ones because foodsaver bags are expensive and a bit on the wasteful side. Here are the resealable vacuum bags I use.
Drop the pork chops in the water bath, set a timer, whip up some side dishes, drink some wine, and wait. Then, when it's ready, remove the chops and and sear them in a piping hot cast iron skillet with your fat of choice until just browned. Seriously, you shouldn't do more than 20 seconds each side. You don't want to undo the work you just did.
We had our sous vide pork chops with barbecue sauce, mashed cauliflower, and asparagus. You could eat them as is or add a sauce! There isn't really a wrong, here.
Print
Sous Vide Pork Chops
Author:

Prep Time:

5 mins

Cook Time:

1 hour

Total Time:

1 hour 5 mins

Yield:

2

servings

1

x

Category:

Dinner

Method:

Sous Vide
---
Description
Sous vide pork chops will totally change your perception of the classic dinner! They're moist and packed with flavor. Use boneless or bone-in pork chops. You can even cook them from frozen!
---
Scale
Ingredients
2

large pork chops
Seasoning of choice (I recommend something peppery)
Sea salt (if using saltless seasoning)
Fat of choice (ghee or coconut oil recommended)
---
Instructions
Preheat water bath to 145 degrees F.
Season pork chops with seasoning and sea salt.
Place pork chops in a vacuum sealable bag and seal.
Add bag to water and let cook for at least an hour, up to two hours.
When pork chops are done, heat your fat of choice in a cast iron skillet on high heat.
Remove pork chops and sear in skillet once it's very, very hot, until golden brown. Flip and repeat.
Remove to a plate and let rest for 5 minutes, and slice to serve.
---
Notes
If using frozen pork chops, add a half hour of cook time.
This time and temperature will work for bone-in or boneless pork chops.
Keywords: sous vide pork chops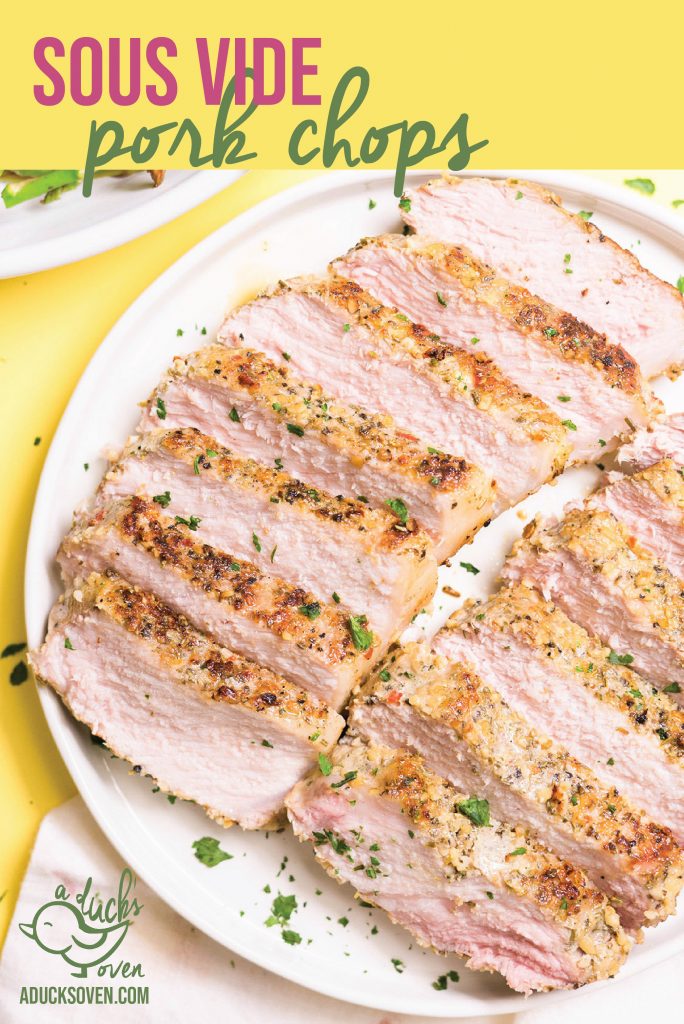 Have you made this recipe? I'd love to hear what you thought! Leave a review below.