Sous vide pork chops will totally change your perception of this classic dinner! Moist and packed with flavor. Use boneless or bone-in pork chops. For perfect, medium chops, sous vide at 145 degrees F for 2 hours, then finish by searing them quickly in a piping hot skillet.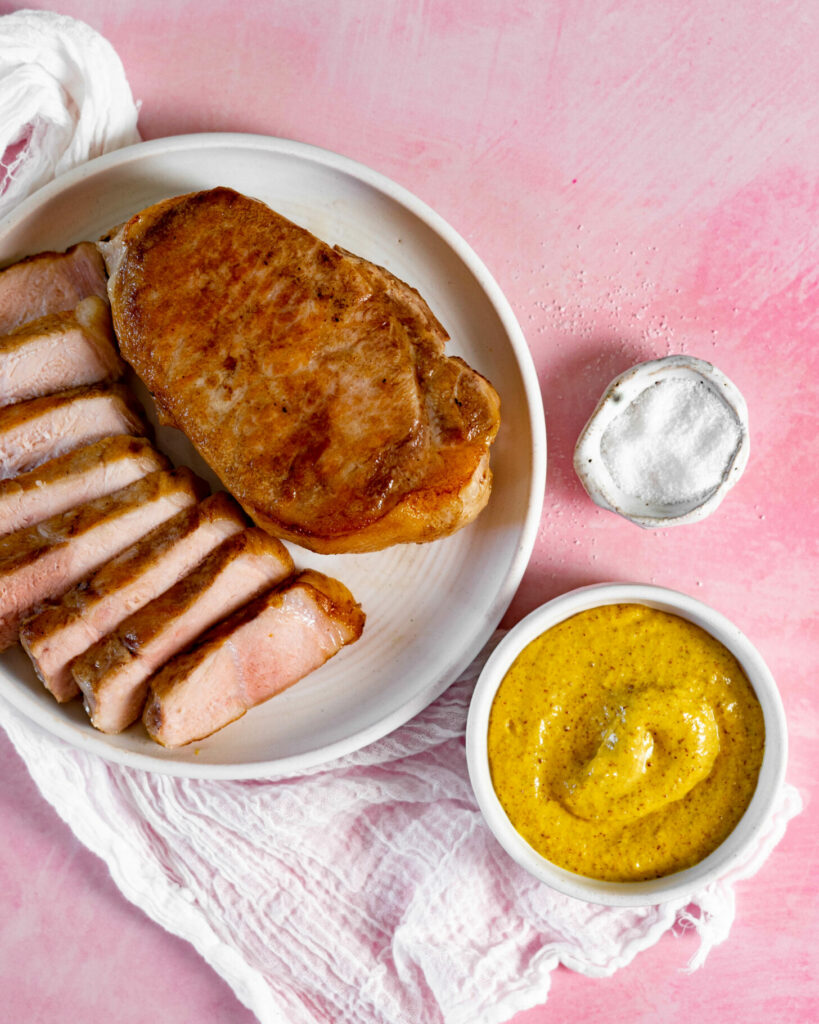 This recipe for Sous Vide Pork Chops is from my brand new book, Everyday Sous Vide: It's All French to Me. Snag the book for lots of amazing sous vide recipes like this one!
---
Why do I love sous vide?
Cat's outta the bag: I love sous vide. I've introduced you to sous vide steak, sous vide shrimp, and now it's time to explore sous vide pork recipes, starting with these sous vide pork chops.
Why do I love sous vide? You can't mess up what you're cooking. You just can't. No matter how hard you try.
Sous vide cooking means you're cooking your food in a vacuum sealed bag and placing the bag in a water bath. The machine (this is the immersion circulator I use) circulates the water to bring it to a precise temperature and keeps it there for as long as you dang well please.
Let's talk about this in the case of these sous vide pork chops. We like our pork chops medium. So I cooked them at 145 degrees for 2 hours. 2 hours – seems counter intuitive right? But here's the thing: you're never bringing the temperature of the water bath above what the internal temp should be for medium, so you literally can't over cook it. You could leave it in there for a day – still wouldn't be overcooked.
A few other reasons I love sous vide cooking:
It's completely hands off – no need to babysit that expensive cut of meat
It's a little healthier – I don't need to cook it in any fat
My dinners are way more impressive!
What You Need to Sous Vide Pork Chops
The good news is, you don't need much equipment to sous vide pork chops (or other sous vide pork recipes for that matter)!
In terms of food, here are my go-tos for sourcing meat and seasoning:
The best meat you will ever eat is from Porter Road. The farms they source from raise their animals ethically, and the meat is cut and handled by butchers who care about quality.
My favorite seasoning for sous vide pork chops is New Bae from Primal Palate. It's super peppery and a bit spicy!
Boneless or Bone-In Pork Chops?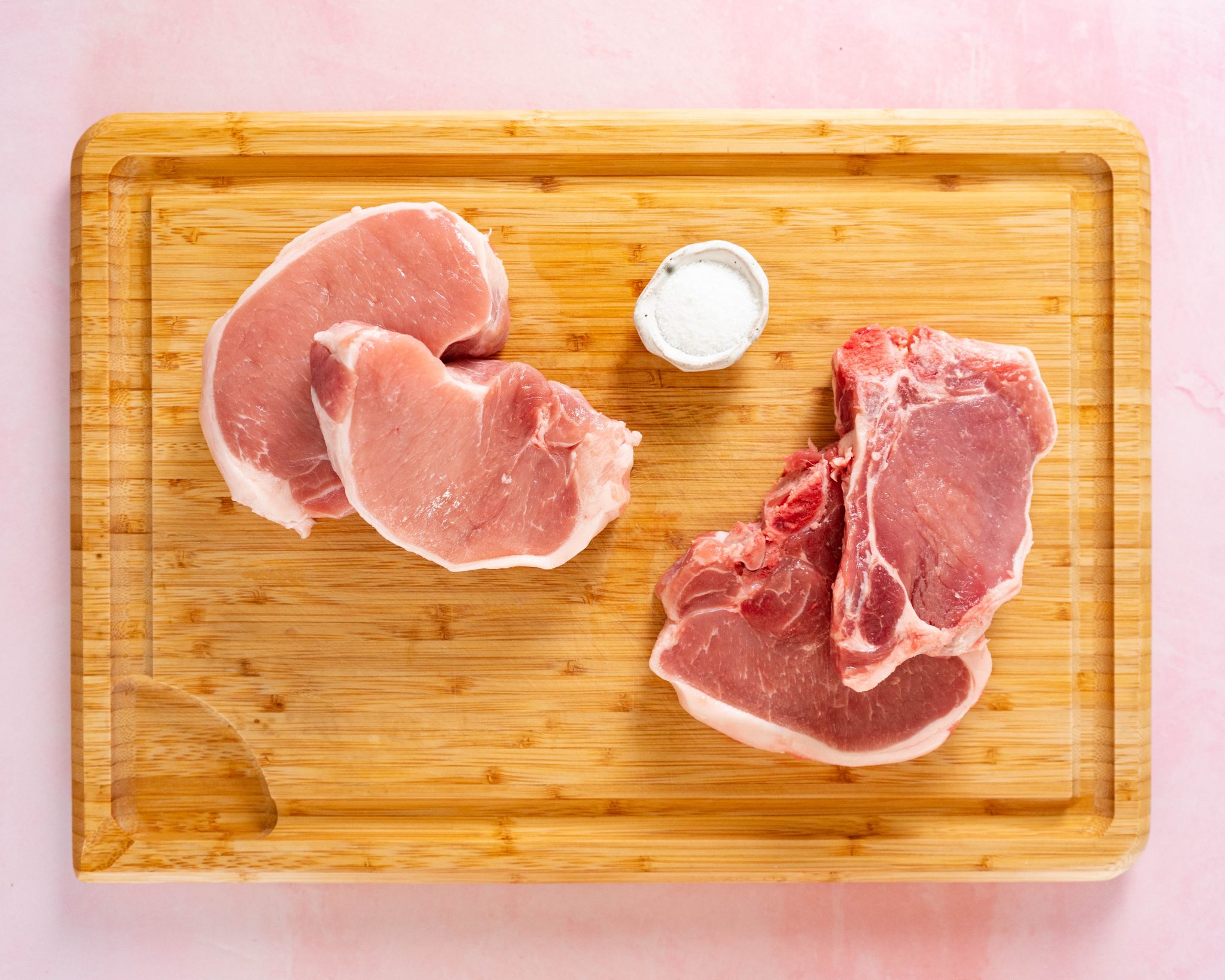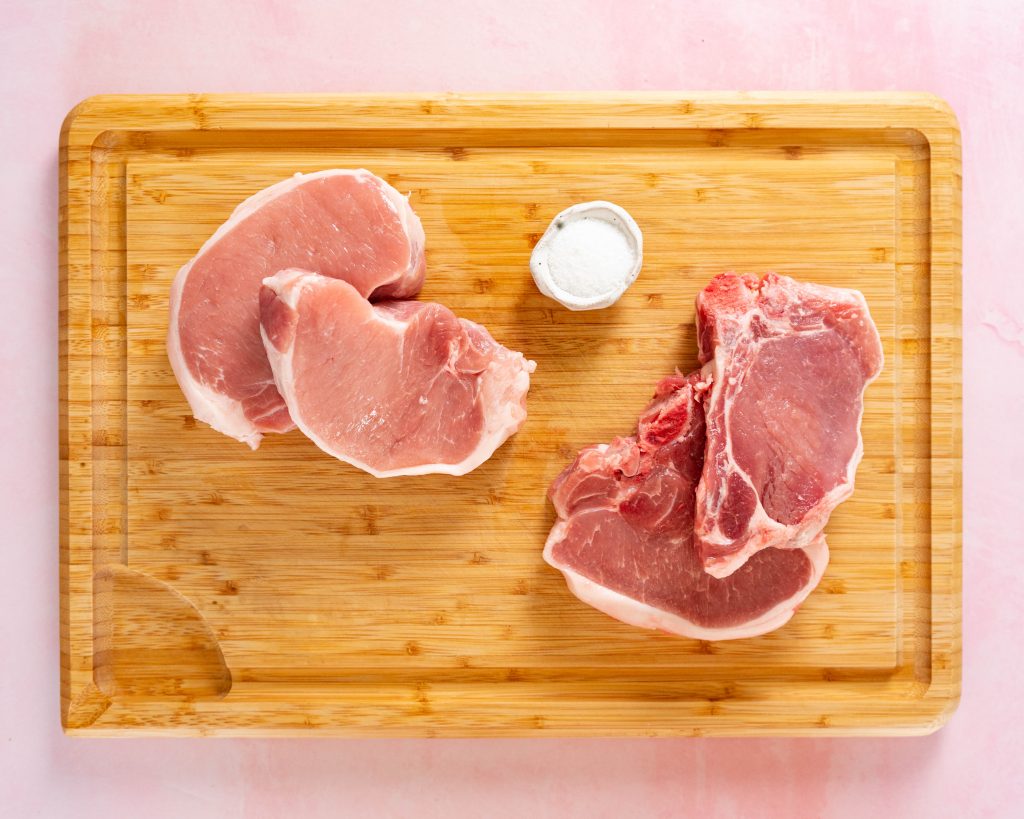 When cooking sous vide, you can use boneless or bone-in pork chops – the only difference is that we increase the minimum cook time by about a half hour. Your minimum for boneless should be 1 hour 30 minutes (but I prefer 2 hours for texture) and your minimum for bone-in should be 2 hours.
Bones have an impact on the way heat is distributed through meat, so it takes more time to cook a bone-in cut. The dense bone essentially insulates the meat that surrounds it, keeping it at a lower temperature for longer than if it was boneless.
How to Make Sous Vide Pork Chops
Start by liberally seasoning the pork chops. I like a peppery blend for mine, so I use New Bae from Primal Palate and a little salt. Don't be scare of salt when seasoning for sous vide!
Then get 'em sealed in tight in vacuum sealed bags. If you don't have a vacuum sealer, that's okay, too – check out my post on Air Removal Methods to learn more.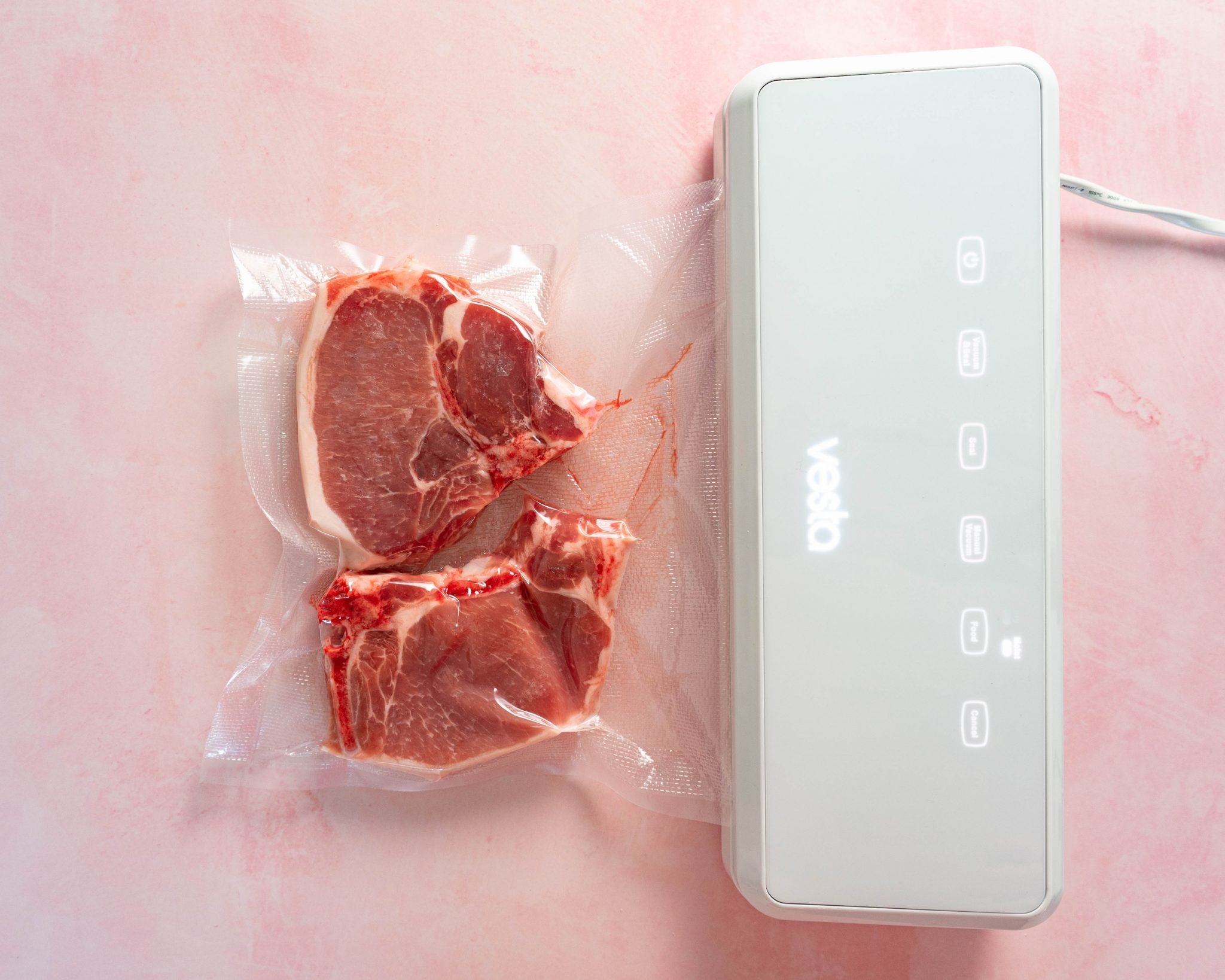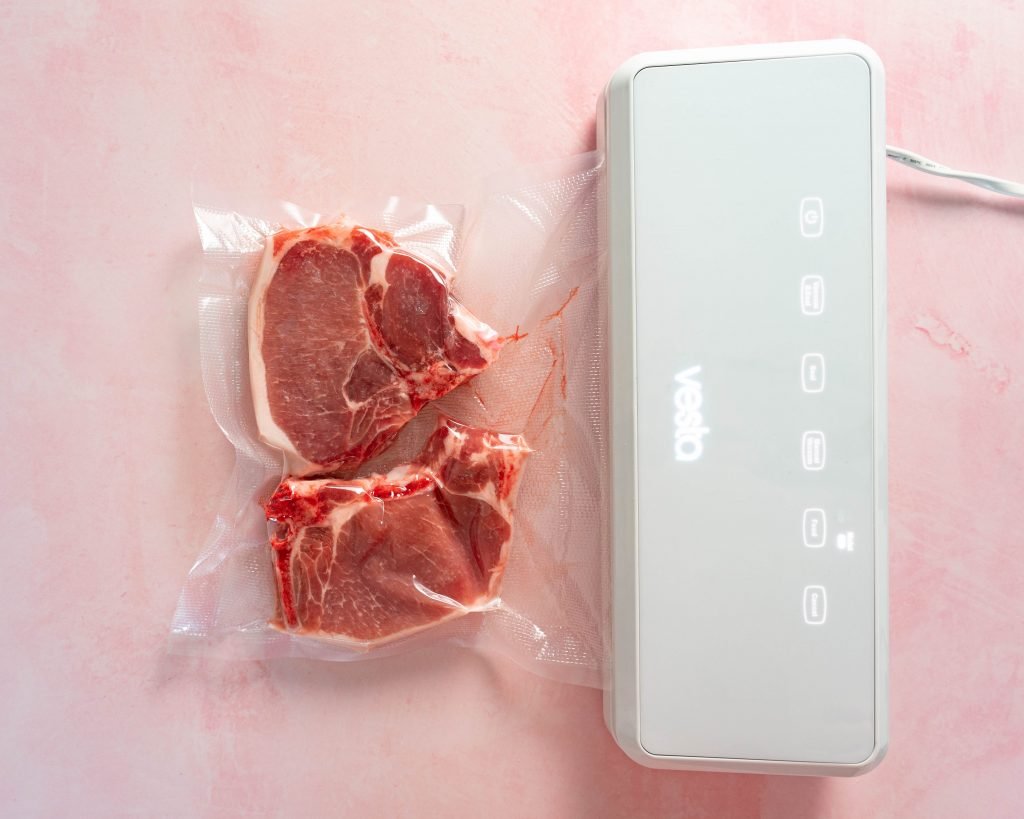 Drop the pork chops into a pre-heated water bath set to the correct temperature for your preferred doneness. I like medium best – meaty texture, without getting close to dry. Here are some temperature options for you:
| | |
| --- | --- |
| Rare (a little squeaky) | 130 degrees F |
| Medium Rare (juicy, meaty, tender) | 135-140 degrees F |
| Medium (firm, meaty, but still juicy) | 145 degrees F |
| Medium Well (completely firm, starting to dry out) | 150-155 degrees F |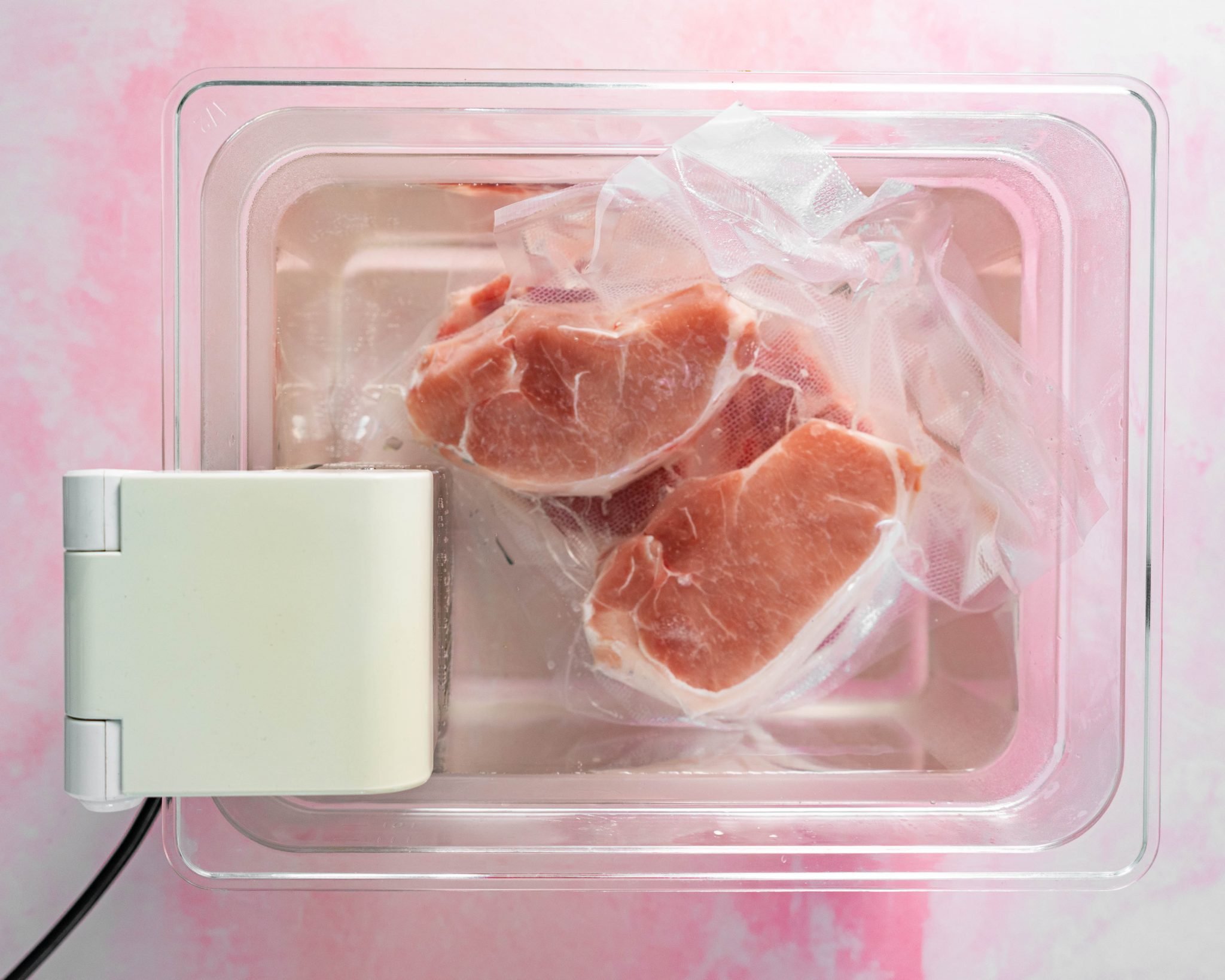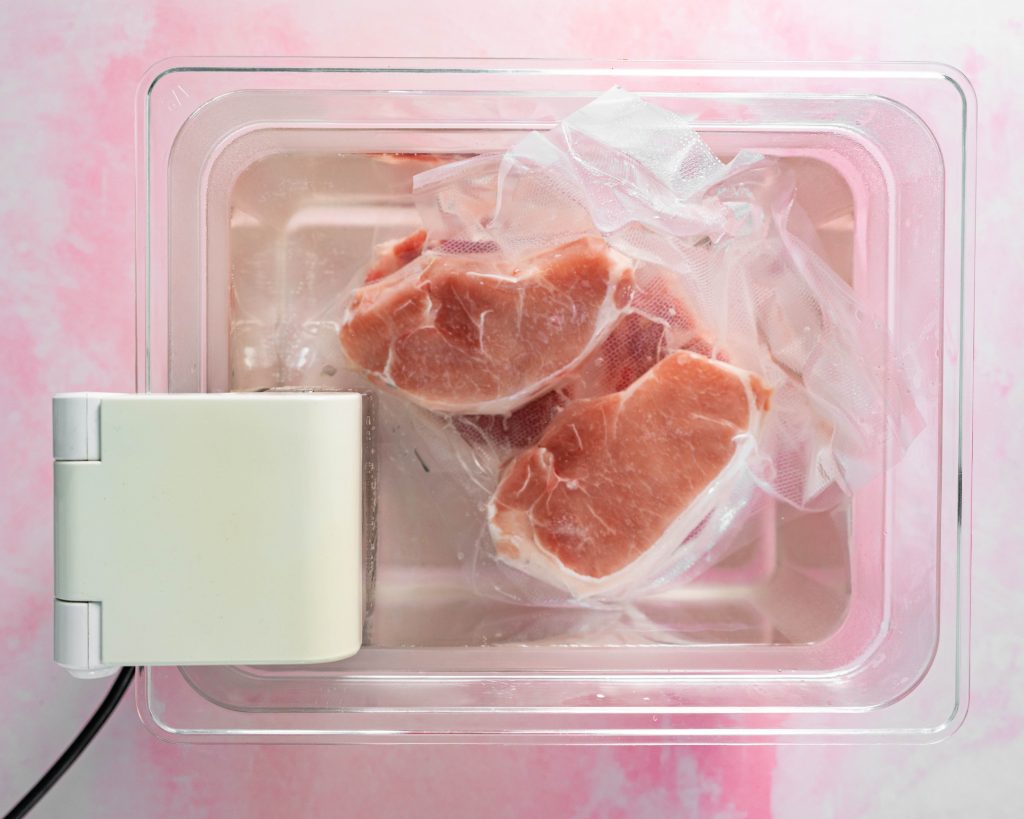 Set a timer, whip up some side dishes, drink some wine, and wait. I recommend cooking for 2-3 hours. For boneless, you can go as short as 1 hour 30 minutes and as long as 4 hours. For bone-in you can go as short as 2 hours and as long as 4 hours.
Then, when it's ready, remove the chops and and sear them in a piping hot cast iron skillet with your fat of choice until just browned. Seriously, you shouldn't do more than 60 seconds each side.
What to Serve with Sous Vide Pork Chops
If you're looking to go a barbecue route and want a homemade sauce, try my Plum BBQ Sauce – it's smoky, sweet, and delicious.
For something a little on the elevated side, swipe the sauce from my Sous Vide Picanha with Dijon Horseradish Sauce recipe.
For your sides, try Mashed Cauliflower, Air Fryer Sweet Potato Fries, or my Brussels Sprouts Caesar Salad!
You can also view this recipe as a step-by-step web story.
Get the Recipe: Sous Vide Pork Chops (Boneless or Bone-In)
Sous vide pork chops will totally change your perception of the classic dinner! They're moist and packed with flavor. Use boneless or bone-in pork chops. You can even cook them from frozen!
Instructions
Preheat water bath to 145 degrees F for a medium pork chop. For medium rare, reduce temperature to 140 degrees F. For well-done, increase to 150 degrees F.

Season pork chops with seasoning of choice and kosher salt.

Place pork chops in a vacuum seal bag and seal.

Add bag to water and let cook for at least 1 hour 30 minutes for boneless and 2 hours for bone-in, up to 4 hours.

When pork chops are done, heat your fat of choice in a cast iron skillet on high heat.

Remove pork chops from water bath and bag. Pat dry with paper towels or a clean dish cloth. Sear them on both sides in skillet once it's very, very hot, until golden brown.

Remove to a plate and let rest for 5 minutes, and slice to serve.
Notes
If using frozen pork chops, add a half hour of cook time.
Calories: 208kcal, Protein: 29g, Fat: 9g, Saturated Fat: 3g, Trans Fat: 1g, Cholesterol: 90mg, Sodium: 64mg, Potassium: 500mg, Vitamin A: 5IU, Calcium: 9mg, Iron: 1mg