Ghee is simply clarified butter and it's great for high heat cooking. When you clarify butter, the milk solids are removed, giving the fat a much higher smoke point.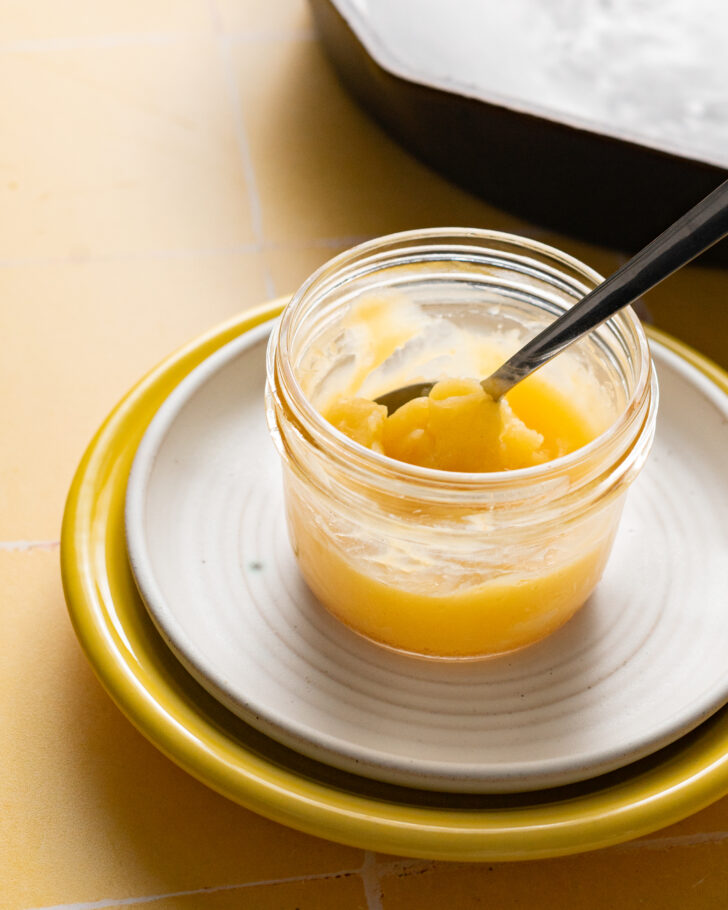 Once you cook with ghee, you'll never go back! It has all the flavor of butter but by removing the milk solids, the fat has a much higher smoke point, making it perfect for getting a great sear on meat as we do so often with sous vide steaks, sous vide pork chops, and so many other sous vide recipes.
Although you can buy ghee, it's super easy to make yourself and only requires one ingredient: butter!
Best Butter for Homemade Ghee
The best butter for homemade ghee is going to be the one that you can afford. Higher quality butter is going to result in higher quality ghee, but it will all work the same!
When it comes to salted or unsalted, I recommend salted. It's great when the ghee has a little flavor. If you don't have salted butter on hand, just add a little salt while cooking.
How to Make Ghee
This process really could not be easier. Let's hop to it!
Start by melting ghee in a small saucepan over low heat, stirring it occasionally. Once the butter has melted, you'll want to see small white bits separating and floating to the top. These are the milk solids we're trying to get rid of.
Once it just starts to foam, this is the time to remove it from heat.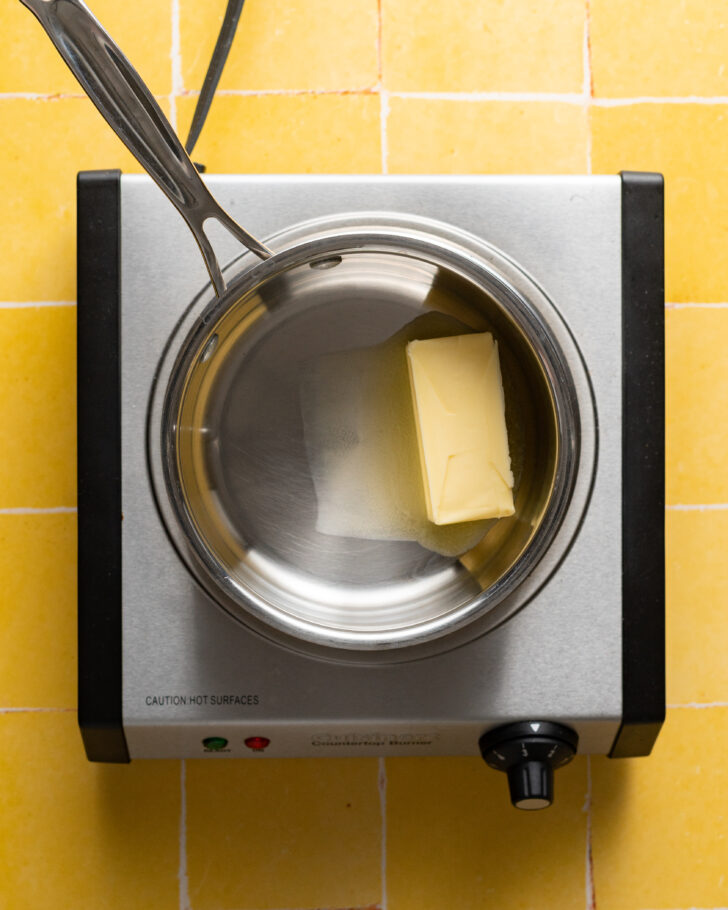 After you've removed it from heat, it's time to remove the milk solids. You can do this by skimming them off with a spoon or using a small, fine mesh strainer. With the strainer, you won't risk accidentally skimming off some of the liquid gold!
That's it, now you have ghee! Once it's cooled, pop a lid on the jar and it can be stored at room temperature.
You can use ghee any time you'd use butter, but it's greatest power is as a high-smoke point cooking fat, perfect for searing in a smoking hot cast iron skillet.
Make sure to reach for your homemade ghee the next time you need to sear scallops, tri-tip steak, filet mignon, or anything else!
You can also view this recipe as a step-by-step web story here.
Get the Recipe: Homemade Ghee
Ghee is simply clarified butter and it's great for high heat cooking. It's incredibly easy to make and keeps for quite some time!
Ingredients
1/2 cup salted butter, (1 stick)
Instructions
In a small saucepan over low heat, melt the butter, stirring occasionally. Continue cooking until milk solids separate and float and the butter is just starting to foam. Remove from heat.

1/2 cup salted butter

Remove the milk solids by skimming them off with a spoon or strain through small fine mesh strainer. Add the liquid to a small jar.

When the ghee has cooled, top with a lid and store at room temperature. Use for searing or in any place you'd use butter.
Notes
Unsalted butter will work, but consider adding 1/4 tsp kosher salt.
Calories: 68kcal, Carbohydrates: 0.01g, Protein: 0.1g, Fat: 8g, Saturated Fat: 5g, Polyunsaturated Fat: 0.3g, Monounsaturated Fat: 2g, Trans Fat: 0.3g, Cholesterol: 20mg, Sodium: 61mg, Potassium: 2mg, Sugar: 0.01g, Vitamin A: 236IU, Calcium: 2mg, Iron: 0.002mg