So, I don't want to tell you how awesome I am. But I kind of have to. This recipe might be the best thing I've ever cooked, and I've gotta say it makes the top 10 of one of the best things I've ever eaten.
I know, I know – that's a BIG claim. But I really, truly mean it. SO MUCH FLAVOR. The combination of salty + sweet + spicy is killer. Not to mention, it's deep fried chicken and waffles. You can only go right and then more right with that combo.
It starts with the brine, which is a recipe from Around the Fire
, a cookbook written by the creators of what is probably my favorite restaurant in Portland: Ox. Their Argentine menu chock full of meat makes my mouth water every time I think about it.
So last weekend, I through a bunch of drumsticks into their recipe for maple brine. These drumsticks were fully intended for the grill. But, my food blogger wheels inevitably started turning and I thought that anything involving maple and chicken was just begging to be deep fried.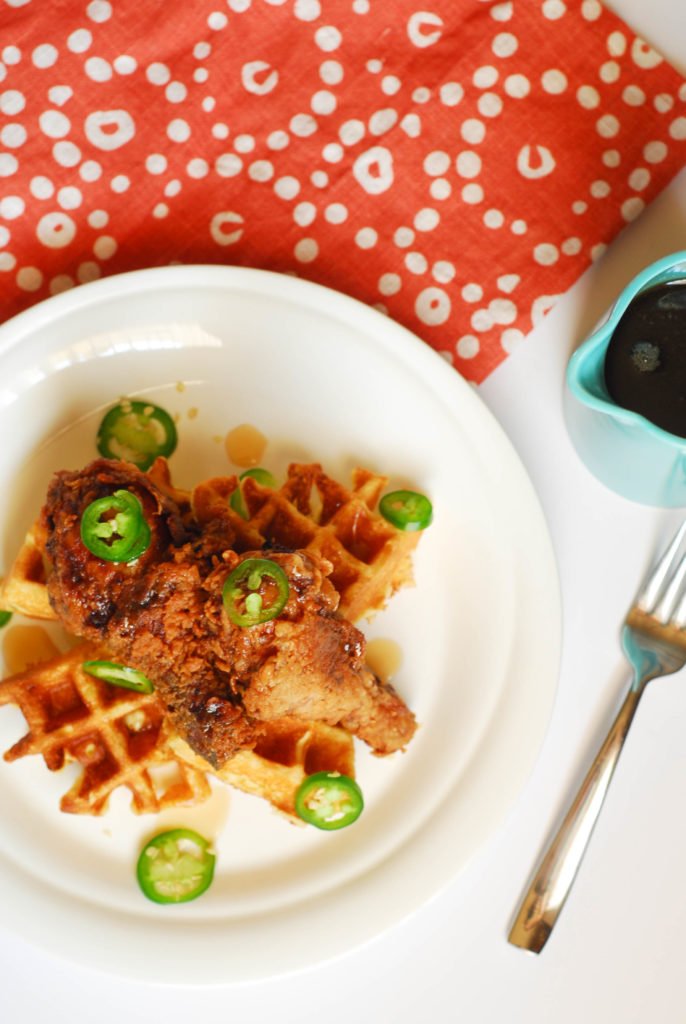 So I let them sit in the brine for about 36 hours, rinsed 'em, threw 'em into buttermilk for another few hours, dredge 'em, and fried 'em up.
Apparently I couldn't stop there, though. I pulled a box of Jiffy cornbread mix from my pantry (I know, I know – judge away), mixed in some buttermilk, oil, and eggs, and turned it into waffles. Even more than that, Belgian waffles (<<< if you don't have a Belgian waffle maker yet, please get one)
And then I had to go one step further by pouring maple syrup into a saucepan with a diced jalapeno and a cinnamon stick.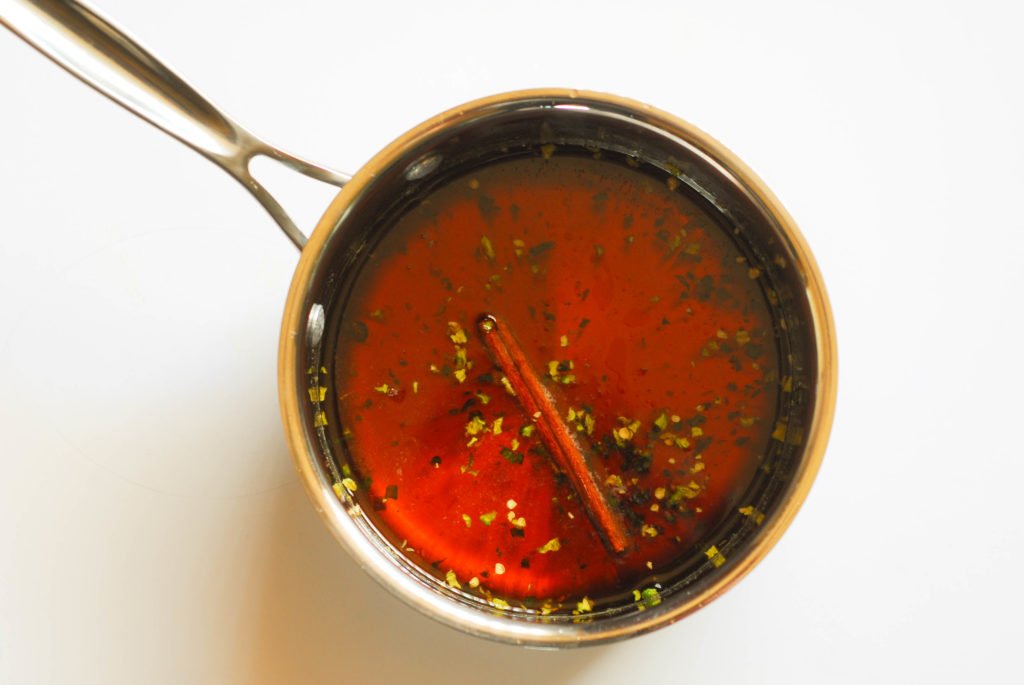 Excessive, yes, but all these flavors come together in a way that will make you weep with happiness.
Am I the only person who gets this worked up about food? Tell me I'm not alone here.
We ate this for dinner, but you might be able to justify having it for brunch. No one's stopping you.
You can also view this recipe as a step-by-step web story here. 
Get the Recipe: Maple Brined Fried Chicken with Cornbread Waffles
The most flavorful fried chicken and waffles you will ever have! Tons of maple syrup, cinnamon, and jalapeno flavor all on a cornbread waffle.
Ingredients
For the brine:
8 chicken drumsticks
1/4 cup kosher salt
1/4 cup maple syrup
2 tbsp sugar
2 tbsp dried thyme
1 tsp black peppercorns
2 bay leaves
1 head of garlic, sliced in half crosswise
6 cups water
Fried chicken:
2 cups buttermilk
Canola oil for frying
Waffles:
1 box Jiffy cornbread mix
1 egg
2 tbsp canola oil
1/2 cup buttermilk
Jalapeno Cinnamon Syrup:
1 cup maple syrup
1/2 jalapeno, roughly chopped
1 cinnamon stick
Instructions
For the brine, add all ingredients except the chicken to a large stockpot. Bring to a boil, then cover and remove from heat to steep for 30 minutes. Remove lid and let cool completely. Strain the liquid and pour into a gallon sized plastic bag. Add drumsticks. Refrigerate for at least 12 hours, up to 36.

When ready to fry, remove chicken from brine and rinse under cold water. Pat dry with paper towels. Place chicken in a bowl and pour 2 cups buttermilk over it to soak.

Heat enough canola oil in a large cast iron skillet or dutch oven to be about 2 inches deep. Over medium high heat, bring the oil to 325-350 degrees. Be careful to keep it in this range throughout the entire frying process.

Shake excess buttermilk off chicken and add to hot oil. Do not overcrowd the skillet, fry in batches if needed. Keep an eye on the temperature throughout the frying process to make sure it doesn't exceed 350 degrees.

Fry drumsticks for 10 minutes, then flip over and fry for another 10. Remove to a cooling rack set over a sheet pan when done frying.

While the chicken is frying, add syrup, jalapeno, and cinnamon stick to a small saucepan. Set to medium low heat to steep. Strain before serving.

Preheat your waffle iron. Whisk together all ingredients for waffles. For Belgian waffles, this will yield two waffles. Prepare waffles according to the instructions for your waffle iron.

To assemble, top half of a waffle (if Belgian) with two fried drumsticks. Pour a generous amount of maple syrup over the top.