Guuuuys. I miss blogging so much. Like thiiiiiiiiiiiiiiiiiiiiiiiiiiiiis much. New goal to make an attempt to get more blogging done: wake up an hour earlier each morning! And hey, I'm writing this blog post at 5:40 a.m., so I was successful today. We'll just see how long this is sustainable.
Have you heard of a website called skillshare (totally not being paid to promote, just mildly obsessed right now)? I just signed up for three months for $.99. You can take classes on just about anything under the sun, from buying great wine, making traditional meatballs, food photography, to writing a book. I've already taken two classes and am loving it! I just have to make sure that my hour of early morning work is spent on here instead of learning about Thai cuisine over there…
Anyways. It's suddenly the end of November and the last time I was on here it was September. In Portland, we had a weirdly long summer. It was downright suspicious. But our usual, well-beloved winter has arrived in full force. We've got ourselves a near constant cover of gray and plenty of downpour. And dang, it's cold. All this weather makes me want to do is eat SOUP. All the soup. This week we've already had smoked salmon chowder and I'm planning on making an Oktoberfest stew tomorrow. But this Slow Cooker Pork Stew with Apples and Lime is by far the most fun soup/stew/hot liquid type dish I've made in a long, long time.
First off, the combination of pork and apples is ALWAYS a winner, right? Especially good with the last of the wonderful apples we're getting right now! When I first met my now husband, he thought pretty much any salty-sweet combination was "weird", especially the classic pork and apple sauce dish. HE'S WEIRD. Not the delicious pork and apples. Okay, okay, he was a 16 year old and his palate has changed a lot since then, but that was a fairly unforgivable offense. Pork + apples = a happy heart.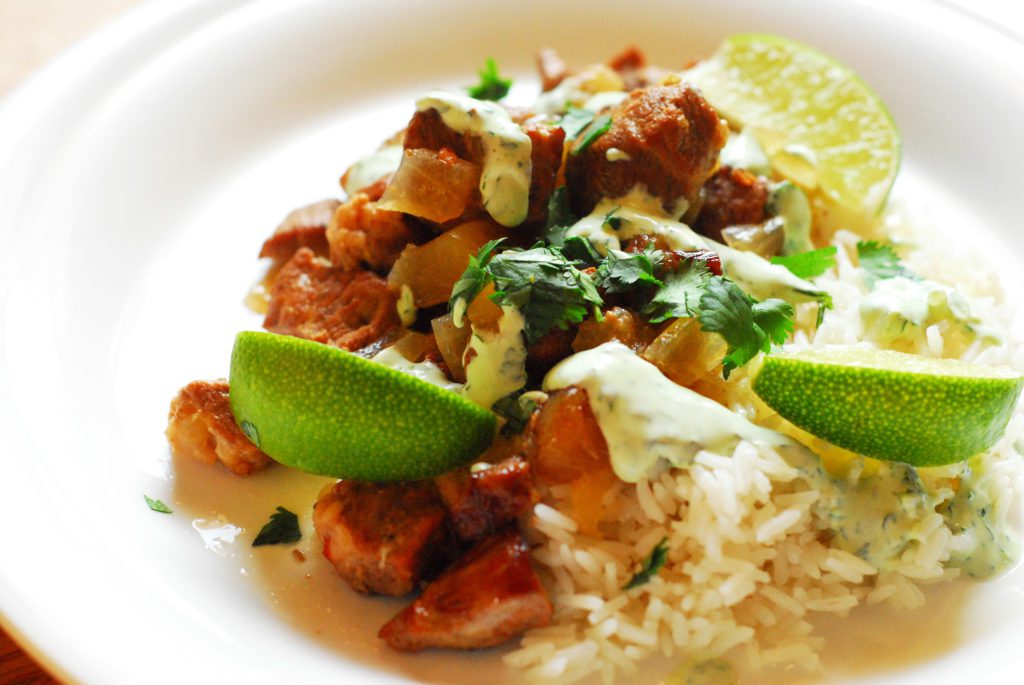 Add the acidity of lime and a kick from red pepper flakes to push this dish over the edge. The flavors and number of ingredients are simple, but they work so well together that you don't need anything else.
The thing that really rounded this dish out was finishing it off with a cilantro cream sauce. Mostly because: cream sauce, what isn't it good on? The cream perfectly complements the saltiness of the pork and acidity of the lime. Yes.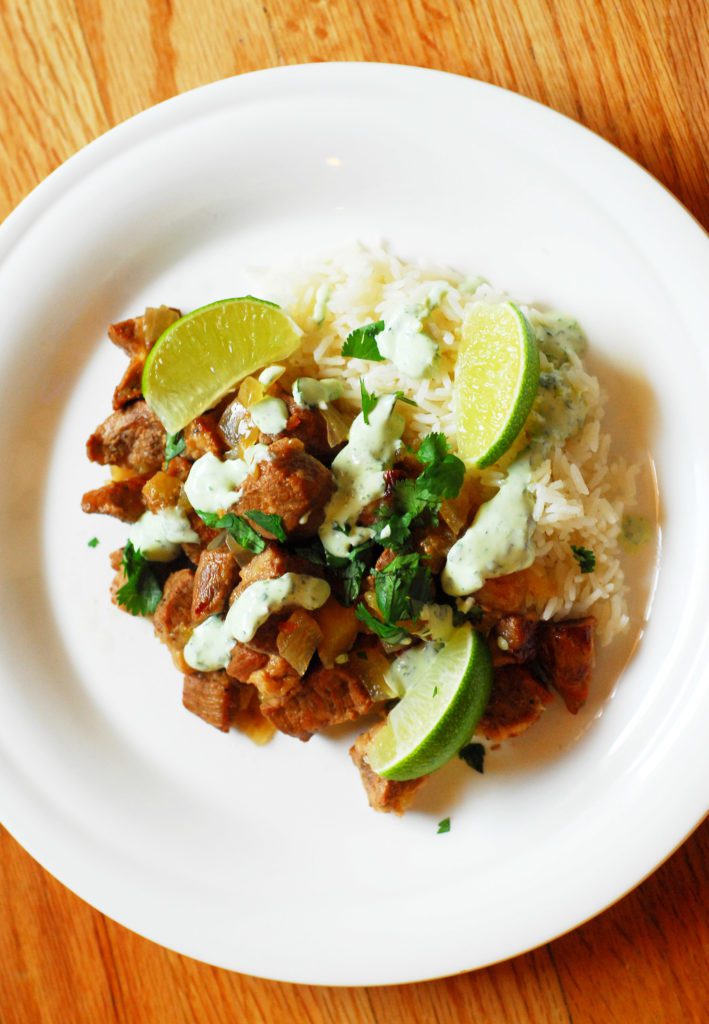 Serve it over rice and you've got yourself a complete meal! Speaking of rice, do you know what was my favorite wedding gift card purchase? A rice cooker! We eat a lot of rice, and we'd been working for months to find a way to make rice perfectly (… not have it stick to the bottom of the pot every time we made it …) and even the method we came up with was pretty hit or miss. Not so with this rice cooker! It's easy to clean, easy to use, and makes me real happy.
One of the best things about this stew is it's a lot lighter and brighter than your typical stews with gravy like sauces. Not that I don't love those stews for exactly what they are, but this one warms me up in a completely different way thanks to punches of citrus and cilantro. Oh hey, about that cilantro! I know it's not exactly in season or of particularly good quality this time of year. Right now, I really like to use stir in pastes. They'll keep in your fridge for three weeks and taste super fresh!
In addition to being tasty, this recipe is easy to throw together, and in true November fashion, it's mostly done in your slow cooker! The only "hard part" I ask that you do is brown the meat first. I promise it's worth it. PROMISE. But I'll let you just throw the rest of the ingredients right on in. Unless you get a whim and want to caramelize the onions, because that would be tasty, too…
Alright, get cooking and tell me how much you love this Pork Stew with Apples and Lime!
You can also view this recipe as a step-by-step web story here.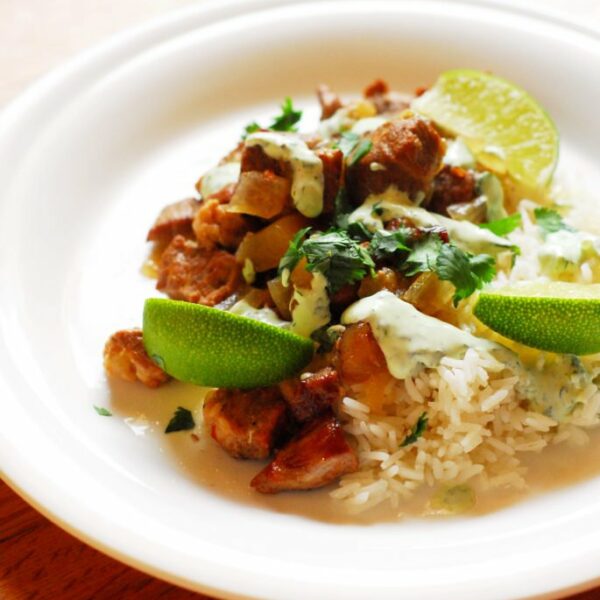 Get the Recipe: Slow Cooker Pork Stew with Apples and Lime
This pork stew is comforting and warm but with bright apples and lime! For ease, it's made right in your slow cooker.
Ingredients
2 tablespoons olive oil
3 to 4 pounds trimmed boneless pork shoulder, cut into 2-inch pieces
Pepper
1 large white onion, chopped
4 large apples, peeled, cored and roughly chopped
1 1/2 tsp red pepper flakes
1 bay leaf
Pinch of ground cloves
¼ cup lime juice
4 cups chicken stock
1/2 cup sour cream
¼ cup chopped cilantro
Steamed rice for serving
Instructions
In a large, heavy bottom skillet heat the oil over medium high heat.

Lightly season the pork with salt and pepper. Add the pork to the skillet and sear on all sides. Do this in batches if necessary to make sure you can brown the pork in a single layer. Remove to a plate.

Add the pork, onion, apples, bay leaf, cloves, lime juice, and pork to your slow cooker. Stir to distribute ingredients evenly. Pour in enough of the chicken stock to cover the pork.

Cook on low in slow cooker for 6-8 hours.

Before serving, add sour cream and chopped cilantro to a food processor. Process until cilantro is smooth.

Serve stew over rice and with a drizzle of the cilantro cream sauce. This makes excellent leftovers!
This recipe was inspired by this Peruvian Pork Stew from New York Times Food!