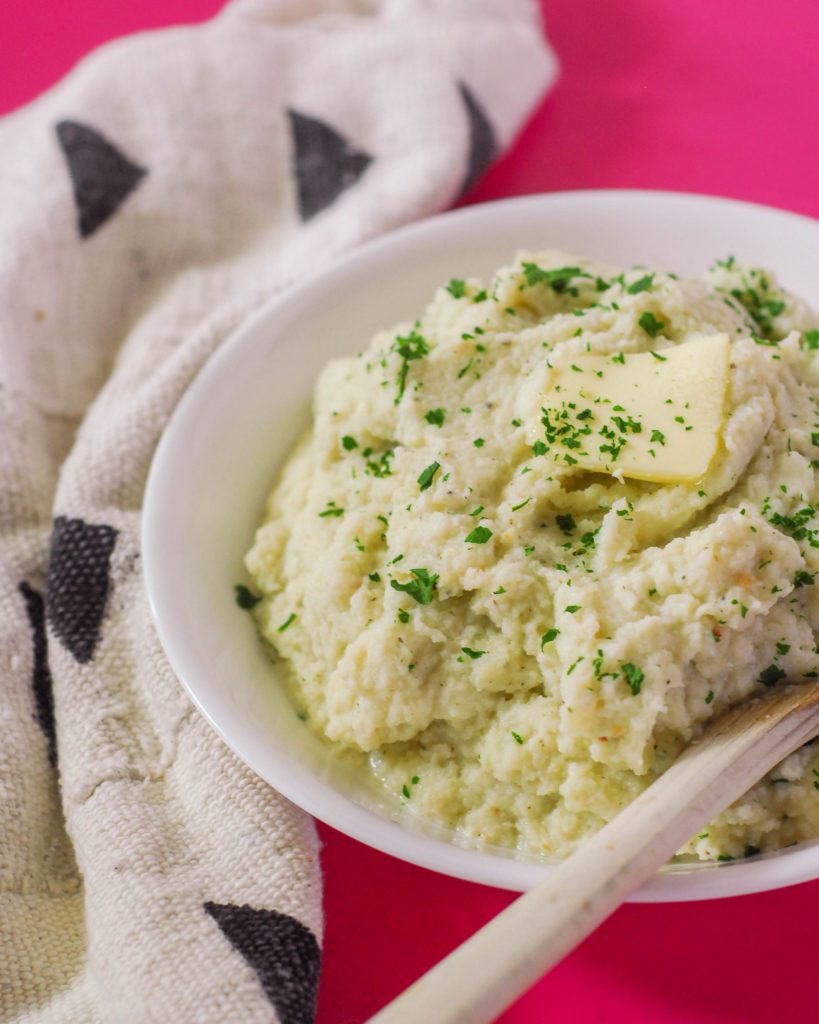 So, I usually like to be delusional and think I'm above trends. Which makes me an asshole, I know. But I've never purchased collagen peptides (before I spend this much money on COLLAGEN… show me a study friends). There are no hemp hearts in my kitchen. I don't put butter in my coffee.
But… but. There's one trend (ish) I haven't been immune to: cauliflower. Cauliflower rice? Yes plz, preferably riced for me (Trader Joes, you are my hero). Cauliflower pizza crust? Okay, it's not real pizza and most definitely doesn't count as cheat night, but it's dang tasty in its own unique way. And mashed cauliflower – this stuff is a godsend.
The battle for my #1 favorite food is between mac and cheese and mashed potatoes (such a refined palate I have). Mashed potatoes are AMAZING but they def pack a calorie punch, so cauliflower mash makes a perfect substitute. And when done right, they taste great. Fluffy, buttery, and savory. Even husband approves!
For my method, you need a stock pot, colander, and immersion blender in your toolbox. Ingredients you'll need:
A head of cauliflower
Butter (sub for ghee and this is Whole30 friendly)
Salt
Pepper
Italian seasoning
… and that's it. Srsly easy.
We pair this with stews, pot roasts, sausages, any instance where you'd want mashed potatoes. This recipe is roughly enough to feed 6, so you'll have enough for the whole fam!
Here's a video version for a quick way to get the deets:
5 Ingredient Mashed Cauliflower
Ingredients
1 head cauliflower
4 cloves of garlic, minced
3 tbsp butter
1 tsp kosher salt
½ tsp black pepper
Instructions
Bring a stock pot ⅓ full of water to a boil.
While the water is coming to a boil, cut the head of cauliflower into florets. Add the florets to the boiling water and boil for 10 minutes. Drain.
Return the cauliflower to the stockpot over low heat. Add remaining ingredients.
Use an immersion blender to puree the cauliflower until it's reached desired consistency. Adjust seasonings to taste.