How to Pronounce Sous Vide
It's totally okay if you're not sure how to pronounce this very French cooking term! Okay, here's how you pronounce it in English. Ready?
Soo (like "moo") veed. Go forth and sound like a pro.
What is sous vide cooking?
Let's get the dictionary definitions out of the way: sous vide is a French method of cooking and translates to "under vacuum". People have experimented with different elements of the sous vide cooking process for centuries (low and slow cooking, cooking under pressure, etc.) but it was only all put together in the 1970s in France.
Okay, now: what is sous vide cooking? Sous vide is a cooking method where you put your food in a container and remove the air, then place it in a water bath at a specific temperature for an extended period of time. So, a consistent cooking heat, usually for slightly longer than you'd "normally" cook your food. Got it? Food in bag/jar, bag/jar in water bath, leave it there for a while.
Think of a sous vide water bath like a mini hot tub.
To sous vide, all you have to do is fill a container with water and place an immersion circulator in the water. Like you would set the temperature on a hot tub, you do the same on the immersion circulator.
Once you press "Start", the immersion circulator will move the water through the heat coils inside the machine, then back into the water bath. It will bring all of the water up to and then keep it at your desired precise temperature.
Why is the sous vide method better than other cooking methods?
Let's use sous vide steak as our example food. The doneness of steak is related to the temperature the center of the steak reaches. This means the center of a rare steak is literally colder than the center of a well-done steak.
What is doneness? You know when you're at a restaurant and the server asks "How do you want this cooked?" and you say "Medium-rare, please"? That's doneness.
Using sous vide, you can keep a water bath at the exact temperature you'd like. I like a medium-rare strip steak, so I cook it at 129 degrees F. When I place a vacuum-sealed steak in a water bath set to this temp, it never has the opportunity to cook any hotter than 129 degrees F because the entire cooking environment is 129 degrees F.
Let's say you wanted to cook the steak in your oven and you set your oven to 425 degrees F. You have to pull your steak out at that magical, unknown moment the center reaches 129 degrees F, or you'll overcook it. That's a big ask!
In a sous vide water bath, I could cook that steak for days, and it would still be rare, because it's all about temperature. You're reading this correctly: you'll never ruin a good cut of meat again. You can't overcook it, no matter how long you cook it.
Not only is it nearly impossible to overcook, you'll also have that perfect medium-rare texture from edge to edge instead of rings of varying doneness to just a medium rare center.
See the photo below: the steak on the left was cooked sous vide and quickly seared in a very hot cast iron skillet. The steak on the right was pan seared from start to finish.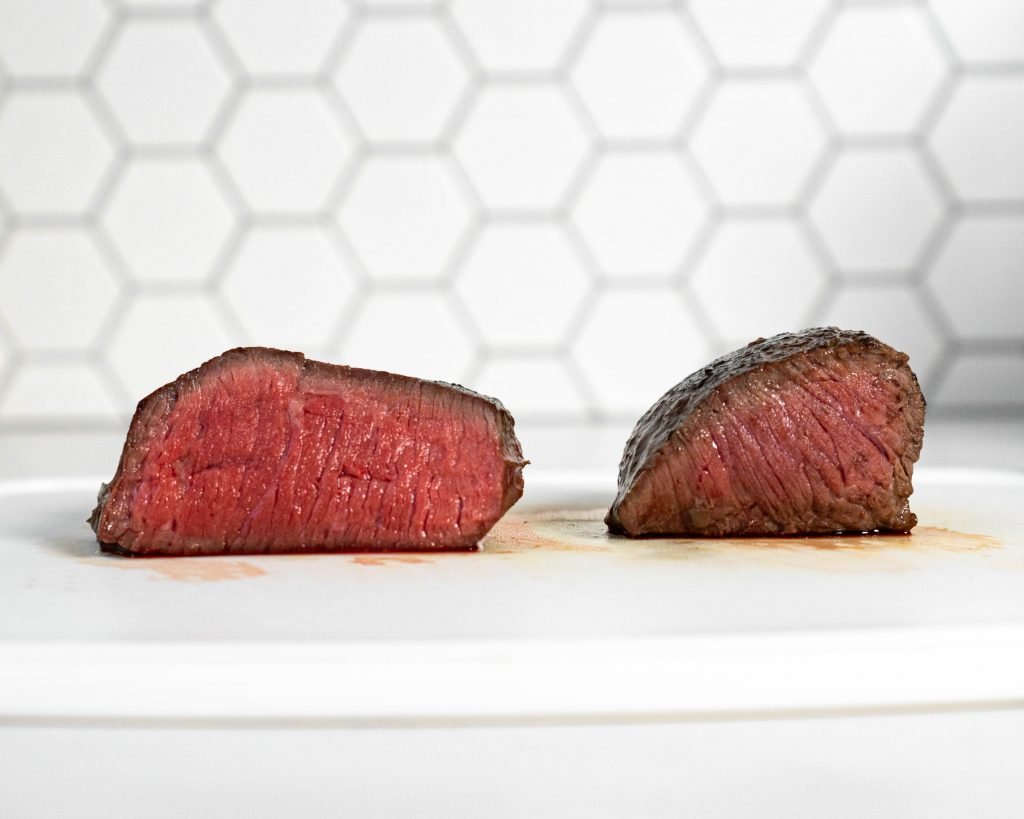 Other benefits of sous vide cooking
In addition to the obvious, sous vide cooking is wonderful because you can get a tougher cut of meat and cook it long enough to tenderize it, while still keeping it rare. Time under heat will change texture.
For our squeamish people, you can pasteurize a medium steak, killing all the germs but still keeping that lovely texture. No more well-done steaks for our germaphobes (I'm looking at you, father-in-law)! This is done by cooking food at 130 degrees F or higher, and making sure the food stays at that temperature for at least several minutes. To learn more about sous vide and pasteurization, check out this article by Cook's Illustrated on the safety of sous vide.
Cooking for a crowd? You can prep several servings at once, get the center of the plate prepped hours in advance, then just sear to serve. I could go on and on.
Yes, you will make a killer steak, amazing pork chops, and perfect salmon with sous vide. But what else? Make the silkiest sous vide egg bites; crank out a dozen perfect individual cheesecakes in just 2 hours; make fun, custom vodka infusions; and make the best fried chicken you've ever had. "Why haven't I been doing this for always?!" is the question you should be asking yourself right now.
Ready to learn even more about sous vide cooking? Make sure to check out Sous Vide School, where I personally teach you everything there is to know.