This recipe was inspired by a Warm Brussels Sprouts Caesar Salad I had at one of my favorite breweries in Portland, Ex Novo. They are AWESOME. First of all, all of their profits go to non-profits. Second of all, their beer is legit. And third of all, they manage to serve amazing, out of this world pub food. On their happy hour menu, you will find fried chicken sliders made with doughnuts. Yeah.
I had this Warm Brussels Sprouts Caesar Salad a few months ago, opting out of their excellent sandwiches and pizza, and it was the best decision I've ever made. I didn't know what glory I was in for.
The brussels sprouts were sauteed until softer but maintaining good, crunchy texture, tossed with bacon, a lemony caesar dressing, and huge, buttery croutons. Everything a girl could want.
Step by Step Video:
With the sauteeing and DIY dressing, it does take a little longer to toss together than your average salad, but if you want to use storebought dressing, I'll look the other way. Just do me a favor and add an extra squeeze of lemon – the citrus really makes the salad. The same goes for the croutons, but at least do the croutons from the store bakery. Way. Better.
This Warm Brussels Sprouts Caesar Salad can easily work as your whole meal, or serve it along side something else if you want. Might I recommend Sous Vide Tri Tip? My favorite part: it's healthy-ish while still being delicious. We have to slowly glide into those New Year's Resolutions.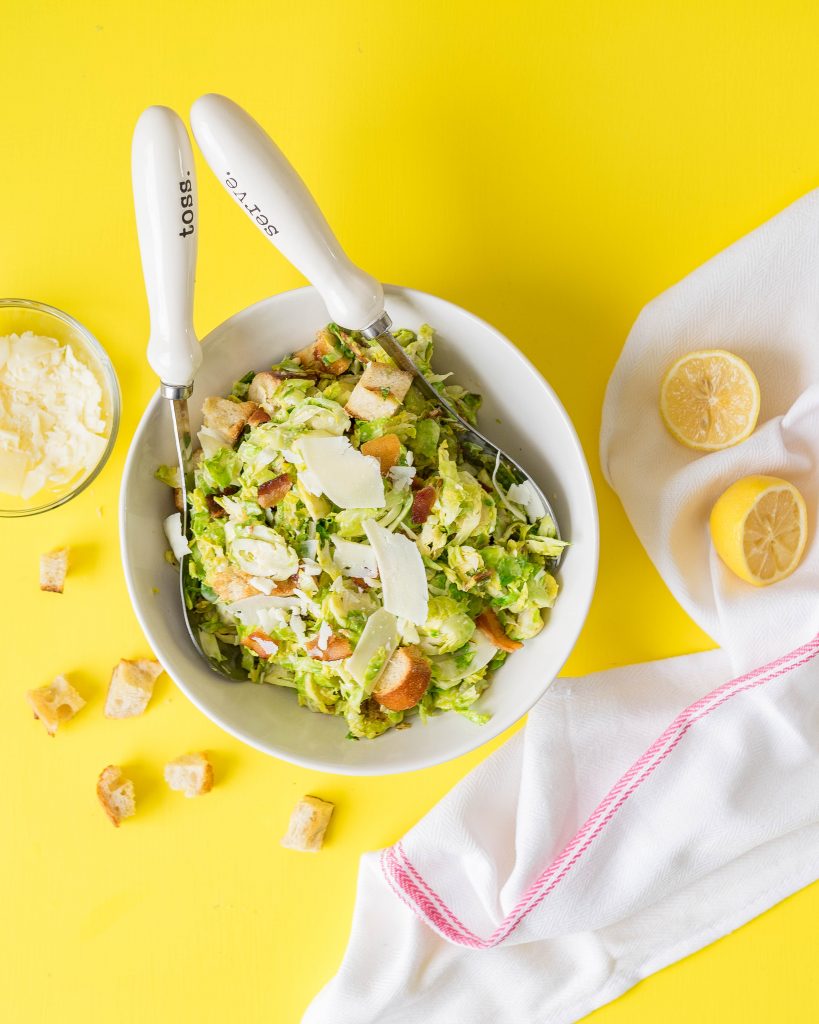 You can also view this recipe as a step-by-step web story here.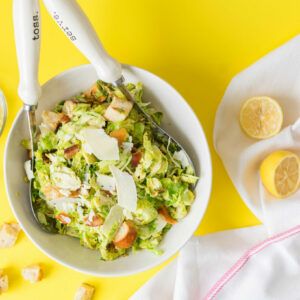 Get the Recipe: Warm Brussels Sprouts Caesar Salad
Brussels sprouts are sautéed until soft but maintain a good, crunchy texture, tossed with bacon, a lemony caesar dressing, and huge, buttery croutons. Everything a steak eater could want.
Ingredients
Croutons:
3 cups of cubed french bread
2 tbsp butter, melted
1 tsp kosher salt
Caesar Dressing:
1/2 cup mayonnaise
1 anchovy fillet or 1/2 tsp anchovy paste
3 garlic cloves
2 tbsp olive oil
2 tbsp lemon juice
2 tsp Dijon mustard
1/2 tsp freshly ground black pepper
Assembly:
3 pieces of bacon, cooked
1 half lemon
2 tbsp shaved parmesan
Instructions
Preheat oven to 350 degrees.

On a baking sheet, toss cubed bread with butter and salt. Bake in preheated oven for 15-20 minutes, or until crunchy all the way through and browning on the outside.

To make the dressing, add all ingredients to a food processor and pulse until smooth.

Begin heating a large nonstick skillet over medium heat. Add the olive oil, then the brussels sprouts and salt. Toss to coat and reduce heat to medium low. Saute until softened, but still crunchy, about 10 minutes.

Add brussels sprouts to a large salad bowl. Pour desired amount of dressing onto the brussels – you'll have some dressing leftover. Squeeze the half of lemon over the brussels. Break bacon into pieces and add to the salad bowl. Toss to coat.

Top salad with croutons and shaved parmesan. Serve.
Notes
You can buy brussels sprouts pre-shaved from Trader Joe's! You can totally use a storebought caesar dressing. But the homemade is really good!
Calories: 990kcal, Carbohydrates: 115g, Protein: 29g, Fat: 48g, Saturated Fat: 12g, Trans Fat: 1g, Cholesterol: 41mg, Sodium: 2797mg, Potassium: 763mg, Fiber: 9g, Sugar: 8g, Vitamin A: 1060IU, Vitamin C: 112mg, Calcium: 173mg, Iron: 9mg