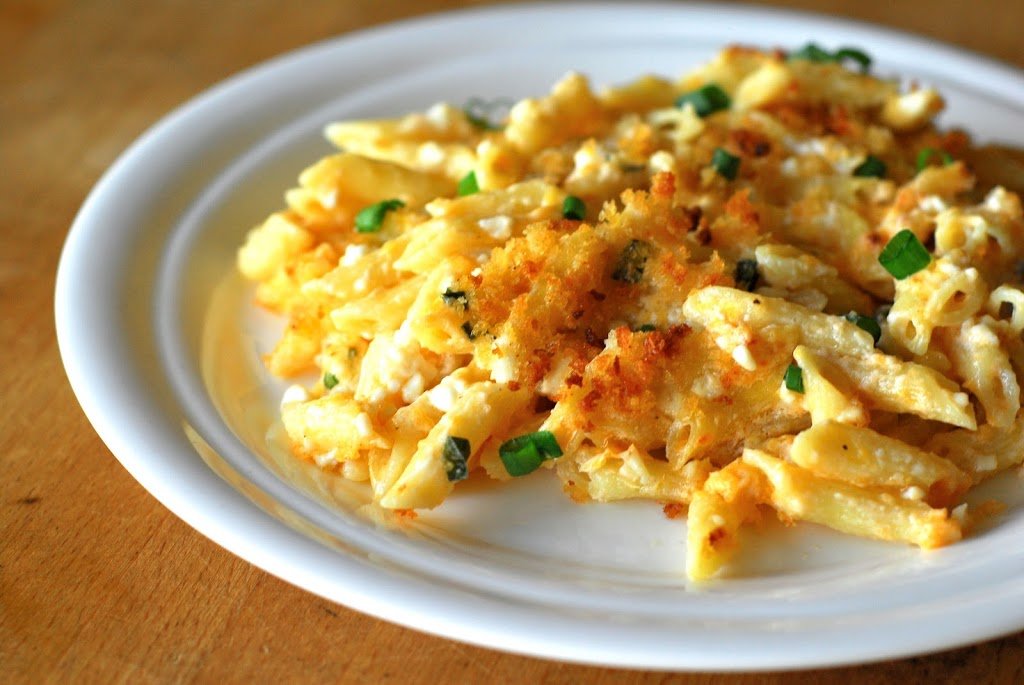 Nearly every mac and cheese recipe you will ever encounter starts with a white sauce. And white sauces are fantastic. Seriously, it's just buttery, milky, cheesiness that's about to cover noodles.
This recipe, however, has no white sauce. Gasp! But how is it cheesy and delicious, you ask? Two secret ingredients. Are you sitting down? Seriously, this is going to weird you out. Alright. Ready?
Yep, that's right. Cottage cheese and sour cream. And they make this macaroni ROCK. So creamy and awesome tangy flavor. You also have the option to make a lighter mac and cheese (yes, healthy- kind of- mac and cheese can exist!) by using fat free cottage cheese and light sour cream, as I am here. This is also very easy to make and doesn't take a ton of time.
You can use any number of noodles for this mac and cheese. I've been on a mini penne kick lately.
Look at how little it is! I love penne, and this is just cute penne.
Boil your pasta of choice according to package directions to al dente. We're going to be baking it, so al dente pasta is super important for not-mushy-and-disgusting pasta.
While it's boiling, shred some cheese. I chose to use sharp cheddar cheese, but you can use whatever you want! I've used a combination of ramano & cheddar before and even extra sharp white cheddar and it's been fabulous every time.
Then chop up some green onions.
When the pasta is done, return it to the pot and mix the shredded cheese into it while it's still hot.
Combine ground mustard, garlic powder, salt, and pepper in a small dish.
Add the spices, milk, onions, cottage cheese, and sour cream to the pasta and stir it very well, until evenly distributed. I love the smell that happens right here. So sharp and delicious! I could dive right in.
Then spread this mixture into the fabulous Rachael Ray Stoneware
your boyfriend's mom got you for Christmas. Or you can just use any old glass baking dish. It's okay, not everyone can have her in their lives.
Now we're going to kick it up a notch. Melt some butter and combine it with Panko bread crumbs and paprika. Sprinkle it all over the top of that mac and cheese.
Throw the mac and cheese in an oven preheated to 350 degrees for about 30 minutes, or until melty and bubbly and the Panko crumbs are brown. If it doesn't have the color you want, broil it for a minute or so.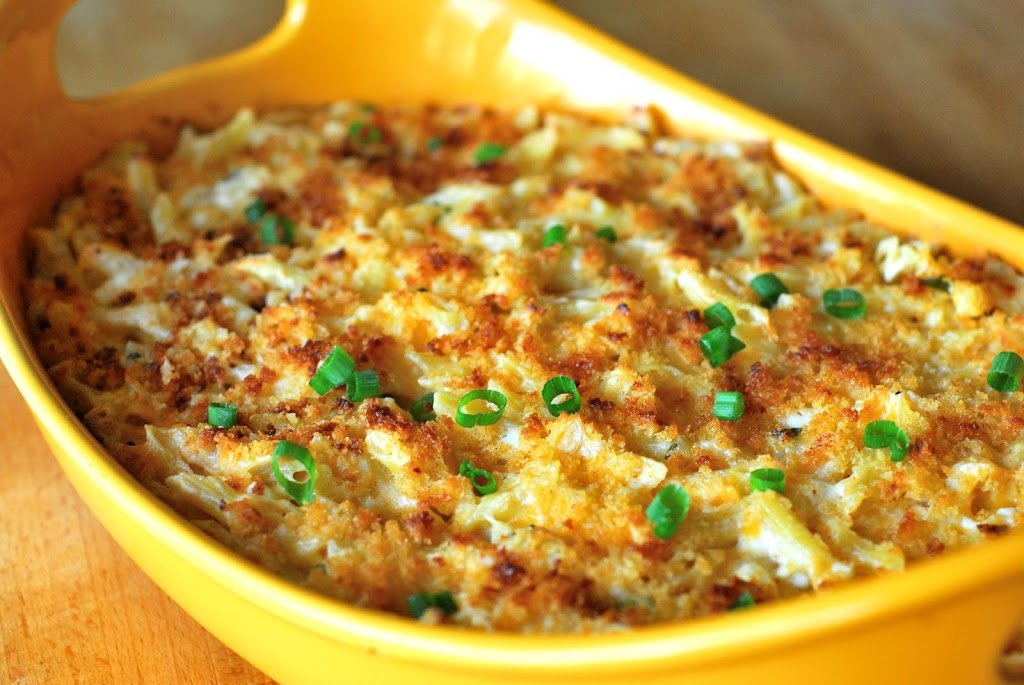 Top it off with a few more green onions, and voila!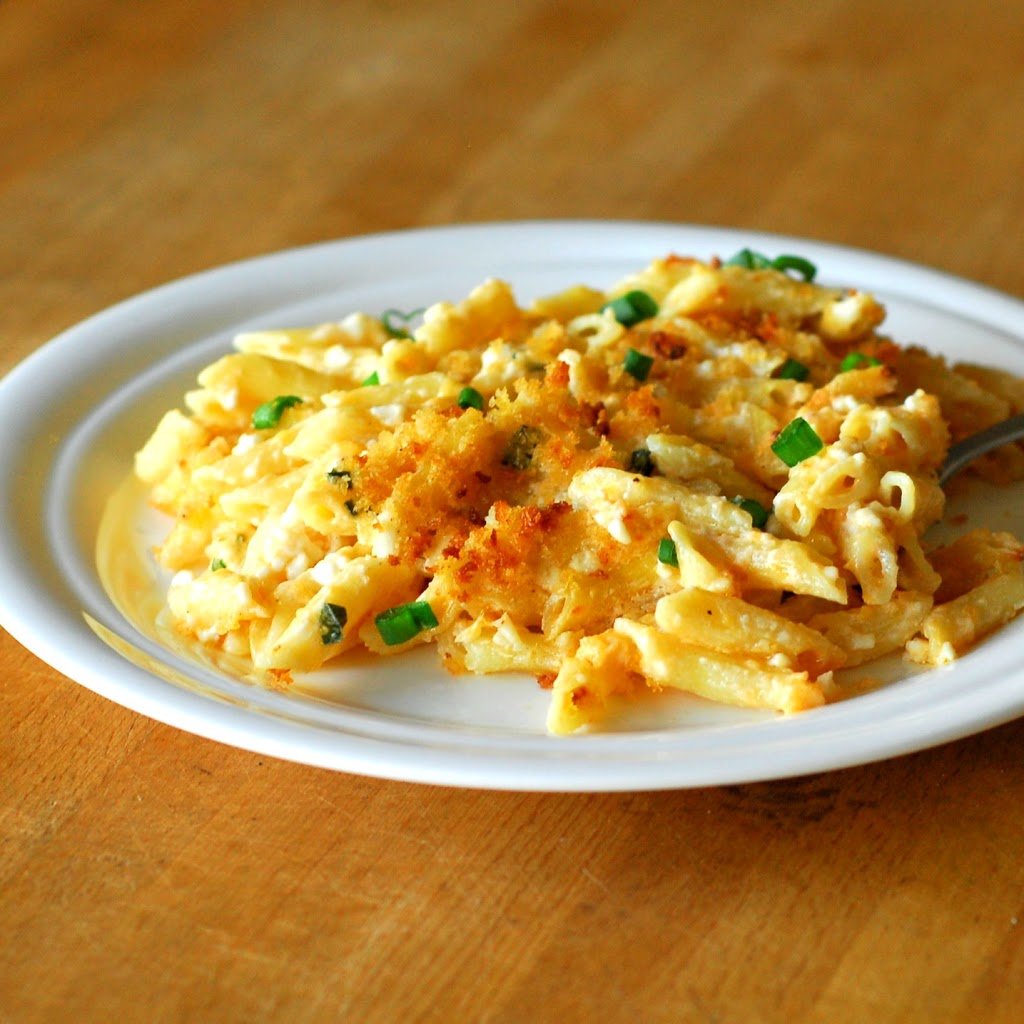 I love this dish because it's a great new take on a classic comfort food, and it is oh so very creamy. It's also super versatile- you can add bacon, different cheeses, veggies, whatever comes to mind!
Print
Not-Your-Average Mac and Cheese
Author:

Chelsea Cole

Prep Time:

20 mins

Cook Time:

30 mins

Total Time:

50 mins

Yield:

6

Servings

1

x

Category:

Dinner
---
8 oz

mini penne pasta

1 1/2 cups

shredded sharp cheddar cheese

1 tbsp

chopped green onion

1/2 tsp

ground mustard

1/2 tsp

garlic powder

1/4 tsp

salt

1/4 tsp

ground black pepper

1 cup

light sour cream

1 cup

cottage cheese

1/2 cup

milk

1/4 cup

butter, melted

1/4 cup

Panko bread crumbs

1/4 tsp

paprika
---
Instructions
Preheat oven to 350 degrees. Cook pasta according to package directions for al dente pasta.
When the pasta is done, return it to the pot it was cooked in. While it's still hot, mix in the shredded cheese.
Combine the ground mustard, garlic powder, salt, and pepper in a small bowl.
Add the sour cream, cottage cheese, and milk to the pasta and stir to combine. Add the spices and green onions and stir until well combined.
Lightly grease a 9×13 inch baking dish with cooking spray. Spread the mac and cheese mixture into the dish.
Combine the melted butter, bread crumbs, and paprika and sprinkle evenly over the mac and cheese. Bake for 30 minutes, until mixture is bubbly and melty and the bread crumbs are browned. Broil for 30 seconds to give color if needed. Top with additional chopped green onions and serve.
---