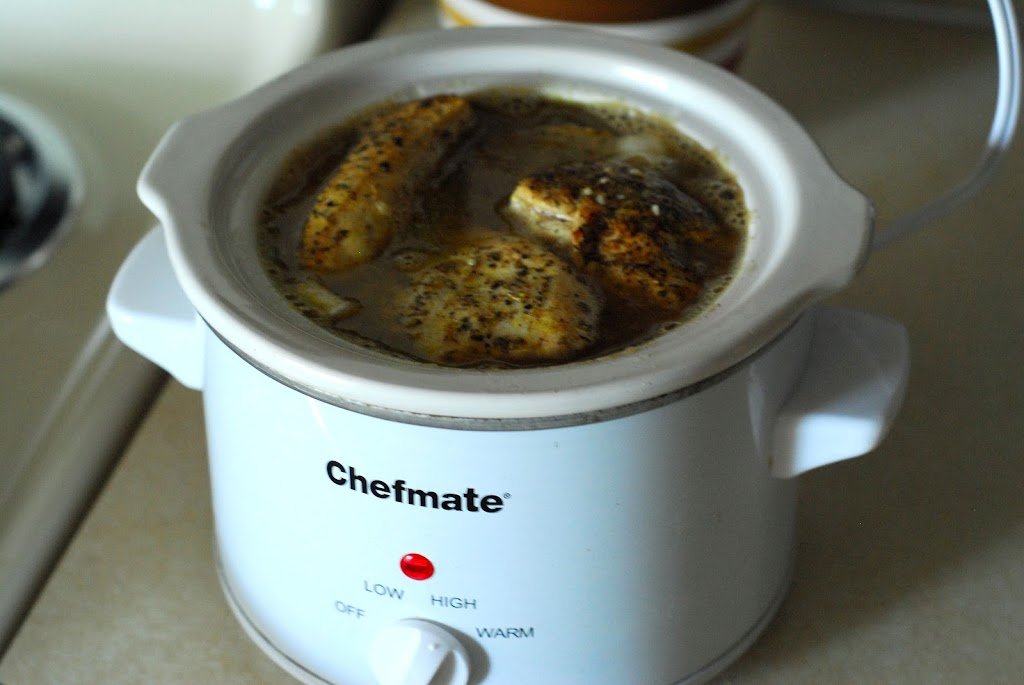 I adored my little tiny crock pot. It may be freakishly tiny, but it did so much for me. This was one of the last recipes I used it for before I finally invested in a bigger one, so enjoy the photos of its weirdly small nature. Sidenote: my new crock pot is AMAZING. It's freaking programmable. It practically has a brain.
People talk about how great the crock pot is for cold, winter evenings, but I also love my crock pot during the summer because I'm not working over a hot stove. The crock pot does all the humid, hot, icky stuff for me!
Not that that is entirely relevant, since it's still February… just throwing it out there. I love my crock pot, no matter the time of year.
This recipe is a staple in mine and Boyfriend's diet. I probably cook it twice a month, and would do it more if I had the foresight. It's very flavorful and oh-so-tasty.
Alright, we're working with your classic root vegetables here. Root vegetables are great because they last forever and are ideal for the crock pot since they take so long to cook and can absorb all of that flavor. To start, chop up some potatoes.
And onions.
And carrots. The carrots look super weird in this picture. And yes, they are baby carrots. That's all I had on hand, okay? Okay? Okay.
Throw all of the chopped veggies into the crock pot and give 'em a stir so they're evenly distributed.
Then trim a couple of chicken breasts. I cut my chicken breasts in half "hamburger style" because they fit better in my itty-bitty crock pot that way and I don't always like to eat that much chicken at once. But you don't have to.
Then we're going to season these bad boys with some kosher salt, Italian seasoning, and lemon pepper. And then you think "but wait! Whenever I season meat that's going in a crock pot, it just falls off in the liquid anyways! Why bother?" Uh hoh! Oh, contrare!
To make sure that the seasoning sticks (and lend some killer flavor), we are gonna melt some butter.
And brown the breast pieces in the butter. This will make that seasoning stick right onto the meat and lock all of that flavor on there.
We don't want to cook the chicken breasts here, just brown the outside, so make sure the heat is on medium high.
Once they're browned, stack them on top of the veggies in the crock pot. Then deglaze the pan you browned the chicken in with dry white wine. And inhale, because this is the most fantastic smell that has ever existed. Then add chicken broth, lemon juice, and minced garlic. Bring to a simmer, and let simmer for about 3 minutes.
Pour this liquid gold right on over the chicken breasts and veggies. If it doesn't cover the chicken, add a bit more broth until everything is covered. Cook on low for 6-8 hours (the longer the better, in my opinion!).
Did I mention my crock pot is small? Also, ignore that I have it on high here. I have this irrational thing where I insist on setting it to high for the first 15-30 minutes to get the liquid hot. There's no reason for it. Don't be like me.
Now wait.
And wait some more. And try so, so hard to be patient while breathing in the delicious fumes.
Then, finally, after eight long hours, take the lid off of the crock pot and spoon some of the delicious chicken and veggies out with enough cooking liquid to keep it all moist.
If you're feeling fancy, garnish it with some Italian parsley and sliced lemon. For the sake of the photo, I decided to be fancy, but I usually am not patient enough. I'll admit that.
This recipe is for two, but you can easily double, triple, even octuple it for more people. It's just super versatile like that.
Get the Recipe: Lemon Crock Pot Chicken
Ingredients
2-3 potatoes, depending on the size, diced
1/2 sweet onion, diced
3 carrots, peeled and diced
2 chicken breasts, fat trimmed
Lemon pepper
Italian seasoning
1 tbsp butter
1/2 cup dry white wine
2 cups chicken broth
1/4 cup lemon juice
1 tsp minced garlic
Instructions
Put the diced potatoes, onion, and carrots into a crock pot.

Season the chicken breasts with the lemon pepper, Italian seasoning, and Kosher salt. Melt the butter in a pan over medium-high heat. Once melted, brown the chicken breasts in the butter until just golden on each side, being careful not to cook them. Add the chicken breasts to the crock pot, on top of the vegetables.

Deglaze the pan used to brown the chicken with the dry white wine. Add the broth, lemon juice, and garlic and bring to a simmer. Let simmer for about three minutes, then pour on top of the chicken and vegetables in the crock pot. If more liquid is needed to cover the chicken, add chicken broth.

Cook on low for 6-8 hours, or until potatoes no longer have a "bite".