Chewy Rainbow Cookies
These cookies were a total fluke. Seriously. I was originally making "gold coin cookies".
. . .
Please don't make explain that idea. As you can imagine, it definitely did not work. Still trying to think in terms of St. Patty's Day, my mind then went to rainbow sprinkle cookies. Those did not work either. In part because I've used all of my yellow and green sprinkles for U of O-inspired projects and couldn't quite make a rainbow. I love my Ducks! And need to buy more sprinkles so I can continue to support my love for them.
Anyways, eventually I went completely crazy with failed-cookie frustration, broke my remaining dough into four balls, and dyed them each insanely bright colors. Then I rolled the dough balls out and twisted them together.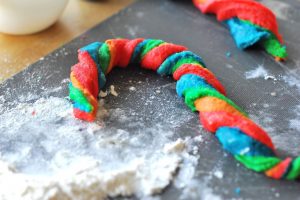 Then I rolled up the twisty string of dough, broke off chunks, then threw 'em on a cookie sheet with the failed experiments.
Then I baked 'em up. And this is what I got.
And you know what? I'm so glad that I completely lost my wits on this one. Because I think these look super cool! Or maybe I should say totally groovy.
I'm sorry. I maybe still haven't quite regained those whits that I had lost.
Enjoy these chewy, delicious treats for St. Patrick's Day!
Chewy Rainbow Cookies
Makes 24

Ingredients
1/2 cup (1 stick) butter
1/2 cup sugar
1/2 cup brown sugar
1/2 tsp vanilla
1 egg
1/2 tsp salt
1/2 tsp baking soda
1 1/2 cups flour
Food Coloring

Directions
1. Preheat oven to 375 degrees.
2. Using the paddle attachment on your KitchenAid or a handheld mixer, whip the butter until light and fluffy. Add the sugar and brown sugar and beat. Add the egg and vanilla and mix until well combined.
3. Add the salt and baking soda and beat into mixture. While the mixer is running slowly, gradually add the flour until dough comes together. 
4. Separate the dough into four equal portions. Use about 1/4 tsp of different colored gel food coloring or 5-6 drops liquid food coloring and knead it into the dough until bright and evenly distributed. Roll each ball into long strips. Connect the end of each strip and twist them together. Cut about four inches of dough off of the strip and coil to create a circle. Repeat until all dough has been formed into cookies.
4. Place cookies on an ungreased baking sheet. Bake for 8-10 minutes, or until bottoms of cookies are golden brown. Let sit on cookie sheets for a few minutes, then remove to a cooling rack.