Combining sous vide and smoke makes for the best pork shoulder roast (also called pork butt). A simple rub is all you need to create this easy, sous vide smoked pork shoulder! Sous vide at 165 degrees F for 24 hours, then finish on the smoker at 200 degrees F for 2 hours.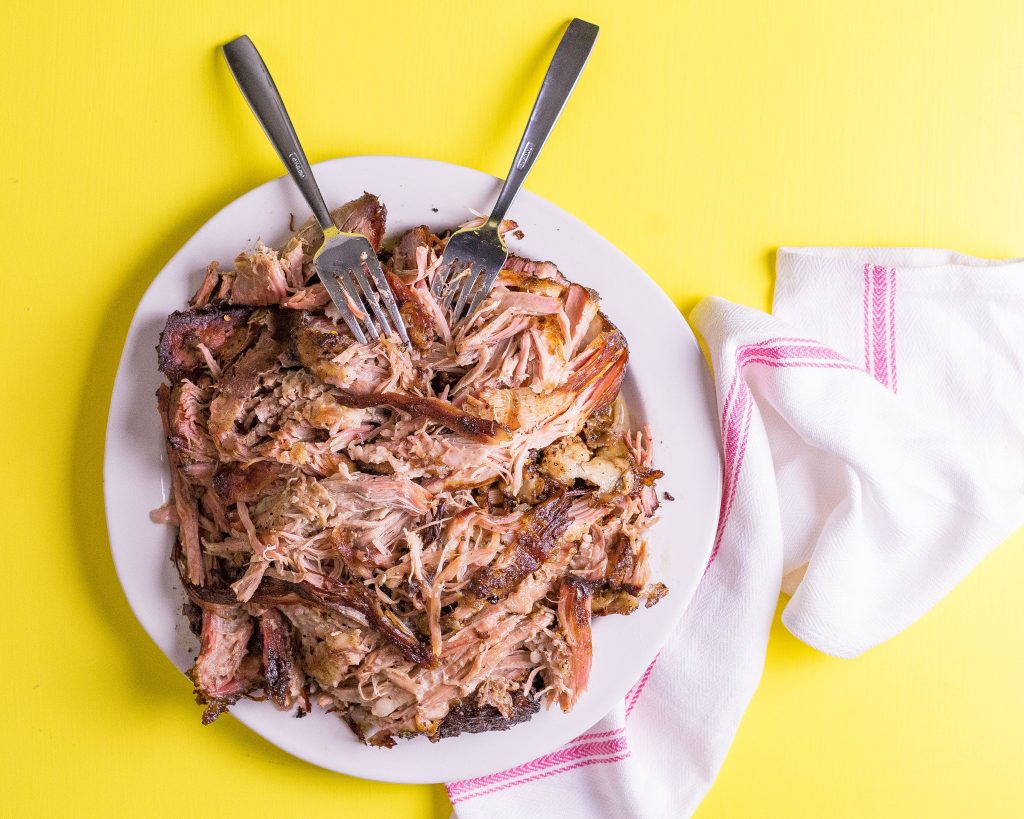 This recipe for sous vide and smoked pork shoulder combines two of my favorite kitchen gadgets: my immersion circulator and my smoker!
This recipe makes shreddy, flavorful sous vide and smoked pork shoulder. The long cook and high temp are what give you that fall apart texture – this will not be "meaty" or sliceable, rather it will be shreddable. This method works for bone-in or boneless.
Pork is one of my favorite proteins to prepare sous vide, and you can find several different sous vide pork recipes around here, like sous vide pork chops. If you're looking to make this pork into sandwiches, I highly recommend going big and making homemade rolls, too. The ones from my pulled pork on homemade rolls recipe are perfect for this!
Why sous vide and smoke?
Sous vide, a method for cooking meat low and slow, results in the most tender, melt in your mouth meat. Especially in the case of sous vide pork shoulder.
It's also less wasteful and way easier than the low and slow smoking method: you don't need bags and bags of pellets and you don't have to worry about babysitting a smoker for hours (even days!) on end.
By sous viding first, you tenderize the pork shoulder without the hassle of using a smoker, then simply finish it on the smoker for a few hours to get that flavor and bark.
This also works great for sous vide beef brisket, sous vide pork brisket, sous vide pork belly, and sous vide ribs.
Time and Temperature for Sous Vide Pork Shoulder
Let's talk method. I've tested this recipe on pork shoulder/butt roasts that are about 7 pounds in weight. Most pork shoulder/butt roasts are between 5 and 8 pounds. For roasts of this size, here is your method:
Sous vide: 165 degrees F for 24 hours
Smoke: at least 6 hours at 200 degrees F (or until you've achieved a good bark)
If your roast is smaller than 5 pounds, decrease the sous vide time to 18 hours. If it's bigger than 8 pounds, up the sous vide time to ~30 hours.
Pro-tip: weigh that pork shoulder down when sous viding. The rendered fat will create air pockets and this sucker will want to float. Make sure to keep it submerged for the entire cook! I do this with sous vide magnets and by placing a ceramic plate or bowl in the water on top of the vacuum sealed roast.
Once it's done in the sous vide bath, let it cool on the counter for at least 30 minutes. If you have the time, refrigerate it for a few hours. It makes it much easier to transfer to the smoker without it falling apart. Otherwise, find a buddy to help you make the switch!
How to Season your Pork Shoulder
You can use any good barbecue rub for this pork shoulder. I am a firm believer that using a quality spice blend is just as okay as making your own, so don't overthink this. My go-to spice blends are always from Primal Palate, so for this recipe, I used their Barbecue Rub.
If you do want to make your own rub, I recommend this barbecue rub recipe from Hey Girl Hey.
Equipment Needed for Sous Vide and Smoked Pork Shoulder
The bare minimum of equipment you'll need to make this recipe for sous vide and smoked pork shoulder is:
An immersion circulator. I highly recommend the Imersa Elite from Vesta Precision. It's a beast that can handle long cooks like this one.
A smoker. We have the Green Mountain Grill Davy Crockett and love it! You can also finish in the oven, but you won't get the same smoky flavor.
Some equipment that will make this process easier:
A vacuum sealer. You can use a zipper top bag, but vacuum seal bags are able to withstand high heat for long periods of time better, and for long cooks, you want to truly remove as much air as you can. I like the Vac n Seal from Vesta Precision.
A large cooking container, like a Cambro. You can buy these online or at a restaurant supply store (I get mine at Smart Foodservice).
Sous vide magnets, for keeping the pork shoulder from floating while cooking.
How to Prep Sous Vide Pork Shoulder in Advance
Fun fact: I actually prefer to do the sous vide part in advance, and then finish on the smoker right before serving. Here's why:
I'm in more control of my time.
The pork shoulder is easier to handle after it's been cooked if it's cold – it won't fall apart as easily when placing on the smoker.
To really plan ahead, after purchasing the pork shoulder, season the roast and vacuum seal it. Write the date and contents in Sharpie on the outside of the bag and freeze. From there, you can go straight from the freezer to the sous vide bath.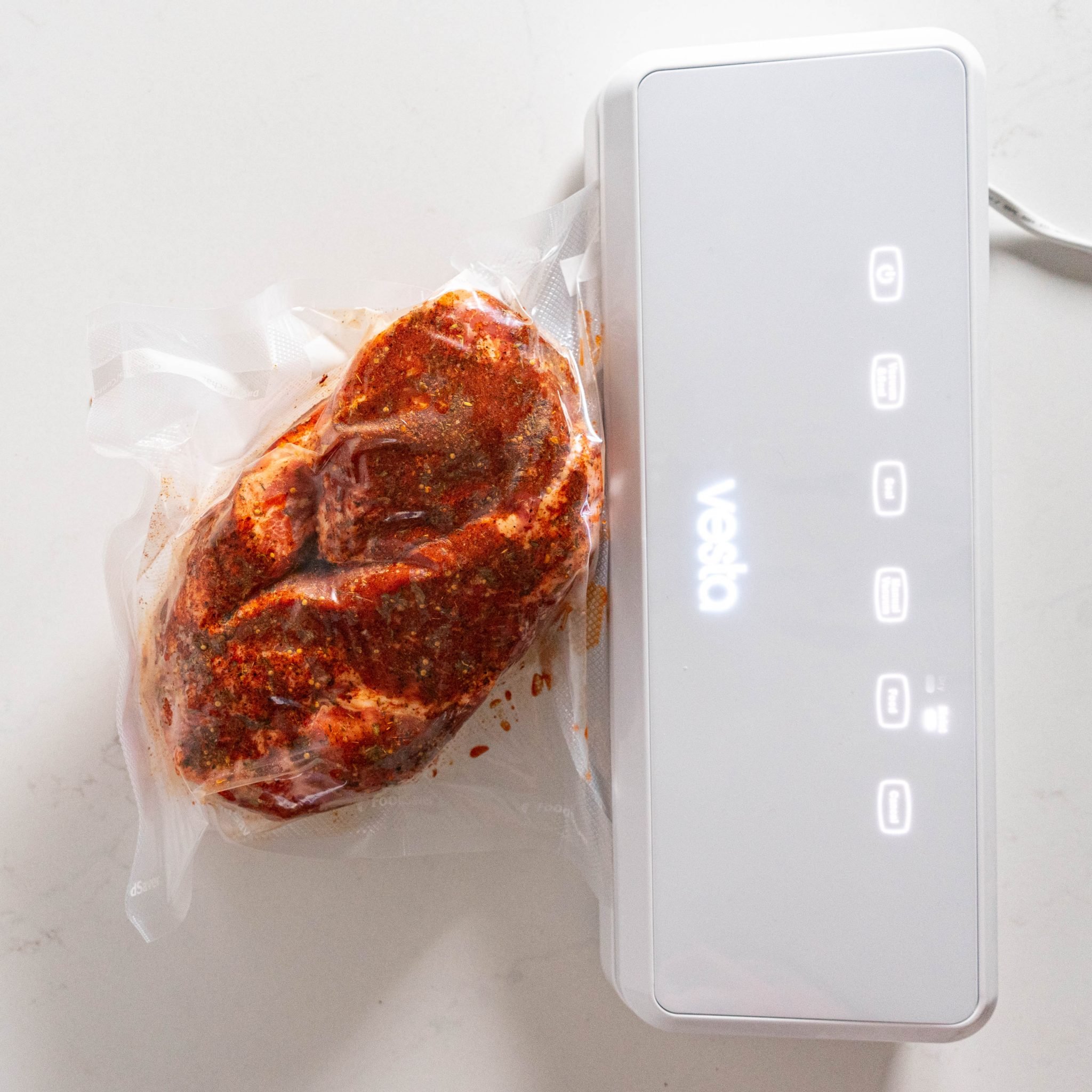 I wouldn't sous vide more than 3 days in advance of smoking. My usual process looks like this:
Day 1: put the pork in the water bath and cook for 24 hours.
Day 2: remove pork from water bath and place in fridge after it's cooled on the counter for about 30 minutes. Keep it in the vacuum seal bag.
Day 3: remove from fridge and bag. Scrape any fat and gelatin off the roast. Smoke for 6 hours, or until a good bark is achieved.
How to Select a Pork Shoulder
The number of people you're feeding will dictate the size of the pork shoulder you need.
2 people: 3 pounds
4 people (or for 2 with leftovers!): 5 pounds
6 people: 7-8 pounds
8+ people: 10-12 pounds
Why so much? There's a lot of fat in a pork shoulder roast which gives it incredible flavor, but a lot of that fat is inedible. I always err on the side of getting a bigger roast than I need – you can freeze the finished pork shoulder!
The higher quality meat you use, the better it is going to taste. However, don't overthink this and get what you can. Costco is a great option. I'll often use this method on their country style ribs, too!
Have fun with this sous vide and smoked pork shoulder. I'm obsessed with this technique!
You can also view this recipe as a step-by-step web story here.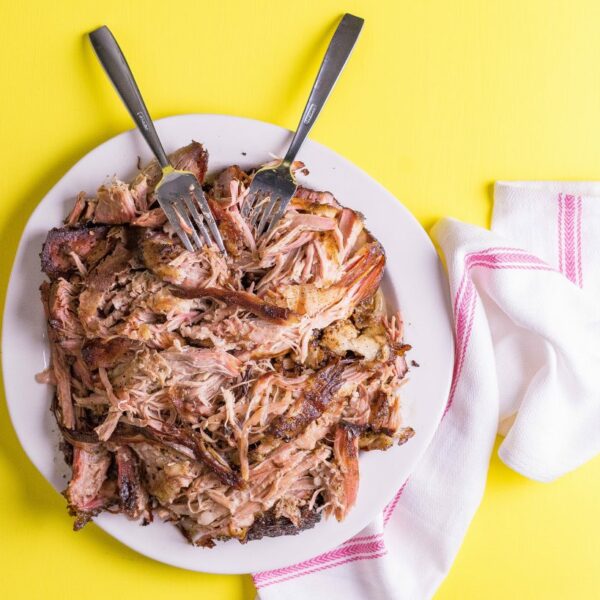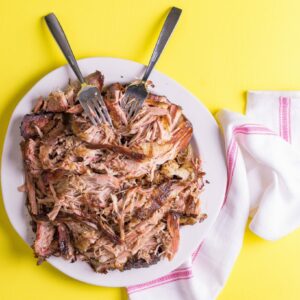 Get the Recipe: Smoked Sous Vide Pulled Pork Shoulder
Combining sous vide and smoke makes for the best pork shoulder roast (also called pork butt). A simple rub is all you need to create this easy, sous vide smoked pork shoulder! Sous vide at 165 degrees F for 24 hours, then finish on the smoker at 200 degrees F for 2 hours.
Ingredients
5-8 pound pork shoulder/butt roast, bone-in or boneless
1/4 cup barbecue rub, like this one from Primal Palate
Instructions
Set up a large water bath and preheat water with immersion circulator to 165 degrees F.

Rub the pork shoulder/butt roast thoroughly with the barbecue rub – really get into all the nooks and crannies!

Carefully place the seasoned pork shoulder in a large vacuum seal bag. Tip: cuff the bag a couple of times to make this easier and keep the seal line clear. Vacuum seal. If you don't have a vacuum sealer, use another air removal method like the water displacement method and a large, freezer-safe, zipper top bag.

Add sealed pork shoulder to your preheated water bath. Weigh down using sous vide magnets and a ceramic plate or bowl to prevent it from floating. Cook for 24 hours.

Remove the sealed pork shoulder from the water bath and let cool for at least 30 minutes on the counter. If you have time, refrigerate for a few hours. This will make transferring it to the smoker easier.

Preheat smoker to 200 degrees F. Remove the pork shoulder from the bag and transfer to your smoker. Cook for at least 2 hours, or until a bark has formed.

Remove to a cutting board and shred with two forks. Serve with your favorite barbecue sauce.
Notes
When smoking, you're ultimately looking for a good bark on the outside. Once a bark is achieved, pull it from the smoker. If your roast is smaller than 5 pounds, decrease sous vide time to 20 hours. If it's larger than 8 pounds, increase sous vide time to 30 hours.
Calories: 210kcal, Carbohydrates: 1g, Protein: 27g, Fat: 10g, Saturated Fat: 3g, Cholesterol: 93mg, Sodium: 106mg, Potassium: 484mg, Fiber: 1g, Sugar: 1g, Vitamin A: 54IU, Vitamin C: 1mg, Calcium: 37mg, Iron: 2mg
Did you make this recipe? I'd love it if you left a review!