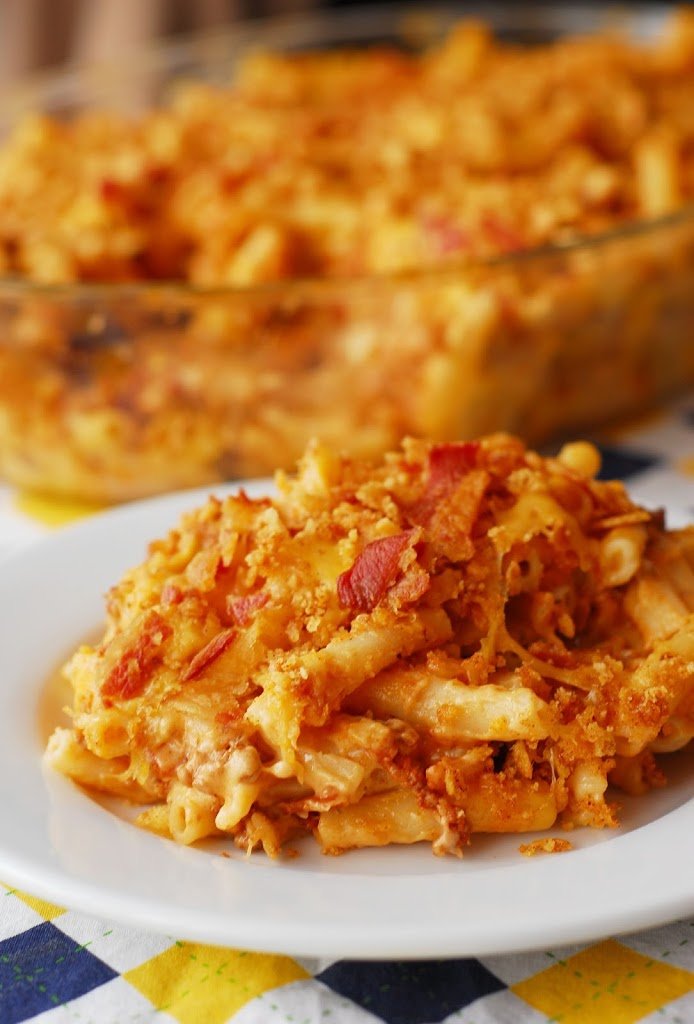 I know this is two almost back to back mac and cheese recipes.
But it's mac and cheese, people. And when this inspiration struck it needed to be made and shared immediately. I'm sure you can understand the urgency.
My original plan was simply to do cheeseburger mac and cheese, but then brilliant Fiance saw what I was doing and said, "Can we add bacon to this?" My first instinct, as with most of his suggestions in the kitchen, was to scoff and tell him to leave me to it, but then I paused and thought about what he'd said. What's better than a cheeseburger? A bacon cheeseburger, of course. And so it happened. Thank goodness Fiance loves bacon so much. He also helped inspire the Bacon Stuffed Cinnamon Rolls.

Alright, let's get down to it. The prep work is pretty simple: get some bacon cooking in the oven and dice up cheese and onions.
Brown some ground beef and add the onions, garlic, paprika, tomato paste or ketchup, salt, and pepper and cook for a few minutes longer.
Then the mac and cheese. I used macaroni noodles, cooked very al dente, and a basic roux of butter, flour, cheese, and milk.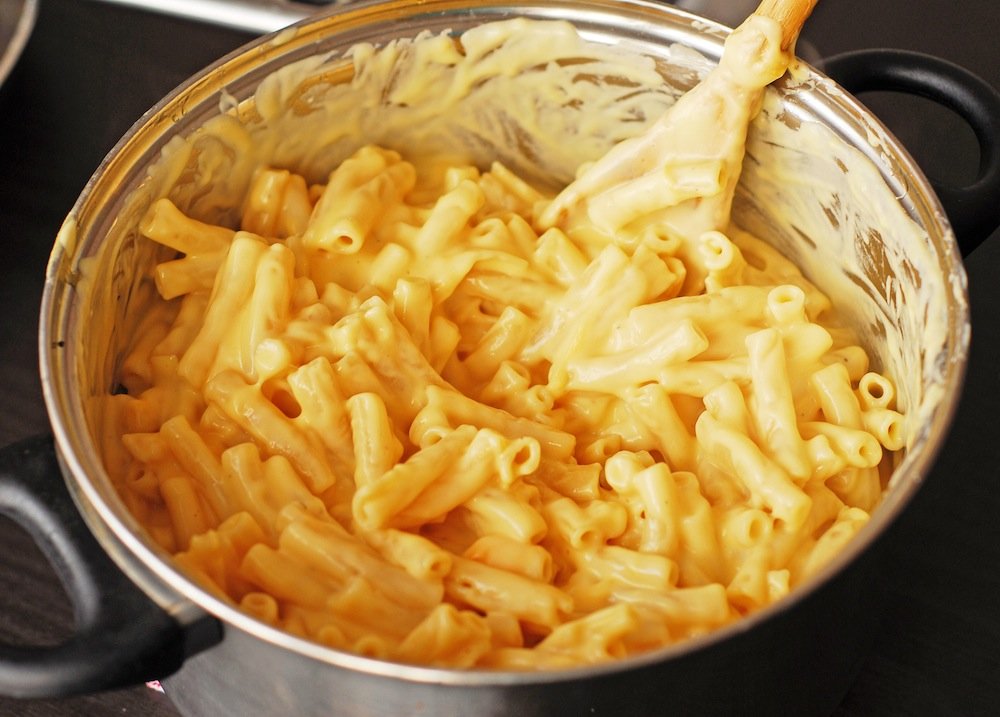 Then mix in the ground beef and plenty of BACON. Be generous, now.
Spread it all into a baking dish and top it with breadcrumbs and of course, more bacon. And a little shredded cheese, if you should so like. Bake it until everything is melty and the top is golden.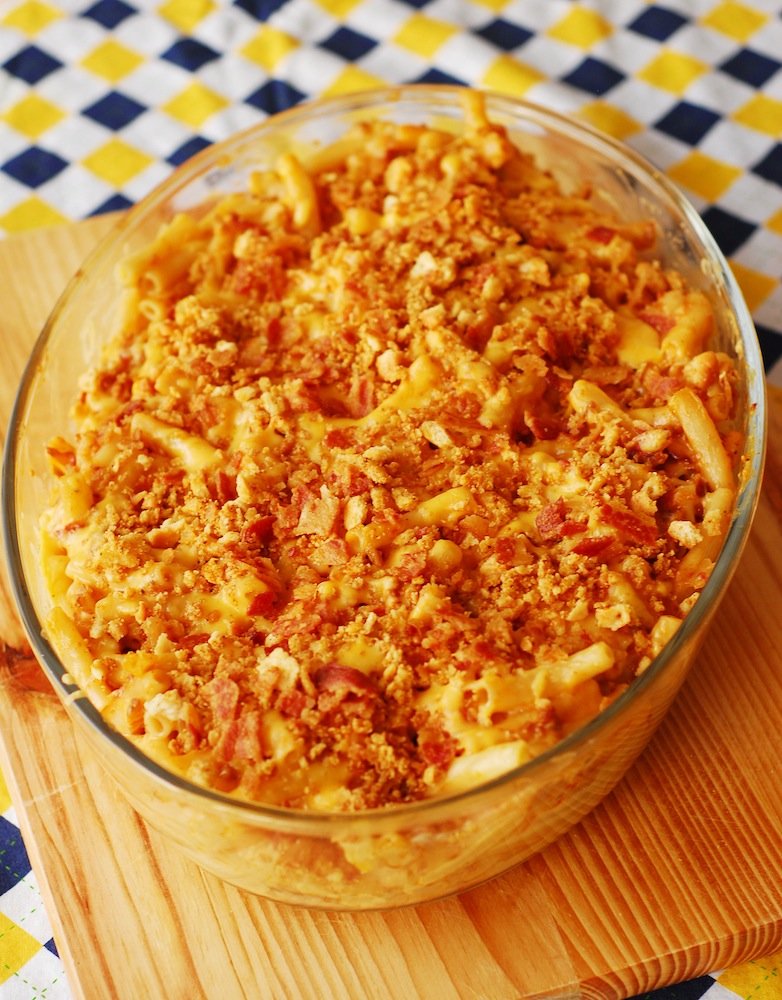 And enjoy the bacon cheeseburger goodness of it all. Fiance likes to cover this in hot sauce, of course, so give that a try if you like things spicy.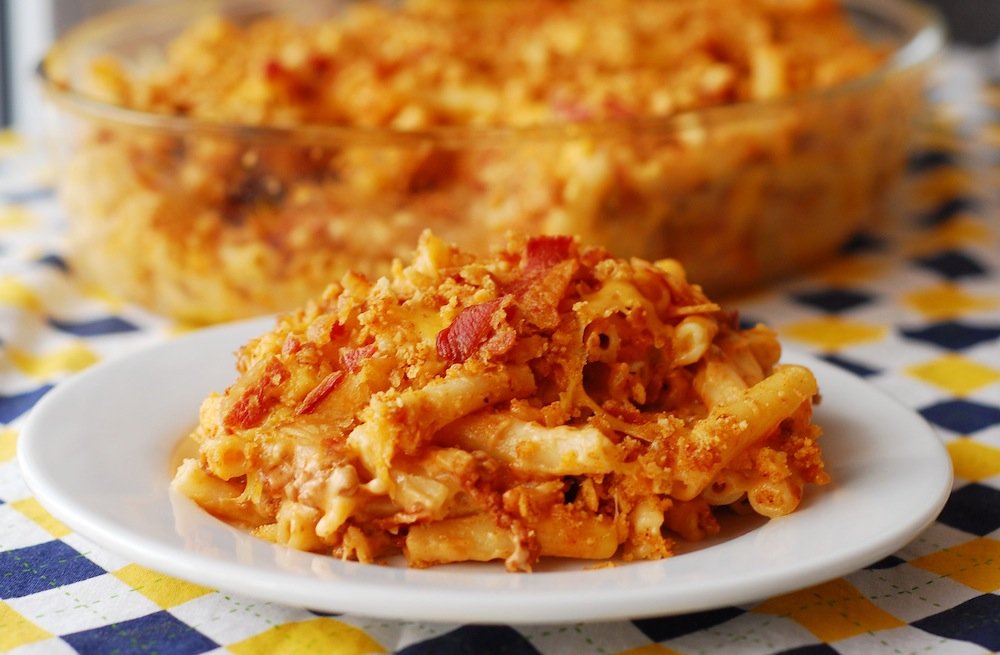 Best of all, it makes great leftovers. If you have any, that is.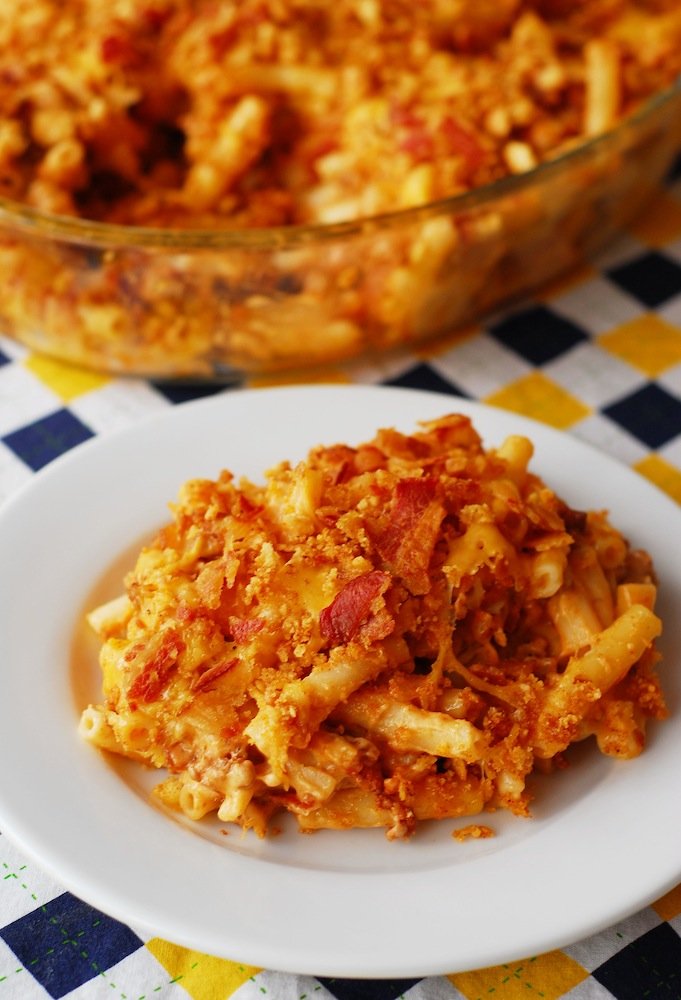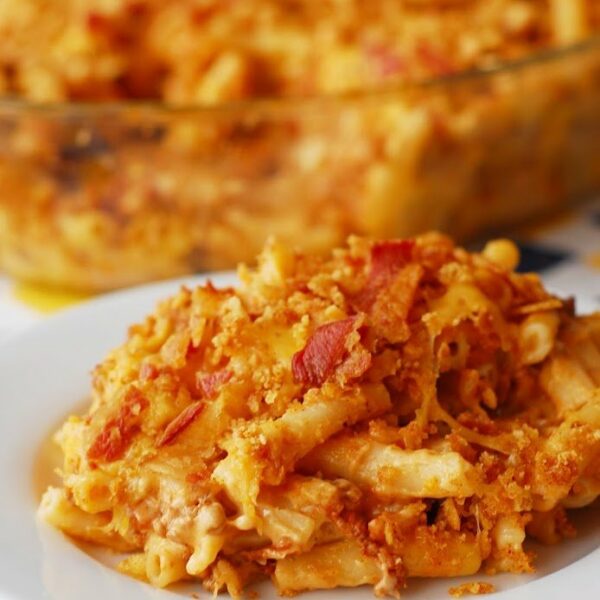 Get the Recipe: Bacon Cheeseburger Mac and Cheese
Ingredients
12 strips bacon
1 pound ground beef
1/2 onion, finely chopped
1/2 tsp minced garlic
2 tbsp ketchup, you can sub tomato paste if desired
1/2 tsp salt
1/4 tsp black pepper
16 oz or 500 grams macaroni noodles
1/4 cup butter
1/4 cup flour
1 1/2-2 cups milk
2 cups cubed cheddar cheese
1/4 cup bread crumbs or crush crackers
2 tbsp butter, melted
1/4 cup shredded cheddar cheese
Instructions
Preheat oven to 425 degrees (220 degrees C). Lightly grease a 9×13 inch baking dish with cooking spray.

Line a baking sheet with foil and a cooling rack and lay bacon on the rack. Bake in preheated oven for 20-30 minutes, or until cooked through. When bacon is done, remove from oven and reduce heat to 350 degrees (180 degrees C).

Brown ground beef in a skillet over medium heat. Add onion and minced garlic and cook until onion is just softened. Add the ketchup, salt, and pepper and cook for another 3-5 minutes, until well incorporated. Set aside.

Cook macaroni noodles according to package directions for al dente pasta.

In a large stock pot or the same one used to cook the macaroni noodles, melt the 1/4 cup butter over medium heat. Add the flour and whisk until mixture has thickened and starting to bubble. Add 1 1/2 cups of the milk and continue to whisk until milk has thickened- this shouldn't take more than a few minutes. Turn off the heat and add the cheese. Continue to stir until cheese has melted. If the sauce is too thick, add the remaining milk 1/4 cup at a time to thin it out.

Add the cooked pasta to the cheese sauce and toss to coat. Add the ground beef and crumble 8 of the bacon strips and add them. Stir to combine.

Pour macaroni and cheese into the greased baking dish. Crumble the remaining bacon and mix it with the bread crumbs and melted butter. Sprinkle the mixture over the macaroni and cheese, followed by the shredded cheese.

Bake the macaroni and cheese in preheated oven for 15-20 minutes, until heated through and topping golden.