Sous vide and smoked turkey legs have become one of the most requested items on my Thanksgiving table (or for any occasion!). You can do this with the whole leg (thigh + drumstick) or just the drumsticks, no time adjustment necessary. This recipe takes some time, but you can sous vide in advance and smoke just before serving!
I love these turkey drumsticks. So much so that I've made an art of trying to track down turkey legs year round. They're fall apart tender with amazing smoky flavor that can only be achieved by bringing together two of my favorite cooking methods: sous vide and smoke!
They do require a lot of time (we're taking about 25 hours total). To make this manageable, I usually sous vide a couple of days in advance, refrigerate, then smoke before serving.
But again, and I really can't say this enough: the time and effort is so worth it.
New to sous vide cooking? I've got you. Learn all about what sous vide cooking is, sous vide air removal methods, and get more sous vide recipes! I know you'll love my recipe for Sous Vide Whole Chicken (which is also incredible finished on the smoker – try it!).
If you're looking for white meat to include on your Thanksgiving table, make sure to check out my 4 Hour Sous Vide Turkey Breast with Herb Filling. Sous vide mashed potatoes are a great way to free up a spot on the stovetop and make the creamiest mashed potatoes you've ever had. Sous vide is also a great way to get dessert done: sous vide pumpkin pie and pumpkin creme brulee are crowd favorites.
Why sous vide and smoke?
Incorporating sous vide into your smoking routine is the best. It allows you to get that tender texture that can only be achieved through a low-and-slow cook with less time on the smoker. Why is that good? For several reasons:
You don't need to babysit a sous vide water bath like you do a smoker.
You'll use fewer chips/less charcoal, saving you money.
Sous vide means precision: you'll get exactly the texture you're after, no guessing or wondering.
Finishing on the smoker still gives you that dreamy flavor and texture.
What You'll Need to Make These Turkey Legs
You will need a few gadgets to pull this off. You can skip the smoker and finish this beef brisket in the oven if you'd like, but a smoker is great for achieving that classic brisket flavor.
How to Season Sous Vide Smoked Turkey Drumsticks
You have several options when it comes to seasoning your drumsticks. In fact, you could season a few one way and some another (just make sure to vacuum seal like seasoned drumsticks together). I would recommend going for something smoky or something herby and more traditional for poultry. It just depends on the vibes you're going for!
I like to make my own blend (in this recipe) that's mostly salt, a little sugar, garlic, and dried herbs but no one will judge you if you get the premade stuff.
Time and Temperature for Sous Vide Smoked Turkey Legs
Yes, this is a long cook time. But low and slow = tender, so it's all worth it! Just trust the process.
I recommend 150 degrees F for 22-28 hours in the sous vide bath and 180 degrees F for 3-4 hours on the smoker with a chill in the fridge in between the two steps (not necessary but can makes things easier).
Don't, I repeat, DO NOT short the sous vide time or you risk tough turkey legs. The bigger they are, the longer you should cook them.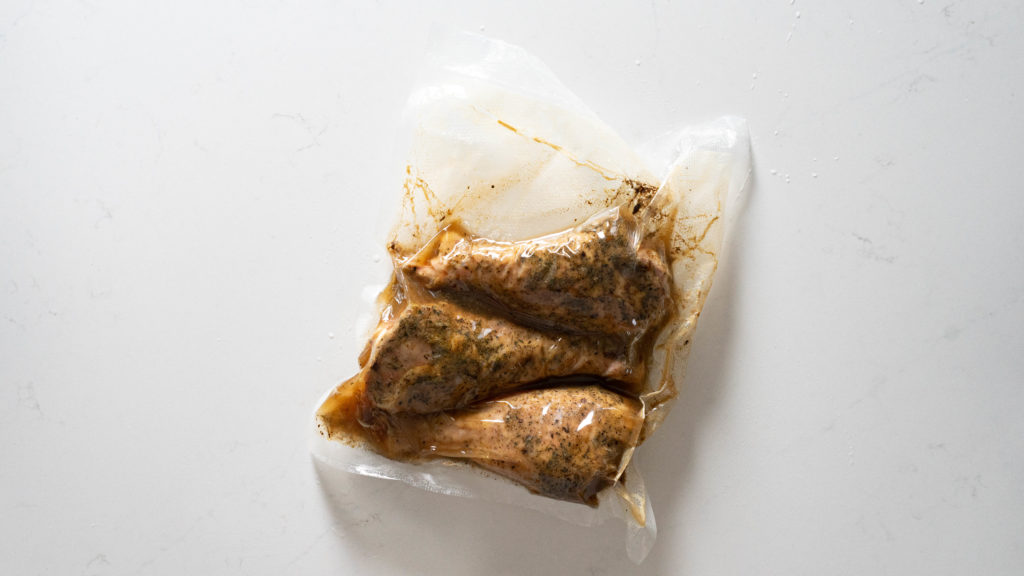 How to Serve Sous Vide Smoked Turkey Drumsticks
If you're serving these and going for more smoky BBQ flavor, they're great with BBQ sauce. I particularly love them with a mustard barbecue sauce like (Red Duck has some of my favorite BBQ sauces, including a mustard).
If you're going for more herby, traditional poultry flavors, I like to serve them on a bed of fresh herbs and do a light carving.
A heads up: turkey legs have hard tendons running through them you'll need to be careful of when carving and eating!
In terms of what to serve with sous vide smoked turkey drumsticks, here are some of my favorite things!
FAQs
What's the difference between a leg and a drumstick?
"Leg" can refer to drumstick AND thigh, although leg is often used to refer to just the drumstick. I typically just cook drumsticks, in part because they're easier to find in stores.
Where can I buy turkey drumsticks?
You can find turkey drumsticks in grocery stores, although they're often only stocked near Thanksgiving. Year round, you can find them on meat delivery websites like Grass Roots Farmers' Cooperative.
Can I cook turkey legs from frozen?
You can sous vide turkey legs from frozen! It's best to let them thaw enough so the skin is no longer frozen, that way the seasoning will adhere. Then vacuum seal and sous vide!
You can also view this recipe in a step-by-step web story.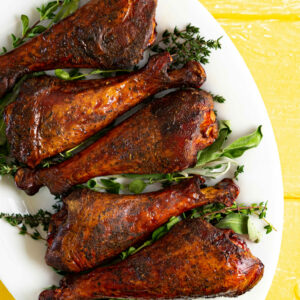 Get the Recipe: Sous Vide Smoked Turkey Legs
Sous vide and smoked turkey legs are deliciously fall off the bone tender. Use a traditional poultry seasoning or a smoky BBQ seasoning depending on the flavor you're looking to achieve!
Ingredients
3-5 turkey legs or drumsticks
Seasoning (if not using store bought)
2 tbsp kosher salt
2 tsp Italian seasoning
1 tsp sugar
1 tsp garlic powder
Instructions
Preheat water bath using immersion circulator to 150 degrees F.

Combine all ingredients for the seasoning in a small bowl. Season the turkey legs liberally, getting under the skin.

Vacuum seal the drumsticks, making sure to keep them in a single layer and leaving a little space between them if possible.

Cook in preheated water bath for 22-28 hours (err towards the longer end of this time frame if your drumsticks are large). This step can be done up to 3 days before serving and legs can be refrigerated in vacuum sealed bag until you're ready to smoke and serve.

When ready to smoke, preheat your smoker to 180 degrees F. Remove the legs from the bag and smoke for 3-4 hours.

Serve on a bed of fresh herbs and lightly carve so your guests can easily remove pieces from the bone.
Notes
Feel free to use a store bought roast seasoning OR smoky BBQ seasoning depending on the flavor you want to achieve! Don't, I repeat, DO NOT short the sous vide time or you risk tough turkey legs. The bigger they are, the longer you should cook them.
Calories: 329kcal, Carbohydrates: 1g, Protein: 44g, Fat: 15g, Saturated Fat: 5g, Polyunsaturated Fat: 4g, Monounsaturated Fat: 5g, Cholesterol: 160mg, Sodium: 1718mg, Potassium: 626mg, Fiber: 1g, Sugar: 1g, Vitamin A: 14IU, Vitamin C: 1mg, Calcium: 47mg, Iron: 4mg