Sous vide mashed potatoes are the creamiest mashed potatoes you will ever make because they cook in butter and cream instead of water. Using a combination of russet and yellow potatoes, this mash is fluffy and delicious and sure to be a crowd pleaser.
Sous vide is one of my favorite ways to make mashed potatoes. Here's why:
Looking for even more sous vide mashed root inspo? Grab a copy of my first cookbook, Everyday Sous Vide, for recipes for sous vide mashed sweet potatoes, turnips, and more!
What You Need to Make Sous Vide Potatoes
The good news is, you don't need much that isn't in your kitchen already if you sous vide.
For ingredients:
How to Sous Vide Mashed Potatoes
The great thing about these potatoes is how easy they are to make! It's really as simple as: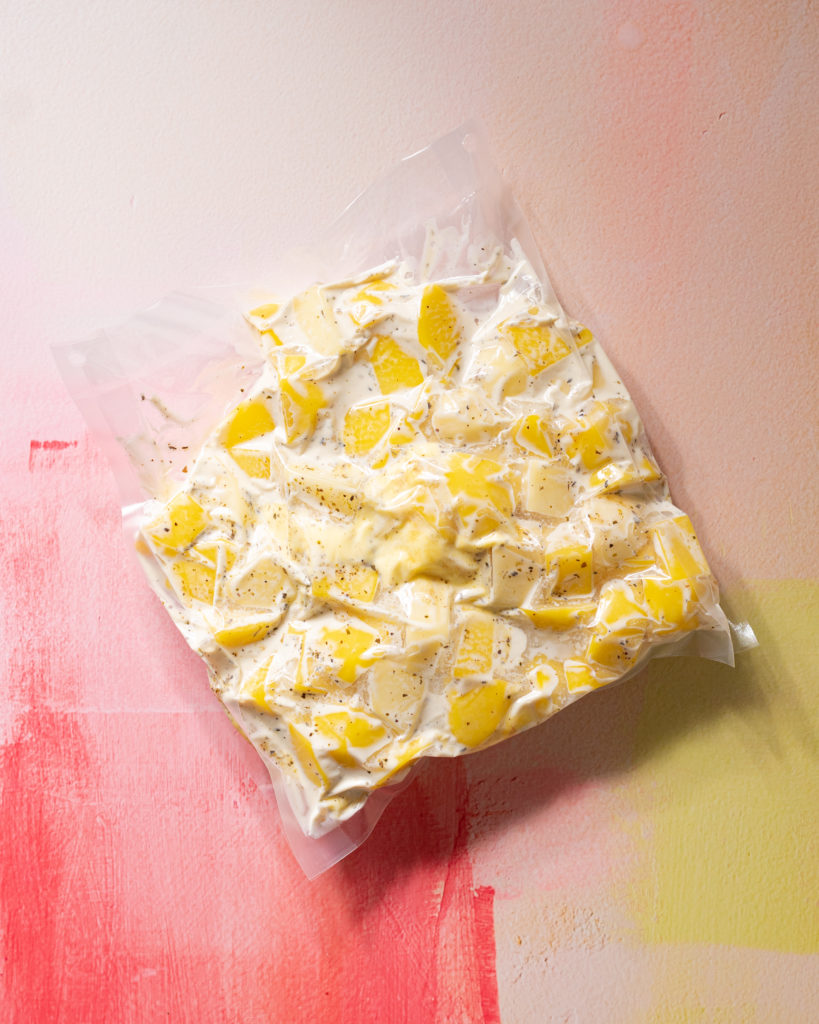 Mashed Potato Tips
Here are a few things to keep in mind to make sure you make the best mashed potatoes:
You can also view this recipe as a step-by-step web story here.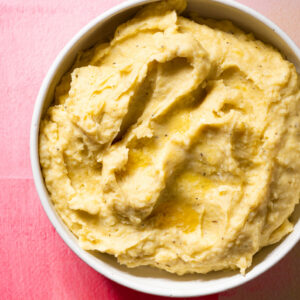 Get the Recipe: The Creamiest Sous Vide Mashed Potatoes
These mashed potatoes are extra creamy and delicious because they cook in butter and cream instead of water! This side dish is hands off with almost no dishes to clean.
Ingredients
.8 lb russet potatoes (about 1 large), peeled & cut into 1 inch cubes
1.6 lbs yellow potatoes (about 4 large), peeled & cut into 1 inch cubes
1/2 cup salted butter, sliced into pats
1 1/2 tsp kosher salt
1 tsp Italian seasoning
1 1/2 tsp garlic powder, (sub with 4 cloves minced garlic if desired)
1/2 tsp freshly cracked black pepper
1/2 cup milk (1%, 2%, or whole)
1/3 cup heavy cream
1/4 cup sour cream
Equipment
Chamber Vacuum Sealer (optional)

Sous Vide Container

Potato Masher
Instructions
Add the potatoes, butter, salt, pepper, garlic powder, and Italian seasoning to a gallon-sized zipper top or chamber vacuum seal bag. Toss to evenly disperse. Add the milk and cream.

If using a gallon-sized zipper top bag, use the "arm method" or water displacement method to remove the air from the bag (see tutorials here). Otherwise, remove the air with your chamber vacuum sealer.

Place bag in preheated water bath and cook for 2-4 hours. Make sure potatoes stay completely submerged using sous vide magnets or by placing a ceramic plate or bowl on top of the potatoes.

After the potatoes are done cooking, transfer the contents of the bag to a bowl. Add the sour cream. Mash using a potato masher to your desired consistency. Taste and add additional salt if desired. Serve.
Notes
You can get the ingredients ready and in the bag up to 3 days in advance of cooking – keep in the refrigerator. 190 degrees F is hot for a sous vide cook – consider placing a trivet under your water bath to protect your countertops.
Calories: 267kcal, Carbohydrates: 26g, Protein: 4g, Fat: 17g, Saturated Fat: 11g, Polyunsaturated Fat: 1g, Monounsaturated Fat: 5g, Trans Fat: 1g, Cholesterol: 49mg, Sodium: 561mg, Potassium: 622mg, Fiber: 3g, Sugar: 2g, Vitamin A: 577IU, Vitamin C: 21mg, Calcium: 57mg, Iron: 1mg