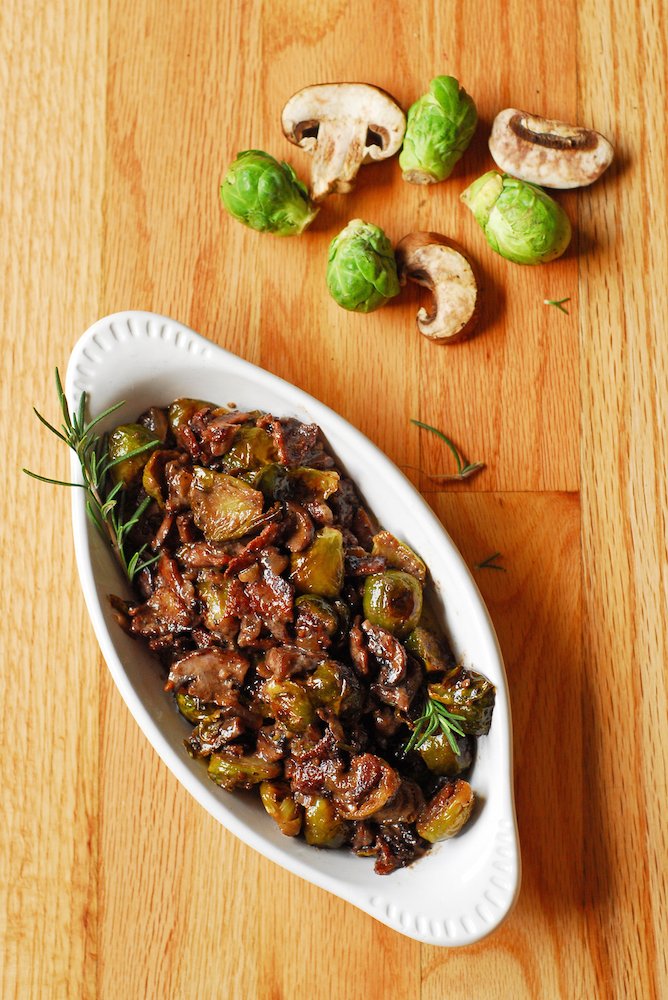 Say that title five times fast. Brussels Sprouts and Mushrooms in Rosemary Red Wine Cream Sauce, Brussels Sprouts and Mushrooms… Yeah, enough. I could not find a way to make it any shorter, and if it were up to me, it would have also included bacon, because you better believe plenty of the salty stuff is in this killer side dish. I guess it is up to me, but I did want you to remember what this dish was called.
This dish takes two fairly polarizing veggies and turns them into dreamy, creamy treats. Fiance is not a big fan of brussels sprouts or mushrooms, and he loooooved this. Loved. We had them with beautiful medium-rare tri-tip steaks (our funds have a ways to recover after South Africa before going for the ribeyes) and mashed potatoes, and it was probably one of the best meals I've ever made. I'm really not exaggerating- I've been cooking for Fiance for like six years now, and he will tell you the same thing.
The brussels sprouts are roasted while the mushrooms get cooked up in bacon fat (because EVERYTHING tastes better cooked in bacon fat!) with lots of garlic. Then salt, pepper, red wine and rosemary get added to the mushrooms, followed by a generous helping of heavy cream. Let it cook down and toss in the sprouts and plenty of bacon. We used super delicious pepper bacon which skyrocketed this dish to even higher levels.
I'll be the first to say that side dishes that involve more effort than me tossing them in olive oil, salt, and pepper and roasting don't make many appearances on our dinner table, but this one is worth it. The rosemary and red wine were a perfect complement to our steak and it was fun to be able to put more effort into our veggies and keep the main dish nice and simple.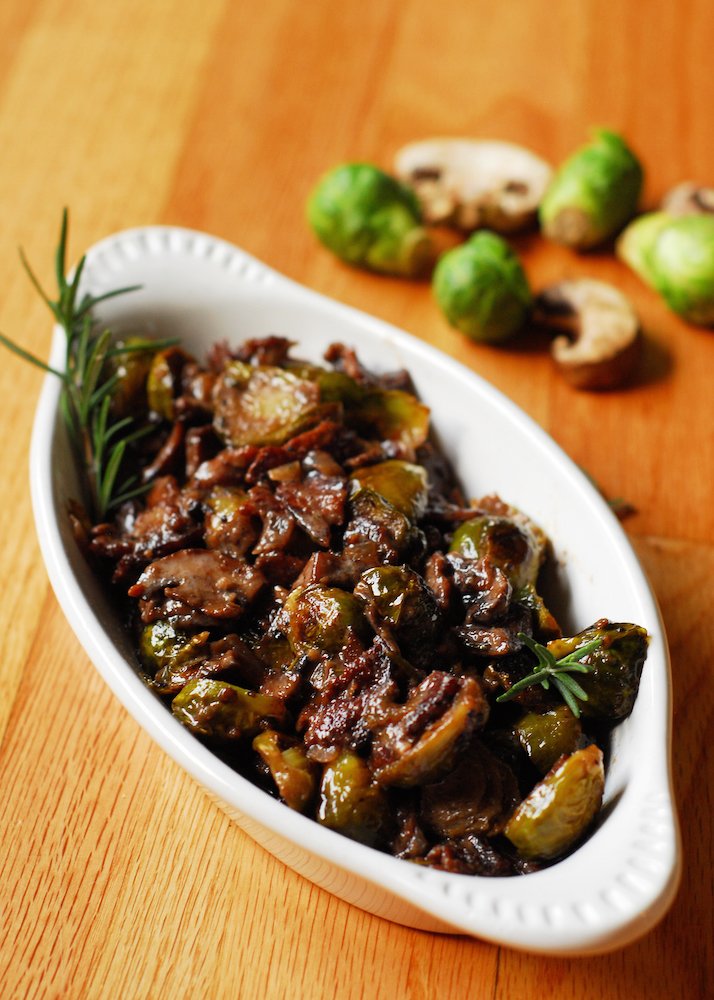 Things that are unrelated to my favorite new side dish: I'm totally getting back into the groove of working full time and am really loving it! How lucky am I that I can say that?! Only downside: it feels like my life is currently a cycle of cook, photograph, clean, work, clean, clean, clean. I'll catch up eventually, but I do have some posts that are mostly my thoughts about food, South Africa, and life in general that I'm working on and can't wait to share with you. Posts like that will, sadly, be taking the place of South Africa Sunday posts. I'm also working on a new travel section on here since Fiance and I are hoping there will be many more adventures in our future! Which translates to we've been watching waaay too much Parts Unknown (Anthony Bourdain's CNN show- check it out!).
Aaaaand one last word on the sprouts and 'shrooms: make this dish ASAP because it's perfect for this dreary weather and it will make your belly happy. Then tell me your thoughts!
You can also view this recipe as a step-by-step web story here.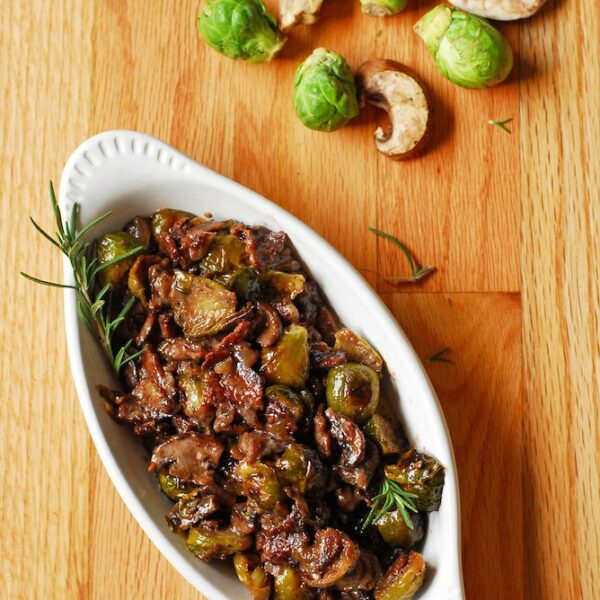 Get the Recipe: Brussels Sprouts and Mushrooms in Rosemary Red Wine Cream Sauce
Brussels sprouts, bacon, and mushrooms are cooked in a garlicky red wine cream sauce. The ultimate steak side dish!
Ingredients
Instructions
Preheat oven to 425 degrees F.

Toss the brussels sprouts with olive oil and 1/2 tsp salt. Arrange in single layer on baking sheet and roast in preheated oven for 20 minutes.

While the brussels sprouts are cooking, cook the bacon in a large skillet. Remove the bacon to a paper towel-lined plate. Drain off all but about a tablespoon of bacon fat and reserve it.

Add the mushrooms, onion, and garlic to the skillet and cook over medium-low heat, stirring occasionally. Cook for 5-8 minutes, or until onions start to turn translucent and mushrooms soften. Add more bacon fat as necessary.

Deglaze the skillet with the red wine. Add the heavy cream and let simmer for about 5 minutes, until the sauce has thickened. You may need to add more cream.

Crumble the bacon into chunks and add to the sauce. Add the brussels sprouts and toss to coat.

Taste the sauce and add salt and pepper if desired.
Notes
This dish is excellent served with red meat, like steak! The sauce can serve as a sauce for the meat as well.