Sous vide pastrami takes a little effort, but it's so worth it. In this easy sous vide recipe, I teach you how to make pastrami from start to finish (brine to sous vide to smoke).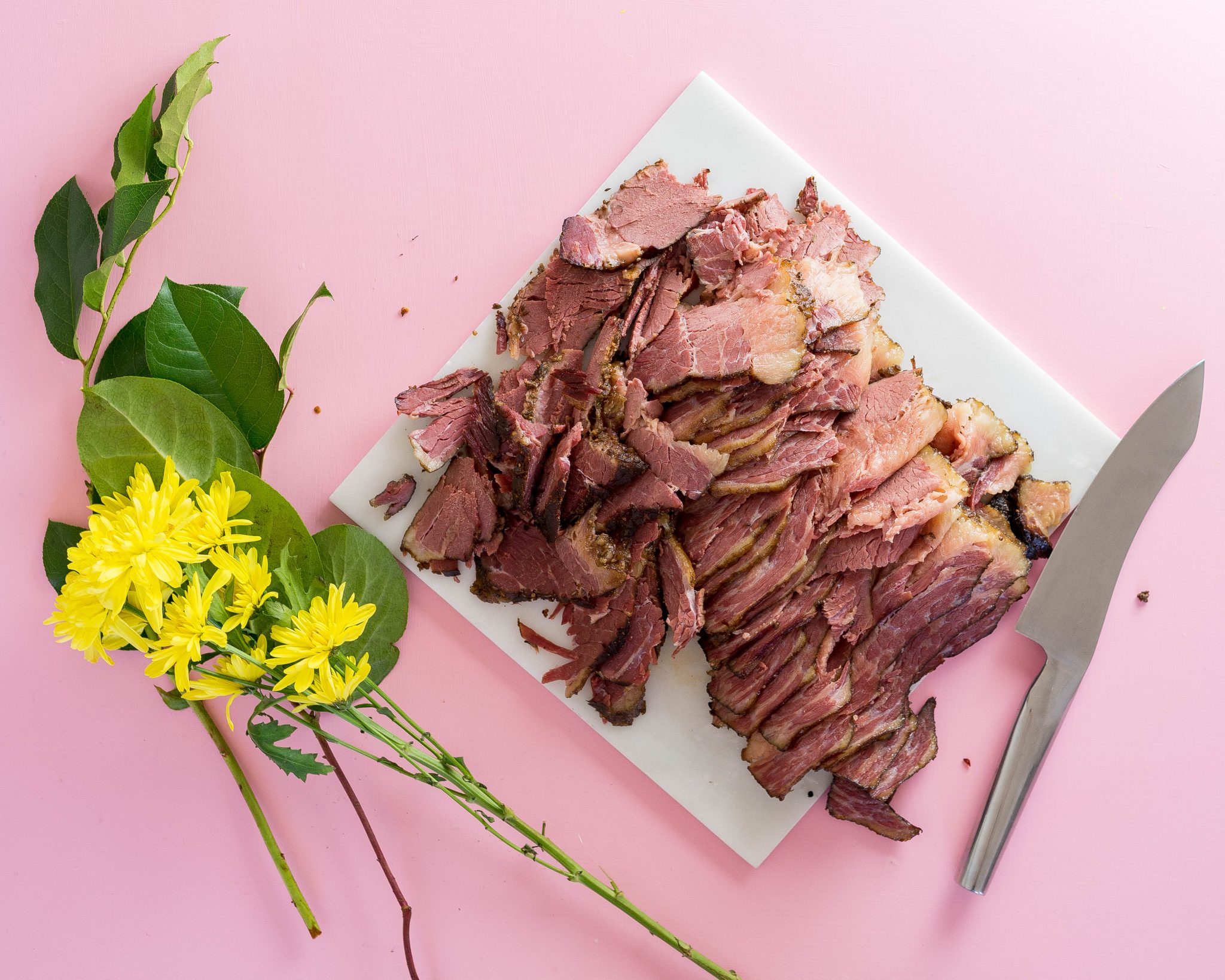 I originally did all of this to make sous vide corned beef. It's true.
But do you know what I learned along the way? Pastrami is simply smoked corned beef. WHOA. And as we learned in my last blog post about sous vide and smoked pork shoulder, my new super power is sous vide + smoke. And so it became sous vide pastrami.
This is the perfect time of year for this project because of the abundance of corned beef available in stores right now. So, if you want to skip the 7 day brine, no judgments here. Just head to the grocery store and buy some raw corned beef in the bag. It'll all be fine.
But if you want to DIY with me, I've got a brine process and recipe all ready for ya!
After 7 days in the peppery, flavor-packed brine, the brisket gets transferred to a vacuum-sealable bag and put into a sous vide bath for a full 48 hours. It's really feeling the love by this point.

Then, finally… it's corned beef. You can stop here if you want. It's absolutely delicious.
Or, if you have a smoker, you can step it up just one more notch. Like yours truly!
I smoked my corned beef for 3 hours at 200 degrees and worth it is such an understatement. The bark adds a whole new level of deliciousness, especially once it's sliced thin and ready for sandwiches. You can buy bread from the store or I love to use this homemade bread recipe to make my own.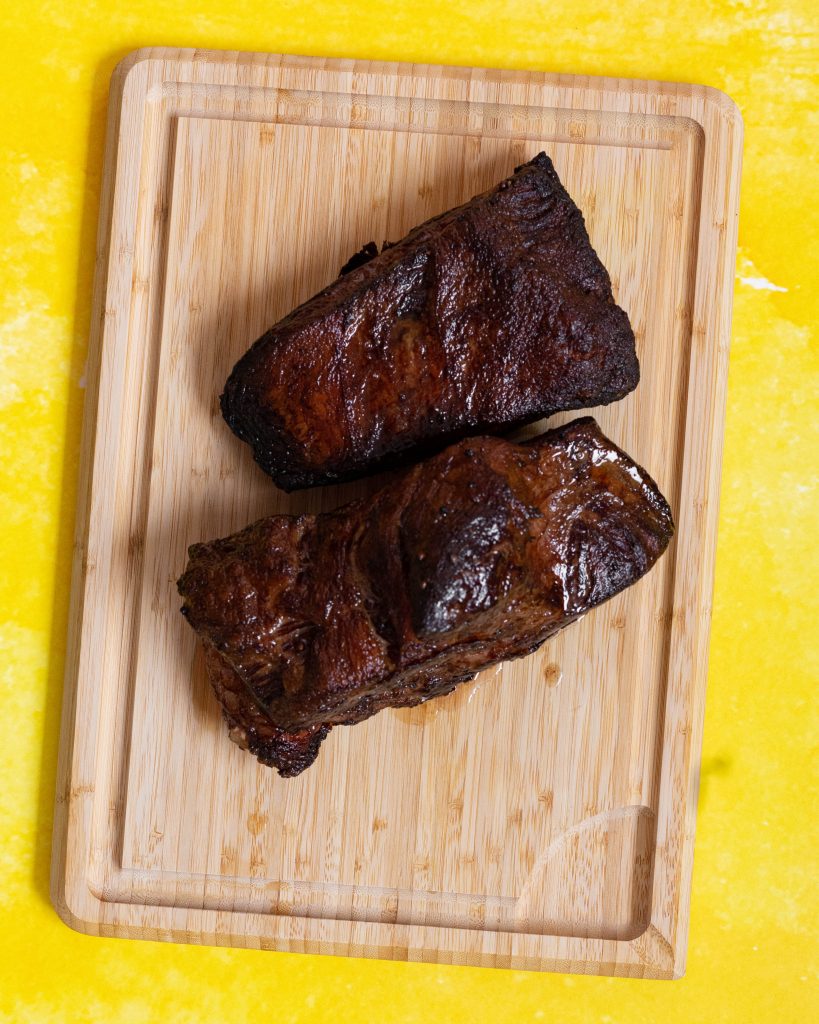 We sliced up the entire half brisket (by "we" I mean "I" and my hand was numb by the end) and invited a bunch of people over to watch a Timbers game, where I made a big stack of reubens and everyone brought sides and it was lovely.
And man alive… this sous vide pastrami. It's the kind of good where the room is silent as people are eating good. It's the kind of good where after you've cleaned up the kitchen, your dad sneaks into the fridge to grab a few more slices good.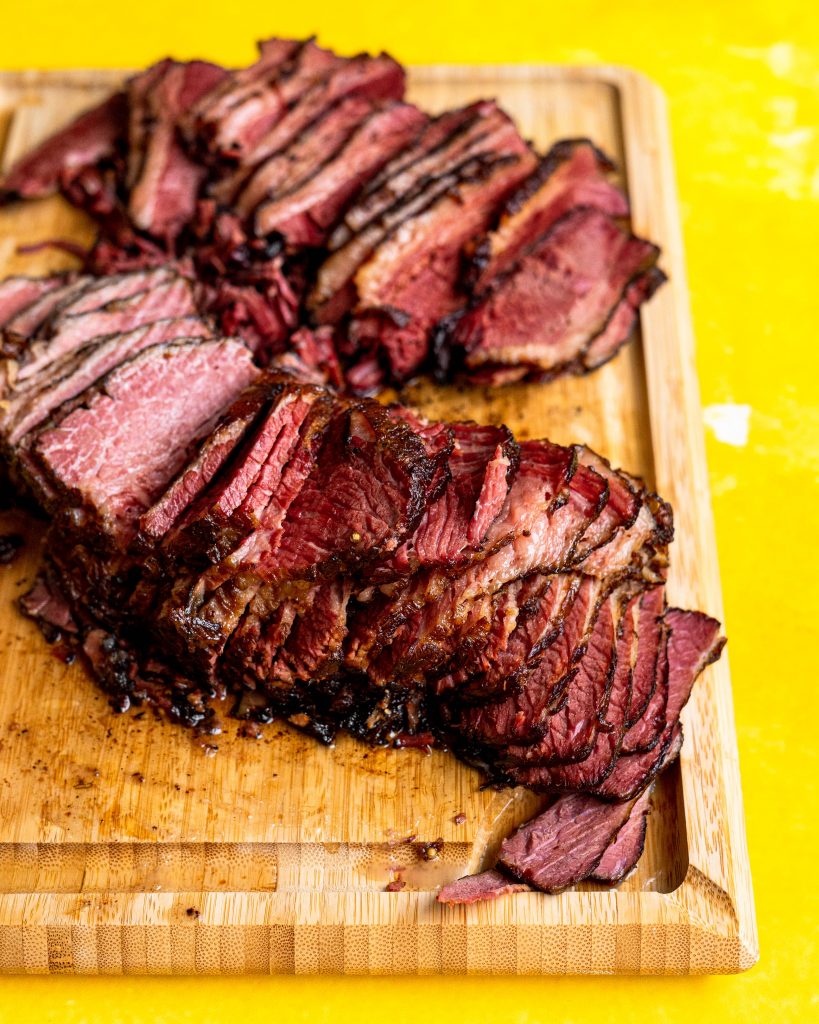 It's salty and peppery, it falls apart in the sandwich, and the fatty brisket is rendered to perfection. All of the things you could want in a deli meat.
Are you still on the hunt for an immersion circulator and/or a vacuum sealer? I can't recommend Vesta Precision's products enough: check them out and hop to precision cooking ASAP!
You can also view this recipe as a step-by-step web story here.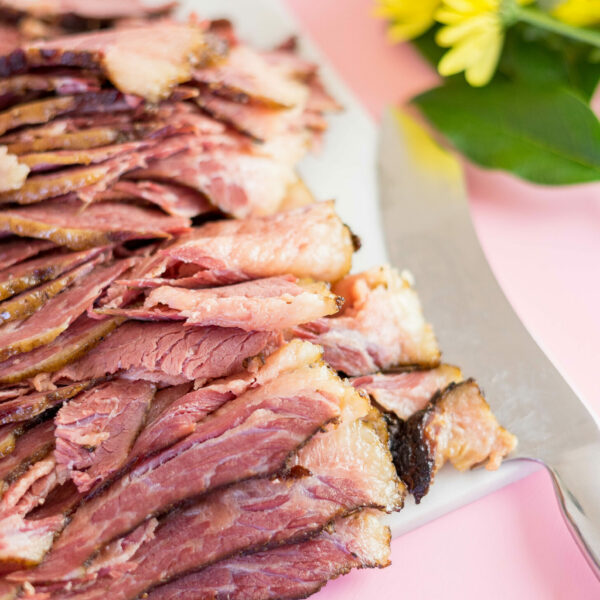 Get the Recipe: Sous Vide Pastrami
Sous vide pastrami takes a little effort, but it's so worth it once you have the world's best deli meat to make reuben sandwiches. I teach you how to make pastrami from start to finish (brine to sous vide to smoke) so you can impress all your friends.
Ingredients
Brine:
40 g coriander
40 g peppercorns
20 g dry mustard seed
40 g dill seed
4 g clove, divided
4 g chili flake, divided
126 g salt
7 g prague Powder No. 1
⅓ cup 65 g brown sugar
12 cups 3 liters water, cold
Rub:
50 g coriander
42 g peppercorns
27 g dry mustard seed
27 g dill seed
4 g clove
4 g chili flake
4 g dried rosemary
Instructions
In a large vacuum sealable bag or zipper-top bag, add all ingredients for brine and stir to combine. Add the brisket to the bag. If using a vacuum sealable bag, place top into vacuum sealer and simply seal, do not vacuum seal.

Place the sealed brisket in brine in the fridge for 7 days, flipping every day or so to keep the brine mixed.

After the brine is done, remove the brisket from the bag and pat dry with paper towels. Discard the brine.

Fill and preheat your water bath to 140 °F using your immersion circulator.

Add all ingredients for the rub to a small plastic bag. Place on a cutting board. Using a meat tenderizer or simply a pint glass, gently pound the spices to break them open a bit.

Season the brisket with the rub, evenly distributing it with your hands.

Add the brisket to a vacuum sealable bag, remove the air, and seal. Add to water bath and cook for 48 hours.

Remove the brisket from the water bath and bag. 

Preheat your smoker to 200 degrees F. When ready, place the brisket on the smoker and smoke for 3 hours.

Remove to a cutting board and slice thinly to serve.
Notes
This pastrami makes the perfect reuben sandwich! You can refrigerate the pastrami between the sous vide and smoke steps, just not longer than 24 hours.
Calories: 50kcal, Carbohydrates: 9g, Protein: 2g, Fat: 2g, Saturated Fat: 1g, Trans Fat: 1g, Sodium: 2462mg, Potassium: 154mg, Fiber: 3g, Sugar: 4g, Vitamin A: 454IU, Vitamin C: 2mg, Calcium: 93mg, Iron: 1mg