Slow cooked pork shoulder is used to make pulled pork, and these sandwiches are only complete with homemade rolls. These sandwiches (or sliders, really!) are easy to make with a little time perfect for feeding a crowd, especially for tailgates, watching a football game, or a backyard bbq!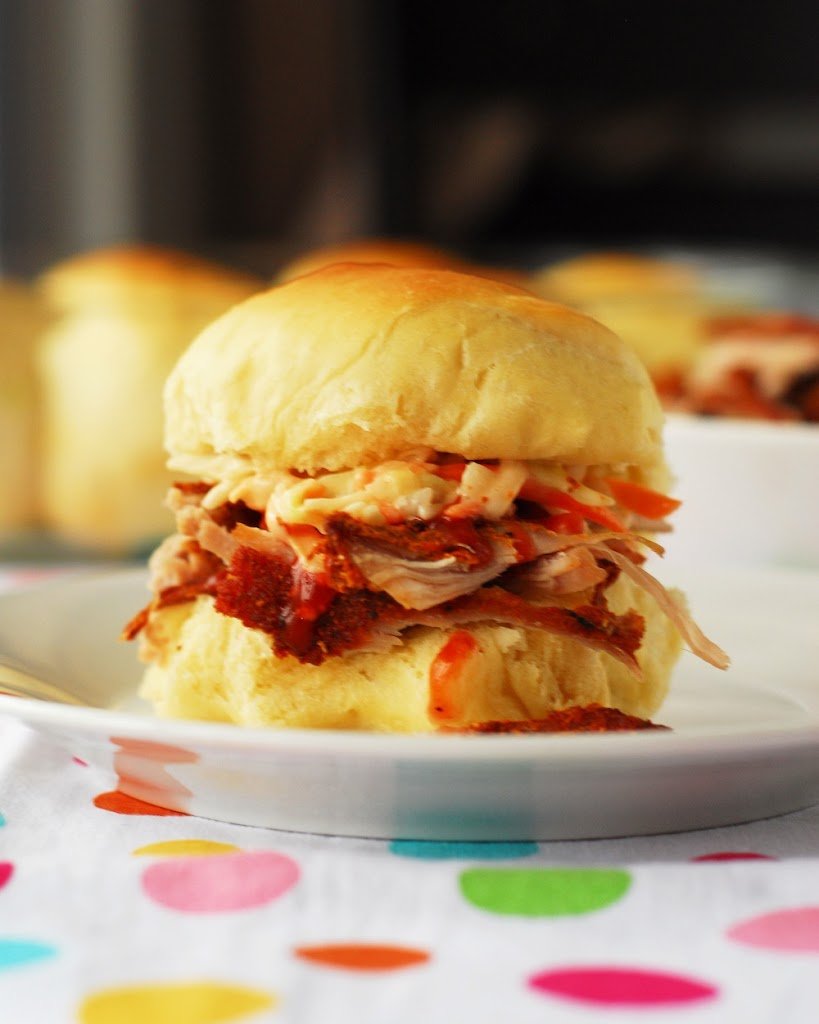 This post may contain affiliate links which won't change your price but will share some commission.
Holy pulled pork sandwiches. This is the one to rule them all.
Yes, I totally just made a Lord of the Rings reference- this sandwich is worth it.
I've had a few pulled pork sandwiches in my time. I've even made several. But I've never had one quite like this. First of all, usually I do pulled pork in the crockpot with a healthy dousing of barbecue sauce. This pork, however, is cooked low and slow in the oven all day long and comes out with a fantastic crust of spicy, porky goodness. The homemade rolls make it all SO MUCH BETTER than using store bought rolls. I can't emphasize that enough. You don't have to do your own rolls every time… but try it at least once, if only for my sake.
And I'll level with you: you can definitely just make the pork in the slow cooker or Instant Pot, but you won't get the crust!
How to Make a Dry Rub for Pulled Pork
This dry rub is really tasty and awesome and you will love it. The rub is made of brown sugar, paprika, chili powder, cumin, salt, coriander, thyme, dried mustard, garlic powder, cayenne pepper, and black pepper.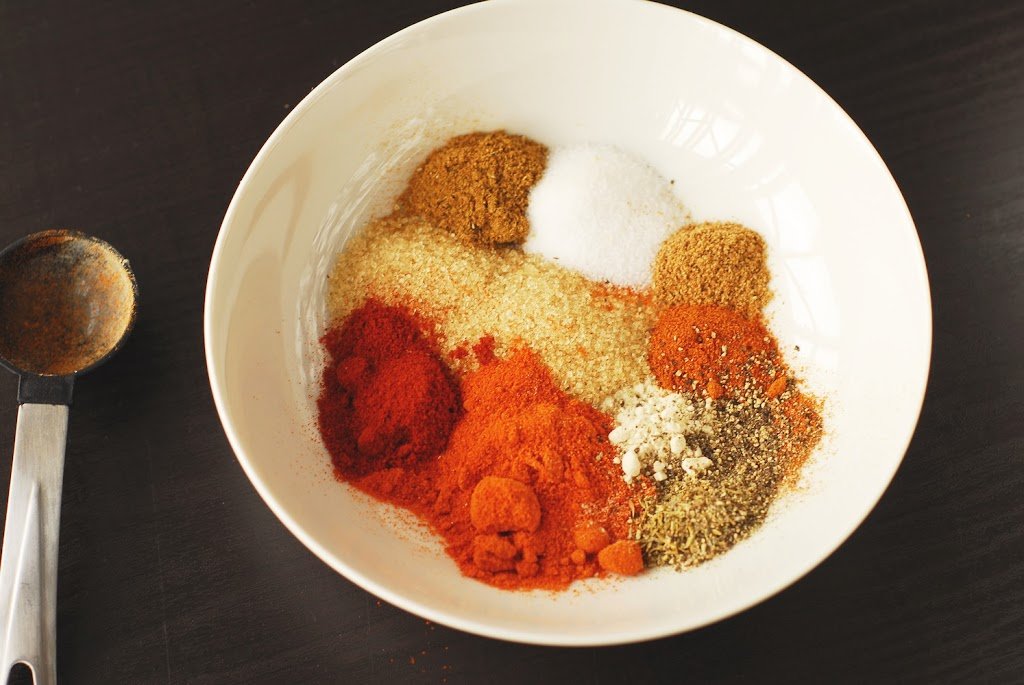 Rub it aaaaallllll over the pork. Into every single nook and cranny. I only used a little piece of pork because I had half of a pork roast leftover. And I'm only feeding two people. But next time I really want more leftovers because it was fantastic in a breakfast hash like this one.
I like to get my pork shoulders, also known as pork butt, from Porter Road. Because their hogs are raised in the woods with plenty of room to roam and root, this hard working muscle develops a deeper flavor and pink hue unlike anything you can find in the grocery store.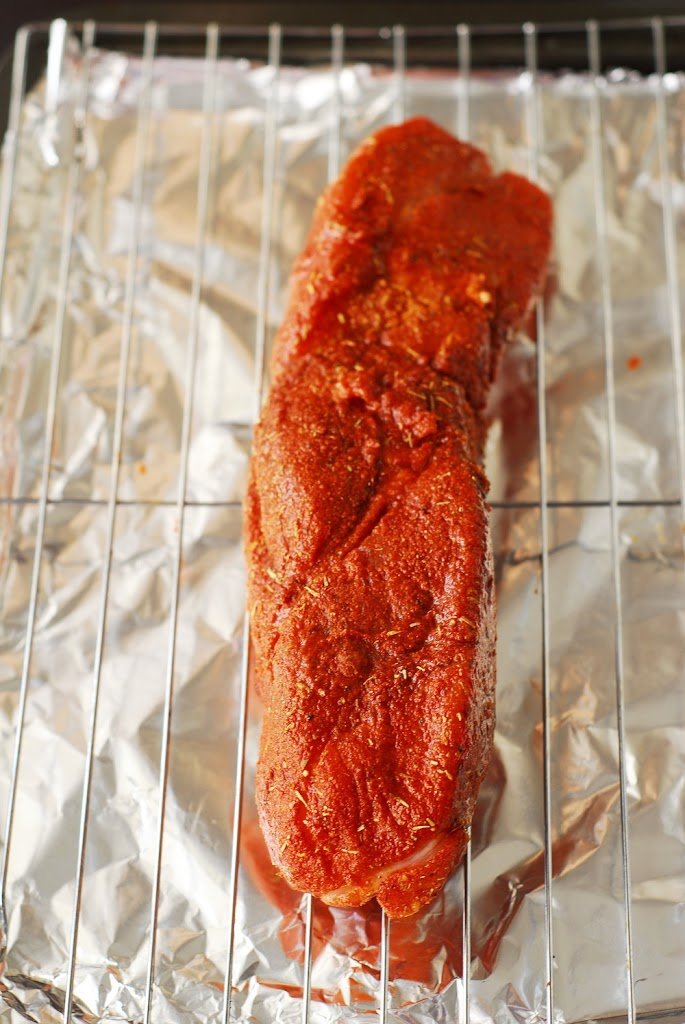 How to Cook Pulled Pork in the Oven
You'll need to cook it for an hour per pound, so keep that in mind when you're making your purchase. This was about two and a half pounds (based on Fiance's carefully tossing it in the air and making an educated guess) so I cooked it for three and a half hours for good measure. It was too long and I dried it out a tad, but it was still magnificent. The bark!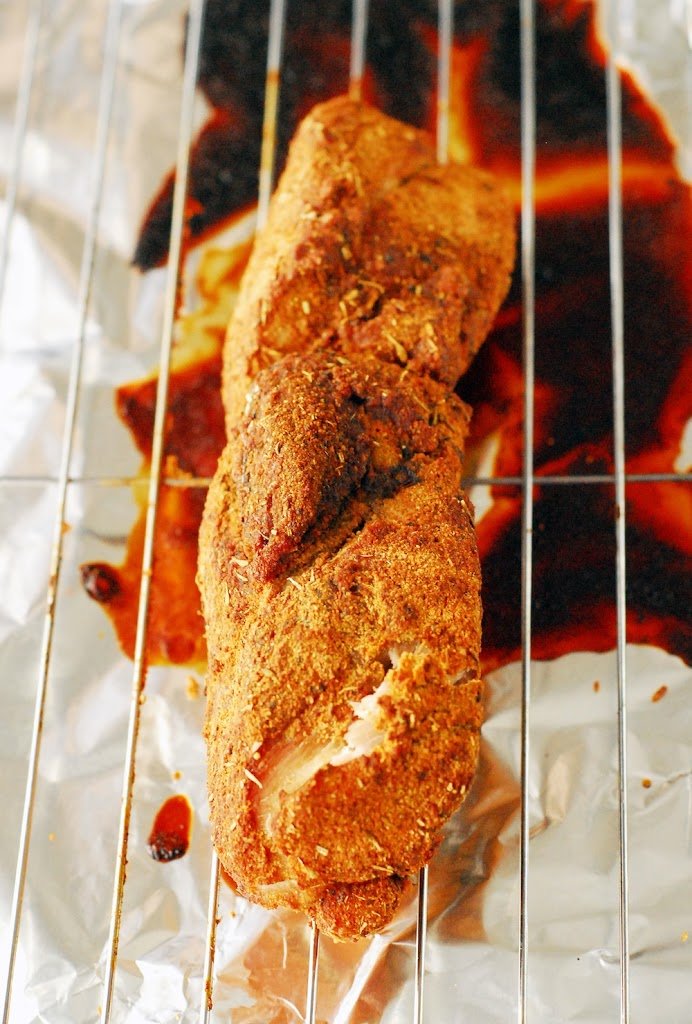 I like to set the pork on a
wired cooling rack
on a foil lined baking sheet so it can really crisp up.
How to Cook Pulled Pork in a Slow Cooker (Crock Pot) or Instant Pot
If you'd rather use your slow cooker or Instant Pot, you totally can! It just won't have that delicious crust.
For a 2-4 pound pork roast:
How to Make Rolls for Pulled Pork
Then the rolls. These are the perfect dinner rolls. I can't emphasize that enough. I used the recipe for the Bacon Stuffed Cinnamon Rolls I posted a couple weeks ago and they were equally as awesome. Isn't the dough beautiful?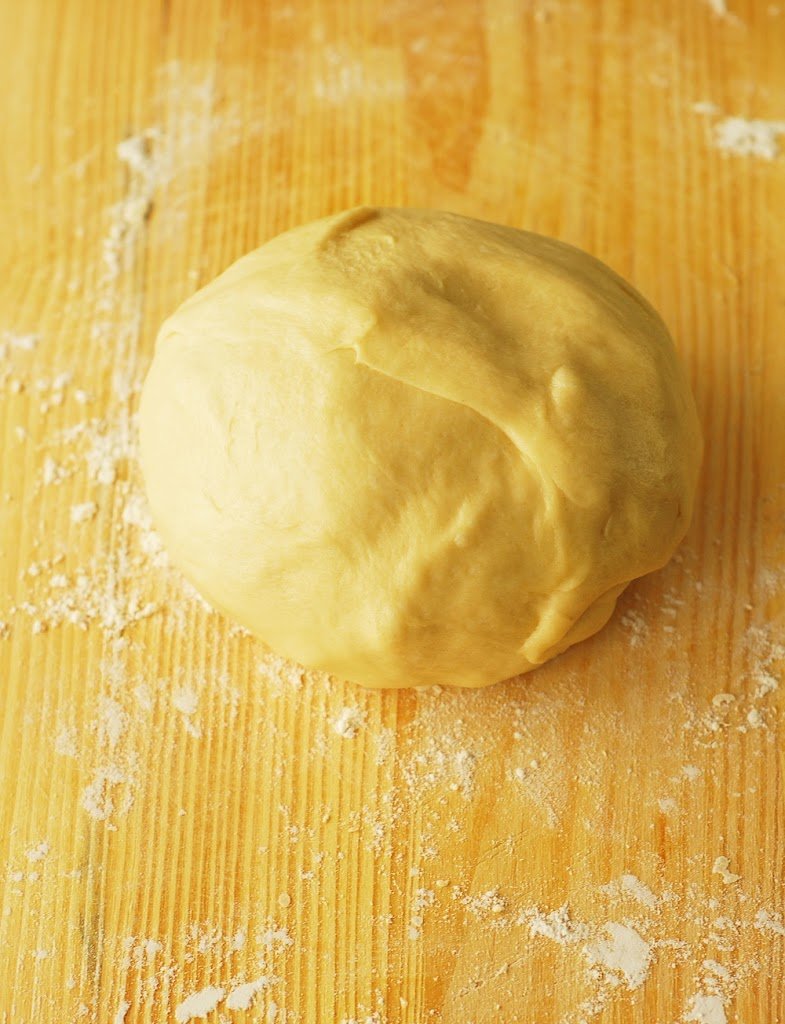 And it makes twelve rolls that I try really hard to make the same size but I never quite get it.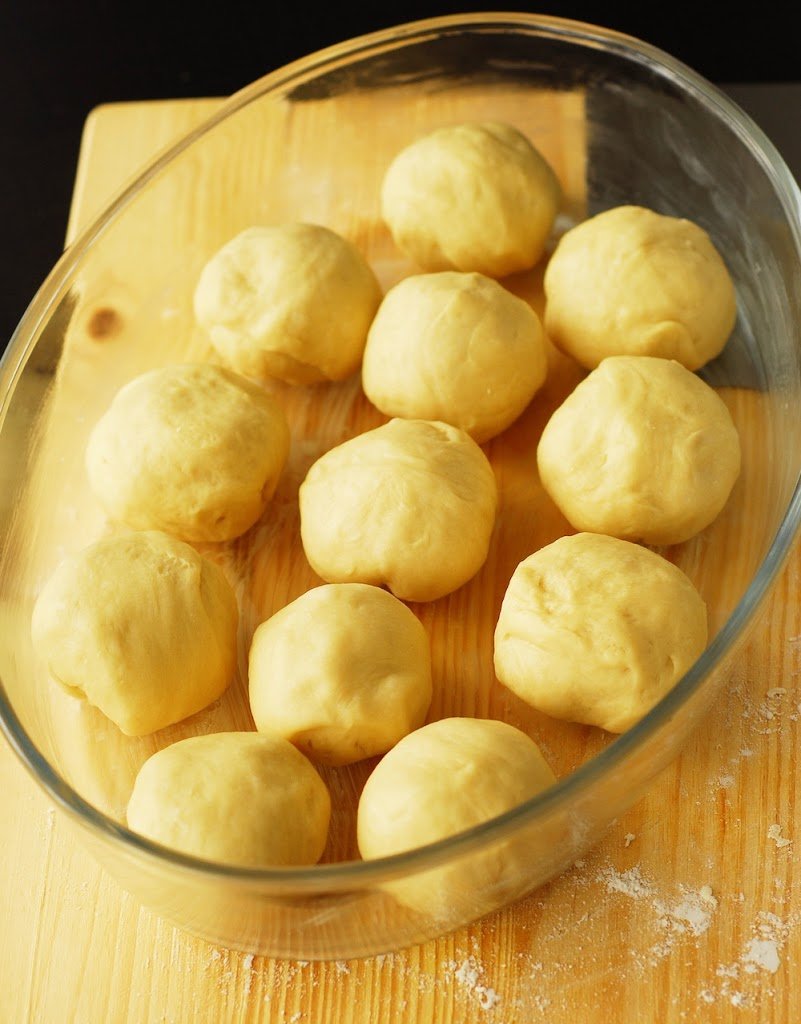 Let 'em rise and bake them until beautiful and golden.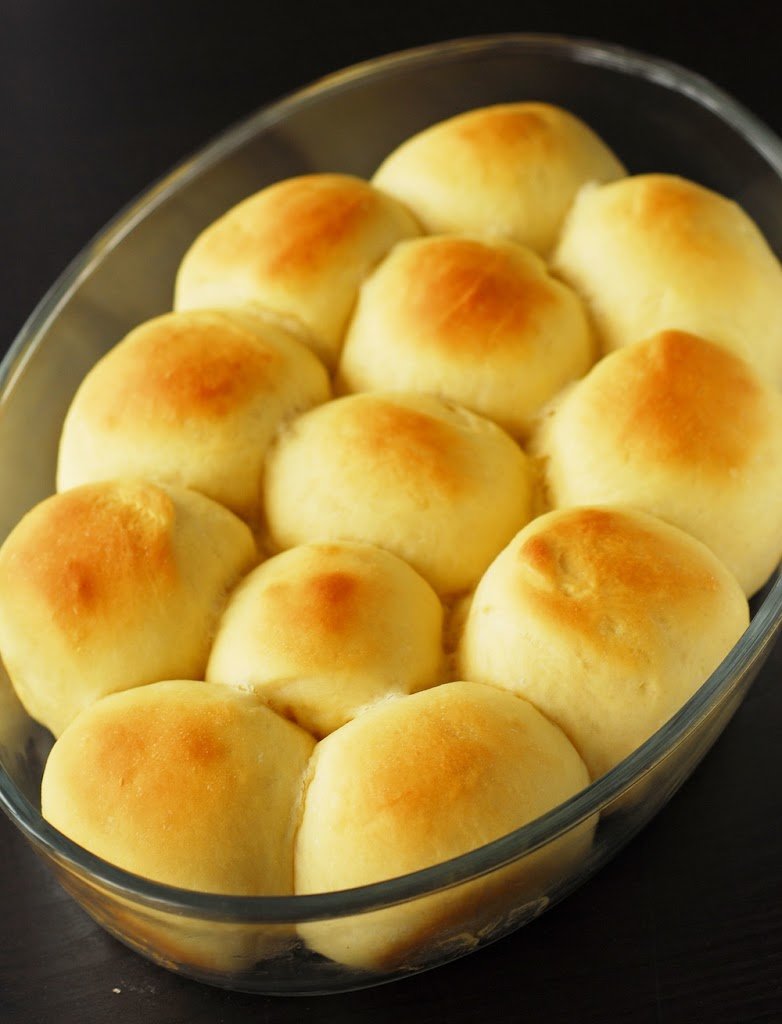 How to Make Coleslaw for Pulled Pork Sandwiches
I made a very simple spicy cole slaw with a pre-packaged coleslaw blend, mayo, and peri peri sauce (a South African hot sauce, similar to Frank's but with lemon juice and some fun spices).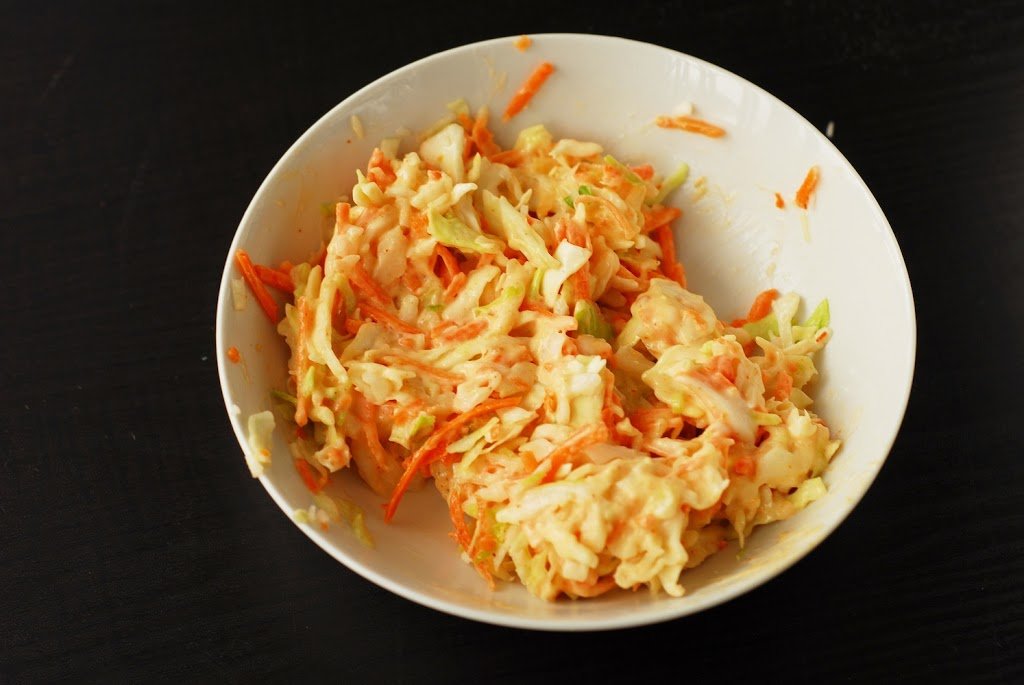 Then put all of the wonderfulness together.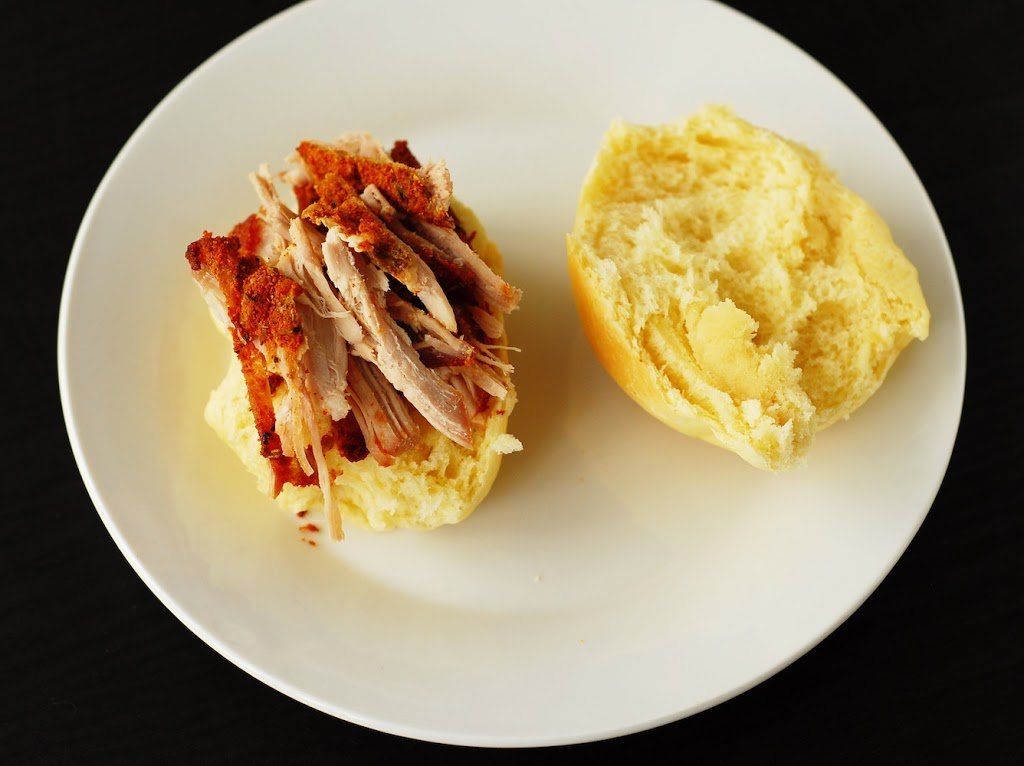 Including some your favorite barbecue sauce.
I love everything about food blogging, but I can't describe to you the difficulty of looking at dishes like this through a camera lens for several minutes before diving in. And poor Fiance… what you can't see is him standing just outside the camera's view, plate in hand.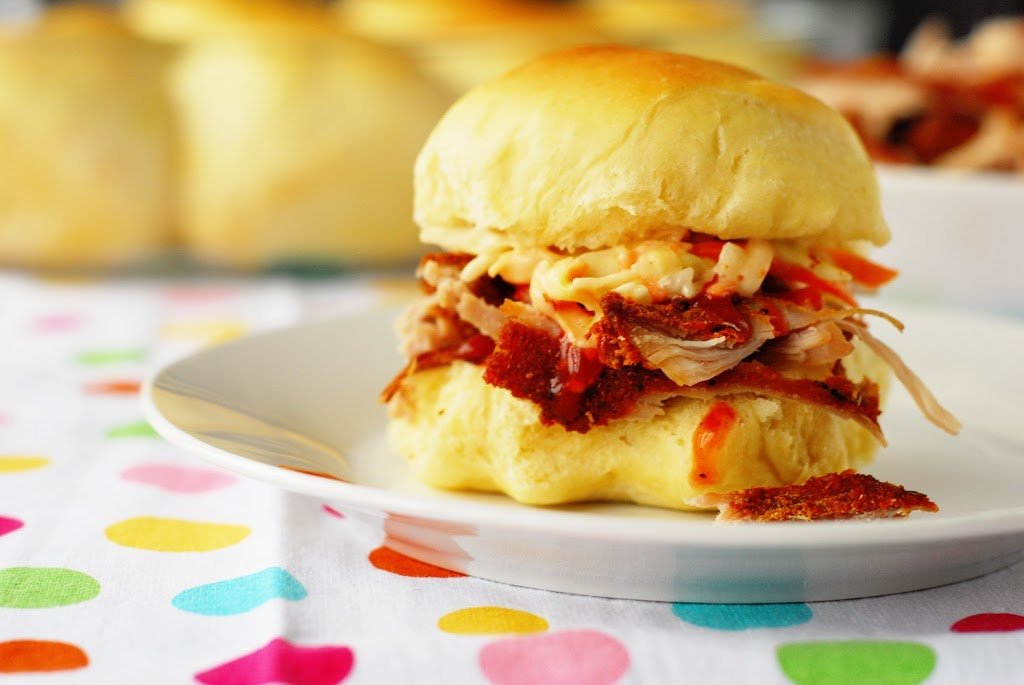 It would be fun to smoke the pork with this rub- let me know if you're able to try it!
If you make this, it would mean the world to me if you'd rate and review! It helps other people find this recipe.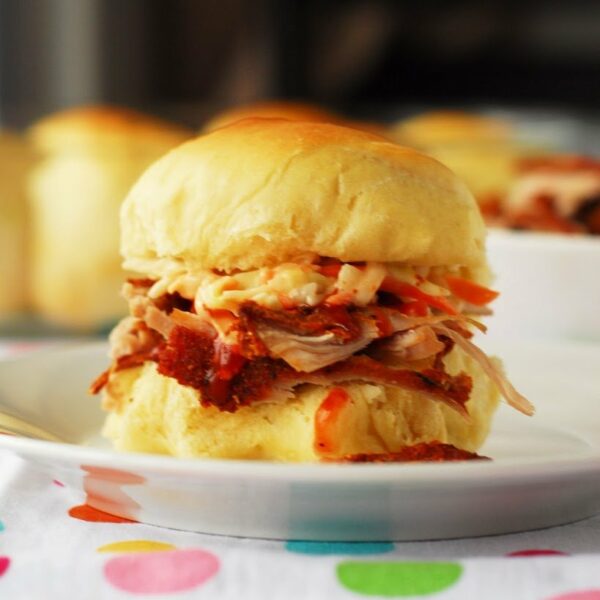 Get the Recipe: Pulled Pork Sandwiches on Homemade Rolls
Slow cooked pork shoulder to make pulled pork is only complete with homemade rolls for perfect sliders or sandwiches for an easy meal for a crowd.
Ingredients
Pork:
Pork Butt/Shoulder, at least 2 pounds
2 tbsp brown sugar
2 tbsp chili powder
2 tbsp paprika
1 tbsp cumin
1 tbsp salt
1/2 tbsp coriander
1 tsp dried thyme
1 tsp dried mustard
1 tsp garlic powder
1/2 tsp cayenne pepper
1/2 tsp black pepper
Rolls:
1/2 cup warm water
1 tsp sugar
1 .25 oz packet active dry yeast
1/2 cup milk
1/3 cup butter
1/4 cup sugar
1 egg
1 tsp salt
3 3/4 cup flour
Toppings:
Coleslaw
BBQ Sauce of choice
Instructions
Preheat oven to 400 degrees F (200 degrees C). For the pork, combine all spices in a small bowl. Rub the pork all over with the spice mixture, making sure to get in all the cracks. Place a wire cooling rack on a cookie sheet and the pork on top of that.

If you have a probe thermometer, insert it into the center of the cut and set the alarm to go off when the pork reaches 190 degrees F. If you don't, estimate that you should cook it for an hour per pound. Cook for an hour if your cut is more than six pounds or a half hour if its less at 400 degrees, then reduce the heat to 250 degrees F (120 degrees C) and cook until center reaches 190 degrees F or for an hour per pound.

When pork is done, shred it with your hands.

For the rolls: In a large mixing bowl or the bowl of your KitchenAid, combine water, 1 tsp sugar, and yeast. Let sit for about 10 minutes, or until foamy.

While the yeast is proofing, add 1/2 cup milk, 1/3 cup butter, and 1/4 cup sugar to a small saucepan over medium-low heat. Stir and cook until milk is warm and butter is melted.

Add milk mixture, egg, and salt to the yeast mixture. Mix until combined. Add the flour about a cup at a time, until dough is no longer sticky. If kneading by hand, knead for about 8 minutes. If kneading with KitchenAid, knead for about 5 minutes. Place dough in an oiled bowl in a warm place covered with plastic wrap or a moist cloth and let rise until doubled, about 45 minutes.

When dough has risen, punch down and roll out into twelve evenly sized balls. Arrange in a greased 9×13 inch baking dish. Cover with saran wrap and let rise until nearly doubled and rolls are just pressing against each other.

Preheat your oven to 400 degrees F (200 degrees C). Bake rolls for 15-20 minutes, or until tops are golden brown.

Once rolls have cooled, divide in half and assemble with pulled pork, barbecue sauce, and cole slaw.
Notes
To cook the pork in the slow cooker, cook on low for 6-8 hours. To cook the pork in the Instant Pot, cook on the manual setting for 90 minutes.
Calories: 465kcal, Carbohydrates: 76g, Protein: 11g, Fat: 13g, Saturated Fat: 7g, Trans Fat: 1g, Cholesterol: 56mg, Sodium: 1709mg, Potassium: 223mg, Fiber: 3g, Sugar: 15g, Vitamin A: 1367IU, Vitamin C: 4mg, Calcium: 71mg, Iron: 5mg