New York Strip Steak marinated in a soy and orange-based marinade, then cooked sous vide and seared before serving. Delicious and simple!
---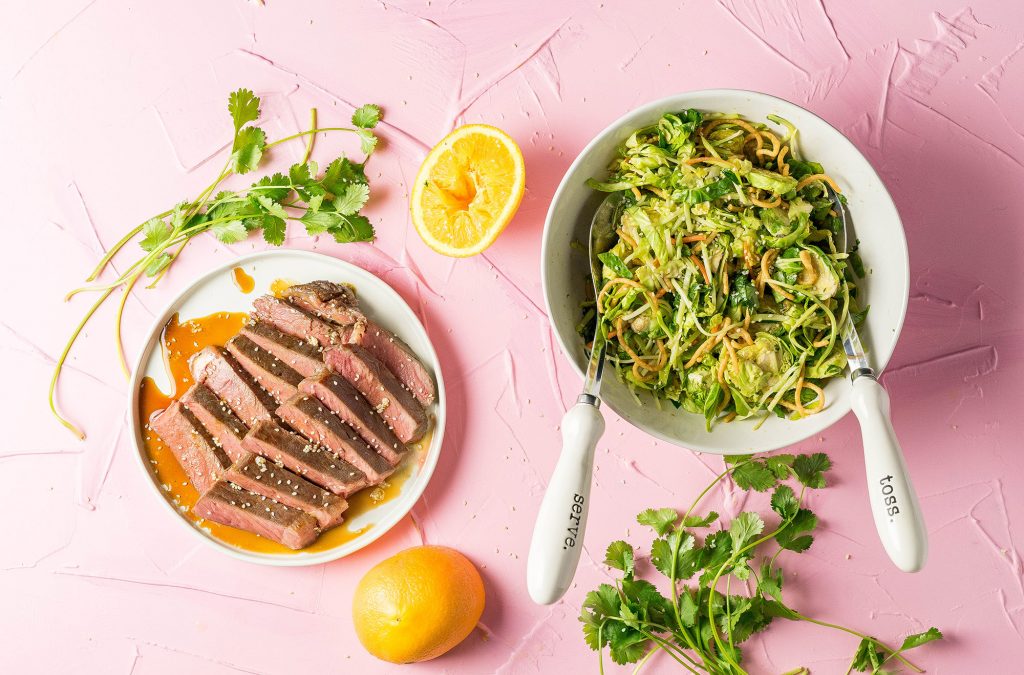 Heads up! There are affiliate links in this blog post, but only for stuff I really dig.
Okay. I have a new obsession. It is Porter Road. They're a butcher out of Nashville that you can buy direct from online. And yes, there are several online meat boxes you can buy, but few are like this.
They have products like bacon + beef ground meat mix, brisket, flap steak, and this beautiful dry aged NY Strip Steak. High quality, dry aged meat combined with a sous vide cook method, this was truly the best steak I've ever eaten. Sous vide strip steak, you're about to become a regular rotation.
No offense to Costco, but the difference in taste between Porter Road's meat and what I usually stock in my freezer was unreal. I expected it to be better, but not this much better. The flavor the meat gets from the dry age is so good, not to mention it's just better meat!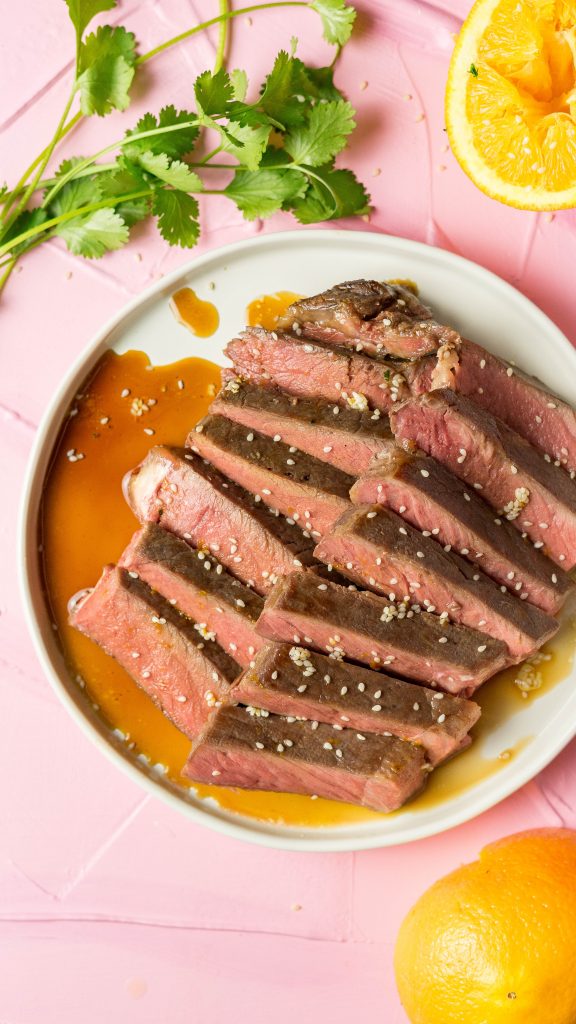 The marinade I created for the sous vide strip steak certainly helped, too: soy sauce, orange juice, sesame oil, rice wine vinegar, and sesame seeds will do the trick.
I served the steak with a big, crunchy slaw/salad with more Asian flavors for a complete, delicious meal. It would also be delicious with a cauliflower and carrot puree or cauliflower gratin!
We like our steak medium rare, so these babies got a bath at 129 degrees F for 2 hours. And they were so, so perfect. See photos for proof.
Are you still on the hunt for an immersion circulator and/or a vacuum sealer? I can't recommend Vesta Precision's products enough: check them out and hop to precision cooking ASAP!
You can also view this recipe as a step-by-step web story here.
Get the Recipe: Orange Marinated Sous Vide Strip Steak
New York Strip Steak marinated in a soy and orange-based marinade, then cooked sous vide and seared before serving. Delicious and simple!
Ingredients
Instructions
Season steaks well with salt. Set aside.

In a bowl, mix together all remaining ingredients.

Add steaks to a large zipper top bag. Pour in half the marinade and shake to coat steaks. Seal the bag and refrigerate for at least 2 hours, up to overnight. Reserve the other half of the marinade in the fridge.

Begin heating sous vide water bath to 129 degrees F (for medium rare steak).

Remove steaks from bag with marinade and transfer to vacuum seal bag of choice. Discard marinade. Remove the air and drop into water bath. Cook for at least 2 hours, up to 3.

Remove steaks from water bath and bag. Pat them thoroughly dry with paper towels.

Heat ghee in a cast iron skillet over high heat. Once very, very hot add steaks and sear. You should not sear for more than 30 seconds on each side.

Remove to a cutting board and slice into half inch slices. Arrange on a platter and pour remaining marinade over the steak. Serve.
Calories: 431kcal, Carbohydrates: 4g, Protein: 34g, Fat: 31g, Saturated Fat: 14g, Cholesterol: 133mg, Sodium: 2235mg, Potassium: 544mg, Fiber: 1g, Sugar: 1g, Vitamin A: 1IU, Vitamin C: 1mg, Calcium: 48mg, Iron: 3mg