Sous vide is the best way to cook steak and the only way to truly ensure you don't overcook it! With sous vide, you'll have a perfect medium-rare ribeye every time. A good sear in a screaming hot cast iron skillet after sous viding will help render all that fat ribeye steaks are known for.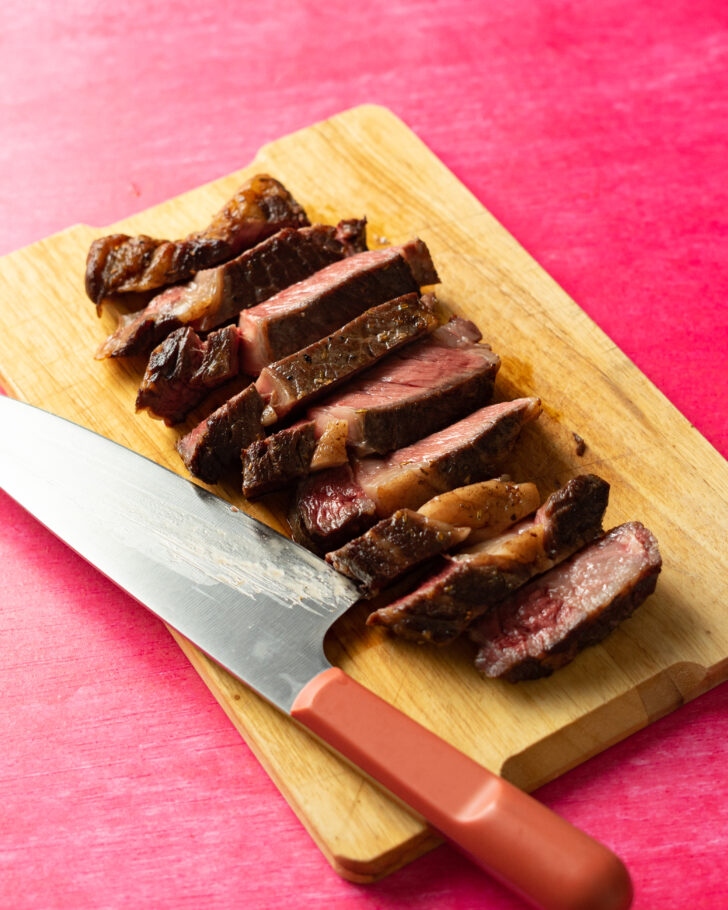 If you're here, you probably agree that the perfect ribeye is a sought-after meal. The ribeye is tender, juicy, and packed with flavor. But, cooking the perfect ribeye can be a challenge. Overcooking it can lead to a tough, chewy steak, while undercooking it can result in a raw, less-than-appetizing meal.
Sous vide is the best way to ensure that your food is cooked well (not well-done!), especially when it's something expensive like steak, salmon, scallops – I could go on! Looking for instructions for a different cut of steak? I probably have a recipe for it in my sous vide beef recipe catalog!
Not sure what sous vide cooking is or looking to learn more? Make sure to check out my Beginner's Guide to Sous Vide Cooking, or if you're really looking to dive in, my program, Sous Vide School!
My beginner's interactive guide to sous vide cooking will teach you how to make sous vide dinners, desserts, drinks and more while saving time and money!
Here's a quick overview: Sous vide is a cooking technique where food is vacuum-sealed and placed in a water bath at a precise temperature for a specified amount of time. You use a device called an immersion circulator (my favorite is the Breville Joule) to regulate the temperature. This method ensures that the food is cooked evenly and retains its moisture and flavor.
Alright, let's sous vide a ribeye!
How to Select a Ribeye
Ribeye steaks are known for being a fatty cut. This is part of what makes them so delicious! However, too much fat can make for an unpleasant eating experience. I like to choose a steak that has a relatively thin fat cap on the edge and more even marbling throughout. There may still be big pockets of fat, but most of the fat should be distributed evenly.
I also make sure that the meat is a bright red and not veering towards brown or gray. The fat should be closer to white than pink or yellow.
But hey, don't overthink it! That pack of ribeyes from Costco will do you well.
Seasoning a Ribeye Steak
I like to keep the seasoning for my ribeye simple. I don't usually marinade or go big with sauces – I find that a good ribeye has plenty of flavor on its own!
One extra step I will take sometimes is dry brining my ribeye steaks, but that is not necessary by any means. Just if I have the forethought!
A liberal dose of salt and pepper is all you need, or I like to use a blend of kosher salt, granulated garlic, dried rosemary, and dried oregano if I'm feelin' fancy.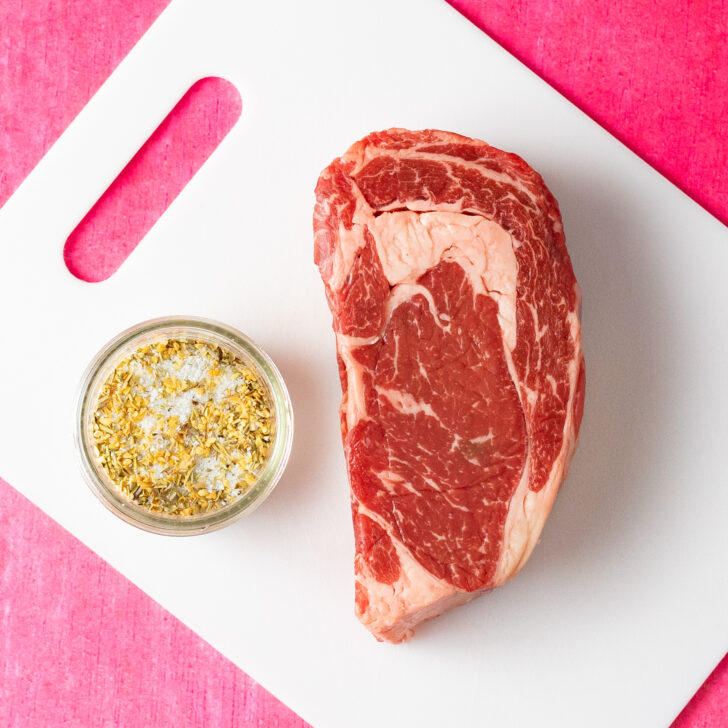 How to Vacuum Seal a Steak
My favorite way to seal food for sous vide cooking is to vacuum seal it, however, you don't have to. If you don't have a vacuum sealer, there are lots of other air removal methods – I think that the water displacement method is the best!
Do you have a vacuum sealed ribeye waiting for you in the freezer? Good news: you can go from freezer to sous vide bath! I recommend seasoning before cooking, but it won't be the end of the world if you don't.
Time and Temperature for Sous Vide Ribeye
When I'm cooking a fattier steak like ribeye, I typically cook at slightly higher temperatures than I do leaner steaks like tri-tip. In fact, many argue that the grill is better than sous vide for fatty cuts like ribeye, but in general, I prefer sous vide to ensure that perfect medium rare with little effort on my part.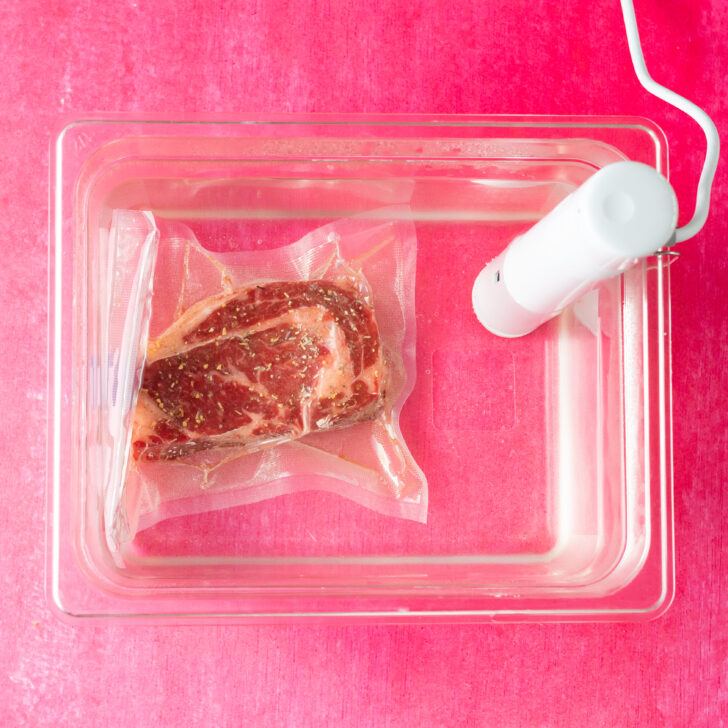 My favorite time and temp for a medium-rare ribeye steak is 132 degrees F for 2-3 hours.
| Result | Temperature | Time |
| --- | --- | --- |
| Rare | 126 degrees F | 2-4 hours |
| Medium-Rare | 132 degrees F | 2-4 hours |
| Medium | 138 degrees F | 2-4 hours |
| Medium-Well | 142 degrees F | 2-4 hours |
If you're cooking your steak from frozen, I recommend a minimum cook time of 2.5 hours.
Searing the Ribeye Steak
The key to a great sous vide ribeye is a great sear. This will help to really render the fattiest parts and give it that amazing texture we love.
Place a cast iron skillet over high heat – you want this thing hot! Once it's smoking, add a tablespoon or two of ghee so there's about 1/8 of an inch of melted fat in the skillet. Why ghee? It's got all the goodness of butter without the milk solids that are the first thing to burn, so you can get it nice and hot with less smoke.
Start by searing the fatty sides of the steak before laying it flat.
Remove to a cutting board, let rest for a couple of minutes, then slice and serve! Preferably, serve with a compound butter like blue cheese butter or classic creamy horseradish sauce.
You can also view this recipe as a step-by-step web story here.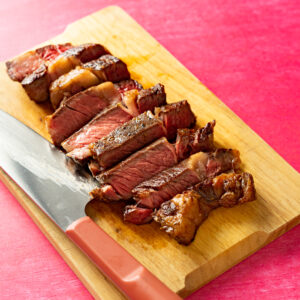 Get the Recipe: Medium-Rare Sous Vide Ribeye
Looking to cook the perfect medium-rare ribeye? Sous vide cooking is the fool-proof way. This recipe will walk you through seasoning, vacuum sealing, sous viding, and searing your ribeye. Say goodbye to tough, overcooked steaks and hello to juicy, flavorful ribeyes every time.
Ingredients
2 12 oz ribeye steaks
Freshly cracked black pepper
2 tbsp ghee, can be substituted with butter
Instructions
Season the ribeyes very well with salt and pepper or your favorite steak seasoning. I recommend keeping the seasoning simple.

Place the steaks in a vacuum seal bag and use your vacuum sealer to vacuum seal. If you don't have a vacuum sealer, choose another air removal method like the water displacement method.

Place the vacuum sealed steaks in the preheated sous vide water bath and cook for 2-4 hours. If necessary, secure with sous vide magnets to keep the steaks from floating.

When the steaks are done cooking in the sous vide bath, remove them from the bath and the bag and pat the steaks thoroughly dry with paper towels or a clean dish towel. This will help you get a better sear.

Preheat a cast iron skillet over high heat. Once smoking, add the ghee to melt. Sear the steaks, starting with the fatty edges of the ribeyes. Lay flat and use a cast iron grill press to get a complete sear on each side of the steak. Sear for no more than 1 minute on each side to prevent overcooking.
Notes
If cooking from frozen, sous vide for a minimum of 2.5 hours.
Calories: 839kcal, Protein: 68g, Fat: 63g, Saturated Fat: 31g, Polyunsaturated Fat: 3g, Monounsaturated Fat: 27g, Cholesterol: 246mg, Sodium: 177mg, Potassium: 912mg, Vitamin A: 51IU, Calcium: 24mg, Iron: 6mg