Learn how to transform a cut of steak like tri-tip into a tender, perfectly cooked meal using sous vide. Sous vide tri-tip time and temperature chart included!
Get more sous vide steak recipes in my cookbooks, Everyday Sous Vide and Sous Vide Meal Prep. Snag the books for lots of amazing sous vide recipes like this one!
Tri-tip is one of my favorite cuts to cook sous vide. The tri-tip cut has a decent amount of fat marbling without being overly fatty like a rib-eye and it just eats so well, especially when cooked to a perfect medium-rare. Personally, I love to push things to the rare side of medium-rare when cooking this cut!
Sous vide tri-tip steaks are great for a crowd or for a weeknight dinner, and either way I've got you covered to pull off a well-rounded meal with plenty of steak sides recipes. My favorite way to serve this steak is with Crispy Potatoes and Chimichurri.
Here's what you'll find in this article:
What is sous vide?
Sous vide is a cooking method where you put your food in a container and remove the air, then place it in a water bath at a specific temperature for an extended period of time. So, a consistent cooking heat, usually for slightly longer than you'd "normally" cook your food. Got it? Food in bag/jar, bag/jar in water bath, leave it there for a while. I've got a deep dive on sous vide cooking, including video explainers, if you want to learn even more.
Another wonderful thing about this method: it's great for transforming underrated cuts of meat. I love to buy tri-tip steaks from Costco, but they aren't exactly a strip steak or a ribeye. Sous vide allows you to break down and therefore tenderize the meat a little more without overcooking it.
What You'll Need to Make Sous Vide Tri-Tip Steak
You don't need a lot to make an amazing tri-tip steak. Don't overthink this!
For equipment, you'll need:
For the steak, you'll need:
Tri-tip steak. You can tri-tip steaks from Costco, or you can also get a tri-tip roast and cut it into steaks. For an excellent and ethical beef source, check out Porter Road.
Salt. I love Diamond Crystal Kosher Salt forever and always.
Freshly cracked black pepper. I got an electric pepper mill for Christmas and it is awesome and worth it.
Fresh rosemary if you want, but it's totally optional!
Ghee for searing. I like ghee because it has a higher smoke point than butter, but butter will work, too.
Time and Temperature for Sous Vide Tri-Tip Steak
When cooking steaks that are leaner, I like to veer towards the rare side of the medium rare spectrum.
But it's okay if you don't like your steak exactly like I do! Here are some other times and temps to try when cooking sous vide tri-tip steaks.
| Result | Temp | Time |
| --- | --- | --- |
| Rare | 124-128 degrees F | 1-3 hours |
| Medium-Rare | 129-133 degrees F | 1-3 hours |
| Medium | 134-138 degrees F | 1-4 hours |
| Medium-Well | 139-142 degrees F | 1-4 hours |
How to Cook Sous Vide Tri-Tip Steak
I like to keep my seasoning simple with steak: just kosher salt and freshly cracked black pepper. When I'm feelin' fancy, I add in a few sprigs of rosemary!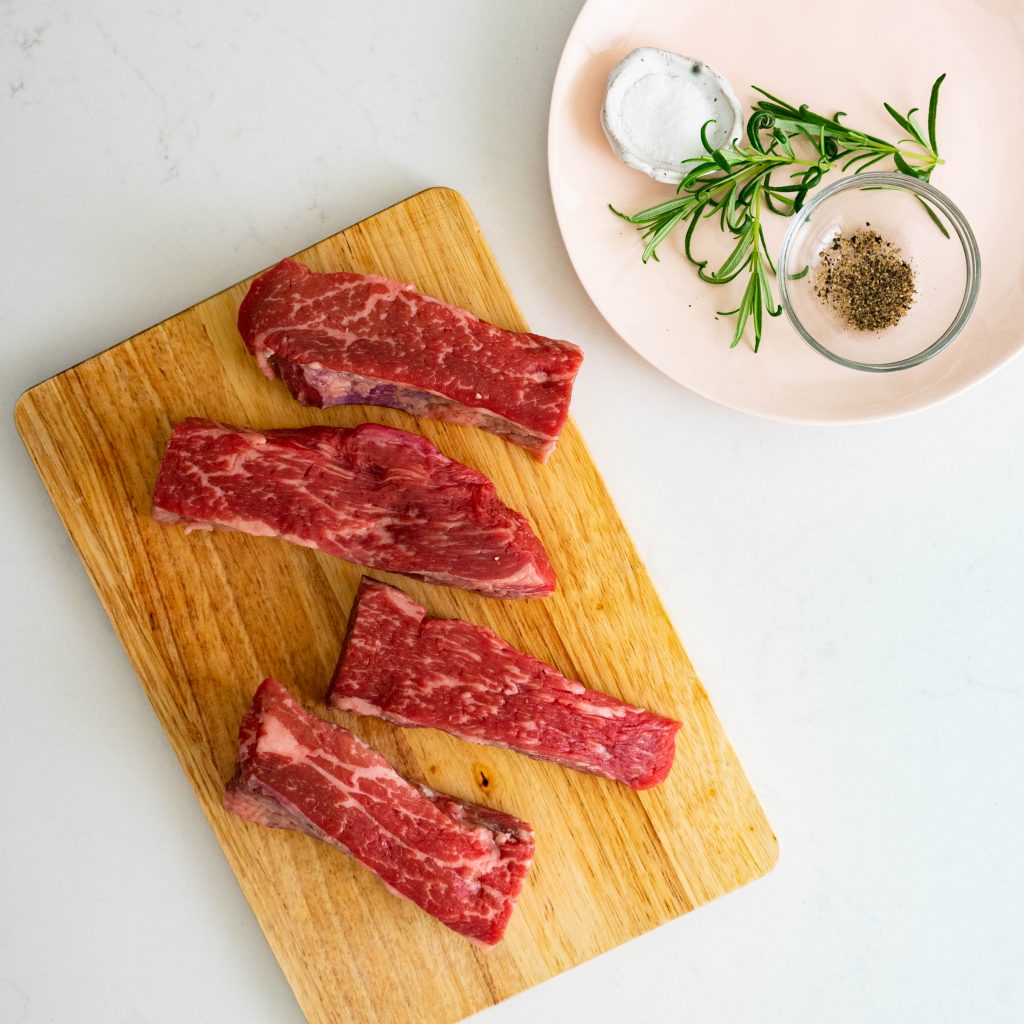 Then add to your bag of choice and remove the air. I'm just use vacuum seal bags and a vacuum sealer. I find it to be the easiest and most fool-proof way to remove the air.
Then add to a water bath preheated to your desired temp (I like 129 degrees F) and cook for 1-3 hours.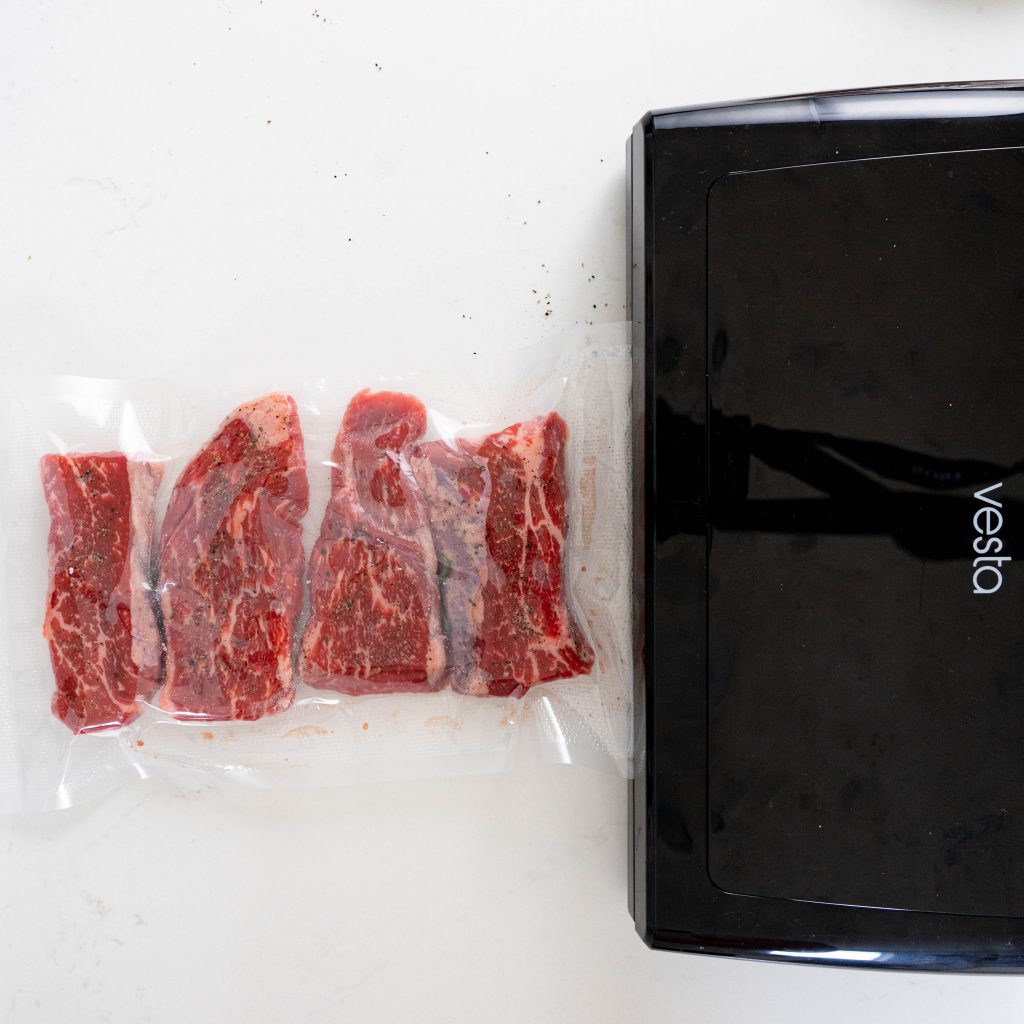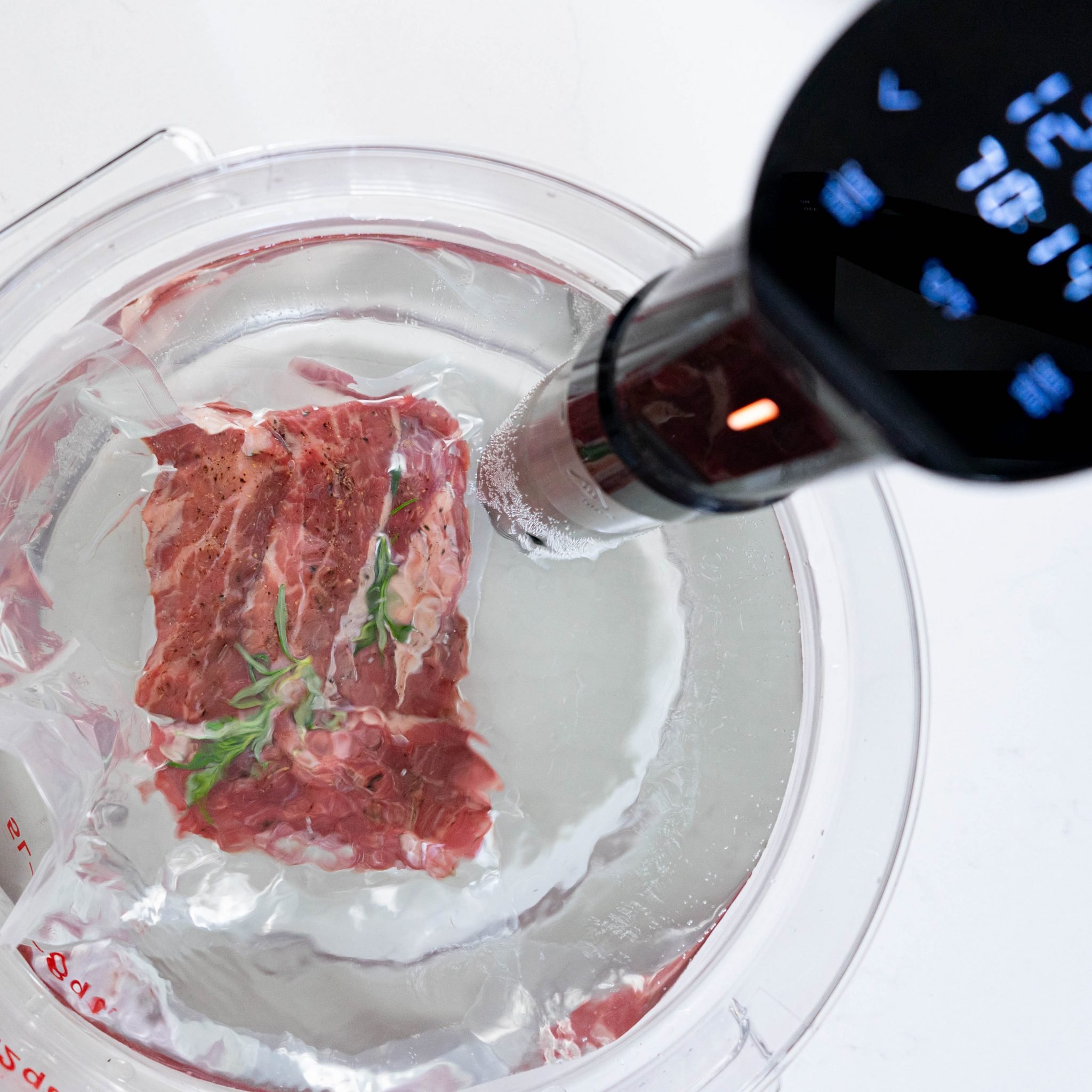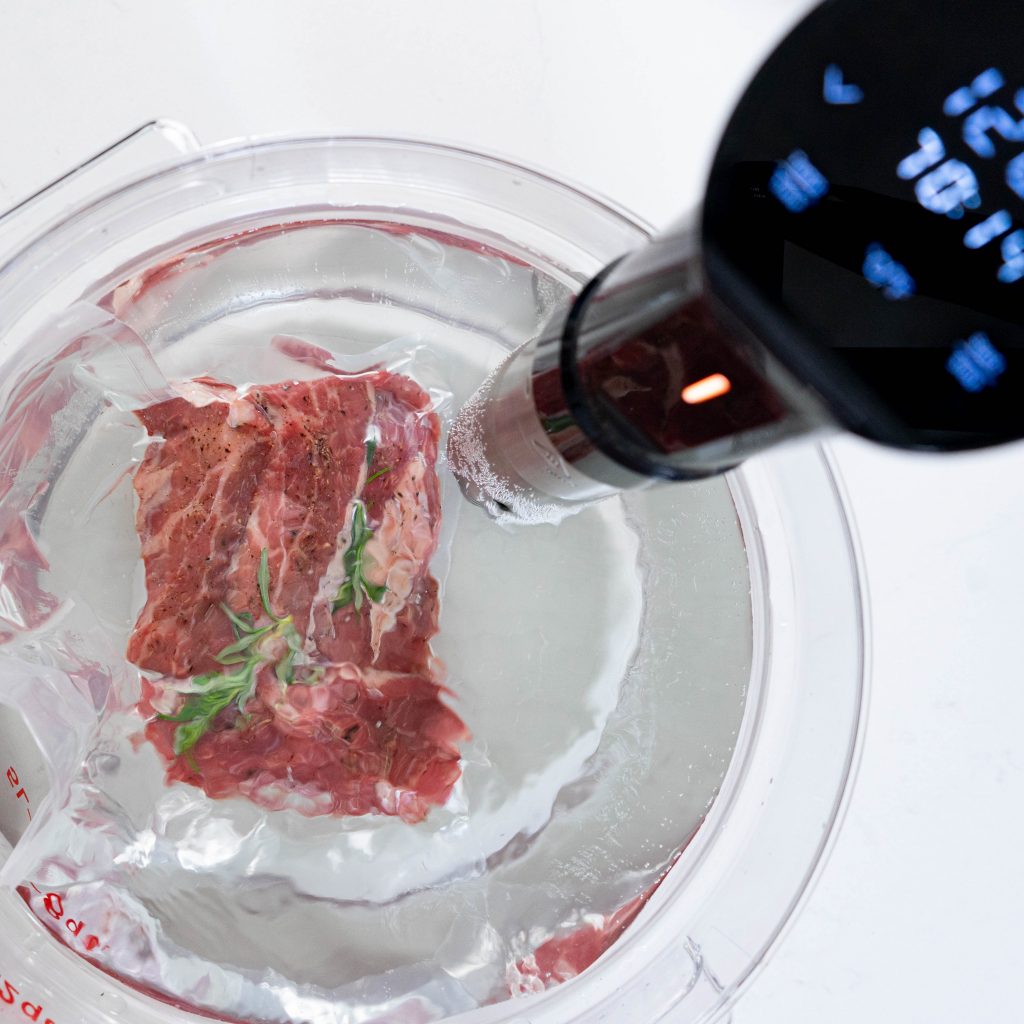 When the steak is done cooking, remove the bag from the water bath and sear.
How to Get a Great Sear
If you have the forethought, especially if you're using your oven to cook steak side dishes, preheat your cast iron skillet in the oven to get it hot hot hot!
Then place it on your stove over high heat. Preheat it there until it's smoking.
Remove the steaks from the bag after cooking and pat them completely dry with clean dish towels or paper towels and reseason with salt and pepper.
Add ghee or butter to the hot cast iron skillet and let it melt. Add the steaks. I like to set a cast iron grill press on top of the steaks to get a thorough and even sear. Don't go more than 30 seconds on each side.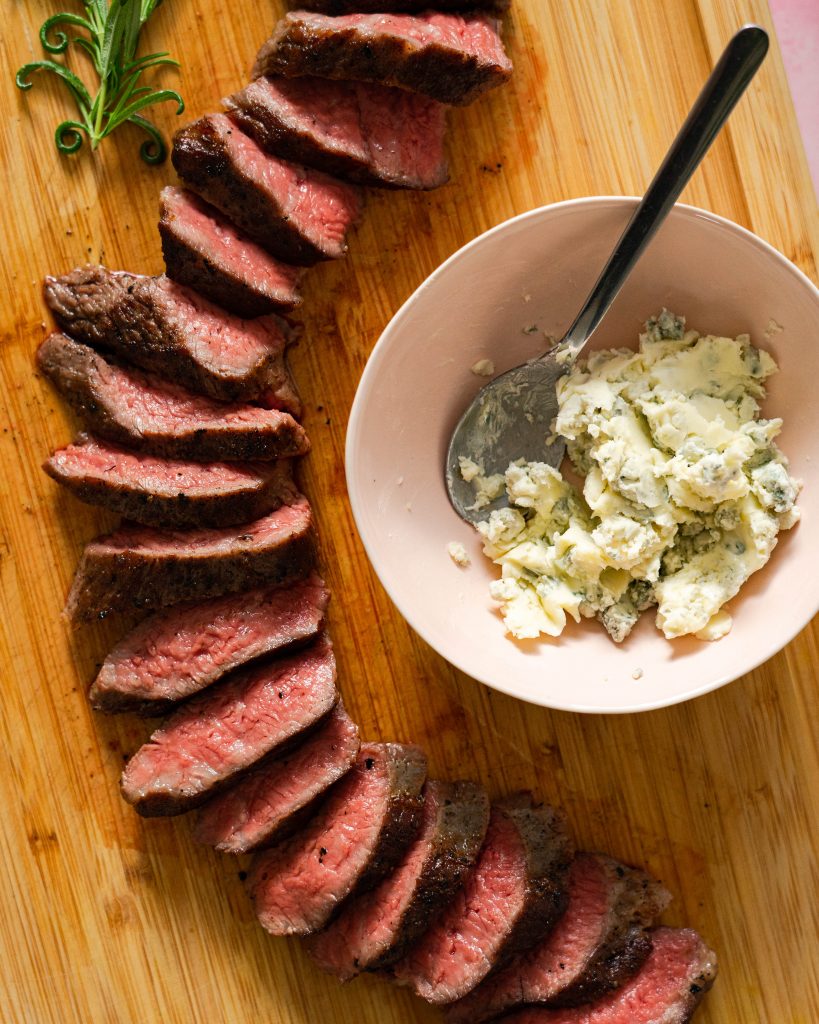 Sauces and More
Wondering what to serve with your tri tip steak? I've got some ideas for you.
You can also view this recipe as a step-by-step web story here.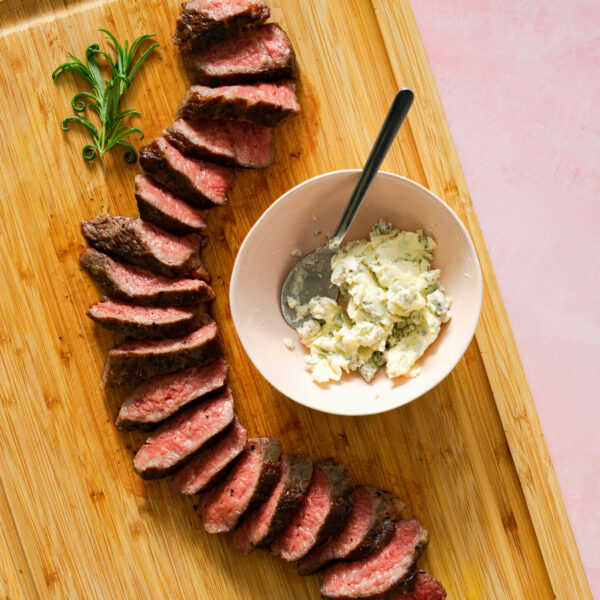 Get the Recipe: How to Sous Vide Tri-Tip Steak Perfectly
Learn how to transform a cut of steak like tri-tip into a tender, perfectly cooked meal using sous vide. Sous vide tri-tip time and temperature tips included!
Ingredients
2 6-8 oz tri-tip steaks
Freshly cracked black pepper
Rosemary sprigs, optional
1 tbsp butter or ghee
Instructions
Season the steak with the seasoning salt. Add to a vacuum-sealing bag or a freezer-safe zip top bag. Add the rosemary sprigs. Remove the air from the bag and seal.

Add to preheated water bath and ensure it's completely covered. Cook for a minimum of 1 hour up to 3 hours.

When steak is done, heat a cast iron skillet over high heat. When smoking, add the ghee or butter to the skillet. Sear the steaks on each side until browned (30 seconds or less).
Notes
Nutrition is an approximation.
Calories: 237kcal, Carbohydrates: 1g, Protein: 23g, Fat: 15g, Saturated Fat: 7g, Trans Fat: 1g, Cholesterol: 90mg, Sodium: 109mg, Potassium: 361mg, Sugar: 1g, Vitamin A: 175IU, Calcium: 30mg, Iron: 2mg