Sous Vide is the new Instant Pot. Learn how to transform a not so great cut of steak like tri-tip into a tender, perfectly cooked meal!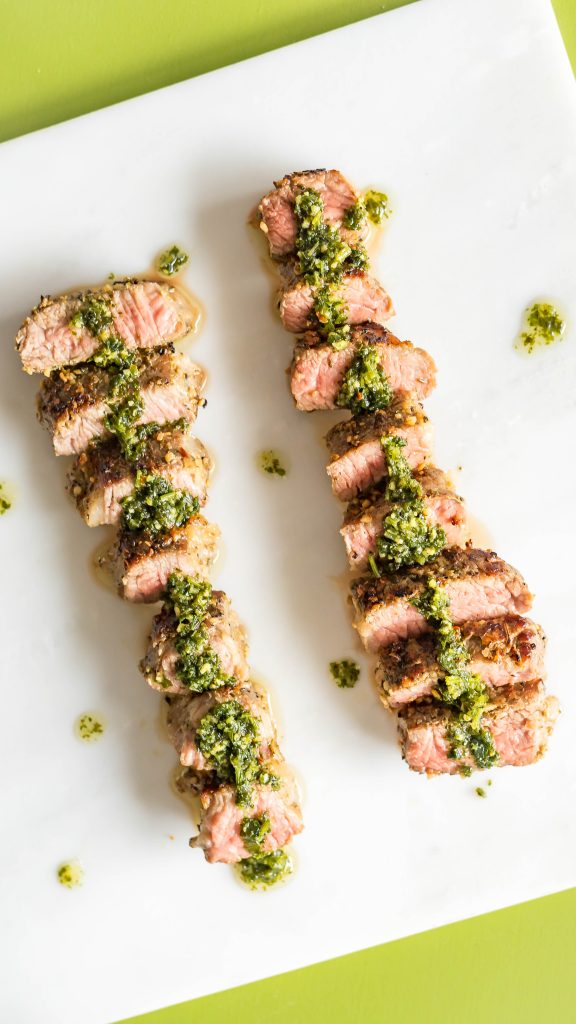 Get more sous vide steak recipes in my brand new book, Everyday Sous Vide: It's All French to Me. Snag the book for lots of amazing sous vide recipes like this one!
Don't know about sous vide yet, but curious to learn more? Start here! I tell ya about everything you need to get viding.
---
If you follow me on Instagram, then you know about my latest cooking gadget obsession: sous vide.
Now, don't get me wrong. I still love my Instant Pot. But let's be real, it's not quite as shiny and exciting to me now that I've had it for almost a year.
What is sous vide?
So, what's an immersion circulator? It's a big stick shaped appliance you clip onto the side of a pot (or a Cambro if you're real fancy and professional like that) filled with water. It circulates the water and keeps it at exactly whatever temperature you want for as long as you want.
Why is this a good thing? This is the perfect cooking method for delicate things. Think a steak you don't want to overcook or perfectly flaky fish you'd hate to dry out in the oven. You know how cooking works: the internal temperature decides whether something is undercooked, overcooked, or just right. This Precision Cooker brings the meat (or whatever) to exactly the right temperature and never higher. AKA: you'll never overcook your food again or be confused standing over the stove, wondering if it's cooked through yet and hoping your meat thermometer is close to accurate.
As someone who eats a fair amount of red meat and fish, I'm totally obsessed. This sous vide produced literally the best halibut I've ever eaten. Perfectly cooked ribeye steaks. Unbelievably delicate and flaky salmon. All the good things.
Another wonderful thing about this gadget: it's great on the not so awesome cuts of meat. I love to buy tri-tip steaks from Costco, but they aren't exactly a strip steak or a ribeye. The sous vide means you can break down the tissue a little more without overcooking the meat.
Get ready to have your mind blow: when you cook using the sous vide, you're usually cooking meat for a minimum of 45 minutes. Seems counter intuitive, but remind yourself that it's never coming above your desired internal temp. You can't overcook it.
How to Cook Sous Vide Tri-Tip Steak
First, season. You don't need to season quite as liberally as you would for other cooking methods because all that seasoning is stayin' on and going to get time to get absorbed into the meat. I'm using seasoned salt and I like to throw in fresh sprigs of rosemary.
When you sous vide, you have a few choices about what your meat gets cooked in. You can use:
A freezer-safe plastic bag
A vacuum-packed bag (using a Foodsaver)
Reusable vacuum-packed bag
I invested in option 3 because Foodsaver bags can get expensive, and I wanted to make sure I got a bag made from plastic that wouldn't leach into the meat. I got these sous vide bags.
It comes with a little pump to suck all the air out.
Add the steak and rosemary sprigs if ya want, and get as much air as you possibly can out of the bag. This is important so the bag doesn't float in the water bath.
Time and Temperature for Sous Vide Tri Tip Steak
| Doneness | Time | Temperature |
| --- | --- | --- |
| Rare | 1-4 hours | 125 F |
| Medium Rare | 1-4 hours | 129 F |
| Medium | 1-4 hours | 133 F |
| Medium Well | 1-4 hours | 138 F |
While you're prepping all this, you can get the water circulating. I use a large stock pot. Set your sous vide for the desired temperature. I do tri-tip steak at 129 degrees F. Once it comes to temp, drop in the meat.
Now, you can either set the timer on the sous vide or you can watch your clock. Like I mentioned earlier – this cooking method is great for tougher cuts because you can cook it longer without over cooking it. I like to cook tri-tip for 1.5 hours to 3 hours, and the longer the better.
As you can imagine, it doesn't look super pretty once it comes out of the sous vide.
So, heat a cast iron skillet to a searing temperature – like REAL HOT – and melt some butter in it. Drop in just long enough to give each side some color.
Much better. That's it! Take a look at the inside:
For me, this is the PERFECT temperature. Like it rarer? Fine, set it for a lower temp. Like it more cooked? That's cool, too – I guess. It's actually kind of not. Gimme some blue cheese butter or some horseradish and I'm SET. Oh, and a huge glass of red wine. Maybe a brussels sprouts caesar or cauliflower mash on the side?
Okay, here is your to do list.
Get a Vesta Imersa Elite
Get a decent but not awesome cut of steak
Make this sous vide tri tip (or whatever) and be AMAZED. Amazed.
P.S. Want to get my Sous Vide 101 guide? I'll send it to ya.
If you make this recipe, it would mean the world to me if you'd rate and review below! It helps other people find this recipe, too.
Print
Sous Vide Tri-Tip Steak
Author:

Chelsea Cole

Prep Time:

5 mins

Cook Time:

1 hour 31 mins

Total Time:

1 hour 36 mins

Yield:

2

servings

1

x

Category:

Beef/Game

Method:

Sous Vide

Cuisine:

American
---
Description
Sous Vide is the new Instant Pot. Learn how to transform a not so great cut of steak like tri-tip into a tender, perfectly cooked meal!
---
2 6-8 oz tri-tip steaks
Seasoned salt (I like Montreal Steak Seasoning)
Rosemary sprigs (optional)
1 tbsp butter or ghee
---
Instructions
Begin circulating your water. Set temperature to 129 degrees F for medium-rare steak.
Season the steak with the seasoning salt. Add to a vacuum-sealing bag or a freezer-safe zip top bag. Add the rosemary sprigs. Displace as much of the air from the bag as possible.
Add steak to water and ensure it's completely covered. Cook for a minimum of 1 hour 30 minutes, up to 4 hours.
When steak is done, heat a cast iron skillet over high heat. Add the ghee or butter to the skillet. Sear the steaks on each side until browned (30 seconds or less).
---
Keywords: sous vide tri-tip