Breville Joule Immersion Circulator (Sous Vide) Review
The Breville Joule from ChefSteps is a sleek and compact but powerful circulator that is worth the money. Although it's more expensive than other circulators on the market, the Joule is smarter, more powerful, and easier to store than the competition.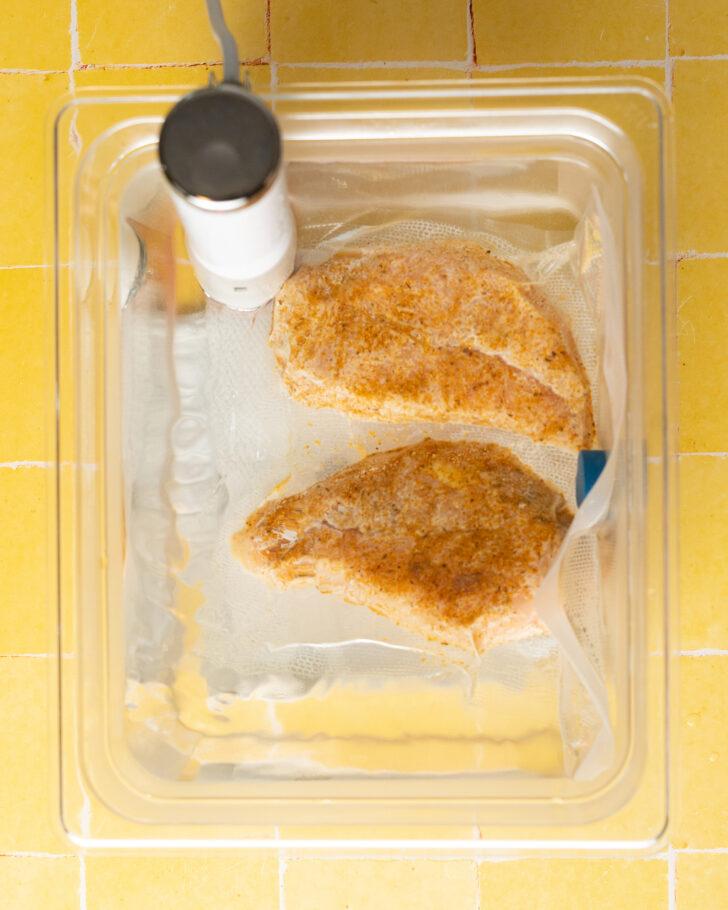 The Good:
One of the smallest circulators available, making it easy to store.
Beautiful design.
This machine is quiet – no loud beeping and doesn't make a lot of noise while running.
It's powerful. The water preheats quickly and maintains temperature well.
The associated app allows you to start and stop the sous vide remotely.
Low minimum water line.
The Bad:
It can only be controlled by an app, which can be a little glitchy.
This circulator is a more expensive than competitors.
I have been obsessed with sous vide cooking since 2016, so much so that I've written two cookbooks on the topic and developed countless sous vide recipes. In that time, I've had the opportunity to use several different immersion circulator brands and all kinds of accessories.
Sous vide has been popularized over the last decade and more and more home cooks are discovering how helpful the cooking method can be. With this, people who want to sous vide aren't stuck using oversized sous vide baths, but can instead choose from a variety of smaller immersion circulators on the market!
An immersion circulator, sometimes called a sous vide cooker, is a device that's placed in a water bath and then pulls water into device, runs it past heated coils, and then pushes it back out into the water. With this method, the entirety of the water bath is able to be kept at a precise temperature.
Since purchasing the Breville Joule a couple of years ago, it's quickly become my go-to circulator for ease of use and quiet but powerful performance.
Specifications Compared to Other Popular Devices
Although the Joule may be smaller than other circulators on the market, it doesn't sacrifice power.
| | Breville Joule | Anova Nano | Inkbird Precision Cooker |
| --- | --- | --- | --- |
| Item Dimensions LxWxH | 11 x 1.85 x 1.85 inches | 12.8 x 2.2 x 2.2 inches | 16.14 x 2.36 x 2.36 inches |
| Weight | 1.28 Pounds | 1.7 Pounds | 3.94 Pounds |
| Capacity | 40 Liters | 19 Liters | 15 liters |
| Wattage | 1100 Watts | 750 Watts | 1000 Watts |
| Voltage | 120 Volts | 120 Volts | 120 Volts |
| Price | $249.95 | $149 | $87.99 |
As you can see, you get what you pay for. Despite being the smallest circulator, the Joule has more wattage and can handle heating more than double the water versus other popular devices.
Features
The Joule was designed with a lot of thought and has many things that make it special.
Unique design that allows for a low minimum waterline.
A magnetic base. If you sous vide in a stockpot or another metal container, that means it can stand in the water bath.
A unique and easy to use clamp.
A robust (albeit glitchy) app. The app is full of recipes and suggested temperature settings, which can be really helpful when first starting out. However, sometimes the app needs a reboot to reconnect to the circulator.
Wifi and Bluetooth connectivity. With the wireless connectivity, you can monitor, start, and stop your circulator remotely.
Setup and Care
You cannot use this immersion circulator without the app (which in my opinion, is one of this device's few flaws), so the first thing you'll need to do is download the Joule app from your phone's app store.
Once downloaded, you'll be guided through creating your own account and connecting your circulator through both Bluetooth and Wifi. Although I didn't have any trouble with this process, it's not always seamless.
Make sure your circulator is plugged in, and once connected you'll simply tap the orange button at the bottom of the screen in your app to set your water bath's temperature! Once heated, you'll also have the option to set a cook duration.
While I regularly leave my circulator in a water bath for several days and reuse that water for different cooks, I don't recommend leaving it in water for more than 4 or 5 days. Let it drip dry on a drying rack or towel after removing from a bath and clean your circulator every 6 months or if you have a leak in a water bath.
Impression Overall
As a home cook, the Breville Joule from ChefSteps is my favorite immersion circulator and the one I recommend most often. I love how small it is, making it so easy to store. And yet somehow, it's more powerful than its biggest competitors. For me, the low water requirement is also a big plus. It takes less time to fill a water bath and I don't have to feel quite so guilty about how much water I'm using. I also love that I can easily control and monitor the device from my phone.
If you're wondering it this circulator is worth the expense, especially when comparing it to others, in my opinion, it is. Purchase with confidence!