Sous vide salmon is the best way to ensure this expensive seafood is always buttery, flaky, and delicious. Topped with pesto and parmesan or served with a spicy chimichurri, it's also a crowd pleaser your family will want to eat again and again.
This recipe has two things that I absolutely love: sous vide cooking and salmon. I'm lucky enough to be the daughter of one fisherman and married to another, so my freezer stays stocked with Chinook Salmon and man, it is just the best thing.
If you're looking for sous vide salmon inspiration beyond this recipe, make sure to check out my cookbooks, especially the Sous Vide Spicy Salmon with Lemon Dill Brown Butter in Sous Vide Meal Prep!
Time and Temperature for Salmon
I like my salmon on the rare side, so it's buttery and just flaky. 121 degrees F is my perfect temperature. I lightly season the salmon and bag it up and vacuum seal before cooking for 30 minutes – 1 hour.
Here are some time and temperature options depending on your preferences. These times will work no matter the size of your fillet.
| Result | Temperature | Time |
| --- | --- | --- |
| Very soft, just starting to flake | 110 – 119 degrees F | 30 minutes – 1 hour |
| Very moist and just flaky | 120 – 125 degrees F | 30 minutes – 1 hour |
| Firm and Flaky | 126 – 132 degrees F | 30 minutes – 1 hour |
How to Sous Vide Salmon
This process will be even easier than you think – I promise!
If you don't have a vacuum sealer, that's okay! I have lots of other air removal methods up my sleeve that I can teach you, including the water displacement method. You can also use a reusable silicone bag, like a Stasher bag.
Once you've cooked salmon this way, you'll never be able to do it on the grill, in the oven, or any other method for that matter ever again. I know I said it once already, but I mean it: you can't overcook it.
Finishing Options
Once the salmon is done cooking, you can finish it if you'd like, but there's no need if you don't want to.
If I'm doing a pesto salmon, I slather on some pesto, sprinkle on some parmesan cheese, and finish it under the broiler. If I just want a little texture, I sear it in my cast iron skillet.
Broil
Cast Iron Sear
I typically don't eat the skin, so I only worry about searing the flesh side of the salmon. If you enjoy eating the skin, use this same method for the skin side, too. Just be quick about it, no one wants overcooked salmon!
What to Serve with Sous Vide Salmon
I have a few go-to toppings for my salmon! The classic I grew up on is pesto and parmesan cheese, but I also frequently serve it with a spicy chimichurri. When I'm feeling ambitious, I make this harissa glaze, and when I'm feeling lazy, I top it with a few dollops of store bought artichoke parmesan dip (it's pretty incredible).
When it comes to sides, I usually serve salmon with Crispy Roasted Potatoes and a Warm Brussels Sprouts Caesar, but I've got lots of side dish recipes for you to choose from.
Common Questions
Can I freeze this?
I recommend seasoning your salmon, vacuum sealing it, and freezing it before cooking. When you want to cook it, you can go straight from the freezer to the sous vide water bath.
Can I sous vide salmon from frozen?
You sure can! Just make sure the minimum cook time is 45 minutes.
If I use a marinade, can I cook the salmon in the marinade?
Yes! In fact, the marinade will make a great sauce after cooking.
You can also view this recipe in a step-by-step web story.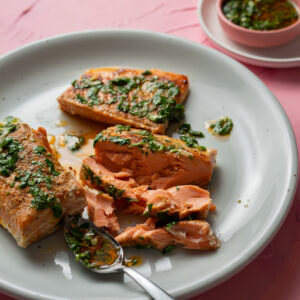 Get the Recipe: 30 Minute Sous Vide Salmon
Sous vide salmon is the best way to ensure it's always buttery, flaky, and delicious. You'll never overcook expensive salmon again!
Ingredients
16 oz salmon, can be one large piece or cut into filets
Freshly cracked black pepper
Instructions
Preheat your water bath to 115 degrees F for very soft salmon, 121 degrees F for moist and just flaky salmon, or 130 degrees F for firm and flaky salmon using an immersion circulator.

Season the salmon lightly with kosher salt and pepper or your favorite seafood seasoning.

Place the salmon in a vacuum seal bag and seal. If you don't have a vacuum sealer, choose another air removal method.

Place the bag in the preheated water bath and cook for 30 minutes to 1 hour. Make sure the bag stays submerged for the entire cook. Sous vide magnets can be helpful or place a ceramic plate or bowl on top of the salmon.

When finished, remove from the bag and serve immediately with a sauce like chimichurri, or you can choose to finish the salmon.
Finishing Options
To broil: Preheat your oven's broiler on high. Line a rimmed baking sheet with foil and place the sous vided salmon on the sheet. If using pesto or a glaze, spread over the salmon, otherwise drizzle with olive oil or top with pats of butter. Broil for 1-2 minutes, until just browned.

To sear: Preheat a cast iron skillet over high heat. Once hot, add 1 tbsp ghee or other fat of your choice. Place the salmon flesh side down in the hot skillet and sear until just browned. You'll know it's done when it easily releases from the pan with a spatula.
Notes
If cooking salmon from frozen, use a minimum cook time of 45 minutes.
Calories: 232kcal, Carbohydrates: 2g, Protein: 24g, Fat: 14g, Saturated Fat: 2g, Polyunsaturated Fat: 3g, Monounsaturated Fat: 3g, Cholesterol: 66mg, Sodium: 239mg, Potassium: 560mg, Fiber: 0.2g, Sugar: 0.5g, Vitamin A: 379IU, Calcium: 61mg, Iron: 1mg