This simple and healthy breakfast of spinach and feta omelette is a great way to start your day! Less than 300 calories and protein packed.
This year, I have really developed my love of breakfast food. I attribute that to the fact that we've been living in South Africa without jobs, so I can take the time almost every morning to make us a really good breakfast. On the blog, I've shared some of my favorite scone recipes (cinnamon apple, peanut butter chocolate chip, and pumpkin cranberry!), a chorizo hash, and even hot cross bun french toast. Even so, the closest I've come to showing you a day-to-day breakfast has been this simple hash, and even that only happens once a week or so.
How to Properly Cook an Omelette
Another food I've gotten good at cooking but hadn't thought to share because of its simplicity is omelettes. I read an article and watched some videos earlier this year about the proper way to cook an omelette, and it is not how we Americans usually think of the giant, greasy, bacon-and-cheese-stuffed diner food. Not that I don't adore that conception of omelette.
For these spinach and feta omelettes, here's what I do:
First, I melt a fairly generous amount of butter in a nonstick skillet. Butter is the ultimate cooking fat when it comes to eggs! Then I add about a cup of loosely packed, chopped spinach to the skillet. Before chopping I always get rid of any large stems so they don't give my omelette a weird texture. I let the spinach cook for a few minutes- you'll be shocked at how little there is once it cooks down!
While it's cooking, I whisk a couple of eggs together with a little bit of water until it's frothy. Not just mixed, but little bubbles on top of the egg mixture. If the spinach soaked up a lot of the butter, I add a bit more, especially because our skillet here sucks and isn't totally nonstick. You likely won't need to, though.
Then I pour the eggs over the spinach, increase the heat just a bit, and don't touch them. I just sprinkle on a little salt and pepper and the feta cheese. Once the eggs are fairly well set, I shake the skillet aggressively every now and then. When the eggs are completely cooked through, I fold it into thirds and let it sit for a few seconds before sliding it onto a plate.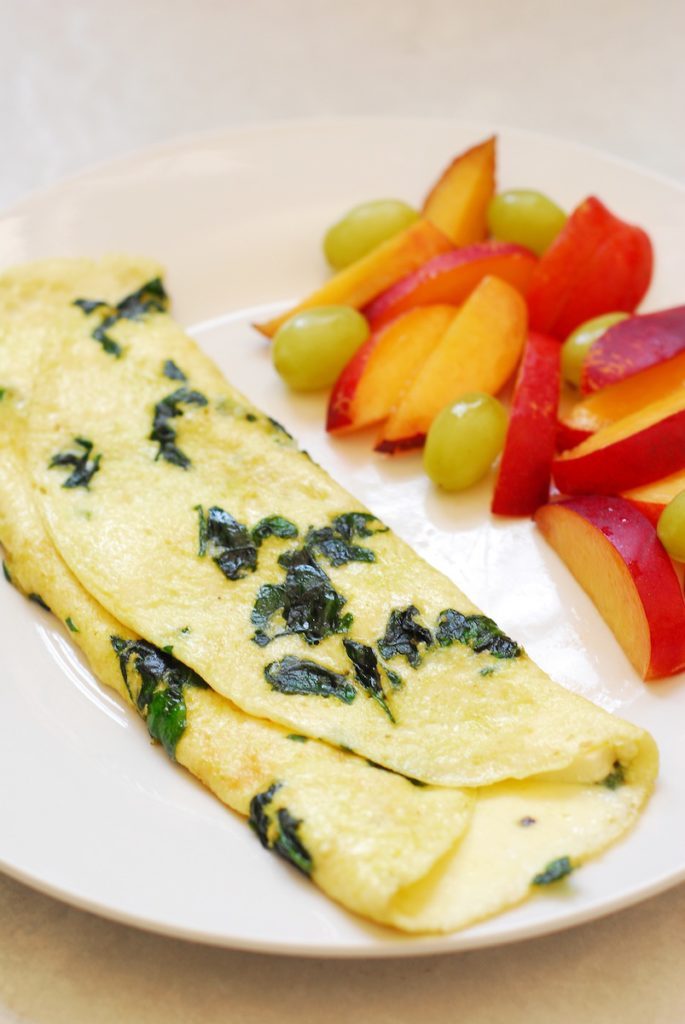 Feta is the perfect cheese because it's pretty low calorie and nice and salty, lending perfect flavor to this really simple egg dish. We always have ours with lots of fresh fruit, lately it's been nectarines and grapes.
You can add hot sauce if you want, but the omelette certainly doesn't need it. I made enchiladas earlier this week and had a lot of leftover sauce, so I did spread that on top of our omelettes. IT WAS AMAZING. Not an exaggeration.
I definitely encourage you to try making omelettes this way. It's easy, it's quick, and they're much lighter and the texture is really different from the way we usually enjoy our eggs. In case you were wondering, this omelette comes in at 309 calories, so it makes a great low calorie breakfast!
You can also view this recipe as a step-by-step web story here.
Get the Recipe: Spinach and Feta Omelette
This simple and healthy breakfast of spinach and feta omelette is a great way to start your day! Less than 300 calories and protein packed.
Ingredients
2 tsp butter
1 cup loosely packed spinach, stems removed and roughly chopped
2 large eggs
1 tsp water
2 tbsp crumbled feta cheese
Pepper
Instructions
In a nonstick skillet over medium-low heat, melt the butter. Once melted, add the spinach and cook for about 3 minutes, stirring occasionally.

While the spinach is cooking, whisk the eggs and water together in a bowl until just foamy.

Increase the heat on the skillet just a bit and pour the eggs evenly over the spinach. Sprinkle the feta evenly over the eggs and season to your taste with salt and pepper.

Once the eggs have started to set, shake the pan aggressively every minute or so. The omelet will take probably 6-8 minutes to set completely.

Once the omelet is completely cooked through, fold it into thirds in the skillet. Let sit for 10-20 seconds.

Slide the omelet onto a plate and enjoy with fresh fruit.
Calories: 294kcal, Carbohydrates: 3g, Protein: 17g, Fat: 24g, Saturated Fat: 13g, Trans Fat: 1g, Cholesterol: 379mg, Sodium: 600mg, Potassium: 312mg, Fiber: 1g, Sugar: 2g, Vitamin A: 3682IU, Vitamin C: 8mg, Calcium: 249mg, Iron: 3mg