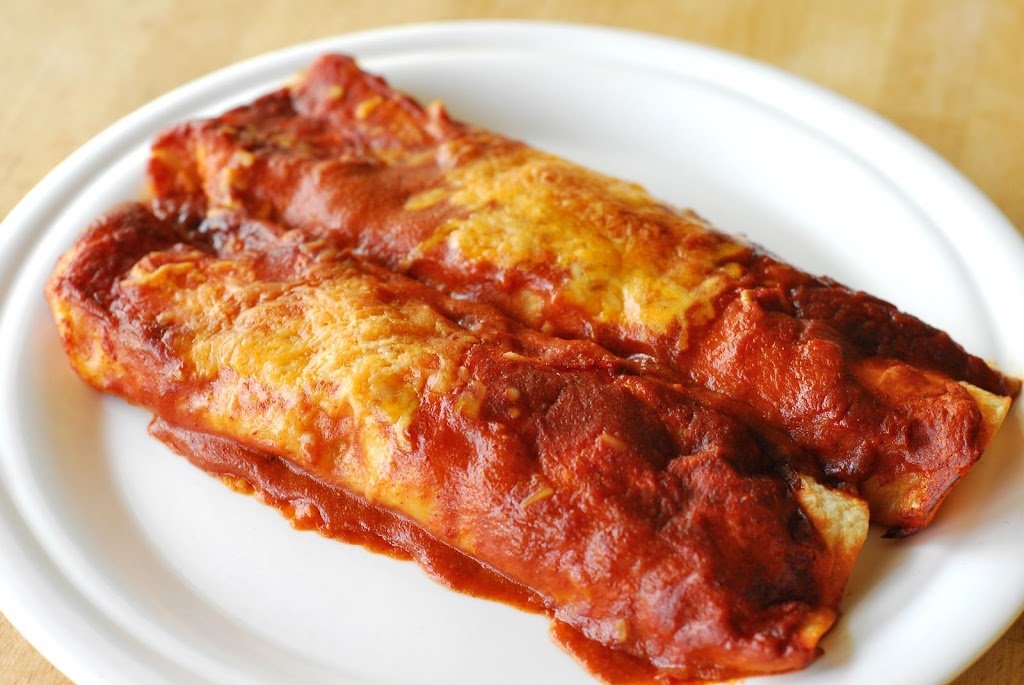 Cinco de Mayo is on Saturday! Mexican food might just be one of my favorite indulgences, so this celebration is right up my alley. To gear up for this event, I'm sharing my favorite enchilada recipe with you.
I start by making my shredded salsa chicken, which is just chicken breasts thrown in to a crock pot for a few hours with chicken broth and half a jar of salsa. Easy, peezy, lemon-squeezy. When it's done, you just shred it up with two forks.
Then, the enchilada sauce! I found this recipe a while back on AllRecipes.com, and I'm never going back. It's easy and oh so tasty, and I usually have all the ingredients on hand. To start, heat up some oil.
Add some flour and chili powder. Stir it, stir it, stir it so it doesn't burn.
Then some tomato sauce, water, cumin, garlic powder, onion powder, cayenne pepper, and salt joins the chili goodness.
Let it simmer and bubble and get nice 'n smokey for a few minutes. In the mean time, toss the chicken with sour cream and shredded cheese. Mostly because sour cream and cheese make everything better.
Roll some of the chicken mixture up in a tortilla and repeat until the chicken is gone. I don't like my enchiladas too full, so I'm always very careful with this step.
Then pour on that delicious enchilada sauce.
Then spread it all around.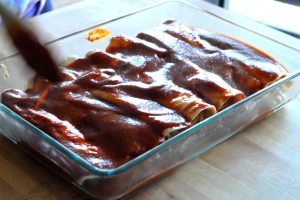 Throw some shredded cheese on them and bake 'em for twenty minutes.
And serve 'em up. I would have served them with rice and beans, but since a recent trip to the hospital, refried beans and I haven't been on good terms.
Have an excellent Cinco de Mayo! And might I suggest celebrating with these enchiladas. And a giant margarita, of course.
Get the Recipe: Chicken Enchiladas
Ingredients
Chicken:
2 chicken breasts
1 1/2 cups chicken broth
1 cup of salsa
1/4 cup sour cream
1/4 cup shredded cheese, Mexican blend
Enchilada Sauce:
1/4 cup vegetable oil
2 tbsp flour
1/4 cup chili powder
1 cup tomato sauce
1 1/2 cups water
1/4 tsp cumin
1/2 tsp garlic powder
1/4 tsp onion powder
1/4 tsp cayenne powder
1/4 tsp salt
Assembly:
8 to rtillas
Shredded cheese
Instructions
Combine salsa and chicken broth in a crock pot. Add the chicken breasts and cook on low for 6 hours, or high for 3 hours. Alternatively, you can boil the chicken in salsa and chicken broth for about 30 minutes. When done, remove chicken from liquid and shred the chicken using two forks. Toss with some of the cooking liquid, sour cream, and the 1/4 cup shredded cheese.

Preheat oven to 400 degrees.

To make the enchilada sauce, heat oil in a heavy pot over medium high heat. When hot, reduce the heat to medium and add the chili powder and flour. Cook for about 4 minutes, or until fragrant. Reduce heat to medium-low and add the tomato sauce, water, cumin, garlic powder, onion powder, cayenne pepper, and salt. Cook for ten minutes, stirring occasionally.

While the enchilada sauce is cooking, spread some of the chicken mixture into each tortilla, roll it up, and place the enchiladas side by side in a 9×13 inch glass baking dish.

When the sauce is done, pour it over the rolled enchiladas in the baking dish and spread it across evenly. Top with extra shredded cheese. Bake in the preheated oven for 20 minutes, or until hot and bubbly. Enjoy!