Listen here. I do not take the word "perfect" lightly. The only other time it's actually been used in the title of a recipe on this blog has been for my mother's incredible ribeye steak with blue cheese butter. Because that really is perfection.
Side note: In three and a half weeks I will be able to enjoy that steak again! We head back to Portland very soon, and we're staying with my parents until our jetlag has worn off and we can muster enough strength to move back into our apartment. And my parents make really, really good food. Think tuna steaks from fish freshly caught by my dad, elk sausage, and plenty of that incredible ribeye. Food will definitely soften the blow of leaving Cape Town!
Last year I was given the responsibility of rolls for Thanksgiving dinner with my almost in-laws. It is seriously tragic that I didn't have this recipe yet, because they had to suffer with dinner rolls that were just "meh" instead of these babies.
These are dream dinner rolls. I kept them pure and unadulterated because as much as I love rosemary dinner rolls or cheesy rolls, these are perfect just how they are. Really, truly.
The tops get nice and golden while the insides stay soft and doughy. I made this batch this week to confirm that they are indeed perfect (definitely confirmed!) but I discovered them originally when searching for rolls to make for Easter last spring. We fell head over heels and I've since used the roll recipe to make cinnamon rolls and pizza rolls. The dough is incredibly versatile.
I made sloppy joe filling (Is filling the right word here? Should I just call it sloppy?) so we could have mini-sloppy joes with this test batch and they were crazy good. Although I won't deny that we seriously discussed just eating the tray of rolls for dinner instead. Another side note: we had a lot of leftover sloppy (going with it) so I used that in place of chili to make chili mac for dinner the next night. It might, might be even better than chili mac. And yes, you better believe after those back-to-back meals I've been spending a little extra time in the gym. Don't worry, I know that eating that way is absurd. Ah, the life of a food blogger who constantly craves macaroni and cheese.
Excuse the many unrelated tangents littered throughout this post. Let me end it by saying this: First, I definitely encourage you to make your own rolls for Thanksgiving. I know that's a big ask considering everything else that you'll be working on, but in this case, homemade is so much better than store bought. I wouldn't be putting more on your to-do list if I didn't really believe it! Second, when you do make rolls, make these ones. The original recipe has almost five stars and a whole lotta reviews, I just adapted it for those without a bread machine and that wanted to make traditional dinner rolls, not crescent rolls. Like I've said, it's a perfect recipe.
You can also view this recipe as a step-by-step web story here.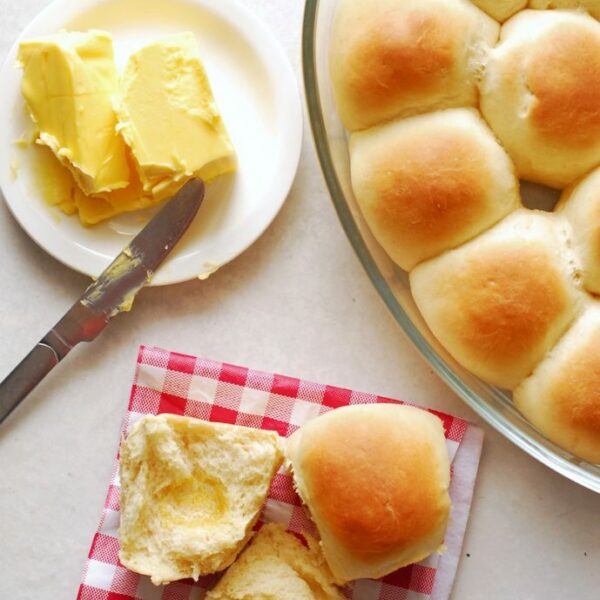 Get the Recipe: Perfect Dinner Rolls
These dinner rolls really are perfect: light and doughy on the inside with golden brown tops. Perfect for the holidays or just any night!
Ingredients
½ cup warm water
1 tsp sugar
1 .25 oz packet active dry yeast
½ cup milk
⅓ cup butter
2 tbsp sugar
1 egg
1 tsp salt
3 1/2 cups flour
Instructions
In a large bowl or the bowl of your standing mixer, whisk together the warm water, yeast, and 1 tsp sugar. Set aside to proof for about 10 minutes, or until mixture is foamy.

While the yeast is proofing, add the milk, butter, and remaining sugar to a small saucepan over medium-low heat. Stir frequently, until butter has melted and sugar is mostly dissolved.

When yeast has proofed, add the milk mixture, egg, and salt and stir to combine.

Add the flour about a half-cup at a time, stirring it in with a wooden spoon or the dough hook on your standing mixer, until dough is no longer sticky. You may need a little more or little less flour.

Knead dough by hand on a floured surface or with your dough hook attachment for about five minutes, or until dough is smooth and elastic.

Lightly oil a large bowl with cooking spray. Add the dough to the bowl and turn it to coat. Cover with a damp cloth or saran wrap and let sit in a warm place until it's doubled in size, 45 minutes to 1 hour.

After dough has risen, punch down and turn onto a clean and lightly floured work surface. Divide the dough into 12 equally sized balls (I start by dividing the dough in half, then each in half again, then each of those into thirds). Roll into balls and tuck the dough in on the bottom to create a smooth top.

Lightly grease a 9×12-inch glass-baking dish with cooking spray. Arrange the balls in the dish so they're spread out evenly. Cover with a damp cloth or saran wrap and put in a warm place to rise again for 30-45 minutes, until rolls are just touching each other.

Preheat oven to 400 degrees. When rolls are ready, bake in preheated oven for 10-15 minutes, until just the tops are golden brown.

Remove from oven and let cool for about 5 minutes. Serve warm.
Calories: 199kcal, Carbohydrates: 31g, Protein: 5g, Fat: 6g, Saturated Fat: 4g, Trans Fat: 1g, Cholesterol: 28mg, Sodium: 250mg, Potassium: 60mg, Fiber: 1g, Sugar: 3g, Vitamin A: 194IU, Calcium: 21mg, Iron: 2mg