I know that I am not the first person to say this, and I'm certainly not the going to be the last: I love, love breakfast food. Brunch at The Screen Door in Portland is one of my favorite experiences of all time. Also Gravy. Also Overlook Restaurant. I could go on.
At the Taste of Cape Town festival we went to on Saturday, we bought a lovely stick of Spanish chorizo from Cape Mountain Charcuterie. The man who sold it to us asked what we were going to do with it. I responded that we'd probably just eat it as is. Let's be realistic, it's very unlikely that I'm keeping cured meat in our house for more than a couple hours before Fiance devours it. And I'm happy to help. He frowned and insisted that I cook with it. I asked for some suggestions, and one of his suggestions was cooking it with potatoes.
And then this magical hash popped into my head.
So I chopped up the chorizo into nice little pieces. And stole one or two bites for myself.
Then I chopped up plenty of potatoes. I used yellow potatoes, but red potatoes would be great as well. Whenever I do breakfast potatoes, I microwave them for about four minutes on high before chopping them. Otherwise, it would take way too long for them to cook raw in the skillet. You could also boil them for a few minutes if you don't want to microwave.
And half an onion. You can see it in the corner there. It didn't get it's own photo. Sorry, onion.
I really, really wanted to include bell peppers. Really bad. But to my great dismay, my chopped green pepper sitting in the fridge had been in there a little too long. Please add a bell pepper and I will live vicariously through you.
I cooked the chorizo in a skillet for a few minutes to let it crisp up a bit and cook off some of the fat. Then the potatoes went in to cook in that delicious chorizo fat, seasoned with salt, pepper, paprika, and a little tiny bit of cayenne pepper.
And the chopped onion was added, along with some minced garlic.
Once the potatoes were soft and browned, I set them aside. In the same pan, I scrambled up some eggs with a little milk and salt and pepper.
Then added the potatoes back.
And the cooked off chorizo.
And mixed it all up.
Then my favorite part. The whole hash gets covered in shredded gouda cheese. Gouda cheese is incredibly popular here in Cape Town and it makes my heart happy.
I covered it up and removed the skillet from heat. Once the cheese was melted, it was ready to go!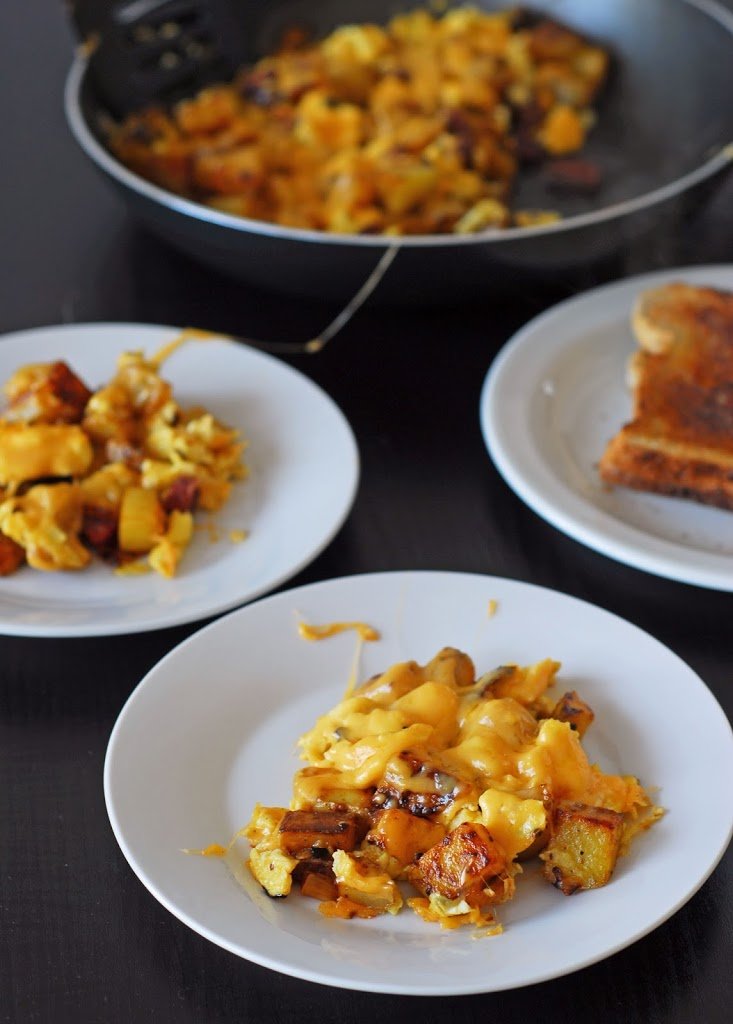 You know you've done it right if there are cheese strings. Those are words I try to live by.
Eat with some toast and coffee, and you've got yourself an excellent brunch. This is twice as tasty if you can get your hands on some high quality chorizo.
Get the Recipe: Gouda and Chorizo Hash
Ingredients
Instructions
Cook the chorizo in a skillet over medium heat until most of the fat has cooked off and outside of chorizo is a little crispy. Remove chorizo from skillet and set aside, but leave fat in skillet.

While the chorizo is cooking, prick potatoes all over with a fork. Arrange on a microwave safe plate and cook for four minutes on high heat, or until a little soft. Once done, cut into 1/2 × 1/2 inch cubes.

Add cubed potatoes to the skillet. Season with the paprika, cayenne pepper, 1/2 tsp salt, and 1/4 tsp black pepper. Press into a single layer and let cook for five minutes.

Add the minced garlic, onion, and bell pepper and mix together. Press into a single layer again, and let it cook for another five minutes. Continue to mix and press into a single layer until potatoes are soft enough for your liking and vegetables are soft.

Once the potatoes are done, remove from skillet and set aside. Whisk together eggs and milk. Scramble eggs and season with salt and pepper in the same skillet used to cook the chorizo and potatoes.

Once eggs are scrambled, remove skillet from heat. Add the set aside potatoes and veggies and the chorizo. Mix together, then top with the gouda cheese. Cover and let sit until the cheese has melted. Serve with toast.