The other day it occurred to me that I should blog more about our everyday staples, not just my special brainchildren. This was inspired by a friend who was surprised to hear I make my own bread when I told her what we were having for dinner, and me realizing that it may be unusual that I bake several loaves a week. So I posted my recipe for Easy Crusty Bread a few days ago.
On that same wavelength, I thought I'd post about this hash, which is our favorite breakfast. We eat this or oatmeal pretty much everyday, unless I make a special breakfast like scones. After making it a few hundred times, I've picked up some tricks to make it quicker to prepare and extra tasty.
Start with clean potatoes. You can peel them if you want, I usually don't but do go through and scrape off any beginnings of roots. Prick them with a fork a few times on each potato.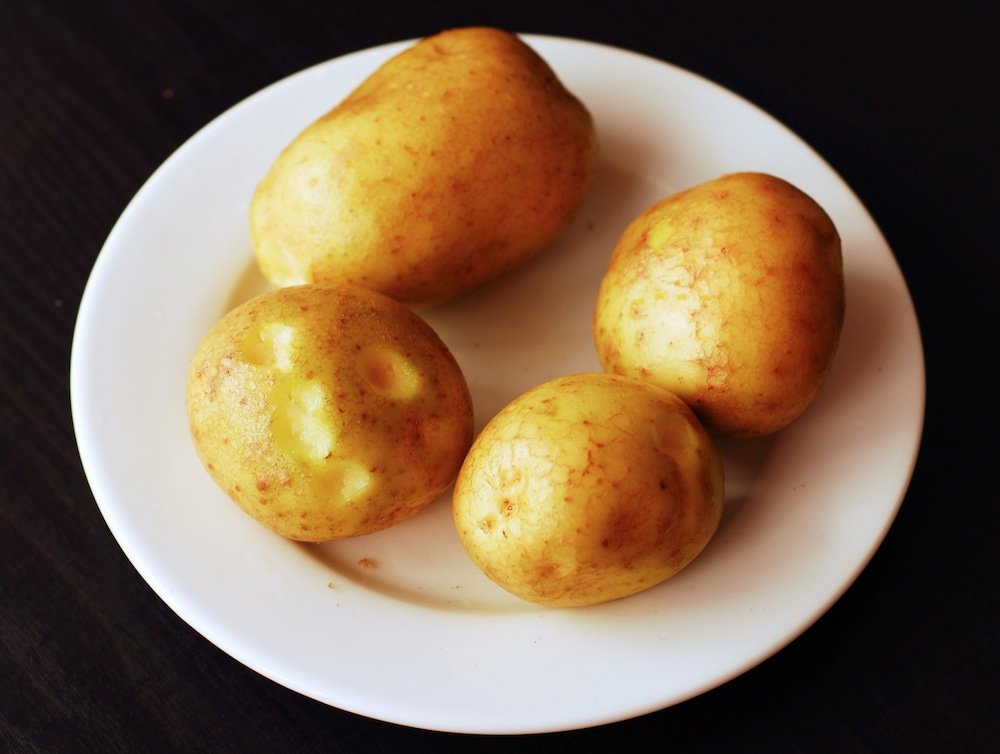 This is the most helpful trick I've learned when preparing breakfast potatoes, thanks to my beautiful mother: microwave them for about four minutes on high. The time might differ for your microwave. You don't want them to be completely soft, but half cooked or so. If you don't do this, it'll take ages for the potatoes to cook while frying them. Then cube 'em up.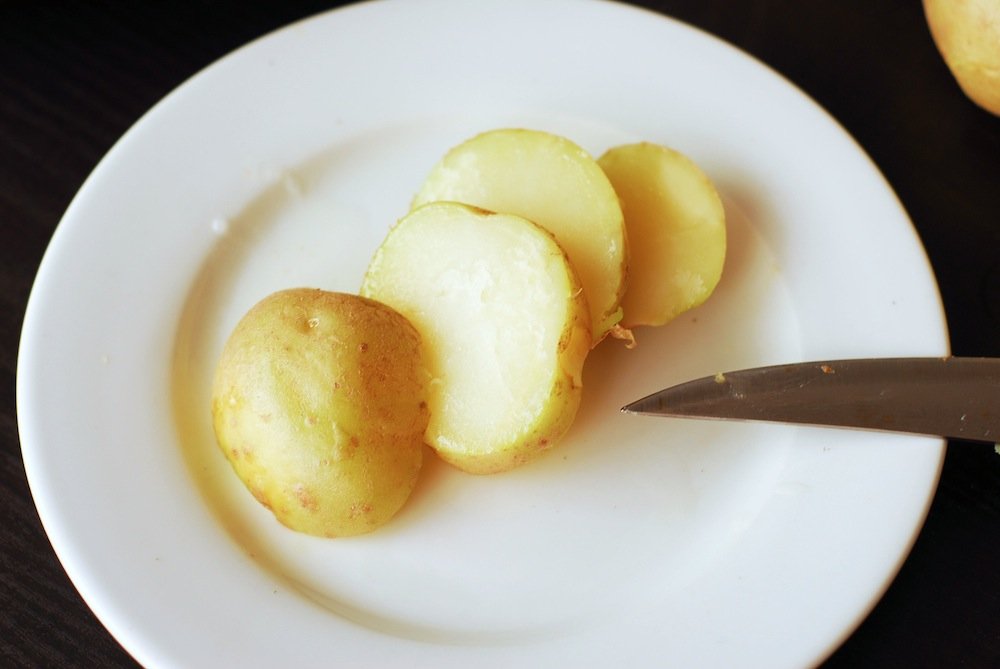 While those potatoes are cooking, dice up half a bell pepper and half an onion. I usually dice up a few bell peppers at the beginning of the week and keep them in the fridge. I like to do a mix of red and green, but whatever your preference is will work!
Add the potatoes and some minced garlic and season the veggies with salt, black pepper, cayenne pepper, and paprika, then toss it all with the cooking fat of your choice. I like sunflower seed oil. Pack it all into an even layer and cover the skillet. My skillet doesn't have a lid, so I just cover it with a baking sheet.
Let it cook for 4-5 minutes, then flip. Repeat this until potatoes are soft and browned. Remove the potatoes to a separate plate.
Without washing the skillet, melt some butter in it and fry a couple of eggs.
Then slide them on top of your potato hash. Fiance likes to smother the hash in ketchup and hot sauce before the eggs, but runny yolks is all the sauce I like.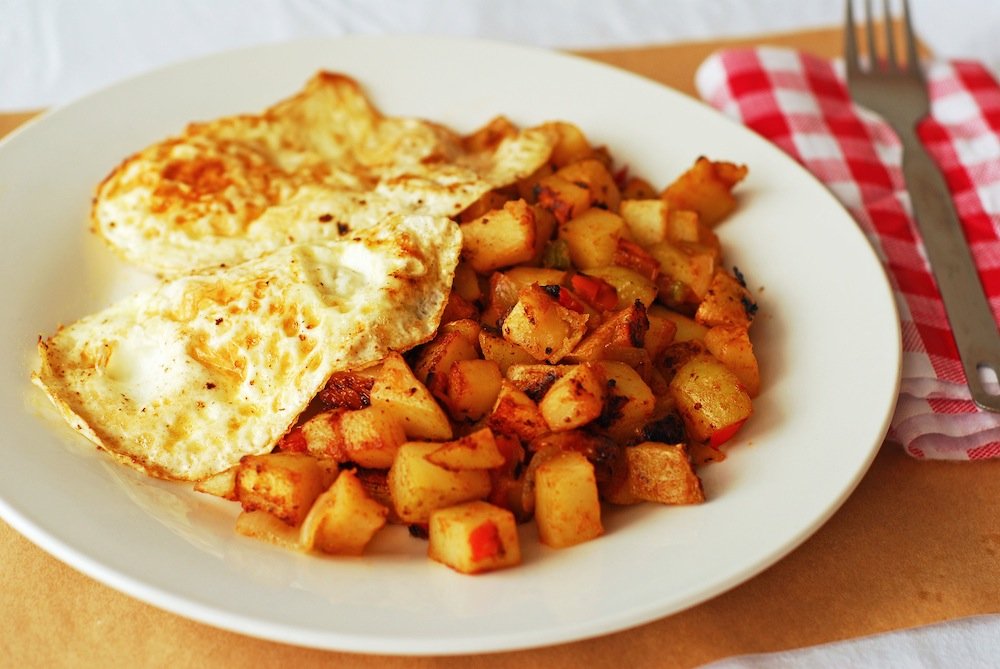 For what feels like a breakfast beyond your average morning cereal, this doesn't take a lot of time or effort. And it's incredibly filling and tasty! If you're not a fan of fried eggs, you could scramble an egg or two with the potatoes. I did just that with some chorizo in an earlier post!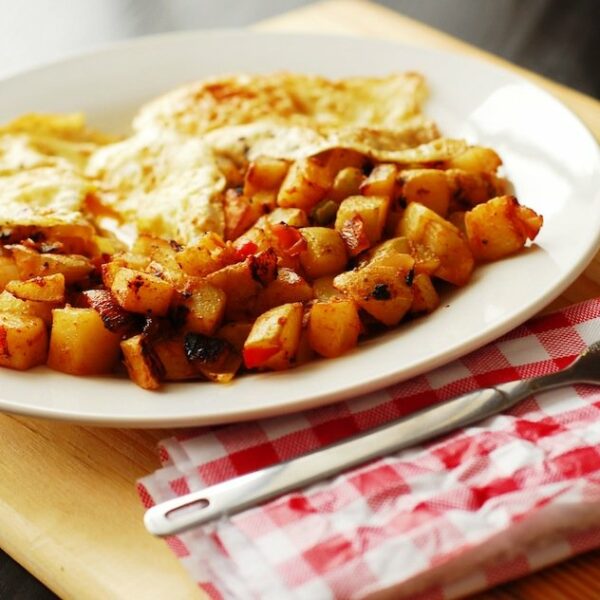 Get the Recipe: Simple Breakfast Hash
Ingredients
3 medium sized potatoes or 2 large potatoes, cleaned and peeled if desired
1 tbsp canola or sunflower seed oil
1/2 green or red bell pepper, diced
1/4 cup onion, diced
1/2 tsp minced garlic
1/2 tsp salt
1/4 tsp black pepper
1/4 tsp cayenne pepper, just use a pinch if you're sensitive to heat
1/2 tsp paprika
1 tsp butter
4 eggs
Pepper
Instructions
Poke holes all over the potatoes with a fork. Microwave on high for four minutes, or until partially cooked through but not to soft. Cooking time may need to be adjusted for your microwave. Let cool for a few minutes, then dice the potatoes into 1/2 inch by 1/2 inch cubes.

Add the oil to a skillet over medium heat. When hot, add the potatoes, bell pepper, onion, and garlic. Season the potatoes veggies with the salt, black pepper, cayenne pepper, and paprika and toss to combine.

Press the potatoes and veggies into a single, packed layer and cover. Let cook for 4-5 minutes, then flip the potatoes. Cover again and cook for another 3-4 minutes. Repeat this process until potatoes are browned and soft. Remove to serving plates.

Without washing the skillet, add the butter. Crack eggs into a separate bowl. When the butter has melted, pour the eggs into the skillet. If you're skillet is big enough, do all four, if not do them two at a time. Season with salt and pepper. Cook until whites are set, then flip and cook for another 10-45 seconds, depending on how runny you prefer the yolk. Top the potatoes with the fried eggs.