Prime rib is one of the best special occasion meals, and special occasion for good reason: it's expensive! But it's so delicious, and it's just wrong that we deprive ourself of it most of the time 😉 No more, thanks to the magic of sous vide! Chuck roast makes an excellent prime rib dupe.
If you get me talking about sous vide, you'll quickly learn how passionate I feel that sous vide should not be reserved for professional chefs or food nerds. It makes cooking easier and more affordable for home cooks, and they should be taking advantage! In fact, I wrote a whole cookbook about how to use sous vide to make your meal prepping routine easier.
This cookbook outlines my entire method for keeping your freezer stocked with ready to sous vide meals (and some great recipes to boot!).
Another great thing sous vide can do: make inexpensive cuts of meat amazing. Cuts like sirloin and chuck roast are less prized because they tend to be tougher. With sous vide, we can expose food to heat for a longer period of time without overcooking it, giving us the ability to tenderize it while still keeping it a beautiful medium rare! Pretty cool, huh?
I love to cook other large pieces of meat this way to make things easier. If you're ready to try other cuts like this after making this recipe, make sure to check these out:
What You Need to Make Sous Vide Chuck Roast
If you already sous vide at home, you shouldn't need anything new to make this recipe! If this is your first time sous viding, don't worry, we'll get you set up.
Equipment needed:
Don't have a vacuum sealer? No big deal. There are lots of air removal methods.
Time and Temperature for Sous Vide Chuck Roast
Since we're aiming for a prime rib dupe here, we're looking for that perfect medium rare. This is a thousand times easier to achieve with sous vide than your classic oven roast! Even better, we'll get that beautiful medium rare color from edge to edge instead of only at the center.
To get that perfect medium rare, sous vide chuck roast at 135 degrees F for 3-5 hours.
I really recommend sticking to 135 degrees F, but you can go rarer or more well done to suit your preferences.
How to Sous Vide Chuck Roast
This process is incredibly easy. You're going to wonder why you cook beef roasts any other way after this.
Start by thoroughly seasoning the roast with salt and pepper. Don't be shy!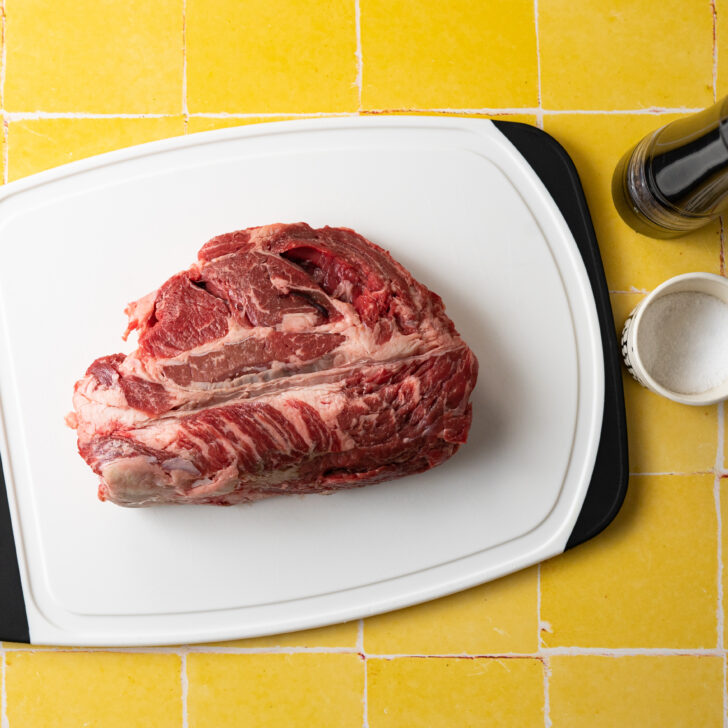 Vacuum seal the roast – if you don't have a vacuum sealer, there are plenty of other air removal methods.
Time to cook! Preheat a water bath using an immersion circulator to 135 degrees F and add the vacuum sealed roasts. Since this is a fatty cut, some air may end up filling the bag during the cooking process and the bag may want to float. I prevent this using sous vide magnets.
Cook the roast for 3-5 hours. Once it's done, remove the roast from the bag and pat dry with paper towels. Preheat a cast iron skillet over high heat until smoking, then add a dollop of ghee. I like ghee because it has a higher smoke point than butter, but you can use butter, too.
Give it a good sear for 30-60 seconds on each side, then remove to a cutting board and let it rest for a few minutes before slicing and serving.
Make sure to whip up a batch of horseradish sauce and mashed potatoes to serve with this! If you want something a little fresher and zestier, you could do chimichurri and roasted potatoes instead. You really can't go wrong here.
Common Questions
Can I freeze this?
Yes! But I recommend freezing before sous viding. Season the roast, vacuum seal it, then pop it in the freezer. When you're ready to cook, you can go straight from the freezer to the sous vide bath.
What if I don't like meat cooked medium?
If you usually prefer meat rarer, I still recommend sticking with 135 F. This is a fatty cut and a higher temp renders all that fat better. If you like your meat more well done… that's your prerogative! Try 140-145 F.
You can also view this recipe as a step-by-step web story here.
Get the Recipe: 3 Hour Sous Vide Chuck Roast (Prime Rib Dupe)
This recipe for sous vide chuck roast will have you thinking you're eating prime rib, for a fraction of the cost! It's ready in just 3 hours.
Ingredients
2-3 lb chuck roast
1 tbsp kosher salt
2 tsp black pepper, freshly cracked
2 tbsp ghee
Instructions
Season the chuck roast liberally with salt and pepper – you may find you need more than the amounts listed.

Vacuum seal the chuck roast, or use another air removal method if you don't have a vacuum sealer.

Add the vacuum sealed chuck roast to the preheated water bath. Use sous vide magnets or a ceramic plate or bowl to keep the bag submerged. Cook for 3-5 hours.

When the roast is done, remove the roast from the sous vide bag and pat thoroughly dry with paper towels or a clean dish towel.

Preheat a cast iron skillet over high heat. When smoking, add the ghee, let melt, and then add the chuck roast. Sear on each side for 30-60 seconds until browned.
Notes
Ghee can be substituted for butter.
To freeze this, freeze the roast after seasoning and vacuum sealing (before sous viding). This can be cooked from frozen.
Calories: 285kcal, Carbohydrates: 0.4g, Protein: 29g, Fat: 19g, Saturated Fat: 8g, Polyunsaturated Fat: 1g, Monounsaturated Fat: 9g, Trans Fat: 1g, Cholesterol: 108mg, Sodium: 1285mg, Potassium: 511mg, Fiber: 0.2g, Sugar: 0.01g, Vitamin A: 23IU, Calcium: 29mg, Iron: 3mg