Picanha (sirloin cap) is one of the meatiest cuts – it rivals prime rib! Do it sous vide & serve with Horseradish Dijon Sauce for an easy, delicious meal.

So, what the hell is picanha?
PICANHA. The holy grail of meat lovers and sous viders everywhere.
According to fan favorite Wikipedia:
"Picanha is a cut of beef called sirloin cap in the United States or the rump cap in the United Kingdom, that is popular in Brazil. In the United States, it is little known, but referred to as the rump cover, rump cap, or culotte."
How to Make Sous Vide Picanha
I have been trying to get my hands on picanha for months. Months, I say! And last month, when I was placing my monthly Porter Road order, I saw it in their inventory and jumped at the chance.
P.S. Have you heard of Porter Road? They are my favorite online butcher. The quality of meat is going to up your cooking game with no effort on your behalf.
First things first, I seasoned the picanha thoroughly with salt and pepper.

Then I vacuum sealed it and dropped it into the sous vide water bath.
Are you still on the hunt for an immersion circulator and/or a vacuum sealer? I can't recommend Vesta Precision's products enough: check them out and hop to precision cooking ASAP!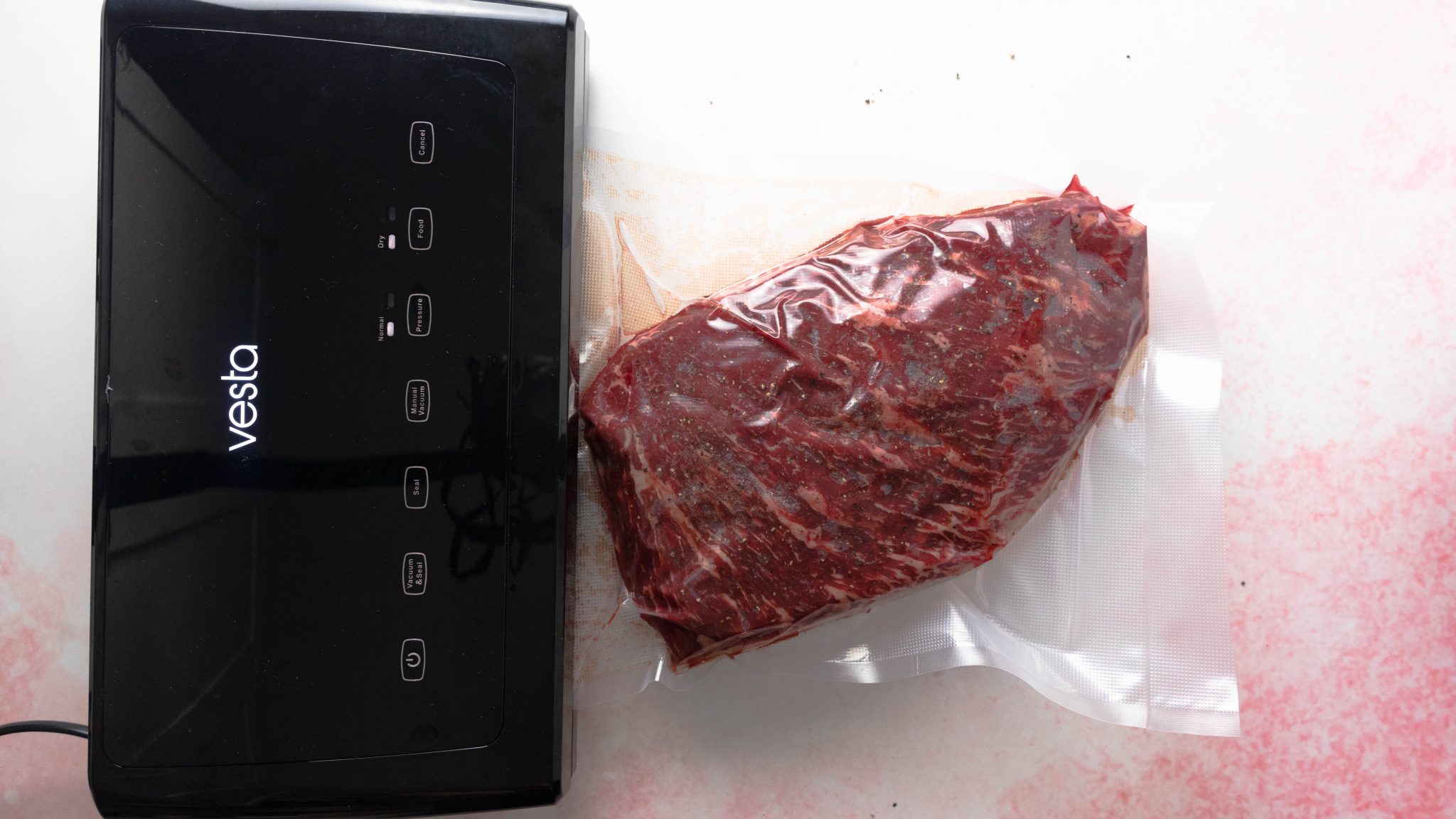 Time and Temperature for Sous Vide Picanha
But now the hard part: time and temp. I really psyched myself up to cooking it. I did a ton of research, asked all of my sous vide friends for their opinions, and really thought about all of the red meat cooks I've done. Here's what I eventually settled on for my picanha, and it was perfect: 131 degrees F for 6 hours.
Why 131? Typically, I like my steaks at 129, but I really wanted the fat cap to get to render. Not to mention, for long cooks like this, it's safest to cross the 130 threshold to pasteurize the meat.
Why 6 hours? This is where I really deliberated. A lot of people say 2 hours is plenty. But this is a really thick cut with a massive fat cap, and two of my favorite sous vide people, Cole Wagoner and Erika Turk of Food and Frenchies, recommend a 6-8 hour cook. And I would not go any shorter.
This delicious, meaty cut eats like a prime rib. No exaggeration, here. It's one of my favorite things I've ever cooked.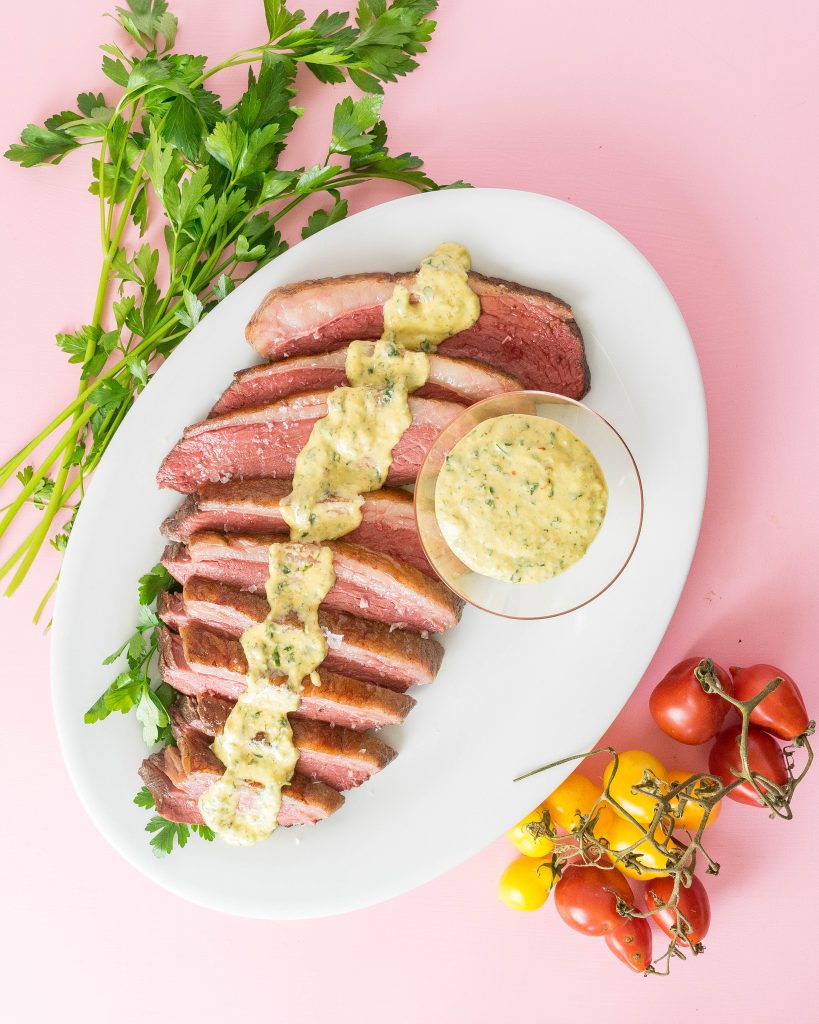 After the sous vide bath, I let my cast iron skillet get to smoking temps. I covered the picanha in mayo (a mayo sear is king for crust and browning!), then seared the fat cap first to render the fat down so I wouldn't need to use another cooking oil. Then I continued to sear on all sides until well-browned. The thickness of the crust gives you wiggle room with time: you can sear for a little longer without worrying you'll overcook.
To serve, I made a sauce with horseradish cream, dijon mustard, minced garlic, fresh parsley, red wine vinegar, and olive oil. Oooh my gosh, it was the perfect accompaniment.
To keep things keto and amazing, pair this with my Cauliflower Gratin or Warm Brussels Sprouts Caesar for a complete meal and happy mouths.
Sous Vide Picanha Recipe
If you make this recipe, it would mean the world to me if you'd rate and review below! It helps other people find this recipe, too.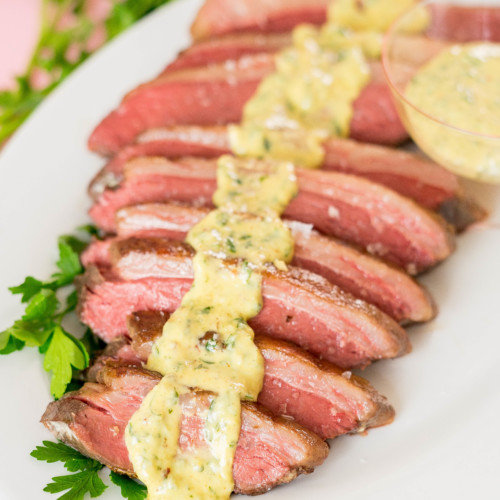 Sous Vide Picanha with Horseradish Dijon Sauce
Picanha (sirloin cap) is one of the meatiest cuts – it rivals prime rib! Do it sous vide & serve with Horseradish Dijon Sauce for an easy, delicious meal.
Ingredients
1 3-5

pound

picanha

,

sirloin cap

Pepper

2

tbsp

horseradish cream

1

tbsp

dijon mustard

2

tsp

red wine vinegar

1

tbsp

olive oil

1

tbsp

chopped parsley
Instructions
Preheat waterbath with immersion circulator to 131 degrees F for medium-rare.

Season picanha liberally with salt and pepper. Vacuum seal and add to water bath. Cook for 6-8 hours.

While the picanha is cooking, prepare the sauce by mixing together horseradish cream, dijon, red wine vinegar, olive oil, and chopped parsley. Season with salt and pepper to taste. Refrigerate until time to serve.

When picanha is done, thoroughly pat dry with paper towels and reseason with salt and pepper.

Cover the picanha in a thin layer of mayonnaise on all sides except the fat cap.

Bring a cast iron skillet to smoking over high heat. Sear the picanha on the fat cap side first until deep golden brown. Continue to sear on all other sides until deep golden brown on all sides.

Remove to a cutting board and let sit for 5 minutes. Slice into 1/2 inch thick slices and serve with Horseradish Dijon Sauce.
Nutrition
Nutrition Facts
Sous Vide Picanha with Horseradish Dijon Sauce
Amount per Serving
% Daily Value*
* Percent Daily Values are based on a 2000 calorie diet.
Tried this recipe?
If you love this recipe, it would mean the world if you gave it a star rating and review! Star ratings help people discover my recipes when searching.