Fall, fall, fall! Generally, I don't do a ton of fall baking, but I had overripe bananas and pears, and buh-buh-buh, this Whole Wheat Pear Banana Bread happened. Whole wheat so I'd feel a little less guilty about it. Then I put some walnuts and brown sugar on top of it sooo the guilty feelings crept in.
It's not that I don't like to bake. I quite like to. But Husband and I don't love having baked goods lying around the house. Because we eat them.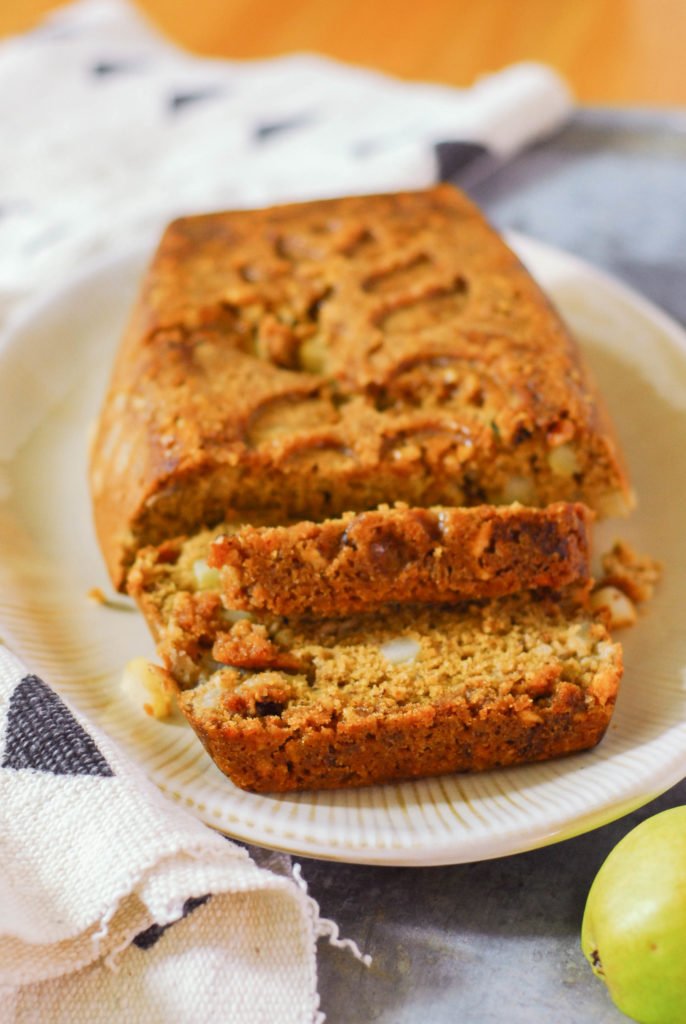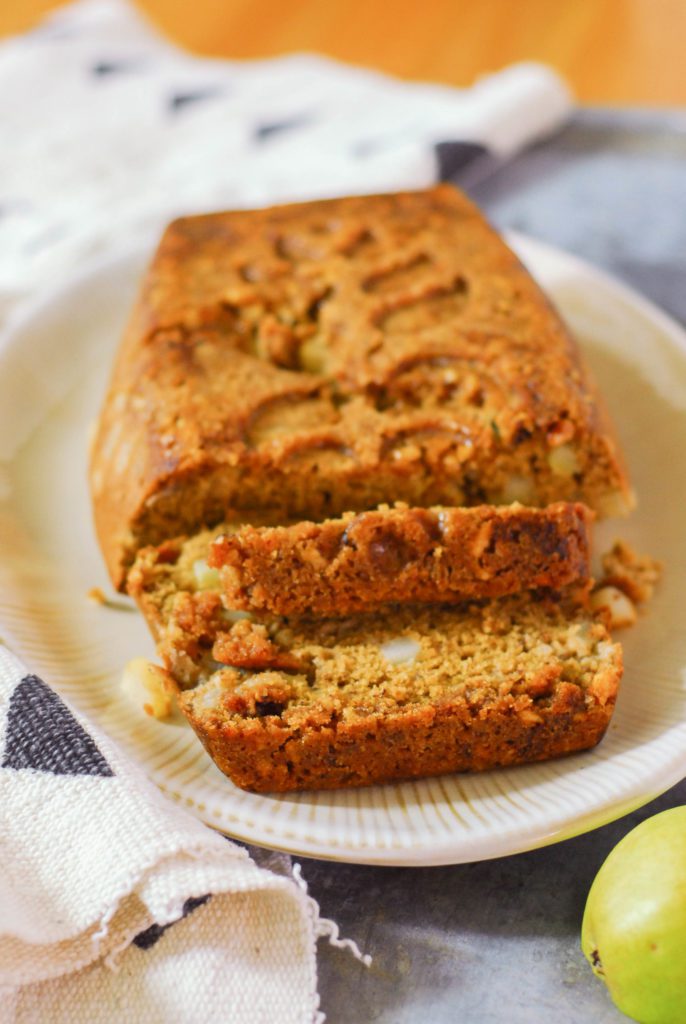 Worse, I inevitably bake on Saturdays, which is two days from Monday, which means I can't even rely on pawning the baked goods off on my coworkers. It's a lose-lose.
Okay, moving on to happy thoughts! Predictably, this bread was gone by Sunday afternoon because it is tastyyy. Pear + banana is a lovely combination, especially when paired with plenty off pumpkin pie spice. This banana bread is warm and comforting and oh so tasty.
I used Bob's Red Mill Whole Wheat Flour for this banana bread, but you could use any whole wheat flour or say screw it and use good ol' all purpose.
Whole Wheat Pear Banana Bread
Fall baking made slightly healthy with this Whole Wheat Banana Bread with Pears and plenty of pumpkin pie spice. Just a few ingredients and you're all set!
Ingredients
Bread:
3

ripe bananas

,

mashed

1/2

cup

maple syrup

1/3

cup

coconut oil

,

melted

2

eggs

1

tsp

vanilla extract

1/2

tsp

salt

1

tsp

baking soda

2

tsp

pumpkin pie spice

1 3/4

cup

whole wheat flour

2

pears

,

peeled, cored and diced into 1/2 inch cubes
Topping:
2

tbsp

butter

,

melted

1/4

cup

brown sugar

2

tbsp

chopped walnuts

1/2

tsp

pumpkin pie spicce

1

tbsp

whole wheat flour
Instructions
Preheat oven to 350 degrees F. Grease a 9"x5" baking dish.

In a large mixing bowl, combine the bananas, maple syrup, coconut oil, and eggs.

Add the vanilla, salt, baking soda, and pumpkin pie spice.

Stir in whole wheat flour until completely incorporated.

Gently fold in the pears until just incorporated.

Combine all ingredients for the topping. Sprinkle into the bottom of the greased baking dish.

Pour bread batter into the baking dish over the crumbled topping. Bake in preheated oven for 50 minutes to 1 hour, or until a knife inserted in the middle comes out clean.

Let cool for 10 minutes in baking dish. Flip upside down onto a platter and continue to let cool for another 10 minutes before slicing and serving.
Nutrition
Nutrition Facts
Whole Wheat Pear Banana Bread
Amount per Serving
% Daily Value*
* Percent Daily Values are based on a 2000 calorie diet.
Tried this recipe?
If you love this recipe, it would mean the world if you gave it a star rating and review! Star ratings help people discover my recipes when searching.