Sous vide is a great way to prepare polenta. It's hands off and results in such a creamy side dish! With plenty of parmesan cheese and freshly cracked black pepper, this is the perfect side to dishes like Sous Vide Short Ribs or Sous Vide Whole Chicken with Chimichurri.
Polenta is one of my favorite side dishes, especially with a saucy, stewed meat like Braised Pork Shanks or sausages. I also love top it with Sous Vide Poached Eggs and hot sauce for a delicious breakfast! If you're looking for something fun and different, try using it in my Polenta Lasagna!
You might be wondering: is sous vide the right cooking method for polenta? While it does take longer than stovetop at 185 degrees F for 2 hours, this method is as simple as adding all the ingredients to a bag, cooking in a water bath, and stirring in some parmesan before serving. It's nearly completely hands off! When cooking polenta on the stove top, it requires a lot more babysitting.
This recipe is from my cookbook Sous Vide Meal Prep. Make sure to snag a copy if you're looking for more sous vide inspiration!
This cookbook outlines my entire method for keeping your freezer stocked with ready to sous vide meals (and some great recipes to boot!).
What You'll Need to Make Sous Vide Polenta
For equipment, you likely have everything you'll need if you already cook sous vide. Here's a breakdown:
An immersion circulator
A water bath container (I like ones with lids, especially for long, hot cooks like this)
Zipper-top gallon-sized freezer bag
All of the ingredients will feel pretty familiar, too!
Coarsely ground cornmeal (Technically, you an use any cornmeal, but I've had mixed results with the others. To be on the safe side, look for bags marked for polenta.)
Milk (any milk is fine, but for richer polenta, use whole milk or even half and half)
Chicken or vegetable stock
Melted butter
Kosher salt and freshly cracked black pepper
Ground parmesan cheese
How to Sous Vide Polenta
This method may take longer to cook than stovetop polenta, but it's so hands off and easy that it's worth it!
Want a closer look at the arm method? Watch this video for a quick tutorial! With the polenta, position the bag so that the contents of the bag are hanging off the edge of a countertop, rather than lying the bag flat on the countertop.
Once sealed, it's time to cook! To sous vide polenta, cook at 185 degrees F for 2 hours.
After sous viding, pour the polenta into a large serving bowl and stir in the parmesan cheese. That's it!
What to Serve with Sous Vide Polenta
Polenta makes a wonderful base or side dish. Here are some ideas on how to use it!
Fall-Apart Sous Vide Short Ribs
At 175 degrees F for 48 hours, these short ribs may take a long time to cook, but they are absolutely worth it! Shallots, red wine, and thyme make the perfect "braising" liquid for a flavorful and delicious meal.
Get the Recipe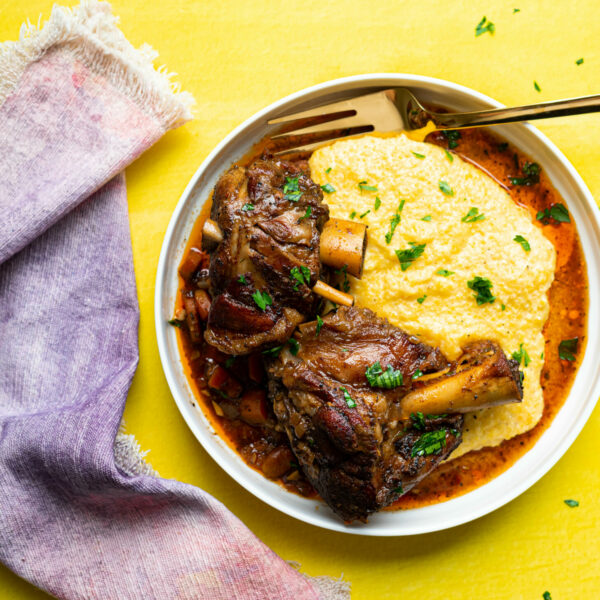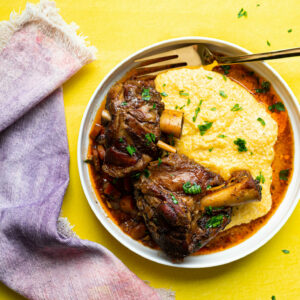 Beer Braised Pork Shanks
Beer braised pork shanks make for a hearty stew that can be braised on the stovetop, pressure cooker, or slow cooker. This recipe calls for bone-in pork shanks for big, delicious flavor.
Get the Recipe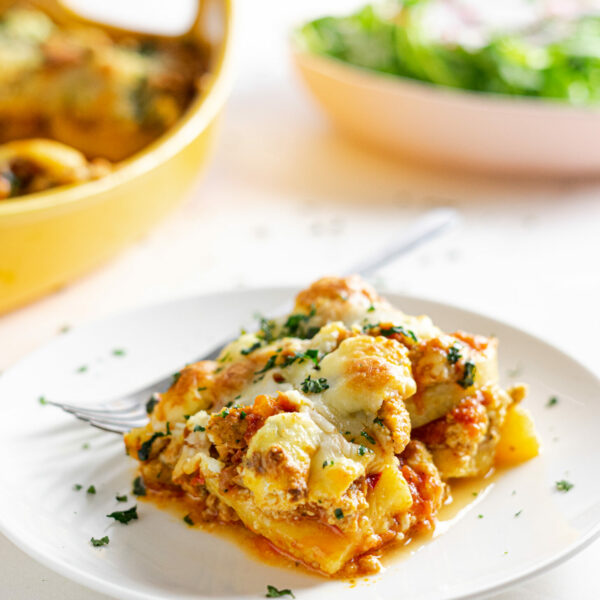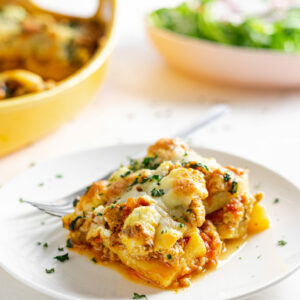 Simple Polenta Lasagna Recipe
This polenta lasagna recipe couldn't be easier. Using just a few ingredients like polenta from a tube, creamy ricotta, and classic marinara sauce, this simple recipe is incredibly delicious. The hot Italian sausage can be omitted to make this recipe vegetarian. Plus, this lasagna can be made ahead of time and freezes beautifully!
Get the Recipe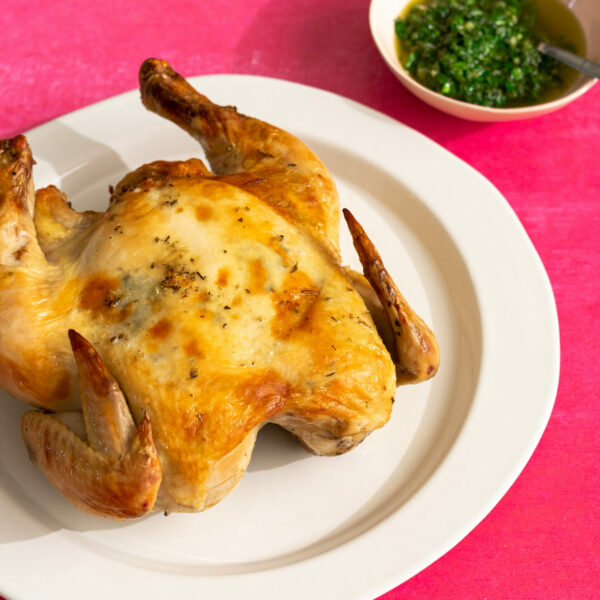 Sous Vide Whole Chicken (Spatchcocked)
Sous vide is the best way to cook a whole chicken. You won't have to worry that it's underdone or raw in the middle and you won't risk drying it out. This is the juiciest, most flavorful chicken you can make! Even better, you can sous vide it ahead of time and finish in the oven to serve. Sous vide makes serving a roasted chicken even easier.
Get the Recipe
You can also view this recipe as a step-by-step web story here.
Get the Recipe: Creamy Sous Vide Polenta
Sous vide is a great way to prepare creamy, smooth polenta that's nearly hands off. Simply add the ingredients to a bag, add the bag to a water bath, and then stir before serving!
Ingredients
1 cup polenta, (coarsely ground cornmeal)
2 cups chicken or vegetable stock
2 cups milk, 2%, whole, or half and half
2 tbsp butter, melted
1 tsp kosher salt
1/2 tsp freshly cracked black pepper
1/2 cup grated parmesan
Instructions
Add all ingredients except parmesan cheese to a bag of your choice. Remove the air from the bag by closing the zipper top until just an inch or so is open, arranging the bag so just the contents are hanging off the edge of your countertop, then sliding your arm from the edge of the countertop to the zipper to force the air out. Finish closing the bag. Shake bag to combine the ingredients.

Add to the water bath and cook for 2 hours. I recommend securing with sous vide magnets to keep the bag from floating and to keep the zipper above the water. Cover the bath with a lid, plastic wrap, or foil.

When finished, pour the contents of the bag into a serving bowl. Stir in the grated Parmesan. Taste and adjust salt and pepper to your liking. Serve with Sous Vide Short Ribs or Braised Pork Shanks.
Calories: 367kcal, Carbohydrates: 43g, Protein: 14g, Fat: 15g, Saturated Fat: 8g, Polyunsaturated Fat: 1g, Monounsaturated Fat: 4g, Trans Fat: 0.2g, Cholesterol: 44mg, Sodium: 1064mg, Potassium: 392mg, Fiber: 1g, Sugar: 8g, Vitamin A: 571IU, Vitamin C: 0.2mg, Calcium: 268mg, Iron: 1mg