This pork shank recipe for beer braised pork shanks can be made on the stove, Instant Pot, or slow cooker. Pork shanks are also known as pork hocks. This pork stew is easier (and tastier!) than you think.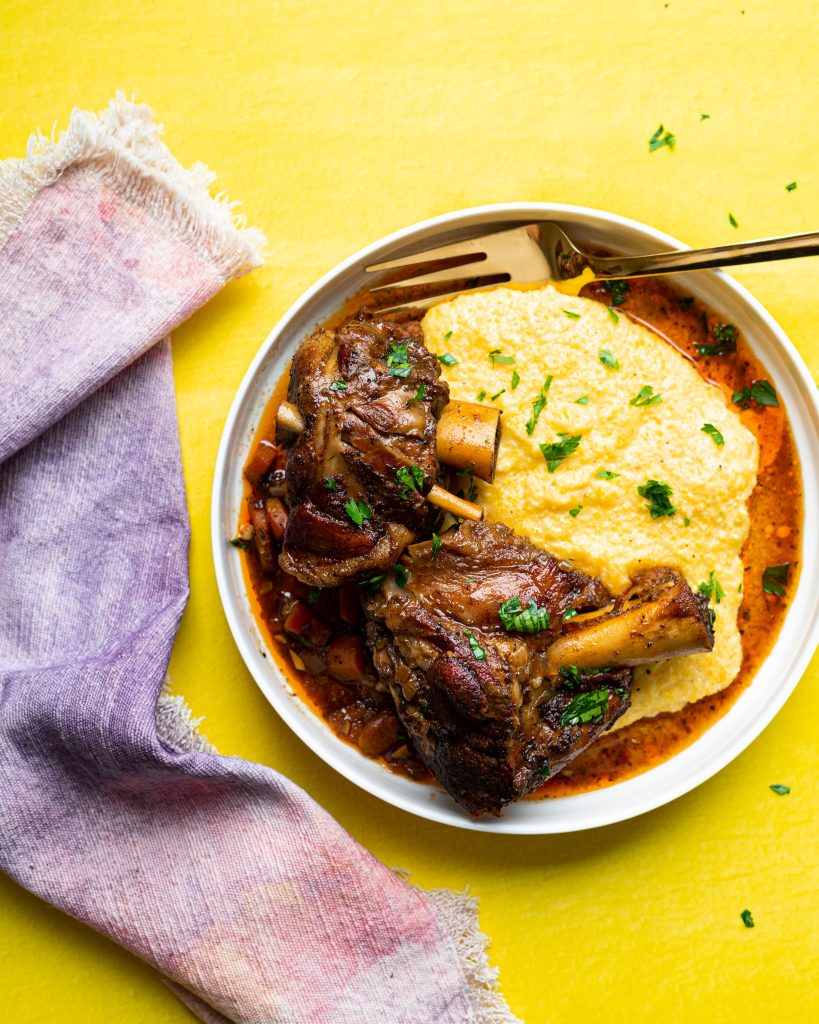 This post may contain affiliate links which won't change your price but will share some commission.
I made pork shanks! Scary, unfamiliar pork shanks. My favorite meat source, Porter Road, has had them on their website for a while, and I finally got a couple so I could see what this cut of meat has to offer.
What are pork shanks?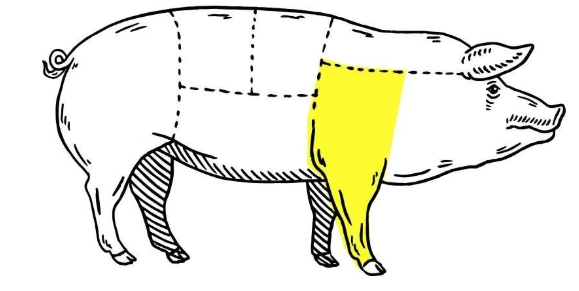 The pork shank comes from the front forearm of the pig. This is a muscle-y, tough cut of meat. There's a large bone with meat surrounding it, which means all kind of melty marrow when you cook it slow.
How to cook pork shanks
You should cook pork shanks low and slow, so the meat can fully break down and you can make the most of that big bone. This is the kind of cut you want to be fall apart tender.
Here are the cooking methods I recommend, ranked in order of the amount of time they'll take to prepare:
Instant Pot (90 minutes)
Stove top (3-5 hours)
Slow Cooker (8-10 hours)
No matter what method you use, you'll start by seasoning and searing the meat and you'll end by looking for meat that falls away from the bone and shreds easily. If this hasn't happened, keep cookin'.
How to braise pork shanks
You can use any liquid you like for braised pork shanks, but I chose to use beer. A dark beer, like a stout or an Oktoberfest, are great choices for imparting lots of flavor. You could also use a red wine (I'd recommend something lighter, like a pinot noir), or simply stock (beef or chicken would work depending on what you're looking for!).
But first things first: season! I wanted my braised pork shanks to have a smoky flavor, so I went with the Chili Coffee seasoning blend I developed for pork chops in my cookbook, Everyday Sous Vide. Once thoroughly coated in seasoning, sear the pork shanks in ghee over medium high heat in a heavy bottomed, high rimmed pot or dutch oven.

Remove the pork shanks to a plate, and in the same pot, add garlic, onions, and carrots and cook until softened.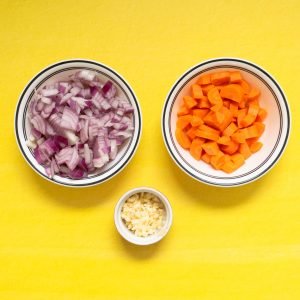 Once softened, deglaze the pot with your liquid of choice. Again, I used beer and I also used some chicken stock.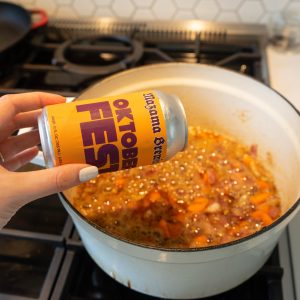 If you are cooking the braised pork shanks in an Instant Pot or slow cooker, transfer the liquid and veggies to the pot of that device. Then add additional seasonings, including a bay leaf, salt to taste, and dried herbs, to the pot. Stir, then add the pork shanks.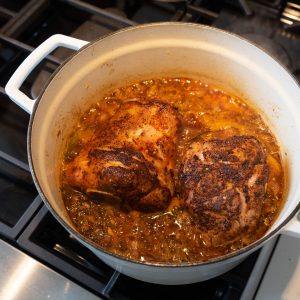 Then let it all cook for a reeeaaally long time, rotating the shanks every so often so the meat is evenly submerged in the liquid. Once it easily pulls away from the bone and shreds, it's ready.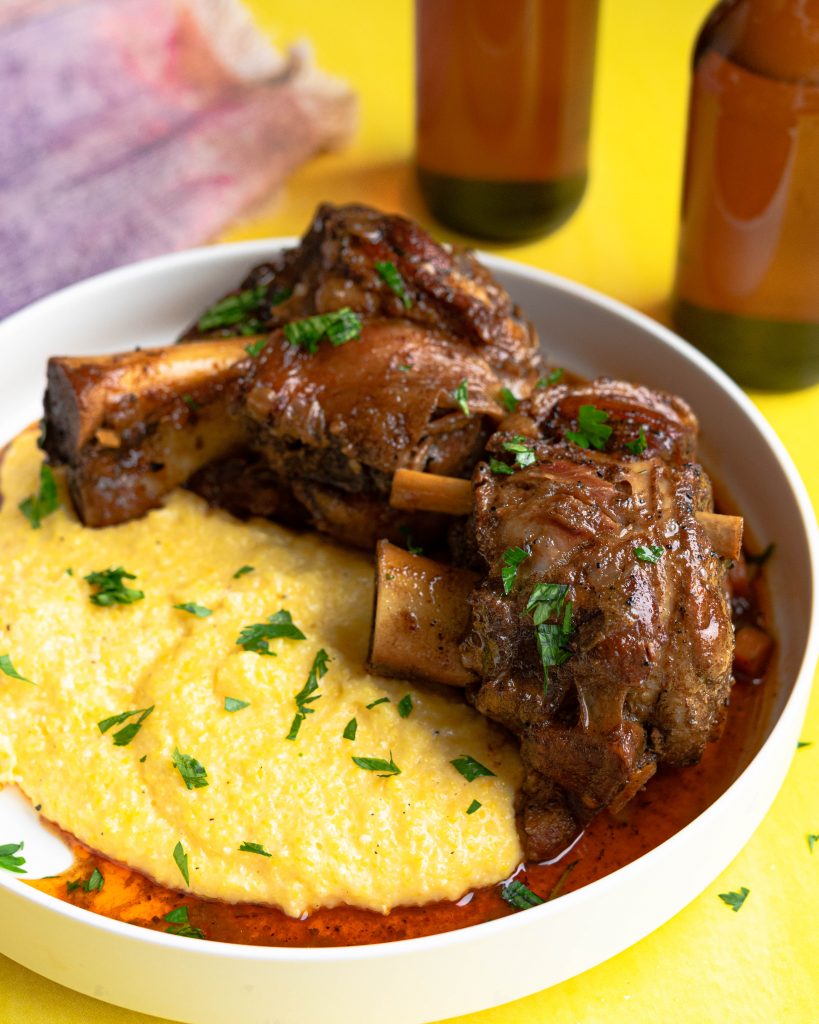 What to serve with braised pork shanks
I chose to serve the beer braised pork shanks with cheddar grits, because CHEDDAR GRITS, amiright? I get my grits from Thrive Market. They would also be delicious served with Mashed Cauliflower for a lighter option, Cauliflower Gratin, or my best ever french fries. As you can see, I recommend something carby to soak up all the delicious braising liquid.
For drinks, I recommend whatever your braising liquid was: a dark beer or light red wine. I'm a sucker for Oregon pinot noir, my fav lately has been Pike Road Pinot Noir.
Where to Buy Pork Shanks
Pork shanks, also known as pork hocks, are definitely a butcher's cut and a little harder to find. You can go to your local butcher and hope for the best, but if I were you, I would get them from Porter Road!
P.S. Don't forget to pin this recipe so you can remember it for your next meal to impress!
Get the recipe
If you make this recipe, it would mean the world to me if you'd rate and review below! It helps other people find this recipe, too.
Print
Beer Braised Pork Shanks
Author:

Chelsea Cole

Prep Time:

25 minutes

Cook Time:

90 minutes

Total Time:

1 hour 55 minutes

Yield:

4

servings

1

x

Category:

Pork

Method:

Slow Cook

Cuisine:

American
---
Description
This recipe for beer braised pork shanks can be made on the stove, Instant Pot, or slow cooker. This pork stew is easier (and tastier!) than you think.
---
2 tbsp finely ground dark-roast coffee
2 tbsp chili powder
2 tbsp dark brown sugar, tightly packed
1 tbsp smoked paprika
1 tbsp kosher salt
1 tsp ground cumin
1 tsp red pepper flakes
2 pork shanks
1 tbsp ghee (or other high smoke point fat)
1 red onion, diced
2 carrots, peeled and diced
5 cloves garlic, minced
1 12 oz dark beer (such as Oktoberfest or stout)
2 cups chicken stock
2 bay leaves
1/2 tsp salt
1 tsp dried herb blend (I use Italian seasoning)
---
Instructions
In a bowl, mix together coffee, chili powder, brown sugar, paprika, 1 tbsp salt, cumin, and red pepper flakes. Rub the pork shanks thoroughly with the spice mixture. You may have some left over, store it in an airtight container for future use.
In a large, heavy bottomed pot or dutch oven, melt ghee over medium high heat. Once melted, sear the pork shanks on all sides until deep brown. Remove to plate.
Reduce the heat to low and add onions, carrots, and garlic to the pot and cook until onions have started to soften.
Deglaze the dutch oven with beer. Stir and scrape any stuck on bits from the bottom to the pot until loosened.
If cooking in the Instant Pot or slow cooker, transfer liquid and veggies to that container. Add stock, bay leaves, salt, and dried herb blend to your vessel of choice and stir to combine. Return pork shanks to liquid.
If cooking in the Instant Pot, cook using the manual setting for 90 minutes and use a manual release when done. If cooking stove top, cook for 3-5 hours, turning the shanks every hour or so, until fall apart tender. If cooking in the slow cooker, cook for 8-10 hours, turning the shanks every hour or so, until fall apart tender.
To serve, remove shanks to a cutting board and pull the meat from the bone. Serve with braising liquid spooned over the top.
---
Notes
If you'd like, substitute any "smoky" seasoning for the seasoning blend in the recipe.
For more of a "gravy", melt 1/4 cup butter in a skillet. Add 1/3 cup flour and cook for 3-5 minutes over low heat. Add the roux to braising liquid after removing the shanks and stir until liquid has thickened.
Keywords: braised pork shanks