These sous vide poached eggs are so easy to make. Unlike other recipes, sous vide is the only cooking step required. No boiling! Using this method, you can choose to "poach" the eggs in the shell or in a jar with water, it's up to you.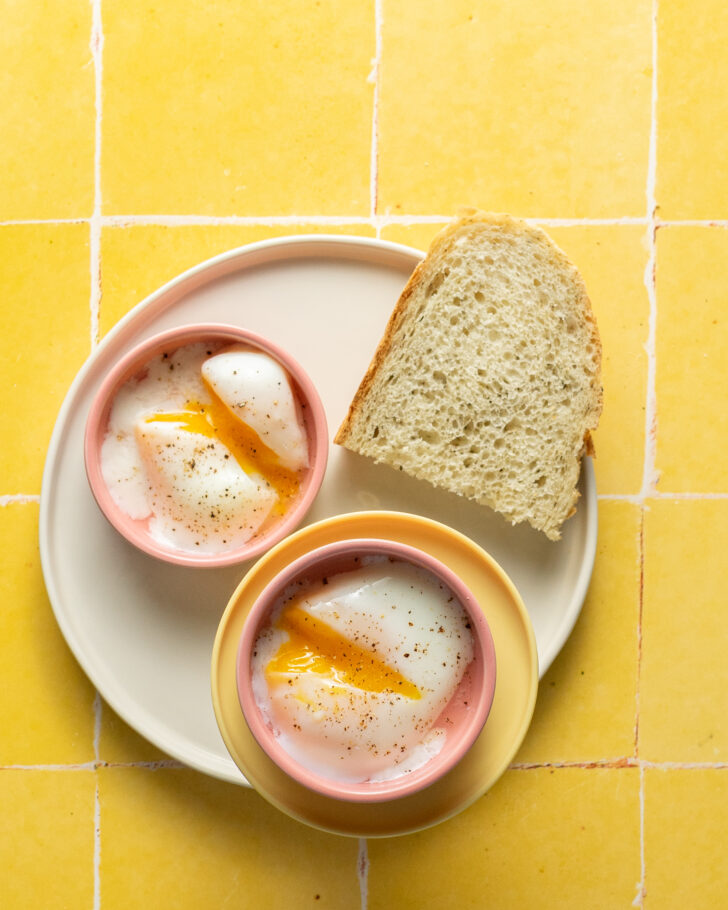 Poached eggs can be tricky to get right at home, and there are so many existing methods: stove top, microwave, instant pot… the list goes on. The only one that's truly fool-proof? Sous vide!
Other sous vide poached egg recipes will require that you finish the eggs by boiling them, but not this one. In just 15 minutes, you'll have perfectly poached eggs.
While you're at it, make some Sous Vide Hollandaise and a homemade benedict will be in your future! If you really want to go the extra mile, a Lobster Benedict is definitely the way to go.
After cooking this recipe, you may find yourself head over heels for sous vide eggs in general. Make sure to try my recipe for Sous Vide Egg Bites with Cottage Cheese, Bacon, and Goat Cheese or Sous Vide Soft Boiled Eggs next!
How to Poach Eggs with Sous Vide
When developing this recipe, I decided to test two different times and temps and two different methods. 165 degrees F for 15 minutes vs 175 degrees for 12 minutes and in the shell vs in a jar with water.
After removing the eggs from the sous vide bath, the in-shell eggs went right into an ice bath for 5 minutes whereas the eggs in the jar sat on the counter for a few minutes – I didn't want to risk thermal shock breaking the jars.
The in-shell eggs were easier to crack open and "peel" than I expected. The eggs didn't stick to the shell, but the trickier part was removing enough of the shell to slide the poached egg out without risking breaking the yolk.
In terms of time and temp, 165 degrees F for 15 minutes was the best time and temperature for sous vide eggs. The texture was most similar to traditional poached eggs and the in-shell eggs were easier to remove from the shell.
When it came to in-shell vs in a jar with water, both methods worked great. It's personal preference! With in-shell, it's as easy as dropping the egg into the water bath, but removing the cooked egg from the shell takes a bit of finesse to make sure you don't break the yolk. When cooking in a jar with water, you do have to transfer the egg to start, but removing the egg is as easy as pouring over a slotted spoon and serving.
Once finished, season the eggs with a little salt and pepper and they're ready to serve! Simple with toast is delicious, but if you're feeling ambitious, whip up some Easy Sous Vide Hollandaise to make homemade benedicts. It's worth it!
One of the best things about this method is that you can easily poach several eggs at once. When making poached eggs on the stovetop, it can be difficult to even do more than one at a time. A problem no longer! Drop in as many eggs as you like and poach them all at the same time.
Common Questions
You can also view this recipe as a step-by-step web story here.
Get the Recipe: 15 Minute Sous Vide Poached Eggs
Learn how to make perfect sous vide poached eggs with this fool-proof recipe! No boiling necessary – just 15 minutes for perfectly poached eggs. Serve with toast or try making a homemade benedict with Sous Vide Hollandaise.
Ingredients
Eggs
Freshly cracked black pepper
Instructions
To cook in-shell:
When preheated, carefully add your desired number of eggs to the water bath. You can just drop them in to the bath. Cook for 15 minutes.

While the eggs are cooking, prepare an ice bath by adding 2 cups of ice to a medium-sized bowl and about 1 cup of cold water.

When the eggs are done cooking, use a serving spoon to transfer the eggs from the sous vide bath to the ice bath. Let chill for 5 minutes.

Carefully crack an opening in the shell large enough for the egg to slide through without the yolk breaking. Season the eggs with salt and pepper and serve.
To cook in a jar:
Crack eggs individually into small jars. Fill with room temperature water until jars are about 2/3 full.

Remove the jars from the water bath and let sit on the counter for 3 minutes.

Remove the eggs from the jar by pouring them into a slotted spoon to drain the water. Season the eggs with salt and pepper and serve.
Notes
Unlike other sous vide recipes, we don't have a wide time range to achieve perfect results. You can certainly get away with a couple minutes too long, but when poaching eggs, the cook time and temperature should be precise.
To make a benedict, make Sous Vide Hollandaise!