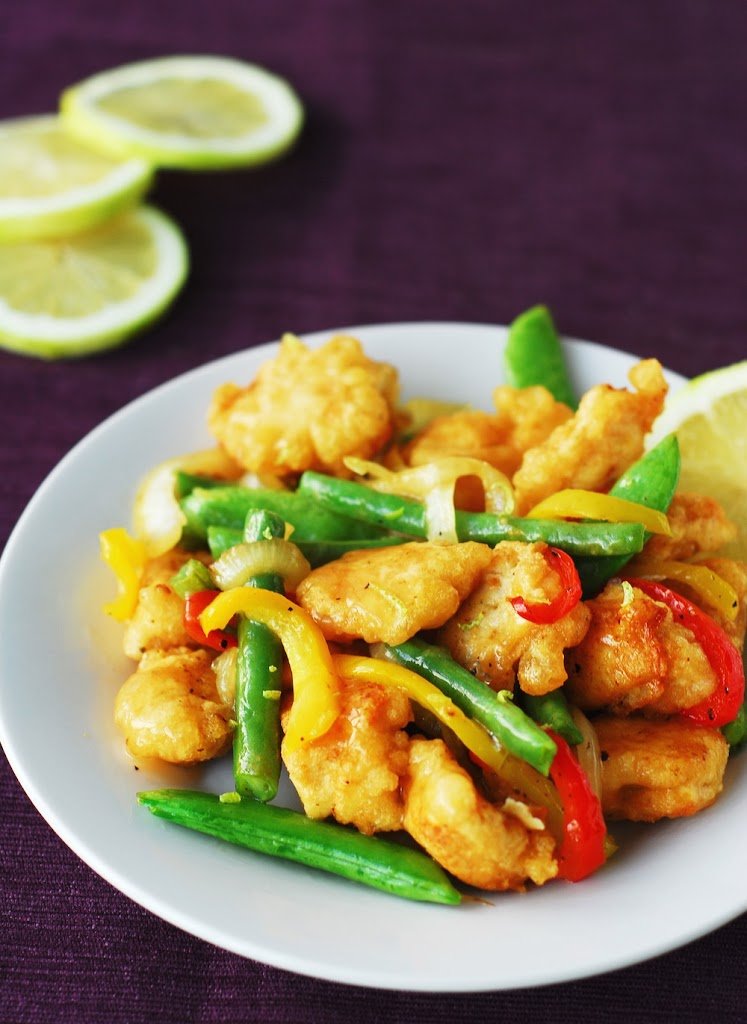 This stir fry might be the tastiest of all the stir fries. And full disclosure: that is in huge part because the chicken is pan fried. It's not the healthiest way to do a stir fry, but the night I made this I was desperately craving Chinese takeout but wanted to pack some veggies in and not be tempted by the Nutella banana spring rolls on their menu. Yep, you read that right, and they are indeed delicious.
The first time I had Chinese lemon chicken was when I was 14 and traveling with my family in Edinburgh, Scotland. I ordered it because I was 14 and what I really wanted from a Chinese restaurant was Panda Express style orange chicken, and this was the closest thing on the menu. My offensively ignorant taste buds were shocked to find that this chicken was actually better.
Anyways, MAKE THIS LEMON CHICKEN. It is so tasty because it's crunchy, sweet, and oh so lemony.
My veggies for this stir fry were made up of what I had in my fridge: leftover red and yellow bell peppers from Shakshuka, sugar snap peas, green beans, and onions. Sugar snap peas are one of my favorite veggies for stir fries.
You're going to use a lotta lemon for this. One to two for their juice and one sliced up. You'll also use the zest from one of them.
The sauce was very simple to make. Sugar, cornstarch, chicken stock, lemon juice, lemon zest, salt, sliced lemon, and red pepper flakes.
The batter for the chicken is made up of cornstarch, eggs, baking powder, and pepper. Again, super easy and this batter gives the chicken a great coating and crunch.
Make the sauce, cook the veggies, fry the chicken, then toss everything together! Really easy. I wish I had a wok for these types of dishes.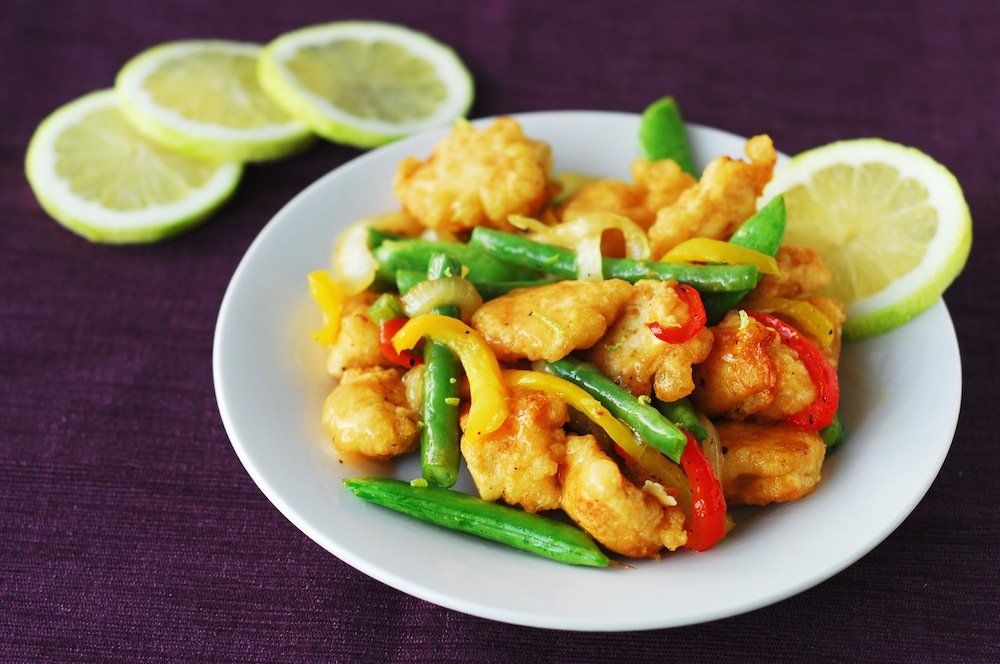 You can use the extra lemon slices to garnish because they're pretty and it'll make your dinner feel fancier.
We had ours with lots of sticky rice, but you could totally eat it as is if you prefer!
Get the Recipe: Lemon Chicken Stir Fry
Ingredients
Sauce:
1/4 cup sugar
1 cup chicken stock
1 1/2 tbsp cornstarch
2 tbsp lemon juice
Zest of one lemon
1/2 tsp salt
3 slices lemon
Stir Fry:
Chicken:
4 chicken breasts, cubed into bite sized pieces
1 large eggs
1/4 cup cornstarch
1/2 tsp baking powder
1/4 tsp black pepper
Oil for frying
Instructions
In a medium sized saucepan, add the sugar, chicken stock, cornstarch, lemon juice, lemon zest, salt, lemon slices, and red pepper flakes and stir to combine. Put saucepan on burner over medium heat and cook until mixture thickens and is warm, stirring occasionally. Keep over low heat until chicken and veggies are ready.

While the sauce is cooking, add oil to a skillet over medium heat. Add the bell peppers, onion, sugar snap peas, green beans, 1/2 tsp salt, and lemon pepper. Saute until cooked but still crunchy, about 5 minutes. Set aside.

In a large bowl, whisk the eggs. Add the cornstarch, baking powder, and black pepper. and Whisk together. Add the chicken pieces and toss until they're coated.

In a large skillet or saucepan, heat the oil to 350 degrees. You can use enough oil to submerge the chicken or flip it to fry on each side. Fry the chicken pieces in batches to avoid overcrowding the pan. Remove chicken to a paper towel lined plate when golden brown.

Once all the chicken has been fried, toss together chicken, sauce, and veggies to coat. Serve with sticky rice, if desired.
Adapted from BlogChef