Bacon cinnamon rolls are the perfect weekend brunch or Christmas breakfast. Upgrade the sticky buns to bacon cinnamon rolls with a maple glaze and you won't look back!
This post may contain affiliate links which won't change your price but will share some commission.
These cinnamon rolls were SO GOOD. They were literally painfully delicious. I made them in the late afternoon, and my evening ended up looking like this:
4:30 p.m.: Binge eat bacon cinnamon rolls. They're DINNER, okay? I'm not just eating mindlessly, here.
5:00 p.m.: Groan with pain on the couch.
5:15 p.m.: Continue to groan with pain while standing over the bacon cinnamon rolls and picking at them.
5:30 p.m.: Panic sleep in the hope that "napping it off" will make me feel better. And maybe make room for one more.
6:30 p.m.: Wake up and eat half a bacon cinnamon roll before swearing off of them forever.
I knew that the bacon-cinnamon-maple combination would be good, but I really didn't know it would be this good. It was almost impossible to walk away from. This was especially dangerous because there's only two of us- we weren't forced to make a polite attempt at sharing. A blessing and a curse.
How to Make Bacon Cinnamon Rolls
This is the cinnamon roll filling. There are few things more glorious. I use a simple combination of softened butter, cinnamon, and brown sugar.
I rolled out the dough, spread out the filling, and laid on strips of bacon. You could definitely crumble up the bacon and sprinkle it on, but I wanted thick strips rolled up in the center. Either way, you're still getting bacon.
Then roll it up long ways ("hot dog style") cut it into inch and a half wide pieces, and arrange in a greased baking dish. It'll getcha twelve glorious bacon cinnamon rolls. Cover it up with saran wrap and let 'em rise until they're squishing together a bit in the dish.
Then bake 'em until they're golden brown.
Pour on beautiful maple icing. This was a very simple icing: just powdered sugar, maple syrup, milk, and vanilla.
They're so pretty. Looking at these pictures while I'm writing this is making it hard to not jump back into the kitchen and get these going. Maybe I'm not quite totally "sworn off" of them…
Of course, it is essential to enjoy these with a giant cup of coffee. It'll help delay the sugar coma long enough to squeeze in one more cinnamon roll.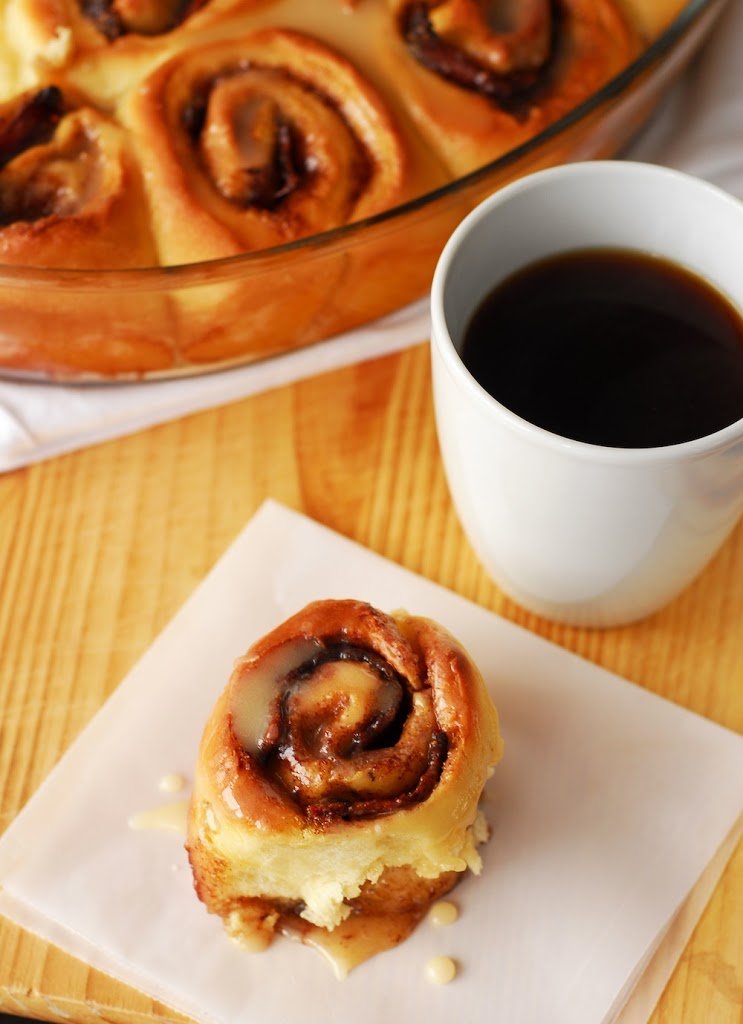 Tips for Nailing these Bacon Cinnamon Rolls
Make sure your bacon is well cooked. Chewy bacon does not jive well with these cinnamon rolls. My best trick for evenly cooked bacon? Cook it in the oven. Start from a cold oven, preheat to 425 degrees F, and cook for 30-40 minutes.
Be patient. Don't rush any of the rising steps. It'll be worth it for the most glorious rolls you've ever had.
Use decent maple syrup. The maple flavor adds so much when paired with the bacon! I get mine from Thrive Market.
… and use decent bacon. My favorite bacon comes from Porter Road, my favorite source for ethical meat.
Side note: the roll recipe I used for the dough part of the cinnamon rolls makes killer dinner rolls. The best we've ever had. It's really simple and I now make them routinely with dinner. I highly recommend it! If you're feeling feisty, maybe add some homemade Irish cream to that coffee? Christmas morning calls for it.
P.S. Don't forget to pin this recipe so you remember it for those special occasion mornings!
Get the Recipe: Bacon Stuffed Cinnamon Rolls with Maple Icing
Bacon cinnamon rolls are the perfect weekend brunch or Christmas breakfast. Upgrade the sticky buns to bacon cinnamon rolls with a maple glaze and you won't look back!
Ingredients
Dough:
1/2 cup warm water
1 tsp sugar
1 .25 oz packet active dry yeast
1/2 cup milk
1/3 cup butter
1/4 cup sugar
1 egg
1 tsp salt
3 3/4 cup flour
Filling:
1/2 cup 1 cube butter, softened
3/4 cup brown sugar
2 tsp cinnamon
12 strips bacon
Icing:
1/4 cup maple syrup
1/4 cup milk
1/2 tsp vanilla
1-1 1/2 cup powdered sugar
Instructions
In a large mixing bowl or the bowl of your KitchenAid, combine water, 1 tsp sugar, and yeast. Let sit for about 10 minutes, or until foamy.

While the yeast is proofing, add 1/2 cup milk, 1/3 cup butter, and 1/4 cup sugar to a small saucepan over medium-low heat. Stir and cook until milk is warm and butter is melted.

Add milk mixture, egg, and salt to the yeast mixture. Mix until combined. Add the flour about a cup at a time, until dough is no longer sticky. If kneading by hand, knead for about 8 minutes. If kneading with KitchenAid, knead for about 5 minutes. Place dough in an oiled bowl in a warm place covered with plastic wrap or a moist cloth and let rise until doubled, about 45 minutes.

While the dough is rising, cook the bacon until crispy and mix together the ingredients for the filling until well combined.

When dough has risen, punch down and roll out into about an 18×9 inch rectangle on a lightly floured surface. Spread filling evenly over the dough and lay the strips of bacon out. You're going to be cutting rolls every inch and a half, so keep that in mind as you're laying out the bacon. You can crumble the bacon and sprinkle over the filling if you prefer.

Roll the dough all the way up "long ways". Cut the dough into inch and a half wide pieces, this should make about 12 rolls. Arrange in a greased 9×13 inch baking dish and cover with plastic wrap. Let rise until rolls have almost doubled in size and are just pressing against each other.

Preheat your oven to 400 degrees F (200 degrees C). Bake rolls for 15-20 minutes, or until tops are golden brown.

While the rolls are baking, make the icing. Whisk together maple syrup, milk, and vanilla until combined. Add the powdered sugar 1/2 cup at a time until it reaches desired consistency.

Pour icing over hot rolls and serve after cooling for about five minutes.
Calories: 509kcal, Carbohydrates: 69g, Protein: 8g, Fat: 23g, Saturated Fat: 11g, Trans Fat: 1g, Cholesterol: 64mg, Sodium: 470mg, Potassium: 151mg, Fiber: 1g, Sugar: 37g, Vitamin A: 448IU, Vitamin C: 1mg, Calcium: 53mg, Iron: 2mg