Pizza stuffed pretzels: gigantic, soft pretzels stuffed with your favorite pizza toppings and dunked in spicy tomato sauce.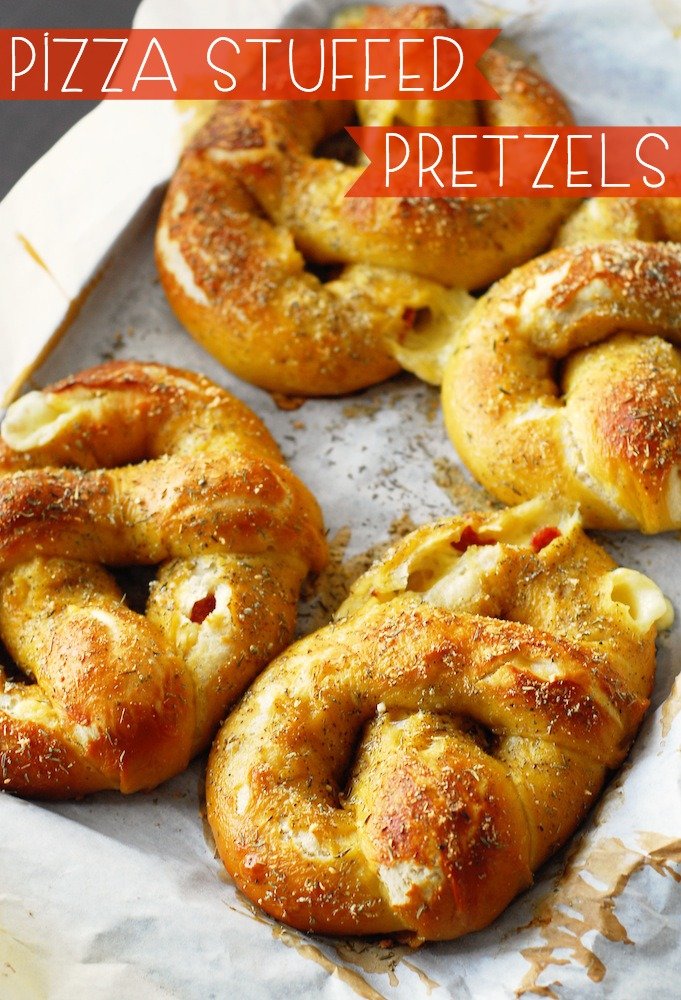 So pizza is a big thing in our house. I blame that entirely on Fiance. Before we met, I had pizza at sleepovers or when my family had movie nights, and that was really it. It wasn't a food that I got particularly excited about or needed to see on the menu all that often.
For a little context, we started dating when we were 16. I didn't really have a stereotypical teenager diet: my mom made me breakfast every morning and dinner every night because she was an absolute saint. I got some junk food from the vending machines at school every now and then and often had a bowl of popcorn or cereal as an afternoon snack, but not all that bad.
Fiance, on the other hand, played sports almost all year round: soccer mid-summer to winter, indoor soccer in the winter, and tennis spring to summer. So, he supplemented his home-cooked meals with a lot of pizza. If he was picking dinner, it was a local pizza chain like Round Table or Flying Pie. If he was picking a late night snack, it was a frozen pizza. Pizza all the tiiime.
Now, eight years later, I still don't love pizza as much as he does, but I certainly enjoy it a lot more. I love a big slice with plenty of sauce, pepperoni, and caramelized veggies. But we're in South Africa right now, and South Africa has a lot of really great things, but it does not have good pizza. It has okay or TERRIBLE pizza, but nothing that comes close to our Northwest style pies.
So I've been making a lot of pizza-style things at home: homemade pizza, calzones, pizza rolls. And now, after being inspired by these ham, swiss, and jalapeño stuffed pretzels, pizza stuffed pretzels. And holy wow, these babies rocked both our worlds.
How to Make Pizza Stuffed Pretzels
I'm going to break the whole process down for you, but here's a collage so you can get the gist:
Do not be intimidated! These pretzels are a bit time consuming, but they are not hard. And oh so worth your time.
Start by proofing the yeast in warm water with some sugar. You want it to get foamy. Don't be impatient with this or you'll have crappy pretzel dough, and that is an absolute shame.
This is a simple dough: just salt, softened butter, and flour get added next. Knead it for a bit, let it rise in a warm place until doubled, then punch it back down. I made four pretzels with this recipe. If you want more, go ahead and double it.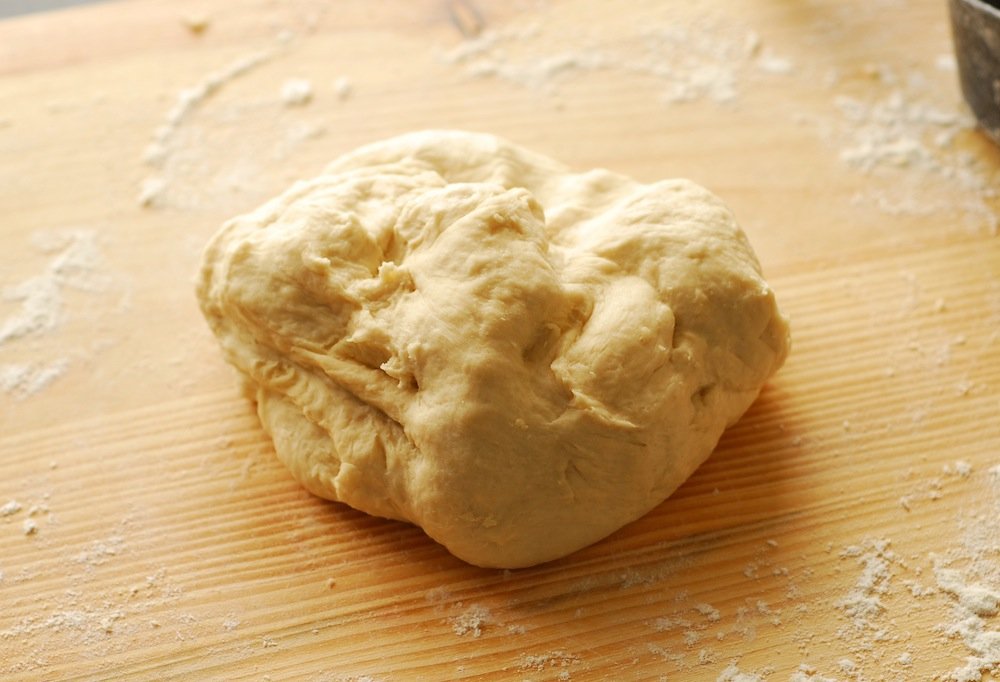 Divide the dough into four even balls and roll them out into a long tube, about 16 inches. Then roll that tube out flat, about three inches wide.
Add your favorite pizza toppings. We kept it simple with cubed mozzarella, cheddar cheese, pepperoni, parmesan, garlic powder, and Italian seasoning.
Pinch the sides together very well and tightly.
Make the dough into a "U" shape…
Then fold the ends over into a simple pretzel. I wouldn't recommend doing a twisted pretzel when the dough is stuffed. It's just a little too thick. Pinch the edges underneath really well, you might want to get your fingers wet for that part.
Next, you're going to boil the pretzels in a baking soda bath. I'm talking lots of baking soda. Then put them on a parchment paper or silicone baking mat lined baking sheet. Mine still stuck a little with the parchment paper, so I think a silicone baking mat would be the best way to go.
Top with an egg wash, parmesan, and Italian seasoning.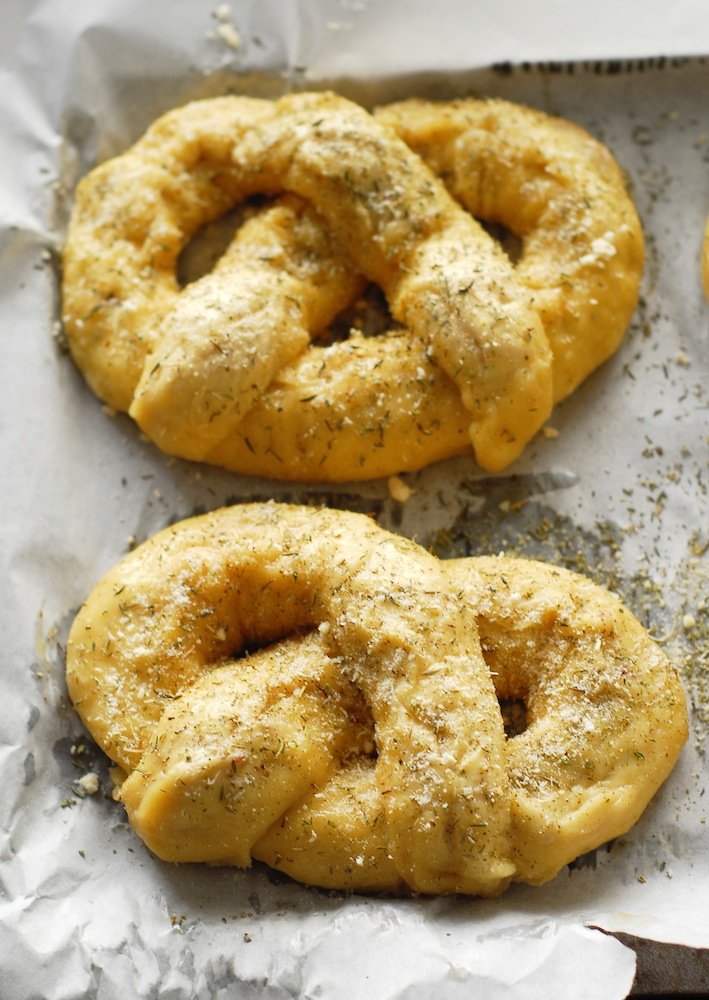 Then bake until golden brown. It's okay if the cheese oozes out a bit because OH MY GOSH will you just look at them?!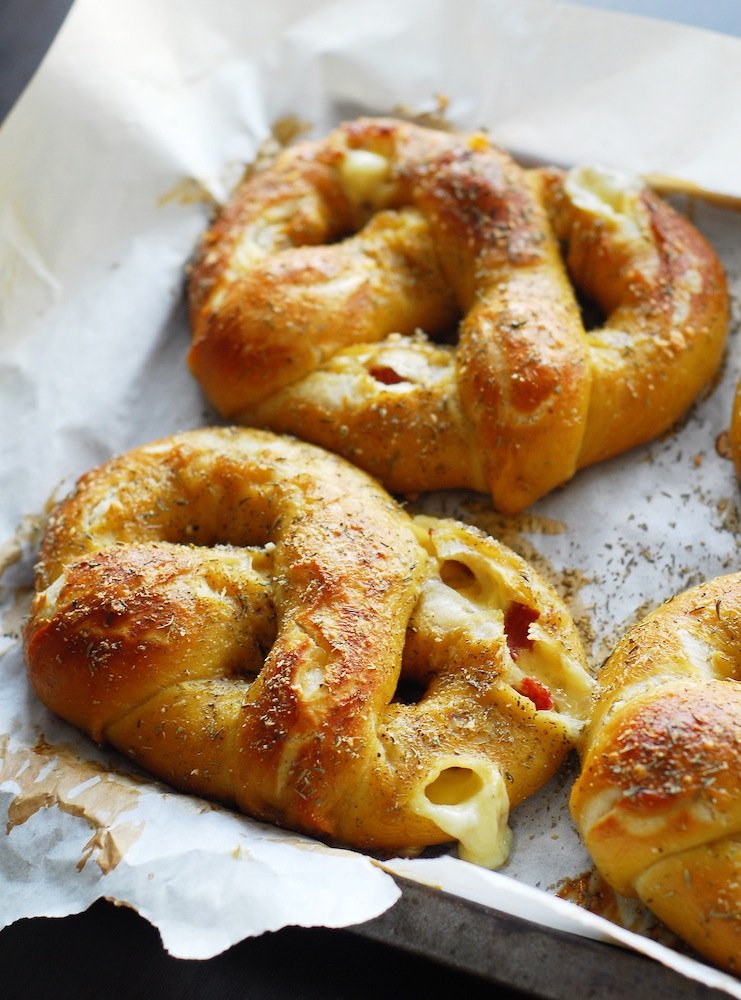 Gooey pretzel pizza amazingness. That is what these bready treats could also be called.
The stuffing of my dreams. Next time I'd love to add some bell peppers and caramelized onions. Some of you might want to try this with olives. That's fine, you can do that, but I don't get you olive people. Maybe I will some day.
I made a spicy tomato sauce to dunk these in and they were the most perfect "dinner" ever. As I was editing these photos, Fiance kept looking over my shoulder and saying, "Can we have those again tonight???"
Yes, Fiance. Yes we can.
Pizza Stuffed Pretzels Recipe
If you make this recipe, I'd love it if you'd rate and review below! This helps other people find the recipe, too.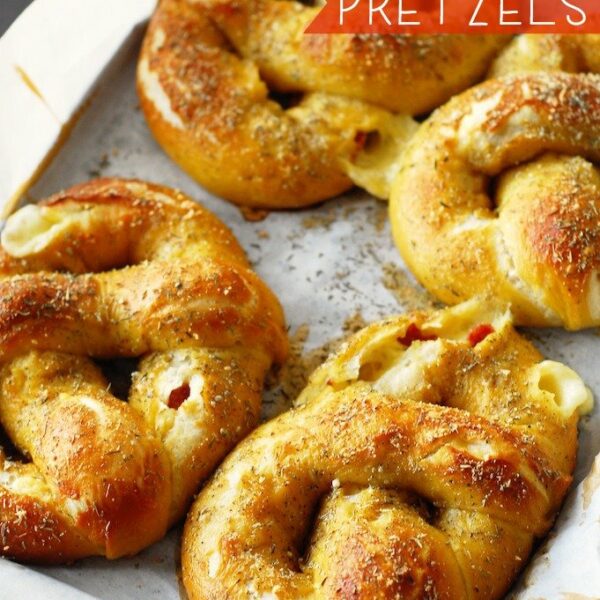 Get the Recipe: Pizza Stuffed Pretzels
Ingredients
Dough:
3/4 cup warm water, 110 degrees F
1 1/2 tsp instant active yeast
2 1/2 tsp sugar
1 tsp salt
3 tbsp butter, softened
2 cups + 2 tbsp flour
6 cups water
1/2 cup baking soda
Stuffing:
1 cup mozzarella, diced
1/4 cup cheddar cheese
2 tbsp grated or shredded parmesan cheese
10 pieces of pepperoni, diced into small chunks
Garlic powder
Italian seasoning
Topping:
1 egg
Grated or shredded parmesan cheese
Italian seasoning
Tomato Dipping Sauce:
1 12 oz can tomato sauce
1 tsp garlic powder
1 tsp Italian seasoning
1/2 tsp paprika
1/4 tsp cayenne pepper
1/2 tsp salt
1/4 tsp black pepper
Instructions
In a large bowl or the bowl of your standing mixer, stir together the warm water, yeast, and sugar. Let sit for about 10 minutes to proof until foamy.

Add the salt and softened butter to the yeast mixture. If using a standing mixer, add the flour gradually with the dough hook attachment and mixer running on low until completely incorporated. Knead for about five minutes, or until dough is elastic and smooth. If not using a mixer, stir in about 1 1/2 cups of the flour, then turn out onto a floured surface. Knead the rest of the flour into the dough. Knead dough for about five minutes. Dough will be slightly sticky.

Lightly oil a large bowl with cooking spray or olive oil. Add the dough and turn to coat. Cover the bowl with saran wrap and put in a warm place to rise until doubled, about an hour.

While the dough is rising, prep all of your stuffing ingredients. Prepare a work station with a lightly floured cutting board and your stuffing ingredients.

When the dough has risen, preheat an oven to 425 degrees F (218 degrees C). Prepare a large baking sheet by lining it with parchment paper or a silicone baking mat.

Punch the dough down and divide into four equal pieces. Roll each piece out into a 16 inch long rope. Roll the rope out to flatten it. It should be about three inches wide. Arrange the cheeses and pepperoni on top of the flattened dough, not piling too high and leaving at least 3/4 inch on either side of the toppings. Sprinkle lightly with garlic powder and Italian seasoning. Pinch the edges of the dough together to enclose the toppings and pinch the ends closed. Repeat with all dough balls.

Shape the stuffed dough ropes into pretzel shapes by arranging into a "U" shape and folding the ends over each other (see photos above). Pinch the ends underneath the pretzel tightly.

Fill a pot with the 6 cups of water and baking soda. Bring to a boil. Boil each pretzel for 30 seconds, one at a time, and remove to the lined baking sheet.

In a small bowl, whisk the egg. Brush the top of each boiled pretzel with the egg wash. Sprinkle the tops of the pretzels with the parmesan and Italian seasoning.

Bake the pretzels in preheated oven for 14-16 minutes, or until tops are golden brown. Let cool for 3 minutes on baking sheet.

While they're baking, make the dipping sauce by combining all ingredients in a small saucepan. Cook on medium-low with a lid on and cracked to release steam, stirring occasionally. Cook for 10 minutes, then taste and adjust seasonings as necessary.

Serve pretzels hot with the tomato sauce for dipping.
Notes
Feel free to add your other favorite pizza toppings! You could do Hawaiian pizza stuffed pretzels with Canadian bacon and pineapple instead! Nutrition information does not include dipping sauce.
Calories: 505kcal, Carbohydrates: 59g, Protein: 21g, Fat: 21g, Saturated Fat: 12g, Trans Fat: 1g, Cholesterol: 98mg, Sodium: 5875mg, Potassium: 492mg, Fiber: 5g, Sugar: 7g, Vitamin A: 1083IU, Vitamin C: 7mg, Calcium: 274mg, Iron: 5mg
Recipe adapted from Baker by Nature