The other day, I thought I'd had a brilliant idea for a creative, new food. I told Fiance about it excitedly.
Me: "I thought of the BEST idea for a dinner this week! Pizza rolls! Doesn't that sound like a fun twist on cinnamon rolls?"
Fiance: "You mean like the ones you used to scarf at lunch in high school?"
Oh. I'd forgotten about those. Clearly not a new idea, because I totally would buy two pizza rolls and a Diet Coke and get away with calling that lunch. And miraculously wouldn't gain ten pounds a week eating that way.

Well, I still made my own version. This one is homemade and way, way tastier. That's something, at least.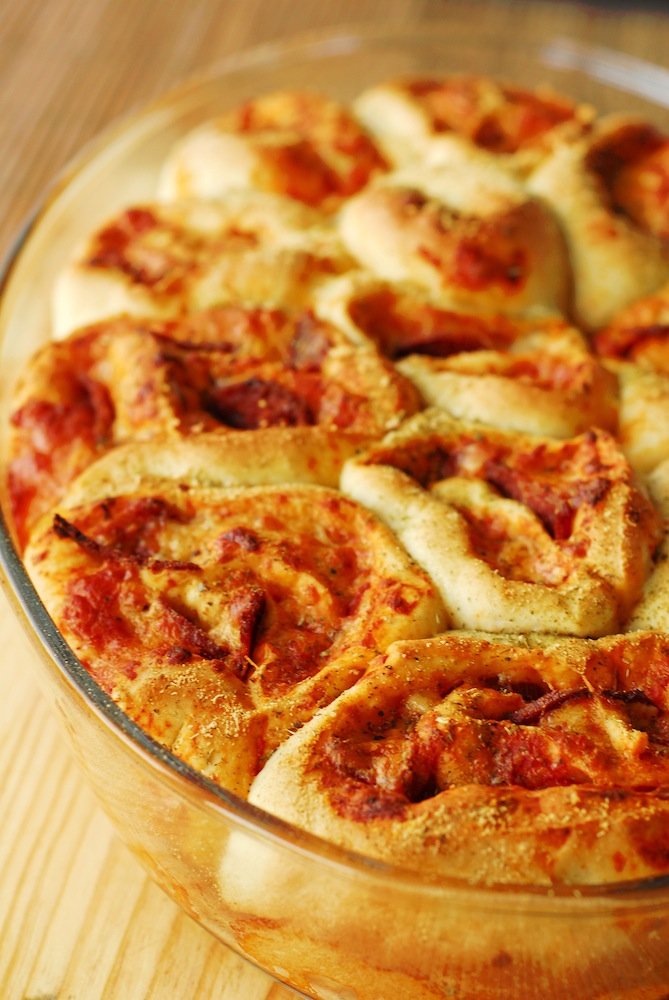 Fiance and I have a horrible weakness for pizza. It's not that we eat it super often (well, we kinda do in Portland) but more that when we do eat it, we eat it in inappropriate quantities. That's me putting it very politely, I was first going to write "disgusting quantities" but that word shouldn't be used when talking about pizza.
Which is just me beating around the bush to say that we ate almost the entire pan over the course of an evening. Somehow my stomach becomes twice as big if I'm eating something bready. Figuratively, and literally.
We used a very classic pizza filling: my homemade pizza sauce, mozzarella, a little cheddar, pepperoni, parmesan, and extra Italian herbs. I would love to add chorizo and some caramelized onions and peppers next time! You can add your favorite pizza toppings and they'll totally work.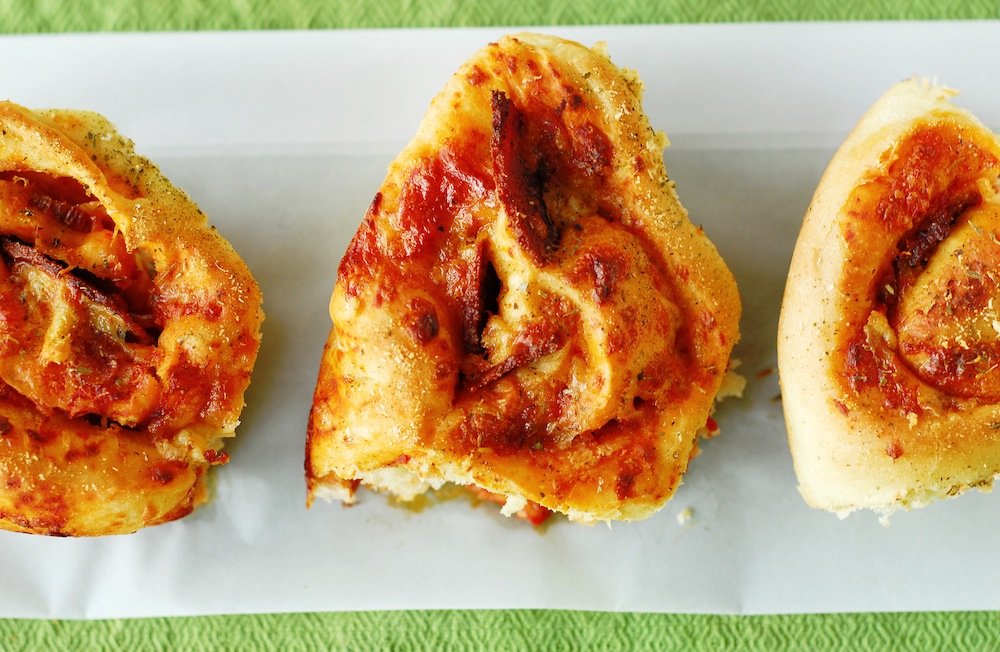 Get the Recipe: Pizza Rolls
Ingredients
Dough:
1/2 cup warm water
1 tsp sugar
1 .25 oz packet active dry yeast
1/2 cup milk
1/3 cup butter
2 tbsp sugar
1 egg
1 tsp salt
3 3/4 cup flour
Sauce:
1 15 oz can of tomato sauce
1/2 tsp salt
1 tsp minced garlic
1/2 tsp onion powder
2 tsp Italian seasoning
1/4 tsp black pepper
1/4 tsp cayenne pepper
1/2 tsp paprika
Toppings:
1 1/2 cups shredded mozzarella
1/4 cup shredded cheddar cheese
1 tbsp shredded or grated parmesan
Italian seasoning or mixed dried herbs
From here, use whatever you'd like! I used about 15 pepperonis.
Instructions
In a large mixing bowl or the bowl of your KitchenAid, combine water, 1 tsp sugar, and yeast. Let sit for about 10 minutes, or until foamy.

While the yeast is proofing, add 1/2 cup milk, 1/3 cup butter, and 2 tbsp sugar to a small saucepan over medium-low heat. Stir and cook until milk is warm and butter is melted.

Add milk mixture, egg, and salt to the yeast mixture. Mix until combined. Add the flour about a cup at a time, until dough is no longer sticky. If kneading by hand, knead for about 8 minutes. If kneading with KitchenAid, knead for about 5 minutes. Place dough in a lightly oiled bowl in a warm place covered with plastic wrap or a moist cloth and let rise until doubled, about 45 minutes.

While the dough is rising, make the pizza sauce. Combine all sauce ingredients in a medium sized sauce pan. Cover, leaving lid open a crack, and let simmer over low heat for at least twenty minutes, stirring occasionally. Taste and adjust salt and spice as necessary.

When dough has risen, punch down and roll out into about an 18×9 inch rectangle on a lightly floured surface. Spread half the pizza sauce over the dough, about an inch from all the edges. Sprinkle the mozzarella, cheddar, parmesan, and Italian seasoning evenly over the sauce. Add toppings of your choice.

Pat the toppings down firmly so they're more compact. Roll the dough all the way up "long ways", tucking the toppings in as you go. Cut the dough into inch and a half wide pieces, this should make about 12 rolls.

Arrange the rolls in a greased 9×13 inch baking dish and cover with plastic wrap. Let rise until rolls have almost doubled in size and are pressing against each other.

Preheat your oven to 400 degrees F (200 degrees C). Bake rolls for 15-20 minutes, or until tops are golden brown.

Use the extra sauce for dipping the rolls in. Enjoy!