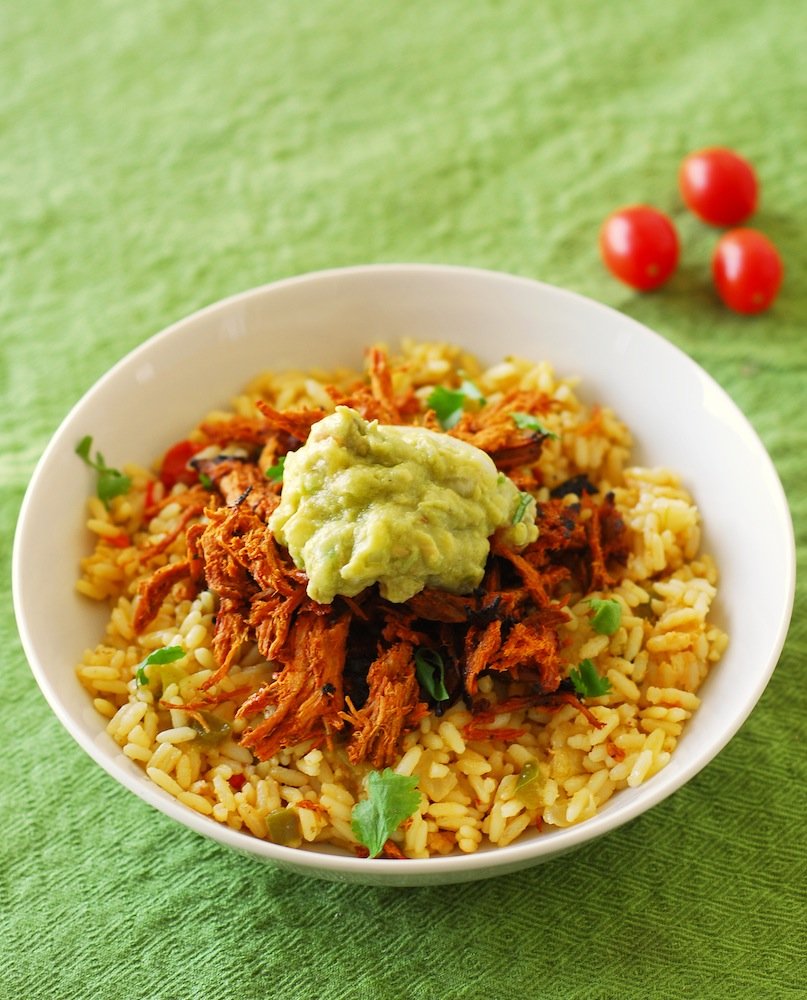 Okay. Do you know how good carnitas are?
Carnitas are like, really, really good. Like Fiance is shoving a very simple carnitas "taco" thing into his face and looks up to say, "This is the best Mexican food you've ever made. Well, besides nachos."
He has an irrational obsession with nachos so I'm just gonna pretend he didn't say the last part.
Besides their utter deliciousness, I like carnitas because I can make a huge batch for so cheap! Here in Cape Town, I can get a huge pork roast for about 50 Rand, which translates to a little less than $5. I usually cut that into two pieces and freeze, which means I can make enough carnitas for a dinner and lunch the next day for two and only spend about $2.50 on the meat. That is a winner in my book.
These are very simple to make and you can absolutely do it in your crockpot. The only reason I cook mine on the stovetop is because I don't have my crockpot in Cape Town. Once we're back in Portland (two months from now- holy WHAT) you better believe crockpot carnitas will be happening on a weekly basis.
I like to make a big batch of rice cooked with onions, bell peppers, jalapeño, cherry tomatoes, and cumin with a big dollop of guacamole on top, but you can totally eat them on a tortilla. No matter the type of meat, if it's Mexican inspired, Fiance always goes meat, cheese, salsa, guac, and hot sauce, and he's always happy with it. So do it however you like, but I did include my recipe for the rice.
You can also view this recipe as a step-by-step web story here.
Get the Recipe: Crispy Carnitas with Spicy Rice
My favorite recipe for crispy carnitas that are spicy, citrusy, and full of flavor.
Ingredients
For the Carnitas
1 lb pork roast
1 tbsp olive oil
1 jalapeño, diced (remove the ribs and seeds if you're sensitive to spice)
1/2 onion, diced
2 tsp minced garlic
1 tsp chili powder
1/2 tsp cumin
1/2 tsp ground oregano
1/4 tsp black pepper
2 cups chicken broth, or 1 bullion + 2 cups water
2 tbsp lemon juice
2 tbsp lime juice
2 tbsp tomato paste
1 tbsp chopped cilantro
For the Rice
White, short-grained rice
Chicken broth
1 tsp olive oil
1 jalapeño, diced
2 tbsp diced onion
2 tbsp diced green bell pepper
6 cherry tomatoes, sliced in half
Instructions
For the Carnitas:
In a large stockpot or dutch oven, heat the olive oil over medium heat. Cook the jalapeño and onion until they just begin to soften, about 3-4 minutes. Add the garlic and cook for another minute, stirring occasionally. If using a crockpot, you can skip this step, or do it and then add the veggies to your crockpot.

Add all remaining ingredients except the roast and cilantro to the stockpot or crockpot and stir to combine. Add the roast. It should be covered at least half way. If not, add a little more chicken broth.

If cooking stovetop, bring the liquid to a simmer then reduce the heat to low, keeping it at a slow simmer. Let cook for 2-2 1/2 hours. If cooking in the crockpot, cook on low for 6-8 hours.

When finished cooking, move the rack in your oven to the second highest slot and preheat your oven on its broil setting. Line a baking sheet with foil and spray it with cooking spray.

Shred the pork while it's still in the cooking liquid, using two forks. Once shredded, stir with the cooking liquid to coat the pork.

Transfer the pork to the baking sheet and spread it out so it's a thin layer. Cook in preheated oven for about 5 minutes, or until the edges of the pork are just started to blacken and pork is crispy. Check on it regularly, cooking time can differ depending on your oven's settings.

Sprinkle the cilantro over the carnitas. Serve over spicy rice.
For the Rice:
In a medium-sized pot, heat the olive oil over medium heat. Add the jalapeño, onion, and bell peppers and cook for 3-5 minutes, stirring occasionally, until vegetables have softened.

Add the tomatoes and cook for another minute.

Add enough rice and chicken broth to the pot according to the rice package directions for 2 servings, replacing the water with chicken broth.

Cover with a lid, bring to a boil, and reduce the heat to medium-high. Cook for 15-18 minutes, or until all the liquid has been absorbed. Fluff with a fork before serving.
Notes
Essentially any cut of pork that's meant to be roasted will work, such as shoulder or butt. Just find what's on sale! In a pinch, I've used all lemon juice when I didn't have lime juice, and the carnitas were still delicious.
Recipe adapted from Crockpot Gourmet