This calzones recipe is completely from scratch, including the homemade dough, but it's easier than you think! You could cook in the oven or on the grill.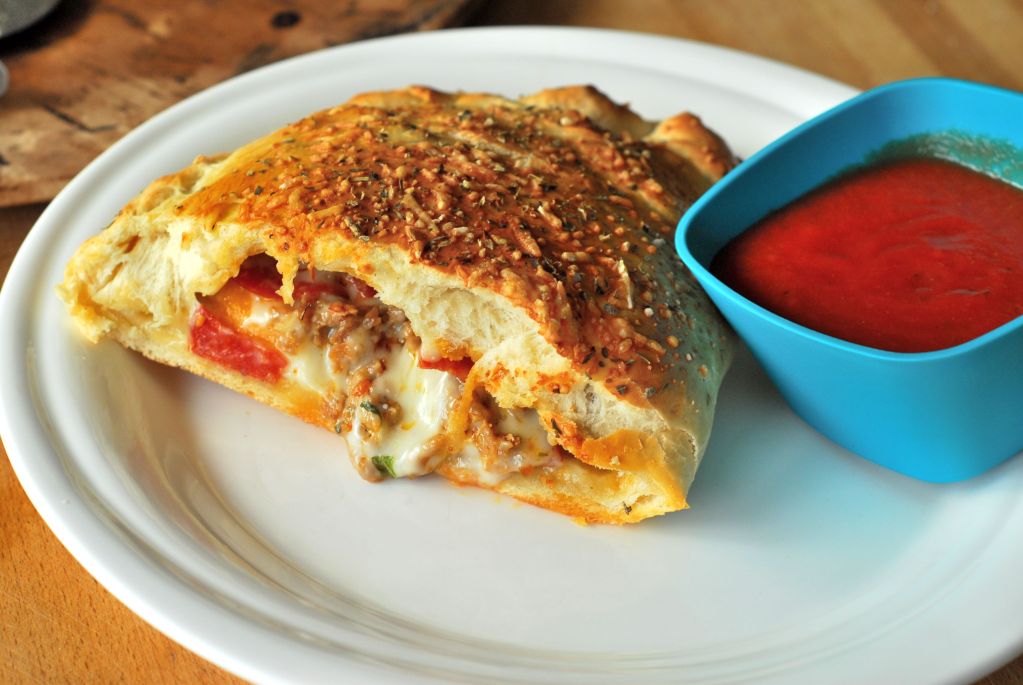 This post may contain affiliate links which won't change your price but will share some commission.
I think I've mentioned on here that I love pizza. I may preach that college students aren't destined to fast food and easy, nasty food, but my biggest weakness in life is pizza.
All U of O students know about the ultimate late night snack, the only thing open when you've been studying all night (or partaking in other activities) and are dying for something greasy and filling: Dough Co. It's open until 3 a.m.- much later than nearly all places that deliver or serve food period. They sell calzones, cookies, and drinks. And that's all. And they do it well.
Although I did have my share of Dough Co., now I don't live quite so close to campus and I'm not sure my stomach could handle the gargantuan, greasy mass that is a Dough Co. calzone. So, I've made my own version to compensate!
How to Make Homemade Calzones
It starts out with my pizza dough recipe, half the dough for each calzone. Roll it out, fold it over, and put it on a plate so people can stuff their own.
We stuffed ours with fresh mozzarella, pepperoni, fresh basil and oregano, hot Italian sausage and parmesan. Stuff it, and roll the edges.
Then top it with egg wash, more parmesan, and Italian seasoning. I absolutely love Italian seasoning.
Then bake 'em on a hot pizza stone. I like the ceramic one from Wilton but I'm thinking of getting a baking stone to live in my oven. They help distribute heat really evenly and my oven is cursed with hot spots.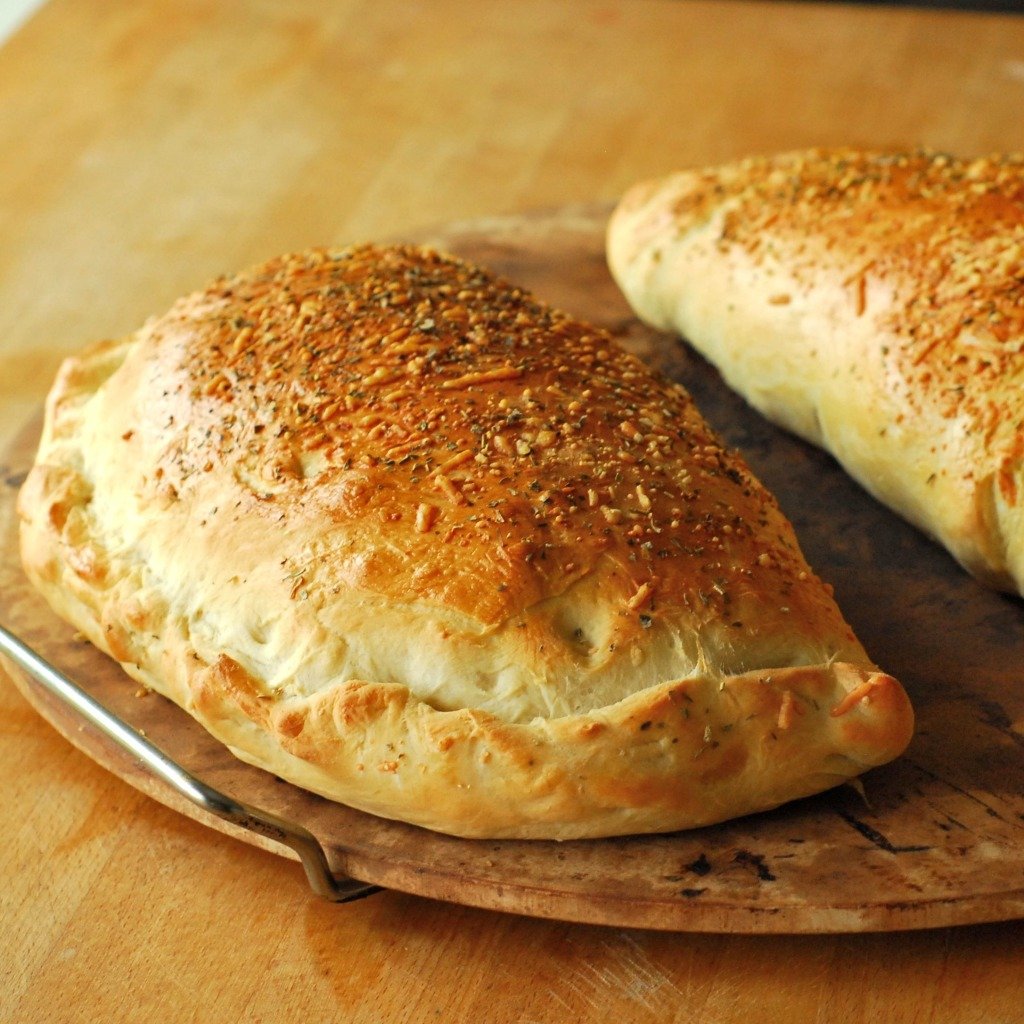 And serve them with delicious pizza sauce. A fantastic change up from pizza and so deliciously perfect. This is one of my favorite things to make, I hope you like it, too!
If you make this, it would mean the world to me if you'd rate and review! It helps other people find this recipe.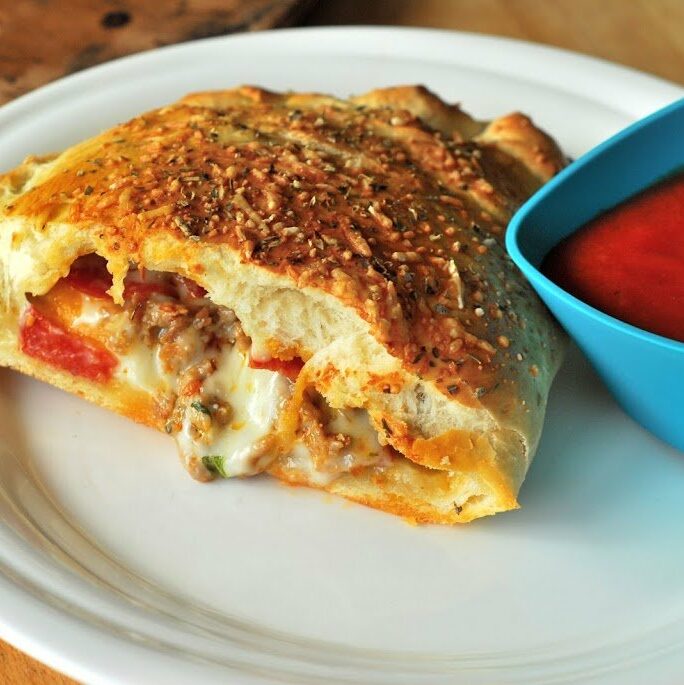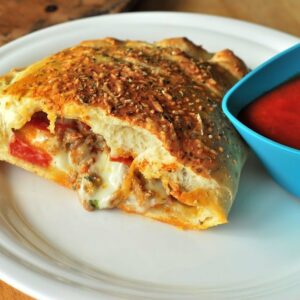 Get the Recipe: Calzones
This calzones recipe is completely from scratch, including the homemade dough, but it's easier than you think! You could cook in the oven or on the grill.
Ingredients
Dough:
Sauce:
1 15 oz can of tomato sauce
1 6 oz can of tomato paste
1/2 tsp salt
1/2 tsp minced garlic
1/2 tsp onion powder
2 tsp Italian seasoning
1/4 tsp black pepper
1/4 tsp cayenne pepper
Filling:
1 cup mozzarella, cubed
1/4 cup parmesan
1/2 cup pepperoni
1 cup hot Italian sausage, cooked
1/2 tsp chopped, fresh basil
1/2 tsp chopped, fresh oregano
Topping:
1 egg
1/2 tsp water
1 tsp parmesan
1/2 tsp Italian seasoning
Instructions
For the dough:
Gently whisk the water, yeast, and sugar together. Let sit until proofed and foamy, about 10 minutes.

Add the salt, garlic powder, Italian seasoning, and olive oil and mix until combined.

Using the dough hook on your standing mixer, slowly add the flour, 1/2 cup at a time, until dough pulls away from the sides of the bowl and is no longer sticky.

Using the dough hook, knead the dough for four minutes. Let rest for three minutes. Knead for another four minutes.

Coat a bowl with olive oil, add the dough, and turn to coat. Cover the bowl with saran wrap and let rise until doubled, about one hour.
For the sauce:
Combine all ingredients in a medium-sized saucepan over low heat. Taste and adjust as necessary.

Let cook over low heat for at least 20 minutes, up to an hour.
Assembly:
Preheat oven to 450 degrees. Set pizza stone in oven to get hot.

Divide dough into two equal parts. Roll out and fold over evenly.

Stuff each calzone with equal parts of the filling ingredients. Roll the edges of the calzone up to seal in ingredients.

Whisk together the egg and water. Brush the tops of the stuffed calzones. Sprinkle with parmesan and Italian seasoning.

Bake for 10-15 minutes or until tops are golden brown. Serve with pizza sauce on the side for dunking.
Notes
To save time, use store bought pizza dough.
Calories: 1110kcal, Carbohydrates: 42g, Protein: 52g, Fat: 84g, Saturated Fat: 30g, Trans Fat: 1g, Cholesterol: 254mg, Sodium: 6842mg, Potassium: 2328mg, Fiber: 10g, Sugar: 25g, Vitamin A: 3260IU, Vitamin C: 41mg, Calcium: 611mg, Iron: 10mg