I love eating dinner at my parents' house. They routinely eat awesome food- salmon, elk, chicken stuffed with gruyere, venison, organic veggies, fresh eggs from their chicken coop… it doesn't get any better. The last time I went home, my mom was very excited about their latest obsession: ribeye. After a few hours of chatting, we started talking about dinner.
Mom: "Should we go out?"
Dad: "No, let's just snack."
Mom: "NO! I've been painting outside all day and hardly eaten!"
Dad: "Yeesh, okay… Let's just stay here, though."
Mom: "Let's make Chels ribeye!"
Dad: "No! We promised to never feed that to the kids. They don't appreciate it."
Mom: "Are you kidding me? She knows her food, she's not her brother."
And so I got to have ribeye for the first time in my life. And it was mouth-wateringly incredible.
Here they are, before being touched. Aren't they pretty?
Then my mom seasoned them with kosher salt, rosemary, garlic powder, and lemon pepper. I love this combination of seasoning. She's brilliant.
Then they went to join a big grill pan full of veggies on the grill.
Only to find that the stupid thing had run out of propane. Whenever I read the word "propane" I read it like PRO-pane, like Hank on King of the Hill. Oh, you don't watch that show? Here, let me educate you.
Anywho. So my dad came to the rescue and gave us more grillin' fuel.
And I was really helpful during this time. You know, taking pictures of the pond.
And the cute little wishing well on their patio that I would catch goldfish in when I was little.
And the dogs. Who are hopelessly annoying.
And I even ate some weird, creamy, delicious bleu cheese.
And my mom used it to make us some fantastic, blow-your-mind bleu cheese butter.
And then, finally, it was ready.
Ribeye is like no other steak I've had. Although the tri-tip I'm used to is fantastic, it doesn't "melt in your mouth" the way people always say steak should. This beautiful piece of meat did exactly that. And with that bleu cheese butter… I can never eat another steak again because nothing will ever live up to this.
Not only did I get to enjoy this incredible meal, I got to sit across from this lovely face.
And this guy made sure I was eating my steak properly, all 16 ounces of it. Yes, they gave me a 16 ounce- that's one whole freakin' pound -steak. Nut jobs.
No, I didn't finish it, in case you were wondering. I so wish I could have.
I'm sure you can see why I love eating at my parents' house so much. Great food, fun company, and an incredible view. Thanks for dinner, Mom and Dad!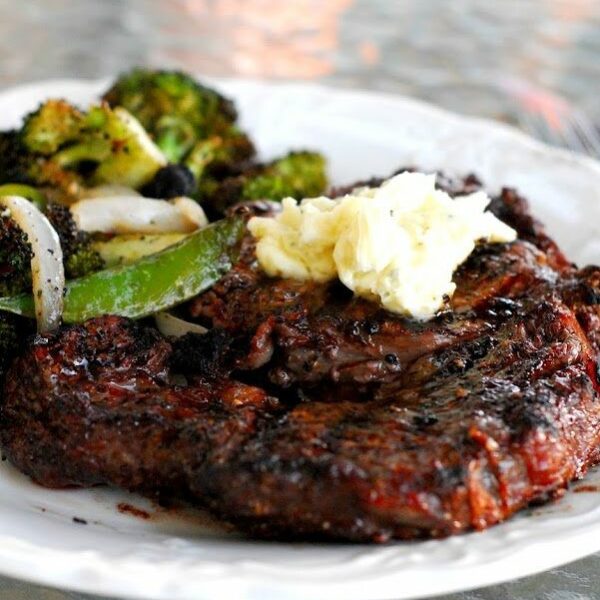 Get the Recipe: Perfect, Perfect Ribeye
Ingredients
3 16 oz ribeye steaks, whole or divided in two
Rosemary
Garlic Powder
Lemon Pepper
1/2 cup creamy bleu cheese
1/4 cup butter, room temperature
Instructions
Preheat your grill on medium-high.

Season the steaks with a thin layer of kosher salt, rosemary, garlic powder, and lemon pepper. Rub the seasoning into the steak.

Put the steaks on the grill, flipping after five minutes. After another five minutes, remove the steaks to a plate to rest.

While the steaks are cooking, combine the bleu cheese and the butter with a fork until well-incorporated. Top steaks with a tablespoon-sized dollop of the bleu cheese butter while they're resting. Serve with grilled veggies.