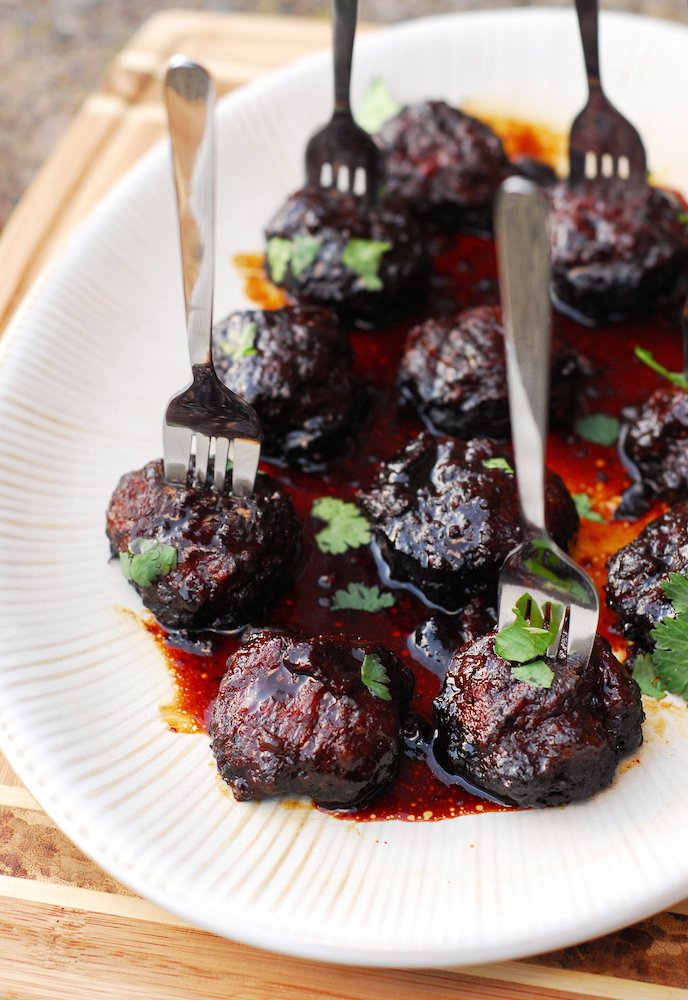 So you guys. Portland is great. I really, really do love it. But dang, it is hard to get good pictures with such dim, gray light. For reals, I had to take this platter of meatballs outside to get any workable light. Outside, people! I've been thinking about making an artificial light source for awhile now, and I think this post from Pinch of Yum has pushed me over the edge. I'll let ya know how it goes.
Anyways, for many game days, I make these super delicious (and super easy) teriyaki chicken legs. I haven't posted that recipe on here, but I really should. It comes from my aunt's beautiful mind. As good as they are, they are a messy pain in the butt to eat. To combat this issue but still enjoy all these wonderful flavors, I decided to make a meatball version!
These are great as an appetizer or for a meal over rice. The meatballs are fairly traditional chicken meatballs but with the addition of ginger and cilantro, and there's even more cilantro in the sauce. Give me aaaalllllll the cilantro. And yes, these are totally made in the crockpot. If you have a super fancy crockpot with a timer, don't let these sit too long on the warm setting. Believe it or not, but there is such a thing as too much sauce. I super recommend using Yoshida's teriyaki sauce because it's oh so tasty.
You can also view this recipe as a step-by-step web story here.
Get the Recipe: Crockpot Teriyaki Chicken Meatballs
These teriyaki chicken meatballs make the perfect appetizer or delicious meal over rice! To make it easy, they're made in the crockpot.
Ingredients
Meatballs
1 pound ground chicken
1 egg
1/4 cup plain bread crumbs
1/2 tsp salt
1/4 tsp pepper
1 tsp grated ginger
2 tsp chopped cilantro
1 tsp minced garlic
Sauce
1 1/2 cups Yoshida's teriyaki sauce
1 tbsp chopped cilantro
Instructions
To make the meatballs, combine all of the ingredients for meatballs with your hands until everything is evenly distributed. Form into 12 meatballs and set aside.

Add the teriyaki sauce and cilantro to your crockpot and briefly stir to combine.

Add the meatballs to the crockpot and turn them to coat. Cook on low for 3 hours. Flip them and cook for another 2-3 hours until cooked completely through. Do not over cook.

Serve as is with sauce over them for an appetizer or over sticky white rice for a meal.