Crock pot tomato soup is so much better than canned, especially with roasted garlic. This rich tomato bisque couldn't be easier thanks to your slow cooker.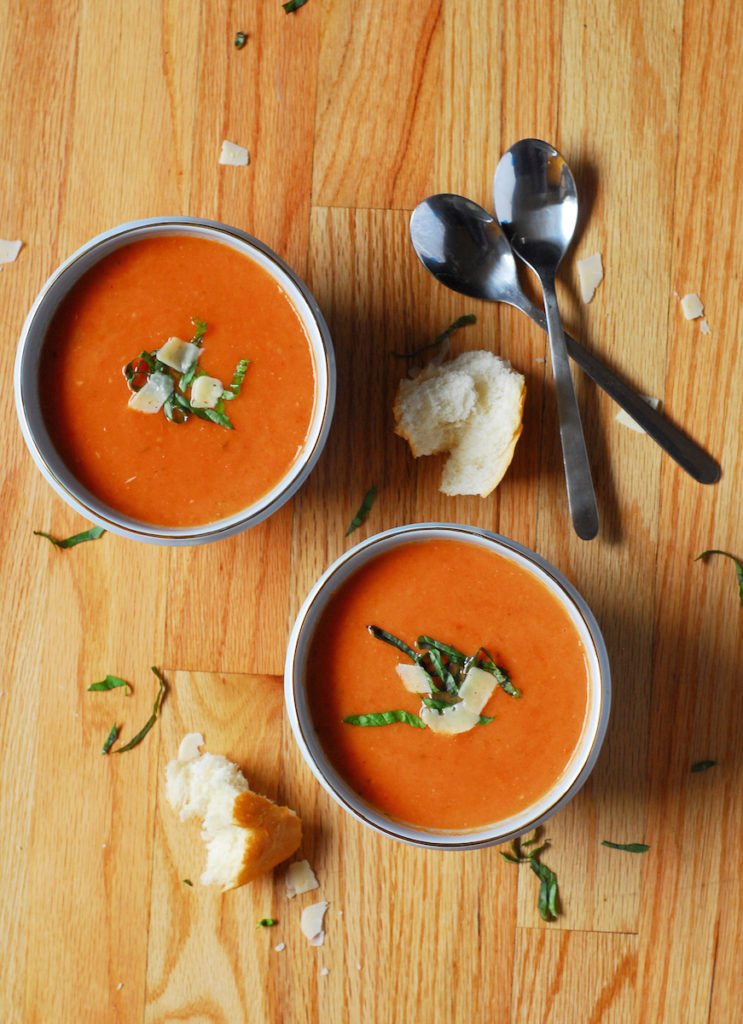 This post may contain affiliate links which won't change your price but will share some commission.
PEOPLE OF THE WORLD! I'm reunited with my crock pot! And yes, it feels oh so good. Funny story: when we got home, my crock pot was the one kitchen item that hadn't turned up. It was nowhere to be found. Of course, I panicked. It wasn't even a year old when I'd left for South Africa, and it's one of those fancy ones with a timer. Not to mention, my crock pot was one of the things I was looking forward to most about returning to Portland. I have weird priorities. I'd let my mom use a few of my kitchen things while I was gone, like my waffle maker (which I promptly used to make these Cheesecake Stuffed Waffles) and cast iron skillet, so I figured I must have lent it to her and forgotten. Nope.
So I went around resenting the world for a few days and contemplating whether or not I should order a new one, then Fiance decides to go down to our basement storage unit, where all our stuff lived while we were gone, and found it sitting out, on an open shelf. Of course.
Logically, I quickly made carnitas in my crock pot for the first time (we did carnitas nachos with the leftovers and they changed my life) and then decided we needed soup. You guys, Portland is a cold, cold place. I thought coming back would be no big deal since, you know, I've lived in Oregon my entire life. I was wrong. My blood totally thinned out in the year we were gone. So soup was the answer! More specifically, roasted garlic crock pot tomato soup that's topped with asiago cheese and plenty of basil. We could easily also call this a slow cooker tomato bisque: it's so rich and delicious, but so easy to pull off.
How to Make Crock Pot Roasted Garlic Tomato Soup
So, I totally cheat when it comes to roasting garlic. Since my roasted garlic didn't need to look pretty, I peeled it before roasting. It's a lot easier to peel before roasting without sacrificing any melty, delicious cloves. Here's what I do:
Start with lots o' garlic.
Peel the dang things. Why are garlic cloves so hard to peel??? Is that just me? Throw 'em onto a square of foil with a little olive oil.
Wrap the foil around the cloves to make a little packet and put it right onto the rack of your oven. Roast at 400 degrees for 25 minutes. Suuuuuper easy! Other than the peeling. I hate the peeling.

Blanch a whole lotta tomatoes and peel them. Add them to a crock pot with onions, salt, pepper, red pepper flakes, cayenne pepper, olive oil, chicken stock, canned diced tomatoes, a tiny bit of sugar, fresh basil, and the roasted garlic.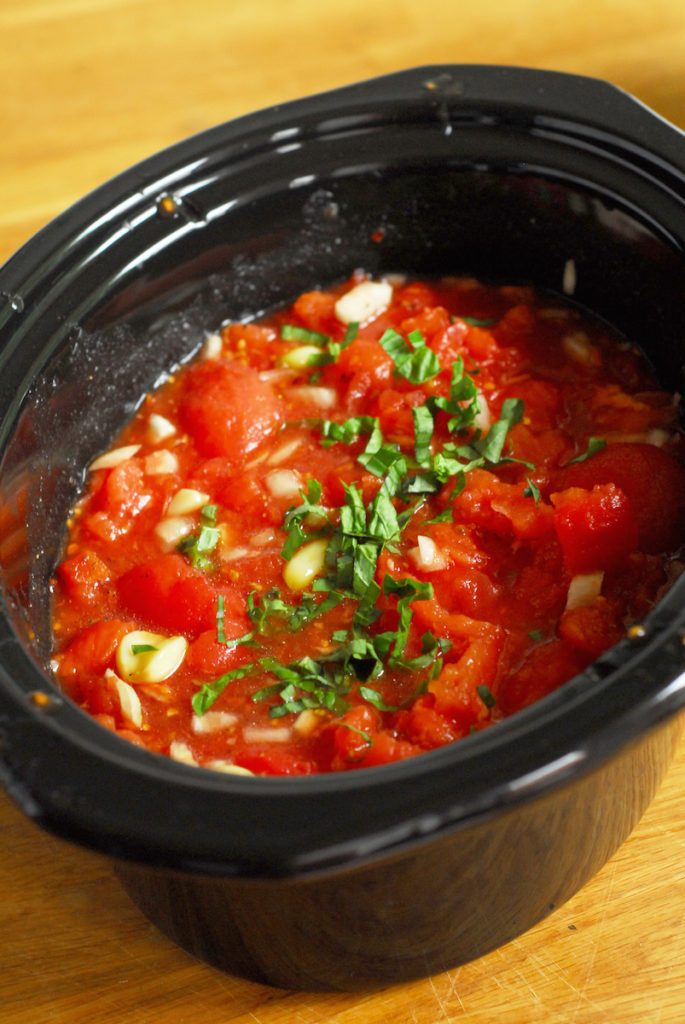 Cook it all on high for three to four hours – you just want the veggies to be nice and soft.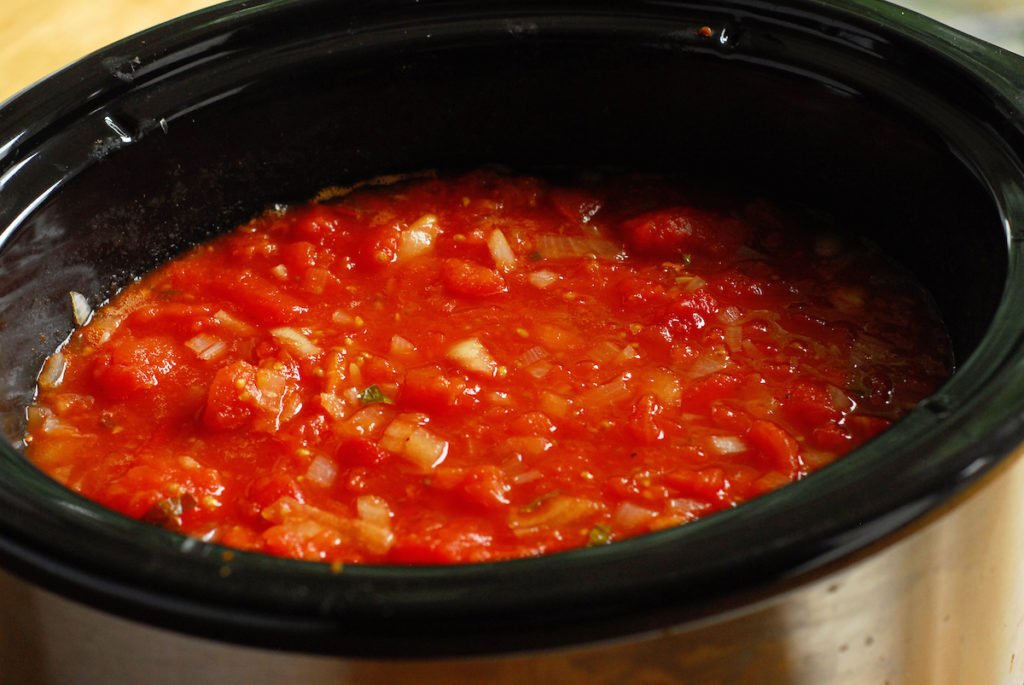 Then puree the whole thing with a stick blender until it's nice and smooth. You can leave it a bit chunky if that's what ya like.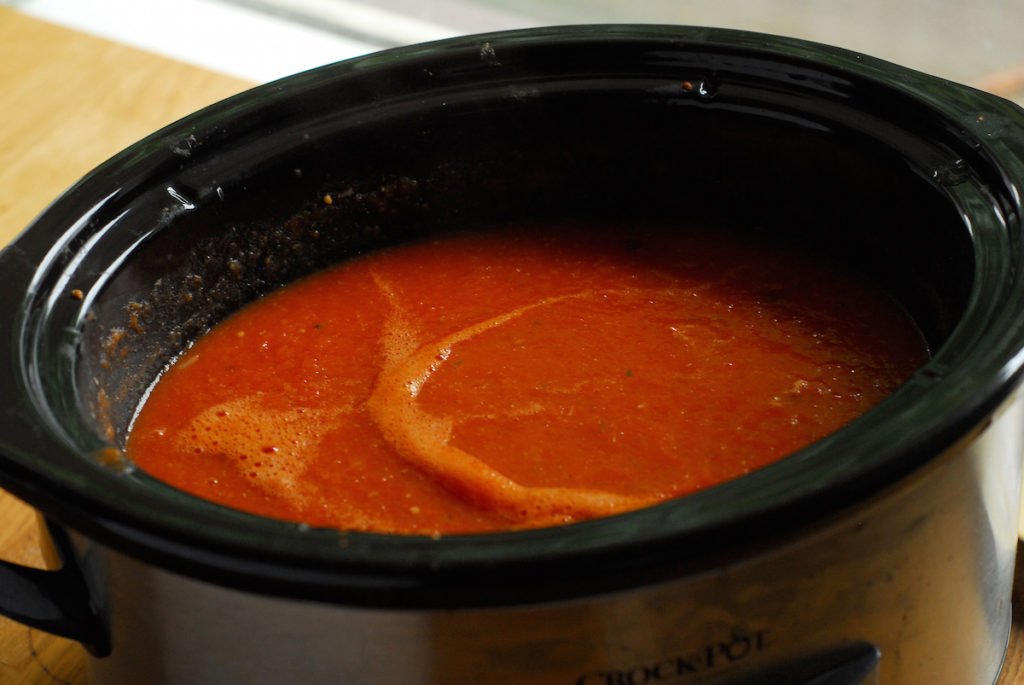 Stir in some heavy cream and serve with asiago cheese and basil sprinkled on top. Aaaaand yes.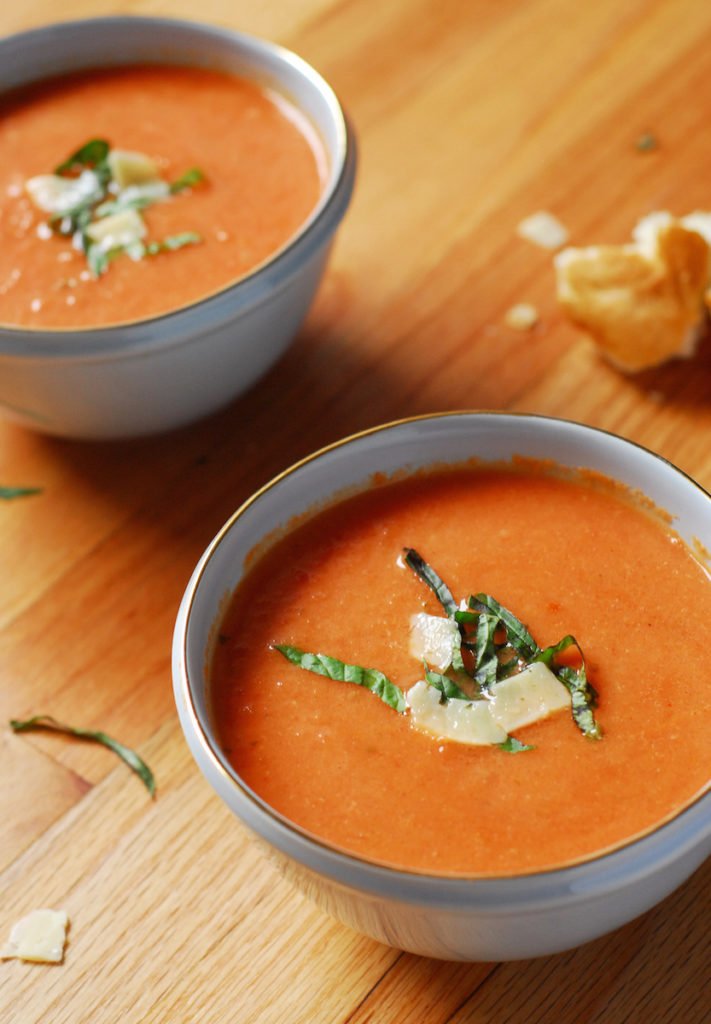 This probably goes without saying, but this crock pot tomato soup is way, way better than the canned variety. The roasted garlic makes it insanely rich even though there's only a bit of heavy cream. Obviously, it tastes so much fresher and has a ton more flavor.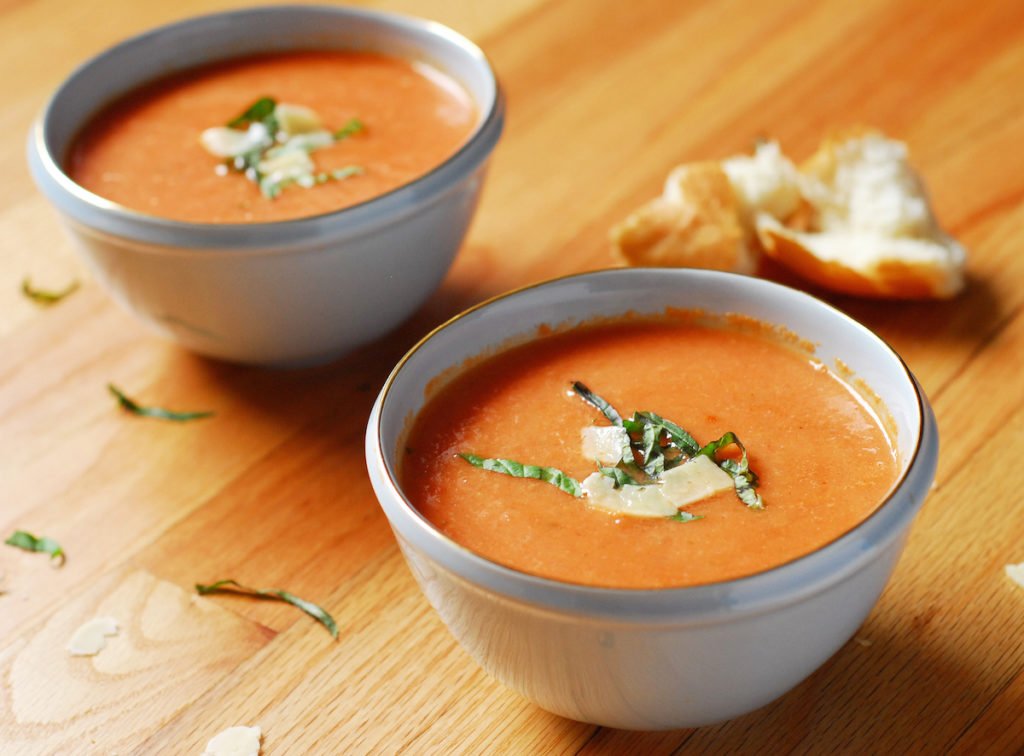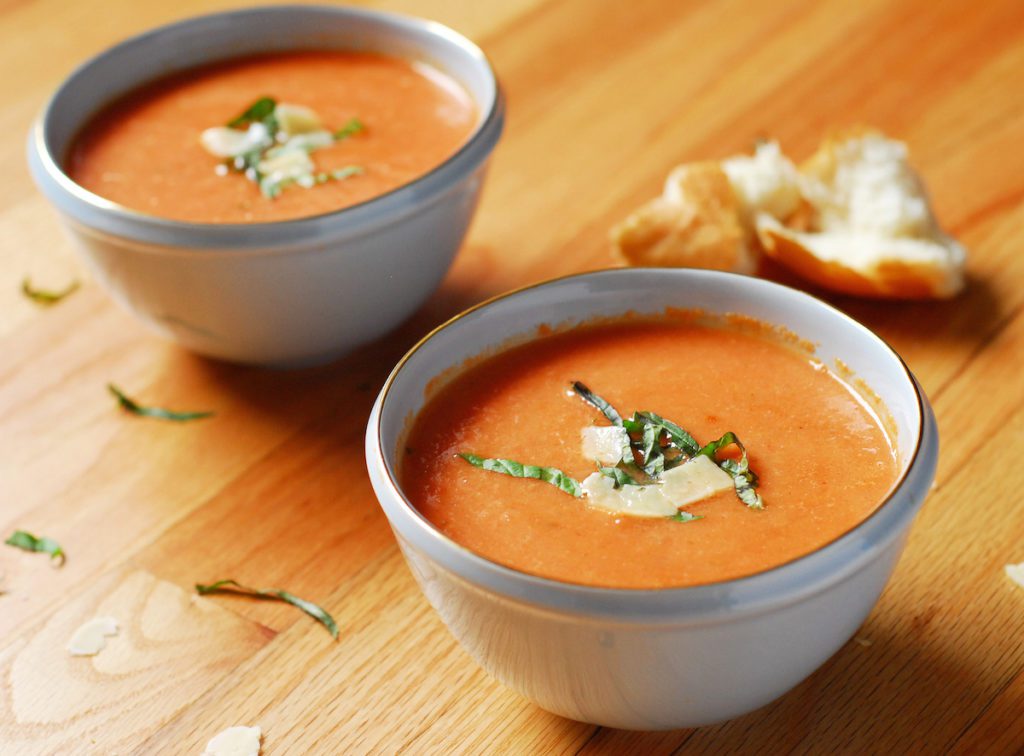 And asiago cheese is my new favorite thing. It has so much kick!
By the way number two: I highly recommend getting yourself a crockpot with a timer. It makes things all kinds of wonderful, especially on days when I'm working or just feeling especially lazy. I love my Programmable Crock-Pot Cook and Carry Oval Slow Cooker – give it a try if you're looking for something new!
Crockpot Roasted Garlic Tomato Soup
Crock pot tomato soup is so much better than canned, especially with roasted garlic. This rich tomato bisque couldn't be easier thanks to your slow cooker.
Ingredients
2.5

lbs

ripe Roma tomatoes

1

head garlic

1

tbsp

olive oil

1

medium-sized yellow onion

,

diced

1

14 oz can diced tomatoes

1/2

cup

chicken broth

1

tsp

salt

1/2

tsp

freshly ground black pepper

1

tsp

granulated sugar

1/4

tsp

crushed red pepper flakes

1/4

tsp

cayenne pepper

2

tbsp

chopped fresh basil

,

plus more for garnish

1/2

cup

heavy cream

4

oz.

Asiago cheese

,

sliced

2

tbsp

julienned basil

,

for garnish
Instructions
Preheat your oven to 400 degrees F.

Peel the cloves of garlic in the head. Set them on a square of foil and top with the olive oil. Roll the foil around the cloves to make a packet. Roast in preheated oven for 25 minutes.

While the garlic is roasting, bring a large pot of water to a boil. Add the tomatoes. Boil for 3 minutes.

Drain the tomatoes and run cold water over them until their cool enough to touch. Remove the skin and cores and add to the crockpot.

Add all remaining ingredients except heavy cream, cheese, and basil for garnish, including roasted garlic.

Cook on high for 3-4 hours, or until vegetables are soft. You could do 6-8 hours on low if need be.

Puree vegetables with an immersion (stick) blender until completely smooth. Stir in heavy cream and most of cheese, leaving out just a bit for garnish.

Spoon into bowls and top with remaining cheese and julienned basil.
Notes
If you want to save on calories, you can use 2% milk instead of heavy cream, but it won't be as rich.
To do this in your Instant Pot, cook for 30 minutes on manual with a manual release.
Tried this recipe?
If you love this recipe, it would mean the world if you gave it a star rating and review! Star ratings help people discover my recipes when searching.