I've been seeing people make variations of energy bites/energy balls/whatever you want to call them all ova Instagram, but honestly didn't see the appeal. They are way too calorie dense for a "snack" and when I snack I like to snack, aka multiple bites. So where would these guys fit into my day?
And then I found there were days when Husband and I were super hungry between work and workout, and cheese is great, but it doesn't pack a real nutritional punch. And so I discovered a place for these little bites.
They're super nutrient dense at 175 calories a ball, but they'll fill you up and give you energy to tackle your workout, day, or whatever else.
Then, of course, I wanted to make them seasonal! First thought was gingerbread, but Husband and I are super diggin' eggnog right now. And here we are!
What's in these things?
protein powder
dates
a variety of roasted nuts
oats
vanilla
sea salt
aaaand eggnog!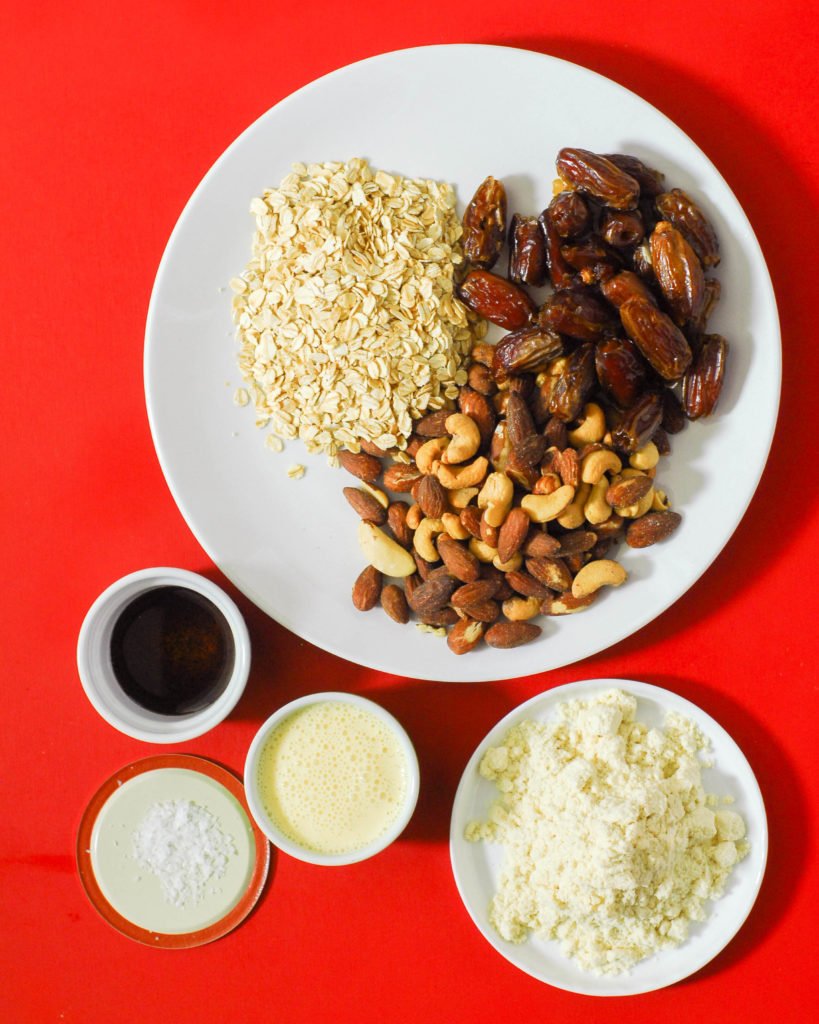 Throw everything in a food processor, roll into balls, and pop 'em in the freezer. Keep them in there and pull as needed for a quick, protein-packed snack!
Catch the quick step by step here:
You can also view this recipe as a step-by-step web story here. 
Get the Recipe: Eggnog Energy Bites
Ingredients
1 cup pitted dates
1 cup roasted mixed nuts
1/2 cup oats
2 scoops vanilla protein powder
1 tsp vanilla extract
1/2 tsp sea salt
1/3 cup eggnog
Instructions
Combine all ingredients in a food processor. Pulse until a batter forms and is somewhat smooth.

Line a baking sheet with parchment paper. Form into balls with a 1.5 inch (appx) diameter and place on baking sheet.

Freeze for at least 2 hours, until set.

Remove to a freezer safe plastic bag and store. Pull from freezer as needed.