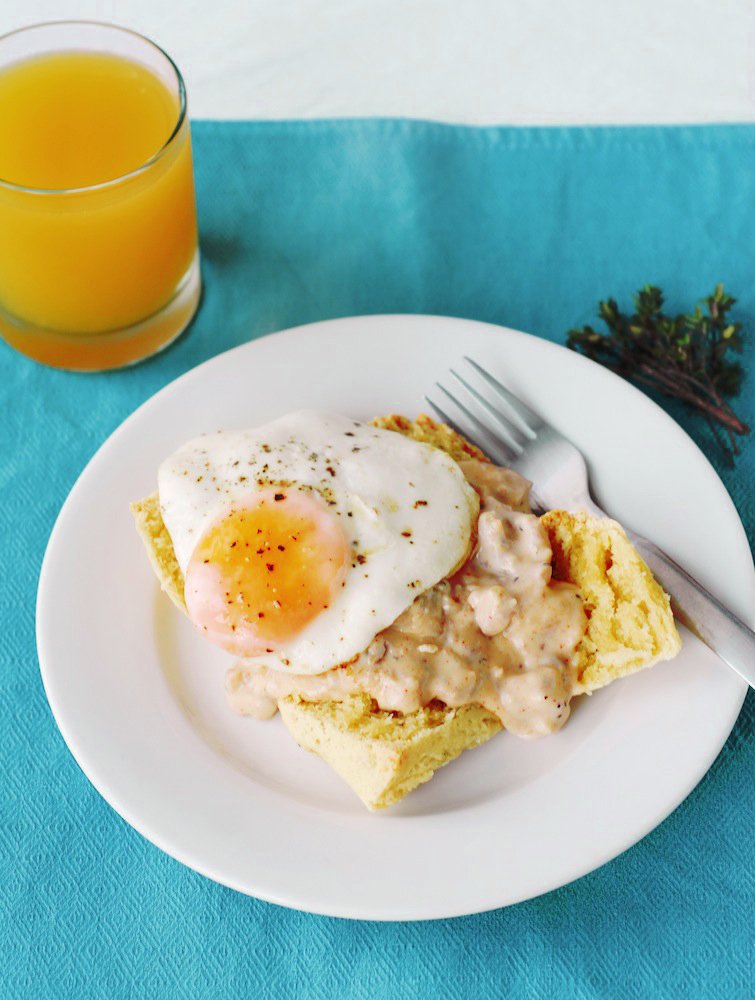 I've posted about my love of breakfast. I love eggs. I love scones. I love oatmeal with fresh strawberries on top. I love a simple piece of peanut butter toast with a sliced banana.
But my favorite breakfast is biscuits and gravy. It's my definitive go to whenever I go out for brunch. One of the best spots in Portland to get my fix is appropriately named Gravy. They also serve one of my other favorite breakfast creations: bruleed berry oatmeal. Yes, bruleed. And it's as amazing as it sounds.

Anywho, I haven't seen biscuits and gravy around South Africa and needed to find them quickly, before I caved and went to "breakfast" at one of the many KFCs in Cape Town in an attempt to find the elusive biscuits and gravy. I wanted to do something a little different and inspiration struck when I passed fresh thyme at the grocery store.
I'm limited to a sheet pan and a nonstick skillet for our short time in Cape Town, but if I were at home I would have used my cast iron skillet to cook the biscuits and the gravy. Because cast iron is a beautiful thing and I need more of it in my life.
This is a standard recipe for biscuits with thyme kneaded into the dough. It's simple and very reliable.
And the gravy… oh, how I love sausage gravy.
By the way, no plate of biscuits and gravy is complete without a sunny side up egg. Don't let anyone tell you otherwise.
Make this so you can stay at home in your pajamas instead of going out and fighting the lines Saturday morning! Simple and totally worth it.
Get the Recipe: Thyme Biscuits and Sausage Gravy
Ingredients
Biscuits:
2 cups flour
2 1/2 tsp baking powder
1/2 tsp baking soda
1/2 tsp salt
1 tsp chopped fresh thyme
1 tbsp sugar
1/2 cup cold butter, cut roughly into cubes
3/4 cup buttermilk
Gravy:
12 oz pork sausage, italian sausage works
1 tbsp butter
2 tbsp flour
2 cups milk
Freshly ground black pepper
Instructions
Preheat oven to 400 degrees F (200 degrees C).

In a large bowl, mix together the flour, baking powder, baking soda, salt, thyme, and sugar. Cut in the butter with a pastry cutter or crumble with your hands until mixture looks like coarse crumbs. Stir in buttermilk and knead on a floured surface for two minutes.

Form the dough into a roughly 7×7 inch square and cut into 12 pieces, but don't separate them. Bake in preheated oven for 15-20 minutes, or until knife inserted into center biscuit comes out clean.

While the biscuits are baking, start the gravy by browning the sausage. Remove the sausage from the pan with a slotted spoon, but leave the grease. If it's more than two tablespoons, don't add the butter. If it's less, add the butter to the grease over medium-high heat.

Once the butter has melted, add the flour. Cook for about a minute, stirring constantly. Add the milk and cook for another 3-5 minutes, or until the mixture starts to thicken.

Add the sausage and plenty of black pepper. Cook for another two minutes, then taste. Add more pepper to taste. Remove from heat. Add a little more milk if the gravy gets too thick.

Split two biscuits in half and arrange on a plate. Top with gravy and a sunny side up egg, if desired.