I definitely took the easy way out with this Flatbread with Tomatoes, Peppers and Burrata. And you know what? No shame.
What do I mean by "easy way out"? I used Trader Joe's pizza dough instead of making it myself. You can totally make the dough from scratch if ya want! In fact, I've got a great pizza dough recipe – just cut it in half, and you're good to go.
Okay, are you over the fact that I used store bought pizza dough yet? Moving on.
A crucial step to preventing soggy flatbread: salt your tomatoes and let them sit to pull moisture out. You will not regret the little bit of forethought!
I topped this flatbread with a little olive oil, the salted tomatoes, and my favorite ingredient in the world, Mama Lil's Peppers. Then baked it until everything got shrively and those delicious tomato flavors got all deep and awesome and the bread got nice and brown.
Oh and then? I topped it all with burrata because burrata.
I had burrata for the FIRST TIME this summer in Italy (what took me so loooong?) and it's as good as everyone said it would be. I crave it constantly. I might even like it more than brie.
Last but not least, plenty of fresh basil. And if you're feeling feisty, a little flaked sea salt.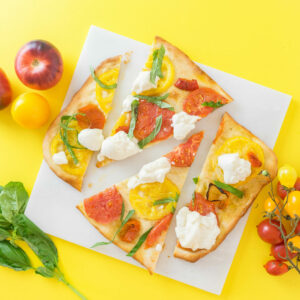 Get the Recipe: Flatbread with Tomatoes, Peppers and Burrata
This recipe for flatbread with tomatoes, peppers, and burrata is an appetizer crowdpleaser that's not only delicious, but vegetarian, too.
Ingredients
1 package pizza dough
1 tbsp olive oil
1/2 tsp kosher salt
3 large tomatoes, thinly sliced
1/4 cup Mama Lil's Peppers , (or another spicy pickled pepper)
1 8 oz ball burrata, or 4 2 oz balls burrata
2 tbsp fresh basil, julienned
1 tsp flaked sea salt, (optional)
Instructions
Lightly salt thinly sliced tomatoes and lay on a few layers of paper towels to pull out excess liquid.

Preheat oven to package directions on pizza dough. Stretch pizza dough into a large rectangle and brush with olive oil.

Top pizza dough with tomatoes and Mama Lil's Peppers. Bake according to package directions or until dough is golden brown.