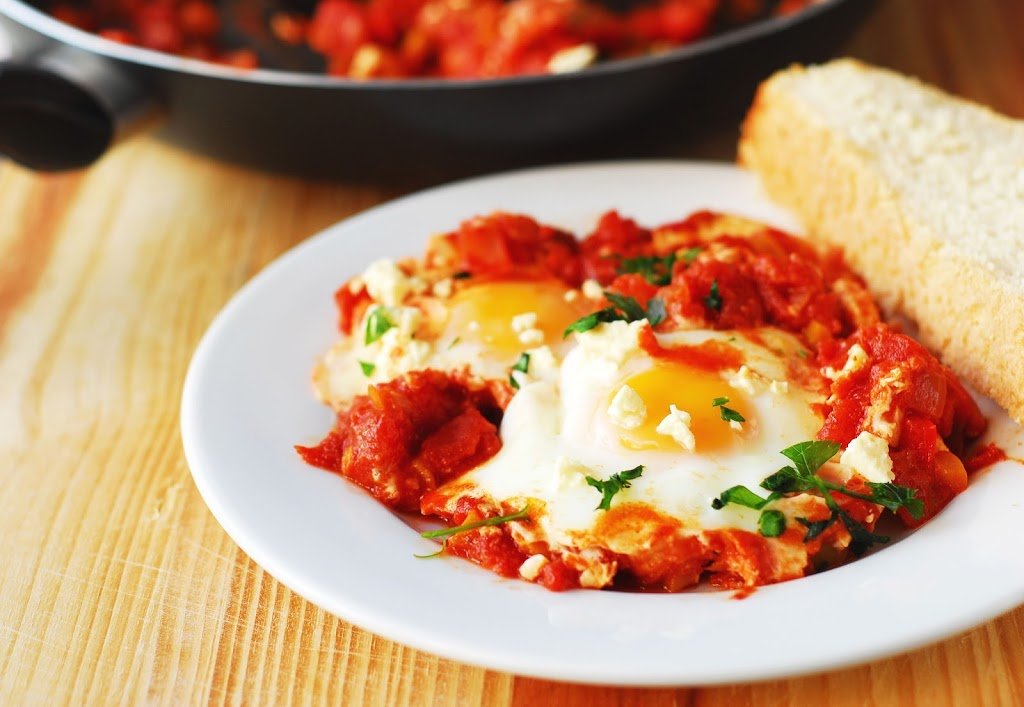 Shakshuka is a North African dish that is made up of eggs cooked in a spiced tomato sauce. Eat it for breakfast or you can totally have eggs at dinner time. We had this for dinner with some homemade french bread, which you better believe is essential to this dish for mopping up runny yolks and delicious, spicy tomato sauce. Then, to make this dish even better, it's topped with feta cheese and fresh parsley. I really dig feta cheese, especially when it's paired with tomato sauce, like Fiance's favorite Meaty Fusilli. I don't usually eat egg and tomato sauce combinations, not even really salsa on my eggs, but I adored this. The textures and flavors complimented each other really well and surprisingly enough it had a comfort-food vibe more than anything else.
Start this dish out by making the sauce. Dice up a yellow pepper, a red pepper, half an onion, and a few cloves of garlic.
Saute it all in a little olive oil…
Until the veggies are soft and barely starting to brown. Then add cumin, paprika, and cayenne and let it cook until the spices are fragrant.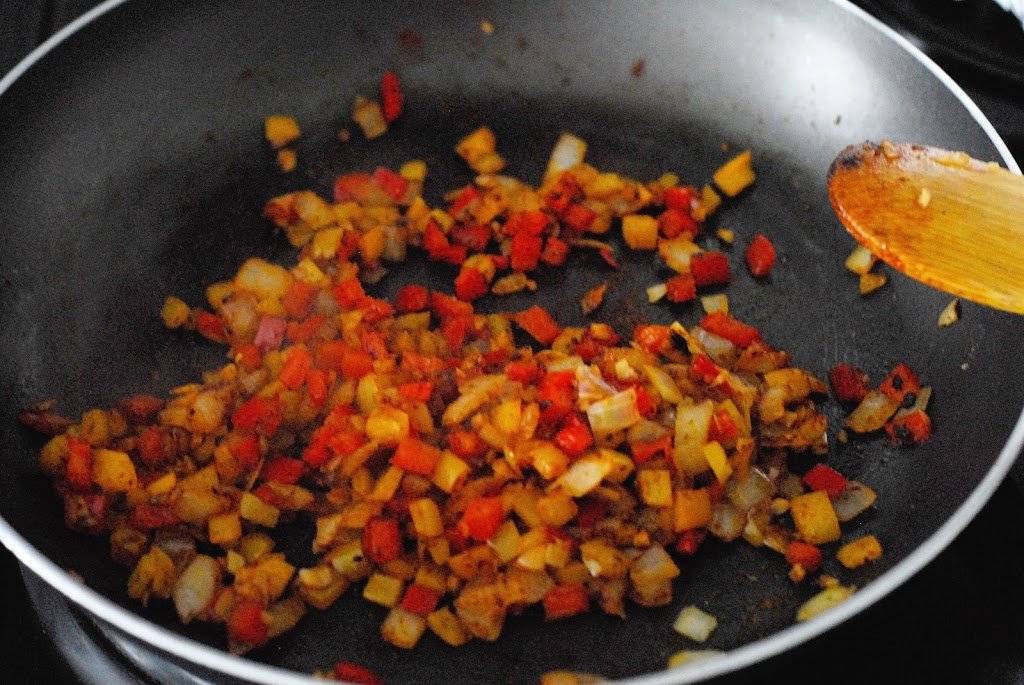 Then add a can of diced tomatoes, tomato paste, sugar, salt, and pepper. Let it simmer until the veggies are even softer and the sauce is nice and flavorful.
Then eggs. Beautiful eggs. I grew up having chickens (my mom has my 5th grade science fair project to thank for that!) and it was a harsh reality when I found out that eggs from the store were not nearly as tasty as the ones right from our coop. However, here in Cape Town I can get 18 free range eggs for the equivalent of about $2.50. That is a magical thing, especially because Fiance and I really, really dig our eggs.
Crack them one at a time into a small bowl. Or a mug if you're like me.
Create four little wells in the tomato sauce and pour the eggs, one at a time, into each of the wells. Cover the whole thing and let it simmer for a few minutes until the yolks are as done as you like 'em. We prefer medium runnyish. Then top it all with feta cheese and fresh parsley and stare at it for awhile because this dish is really pretty.
Let me emphasize this one more time: some good french bread is super important to this dish. Sourdough toast would also be really great. Something with a little bit of crunch that'll hold up well against the sauce.
Enjoy this spicy dish that's a little bit different from your usual eggs and toast! It's definitely worth a little extra effort.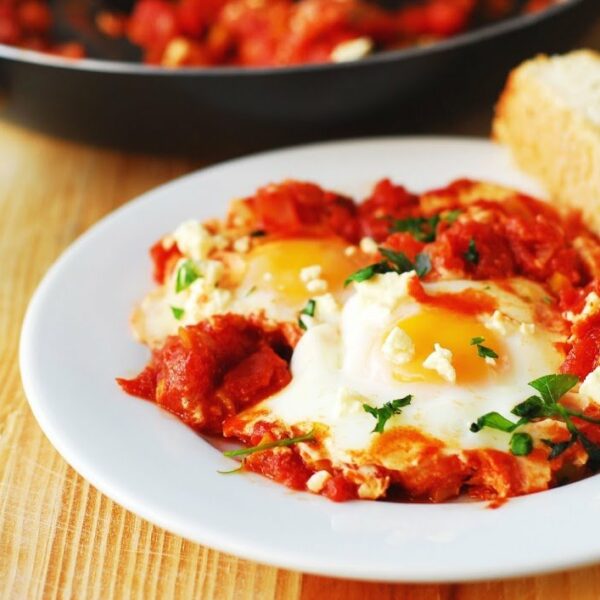 Get the Recipe: Shakshuka
Ingredients
Serving:
Crumbled feta, for serving
Chopped fresh parsley, for serving
French Bread or Toast
Instructions
In a large skillet over medium heat, add onion, bell peppers, garlic, and olive oil. Cook until veggies are just soft and edges of onion are translucent.

Add the cumin, cayenne pepper, and paprika to the veggies. Cook for another minute until spices are fragrant.

Add the diced tomatoes, tomato paste, sugar, salt, and black pepper. Heat for 3 minutes then reduce heat to medium low and cook for another 10-15 minutes, until veggies are very soft. Taste and adjust seasoning as necessary.

Make four wells in the tomato sauce with a spoon. Crack the eggs one at a time into a mug, then pour one egg in each of the wells. Cover and cook for 3-5 minutes, until eggs are cooked to your liking.

Top with feta and parsley and serve with french bread or toast.