Before our move to Cape Town, I spent a year working in the restaurant industry. Once you've eaten your way through the menu a few times over when working a restaurant, it's pretty common to make up strange concoctions of your own with the ingredients in house. This pasta is essentially what I ordered almost every single day and it is divine. It's hard to believe that after eating it so often I actually missed it, but I found myself craving it a few weeks after our move and decided to recreate it.
Luckily, Fiancé loves this pasta too, so much so that we've had it twice since I first made it because it was his turn to pick dinner. The feta is what really makes this pasta. I usually like to add spinach to the sauce, but that was a no go for him. Try it yourself and just sneak it in there for picky eaters- they probably won't notice if you don't say anything!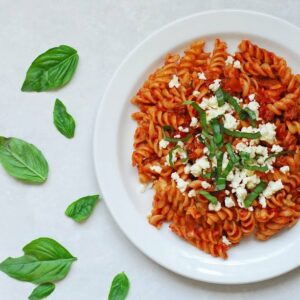 Get the Recipe: Meaty Fusilli with Basil and Feta
Ingredients
1/2 lb ground beef
1/2 lb ground sausage
1/2 yellow onion, diced
1 tsp minced garlic
1 can tomato sauce
1 can diced tomatoes
2 tsp dried Italian herbs
1/2 tsp salt
1/4 tsp black pepper
1/2 tsp cayenne pepper
1 tbsp fresh basil, chiffonade
1 cup spinach, optional
9 oz fusilli pasta
1/2 cup crumbled feta
1 tbsp fresh basil, chiffonade (for serving)
Instructions
Add beef, sausage, onions, and garlic to a large stockpot over medium heat and brown the meat.

Add the tomato sauce, diced tomatoes, Italian herbs, salt, black pepper, cayenne pepper, and fresh basil to the sauce. Let simmer for at least 15 minutes, up to an hour. The longer, the better! If you're using spinach, add for the last ten minutes of cooking to soften and wilt.

Cook the fusilli according to package directions for al dente pasta.

Top cooked pasta with meaty sauce, feta, and fresh basil for serving.