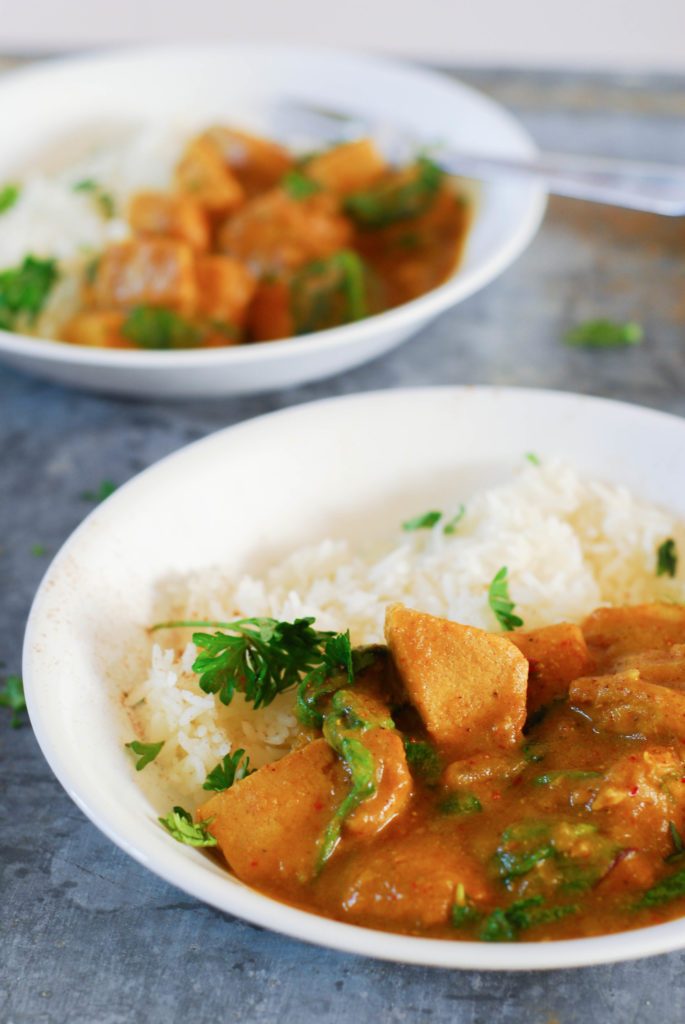 We need to get something out of the way. For my sanity.
Pumpkin spice does not mean pumpkin. K? Pumpkin spice is a spice blend used to flavor pumpkin pie. Now we extend "pumpkin spice" to also meaning pumpkin, which I'm guilty of here, but I just wanted to make sure we KNEW.
We all clear? Thank god.
SO THIS CHICKEN CURRY. This curry is WONDERFUL. I started adding pumpkin to my curry last year when my MIL gave me more than I knew what to do with. This curry is a little different from other pumpkin curries: there are not chunks of pumpkin in it. Instead, I use fresh pureed pumpkin (but you can totally use canned) in the sauce. What you end up with is this thick, rich, silky sauce that isn't like your typical Indian curry sauce on the runnier side.
Oh yeah, to be clear, this is an Indian curry, not a Thai curry. So you'll need powders, not pastes.
I used chicken for the purposes of this recipe, but I've also made this with chickpeas and it was delicious, so you can easily do a veg or even vegan if you prefer.
One of my favorite tricks to sneak bonus veggies into soups, stews, and curries is to add handful after handful of greens like spinach, chard, and kale. Usually I just grab a "super green" type blend from the grocery store and throw literally the entire thing in there. Trust me here, the greens will wilt down and you'll barely notice 'em. Do it.
Let's talk about the pumpkin spice. So we've already covered this recipe has pureed pumpkin in it – it also has the aforementioned pumpkin spice blend. Pumpkin spice has spices like nutmeg, cinnamon, and cloves – all flavors that taste wonderfullll in a curry. How we haven't thought of Pumpkin Spice Chicken Curry before is beyond me.
This recipe also just has regular spice. Not a big fan of spicy food? Don't add the jalapeno seeds or ribs. Easy, peezy.
This Pumpkin Spice Chicken Curry tastes even better the next day, so double the batch for plenty of leftovers! Serve it with naan, rice, or cauliflower rice.
You can also view this recipe as a step-by-step web story here. 
Get the Recipe: Pumpkin Spice Curry
Pumpkin spice is the perfect complement to this Indian chicken curry, made even better by the addition of pureed pumpkin to the sauce.
Ingredients
3-4 boneless skinless chicken breasts
Salt and pepper
1 tbsp ghee, or butter
1/2 red onion, diced
1 jalapeno, diced
1 tsp minced garlic
1 tsp grated ginger
1/2 tsp turmeric
1 tbsp madras curry powder, substitute with regular curry powder if you don't have madras
1 1/2 tsp pumpkin spice blend
1 can coconut milk, can use lite if preferred
2 cups pureed pumpkin
Instructions
Cut the chicken breasts into 1 inch cubes. Season liberally with salt and pepper.

In a large, heavy-bottomed pot (I like to use a dutch oven), heat the ghee over medium-high heat. Add the chicken breasts and cook, stirring every 2-3 minutes, until outsides of cubes are browned. Remove to a bowl to catch the juices.

Reduce heat to medium-low. Add more ghee if necessary. Add onion, jalapeno, garlic, and ginger and cook for 3-4 minutes, until fragrant.

Add the turmeric, curry powder, and pumpkin spice. Cook for 1-2 minutes, until spices are fragrant.

Add the coconut milk, pumpkin, and chicken to the pot. Stir to combine. Bring to a simmer and simmer over medium-low for 10-15 minutes, until chicken is cooked through.

Serve with rice, naan, or cauliflower rice.