Say the name of this recipe 10x fast. And please take a video of yourself doing it and send it to me. Sorry, just couldn't think of a way to make it any snappier (and in theory copy writing is a major part of my job. Clearly I've got some work to do).
Not to be a total basic white girl, but Everything Bagel Seasoning is my jam. It makes an appearance atop my hard boiled eggs nearly every morning for breakfast. It crusts my fish. It tops my soups. It rocks my world.
So naturally, I had to combine it with my two other loves, cheese and bread, to pull off these suckas.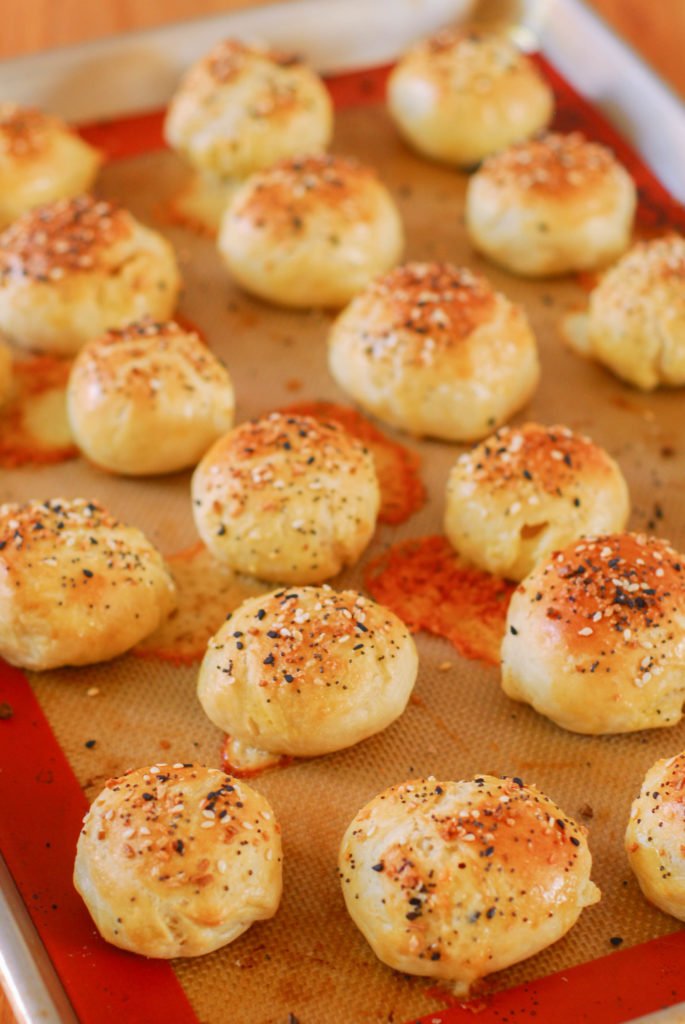 I made them on a Saturday when the Ducks played at 7pm. I made them with the intention of bringing them to a friends to enjoy while watching the game.
Maybe half actually made it there. And this took major self control on behalf of husband and I.
Really like the sound of these, but don't like the sound of 2 hours making dough from scratch? Betcha they'd be just fine with store bought pizza dough. No one's judging you. This idea didn't occur to me until I'd already made the dough, or I probably would have gone that route. Let me know if ya do it.
You can also view this recipe as a step-by-step web story here.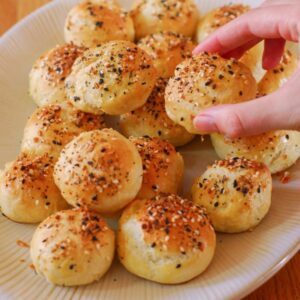 Get the Recipe: Everything Bagel White Cheddar Stuffed Pretzel Bites
Ingredients
¾ cup warm water, 110 degrees F
1½ tsp instant active yeast
2½ tsp sugar
1 tsp salt
3 tbsp butter, softened
2 cups + 2 tbsp flour
1/2 cup cubed sharp white cheddar cheese
6 cups water
½ cup baking soda
1 egg
Everything Bagel Seasoning
Instructions
In a large bowl or the bowl of your standing mixer, stir together the warm water, yeast, and sugar. Let sit for about 10 minutes to proof until foamy.

Add the salt and softened butter to the yeast mixture. If using a standing mixer, add the flour gradually with the dough hook attachment and mixer running on low until completely incorporated. Knead for about five minutes, or until dough is elastic and smooth. If not using a mixer, stir in about 1½ cups of the flour, then turn out onto a floured surface. Knead the rest of the flour into the dough. Knead dough for about five minutes. Dough will be slightly sticky.

Lightly oil a large bowl with cooking spray or olive oil. Add the dough and turn to coat. Cover the bowl with saran wrap and put in a warm place to rise until doubled, about an hour.

When the dough has risen, preheat an oven to 425 degrees F (218 degrees C). Prepare a large baking sheet by lining it with greased parchment paper or a silicone baking mat.

Punch the dough down. Tear off 2 inch sized chunks, flatten roughly, lay a cube of white cheddar in the center, and wrap the dough around it. Set aside to a floured surface. Repeat until all dough has been used.

Fill a pot with the 6 cups of water and baking soda. Bring to a boil. Boil each pretzel bite for 30 seconds and remove to the lined baking sheet.

In a small bowl, whisk the egg. Brush the top of each boiled pretzel with the egg wash. Sprinkle the tops of the pretzels with the Everything Bagel Seasoning.

Bake the pretzels in preheated oven for 14-16 minutes, or until tops are golden brown. Let cool for 3 minutes on baking sheet.