Calzones are a fan favorite and they don't have to be difficult to make. Skip the homemade dough (or even the store bought!) and reach for a package of pitas instead. Dinner will be ready in about 20 minutes.
I dreamed up this recipe when I was a college a student at the University of Oregon. It was a favorite along with other staples like my dressed up tomato soup and healthified boxed mac and cheese.
Now, as an adult, as much as I love to make homemade pizza and calzones, I still reach for the pitas for this easy to throw together yet so delicious dinner. At this age I occasionally add chopped spinach, too, but that's all that's changed.
What type of pitas should I buy?
Any store bought pitas that have a pocket will work perfectly for this recipe, whether they're whole wheat, thick, or thin. As long as they have a pocket, the rest is up to personal preference!
How to Make Pita Calzones
Start by dicing up the mozzarella and quartering the pepperonis, then simply mix together all of the other filling ingredients in a large bowl.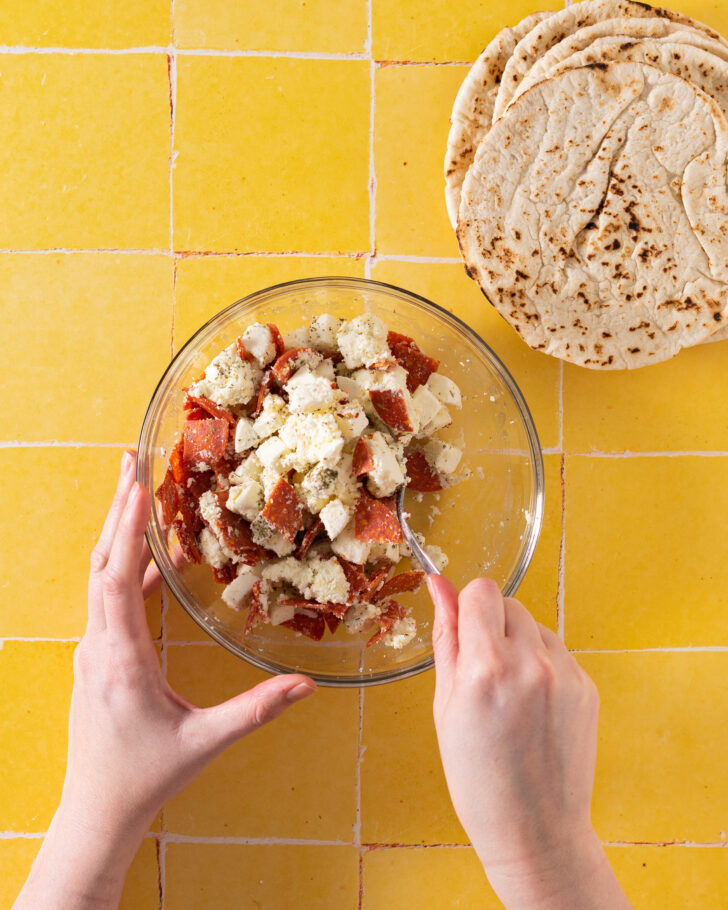 Now simply take your pitas, slice them in half, and stuff the pocket with the cheese/pepperoni mixture. So easy! And no dough to deal with!
Add these to a baking sheet or the basket of your air fryer and cook at 400 degrees F in the oven or 380 degrees F in the air fryer for 8 minutes. I've said it before, I'll say it again… so easy.
While they're baking, whip up a dipping sauce by combining the tomato sauce, Italian herbs, garlic powder, onion powder, salt, and if you're into it, some cayenne pepper.
Then serve it all up! It's really that easy.
If you're looking for something nutritious to serve with this, I highly recommend my Warm Brussels Sprouts Caesar Salad. You're gonna love it.
You can also view this recipe as a step-by-step web story here.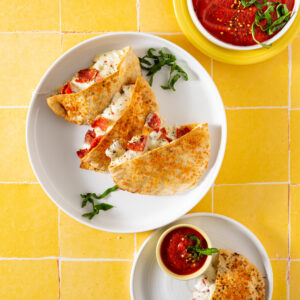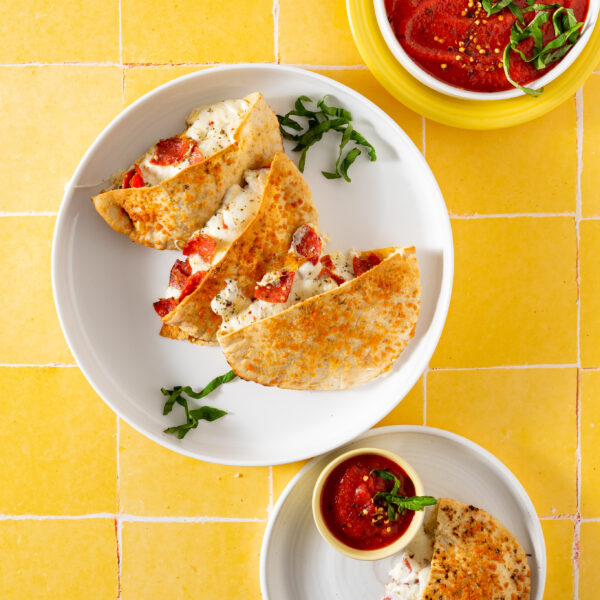 Get the Recipe: 20 Minute Easy Calzones (made with pitas!)
Craving calzones? Skip the homemade dough (or even the store bought!) and reach for a package of pitas instead. With a filling of mozzarella, ricotta, and pepperoni, you can't go wrong.
Ingredients
Pita Calzones
2 pitas, with pockets
1/2 cup diced fresh mozzarella, or shredded mozzarella
1/3 cup quartered pepperonis
1/4 cup ricotta
1/4 cup grated parmesan
1 1/2 tsp Italian seasoning
1/4 tsp red pepper flakes, optional
Dipping Sauce
1 cup tomato sauce
1 tsp Italian seasoning
1/2 tsp kosher salt
1/2 tsp garlic powder
1/2 tsp onion powder
1/4 tsp cayenne pepper, optional
Instructions
Preheat oven to 400 degrees F or air fryer to 380 degrees F.

In a bowl, mix together all ingredients for calzones except the pitas.

Cut the pitas down the middle with a sharp knife. Open the pocket of each side and stuff each pita with a quarter of the filling.

Place the pitas on a baking sheet or in the basket of your air fryer and bake for 8 minutes, or until all the cheese has melted and the top is toasty.

While the pitas are baking, mix together all ingredients for the dipping sauce in a bowl.

Serve pitas with dipping sauce.
Notes
You can replace the fresh mozzarella for shredded.
Calories: 481kcal, Carbohydrates: 44g, Protein: 24g, Fat: 24g, Saturated Fat: 12g, Polyunsaturated Fat: 2g, Monounsaturated Fat: 8g, Trans Fat: 0.3g, Cholesterol: 67mg, Sodium: 2185mg, Potassium: 615mg, Fiber: 4g, Sugar: 5g, Vitamin A: 1185IU, Vitamin C: 9mg, Calcium: 428mg, Iron: 4mg