I like to cook. A lot. Hence this blog! Cooking and blogging are awesome ways to release all of the creative energy I build up after keeping my nose buried in books for days at a time.
But sometimes, my nose is buried into those books too far to be pulled out, and I need sustenance that is preferably not mac 'n cheese or burritos, not that I don't love both. It is situations like these where easy dinners made with quality ingredients are born.
This night, I dug through my cupboards and fridge and found mozzarella, ricotta, pita pockets, pepperoni, and tomato sauce. Calzones!
Like I said, this is really simple. Dice up and/or shred the pepperonis, mozzarella, and parmesan.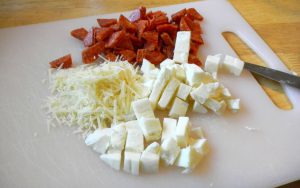 Throw that stuff in a bowl and add some ricotta, fresh basil, oregano, and, if you're into it, red pepper flakes.
Now take that pita pocket, slice it in half, and stuff the pocket with the cheese/pepperoni mixture.
Throw that in the oven at 400 degrees for about 8 minutes, or until the cheese has melted and the pita is crispy. While that's going, whip up a dipping sauce by combining a can of tomato sauce, Italian herbs, garlic powder, onion powder, salt, pepper, and again, if you're into it, some cayenne pepper.
Pita Calzones
Serves two
Ingredients
2 pitas, with pockets
1/2 cup fresh mozzarella, diced
1/4 cup parmesan cheese, shredded
1/4 cup ricotta
1/2 cup diced pepperonis
1 tsp chopped fresh basil
1/2 tsp chopped fresh oregano
1/4 tsp red pepper flakes (optional)
1 cup tomato sauce
1/2 tsp Italian seasoning
1/4 tsp salt
1/4 tsp garlic powder
1/4 tsp onion powder
dash pepper
dash cayenne pepper (optional)
Directions
1. Preheat oven to 400 degrees.
2. Combine all ingredients from mozzarella to red pepper flakes.
3. Cut the pita pockets in half and stuff the pockets with the cheese mixture. Bake in preheated oven for about 8 minutes, or until cheese has melted. While it's cooking, combine remaining ingredients to create dipping sauce.